Author Archive
by Elizabeth Reid on Dec.05, 2020, under 3D Models, Argentina, Australia, Brazil, California, Denmark, England, Germany, Google Earth News, Google Earth Tips, Google Sky, Google maps, Hawaii, Indonesia, Ireland, Italy, Japan, Kenya, Mexico, Natural Landmarks, Netherlands, Sightseeing, Street Views, USA
Our Maps 101 series goes behind the scenes to share how we help you navigate, explore and get things done every single day. Over the past 15 years, we've provided maps in more than 220 countries and territories and now surface helpful information for more than 200 million places. These efforts bring helpful local information to your fingertips in Google Maps and produce better Google Search results, helping you connect with nearby places and businesses. 
In fact, Search results that show local places and businesses now drive more than 4 billion connections between customers and businesses every month. This includes more than 2 billion monthly website clicks and other connections, such as phone calls, directions, food ordering and reservations. 
Today, we'll share more about the innovations and investments that help build an accurate and up-to-date understanding of places for the billions of people looking for local information on Search and Maps.
Maximizing Street View with breakthroughs in AI
Street View imagery lets you virtually explore the world, and helps us accurately reflect local information about places in Maps and Search. We've travelled more than 10 million miles across 87 countries to capture this imagery and bring new information online—from unmapped roads to new businesses.
Applying artificial intelligence to our more than 170 billion Street View images helps us create high-quality maps faster than we could before. For instance, applying machine learning models to Street View imagery has improved the accuracy of one-third of the addresses in Google Maps and Search, resulting in more reliable maps as people look for a local business or navigate to a destination. 
Text recognition in the natural environment is challenging—especially at scale. The average Street View photo has visual distractions like distortions, cluttered backgrounds with extraneous text and awkward viewpoints. After years of teaching machine learning models, our text recognition systems can tune out these distractions and detect business names and addresses even when they're handwritten on the side of a building or abbreviated. These models can understand a variety of languages across various scripts too, from Latin, Cyrillic and Thai to Chinese, Japanese and Korean.
In the last few years alone, processing imagery with AI has been one of the important ways we've been able to add more than 10 billion edits to our library of places, providing people with updated phone numbers, business hours and locations as they use Maps and Search.
Building data partnerships with authoritative sources worldwide
Thanks to partnerships covering more than 10,000 local governments, municipal agencies and organizations around the world, we're able to reflect the latest information in Search and Maps results and help local authorities reach even more people in their communities with important updates. This includes everything from bike lanes and road closures to the addresses of hospitals and food banks. Our teams vet each authoritative data source to make sure it's accurate before it appears on Search and Maps.
Working with authorities around the world also helps us quickly gather and surface critical information. This year, these partnerships made it possible to make important updates relevant to COVID-19. When you search for "COVID test" on Search and Maps we now show you more than 17,000 COVID-19 testing centers across 20 countries and all 50 U.S. states. You can also see important details like if appointments are required, who can get tested and if there's drive-through testing. 

These details are crucial and accuracy is key, which is why we lean on authoritative sources to help us surface this information in Maps and Search.
A global community contributes to make Search and Maps better
To ensure our products reflect the real world as fast as it changes, we enable people everywhere to contribute their local knowledge. Every day, people make millions of contributions to Google Maps, like reviews, photos, address updates and more. And we're seeing more people contributing than ever before. In the past 3 years, the number of reviews, ratings and photos people have added to Google Maps more than doubled.
With local details from people in Maps and Search, it's easier to make more informed decisions. You can quickly find reviews when looking for a mechanic, see photos others have added for a park you'd like to explore, and find your convenience store's new hours.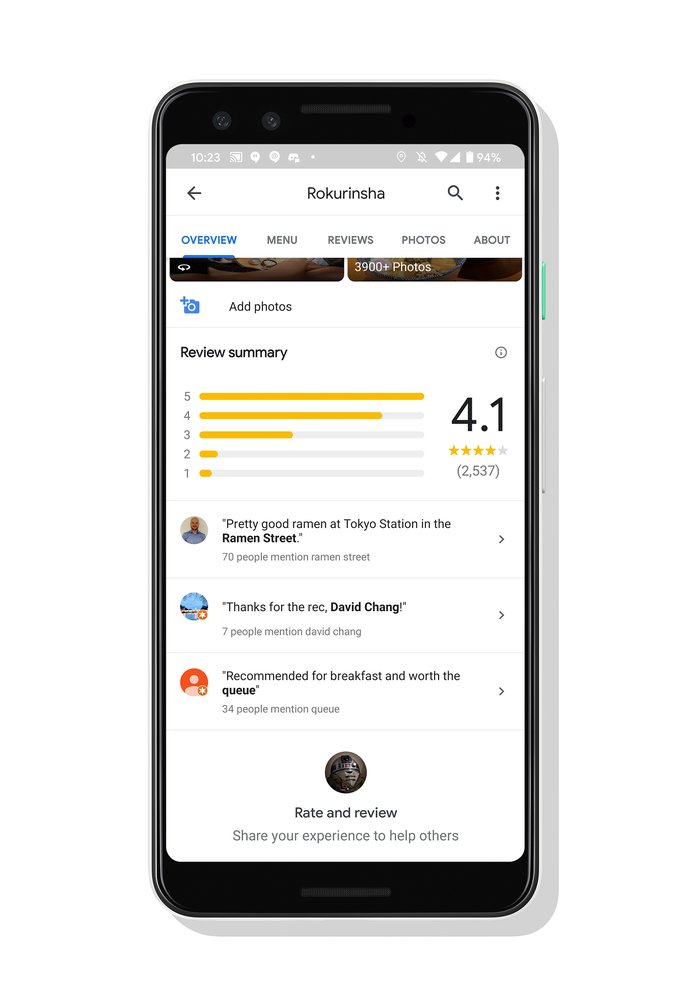 This year, as cities and countries instituted restrictions throughout the pandemic, many places temporarily closed or changed their operations. While businesses can indicate if they are open with their Google My Business listing, we've also made it easy for anyone to mark a business as open or temporarily closed on Search and Maps by simply suggesting an edit. Over the course of the pandemic, people have submitted millions of temporary closure and reopen reports, helping eliminate the uncertainty about which businesses are open and when. 
Giving business owners free tools to connect with customers online 
One of the most important ways we help local businesses succeed is by connecting them with customers online. Business owners can claim their free Business Profile and connect directly with customers across Search and Maps via phone calls, messages and reservations. They can also share accurate information about their business, including opening hours, services offered and contact information. And each month Google connects people with more than 120 million businesses that don't have websites, helping small business owners who aren't online attract more customers.
Over the last five years, we've made more than a thousand improvements to Business Profiles, making it easier for merchants to connect with customers and share updates online. We recently made this even easier by adding new ways for merchants to view and update their Business Profile directly from Search and Maps. 
With the pandemic causing daily disruptions worldwide, Google has helped businesses keep customers updated about everything from new services to adjusted store capacity and hours. Since the start of COVID-19, businesses made nearly 700 million edits to their Business Profiles, about double the number of changes made during the same time last year.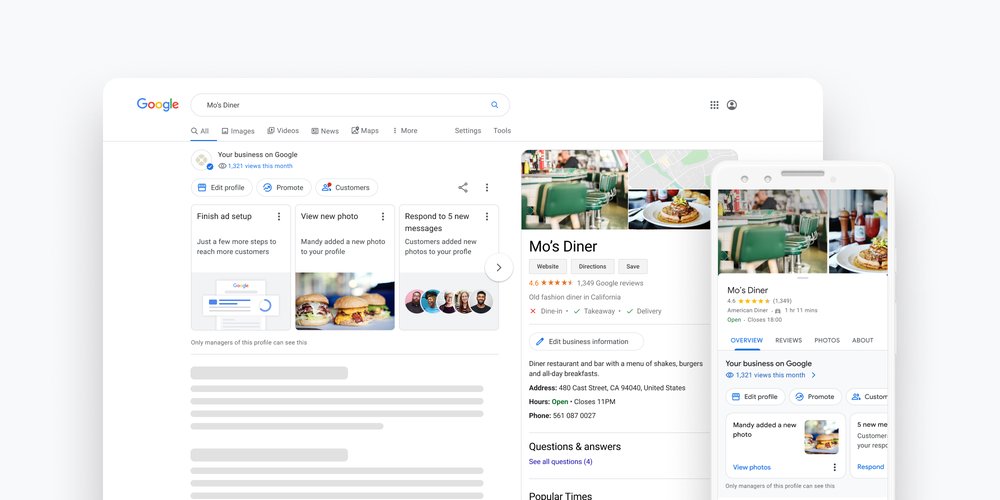 Gathering local information in totally new ways
To help people find what they need in a world that changes by the minute, we've developed new ways to find and surface information.
For example, people tend to avoid crowded stores and long lines—and this has been especially true during the pandemic. Popular times and live busyness information help people see how busy a place tends to be at a specific time or at that very moment. Gone are the days of guessing the best time to go grocery shopping! We're expanding live busyness information to millions of places globally and to include essential places like gas stations, grocery stores, laundromats and pharmacies.

Google's conversational technology, Duplex, has helped us scale our ability to confirm updated information for places. Since the beginning of the pandemic, we've put Duplex to work making calls to businesses in eight countries—from New Zealand to the United States—to confirm things like opening hours or whether they offer takeout and delivery. This has helped us make millions of updates to business information that have been seen more than 20 billion times in Maps and Search.
Building the most helpful map of an infinitely detailed world
Beyond the technologies we've developed, our global operations teams play a role in nearly every aspect of mapmaking. They gather data, train machine learning models that help us index information from imagery, fix problems and evaluate authoritative data sources. They also build and maintain the automated systems that protect people from fake contributed content and even help small business owners set up Google My Business accounts.
All this to say, our work to organize the world's information and make it accessible and useful is never done. Given the pace of change, there's never been a more important time for us to be helpful.
Comments Off
:maps, Maps 101
more...
by Elizabeth Reid on Feb.06, 2020, under 3D Models, Argentina, Australia, Brazil, California, Denmark, England, Germany, Google Earth News, Google Earth Tips, Google Sky, Google maps, Hawaii, Indonesia, Ireland, Italy, Japan, Kenya, Mexico, Natural Landmarks, Netherlands, Sightseeing, Street Views, USA
Fifteen years ago, we launched Google Maps as a useful way to help people get around. Working on Google's geo efforts for more than 15 years, watching Maps grow into what it is today has been an unbelievable experience. As we've added features and capabilities, Google Maps has evolved into much more than a website that gives you turn-by-turn directions. Today, it's a gateway to exploring the world—both digitally and in real life, on foot or by car, via public transit or a wheelchair. 
Pardon the pun, but it's been a long road! And in honor of Google Maps's birthday, we're looking back at some of the most important and exciting moments along the way. 
1. Google Maps is born. On Feb 8, 2005, Google Maps was first launched for desktop as a new solution to help people "get from point A to point B." Today, Google Maps is used by more than 1 billion people all over the world every month.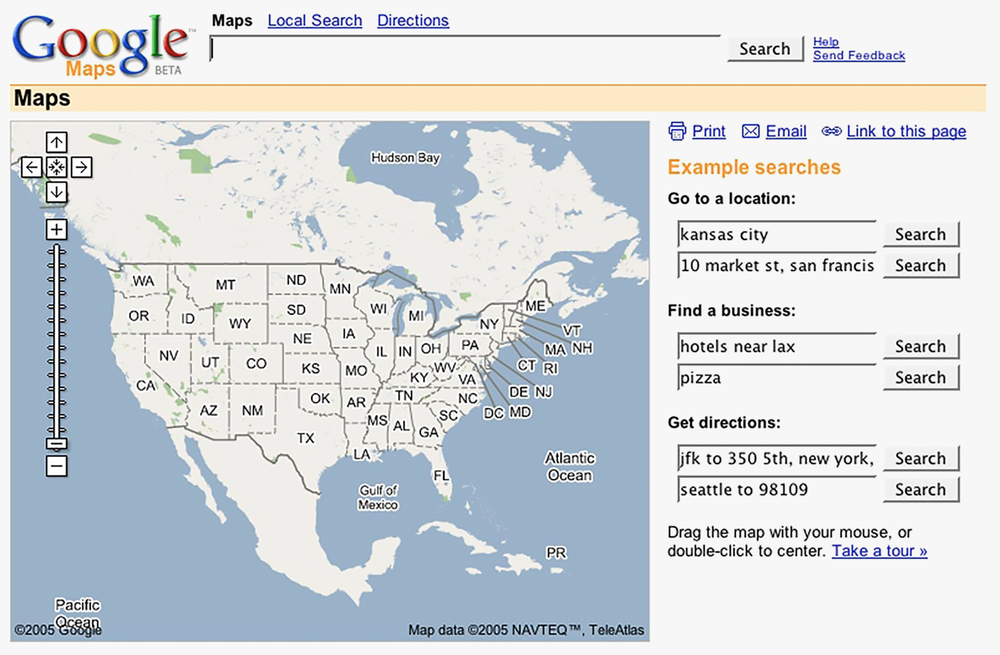 2. Introducing Google Earth.Just a few months later, Google Earth landed, bringing 3D views of the planet to desktops. Imaging technology has improved significantly since then, and now Google Earth features more than 36 million square miles of high-definition satellite images for digital explorers to journey through.

3. Delivered to developers. It's difficult to imagine a time when sites all over the web didn't embed Google Maps into their pages—but it wasn't until mid-2005 that the Google Maps API was announced. Today, more than 5 million websites and apps use Google Maps Platform every week.
4. Google Trip Planner takes on Portland.In December 2005, Portland, Oregon became the first city to use Transit Trip Planner, helping commuters see public transit schedules and routes. It started as a standalone product but was eventually folded into Google Maps. Over the years, the feature made its way to cities across the globe.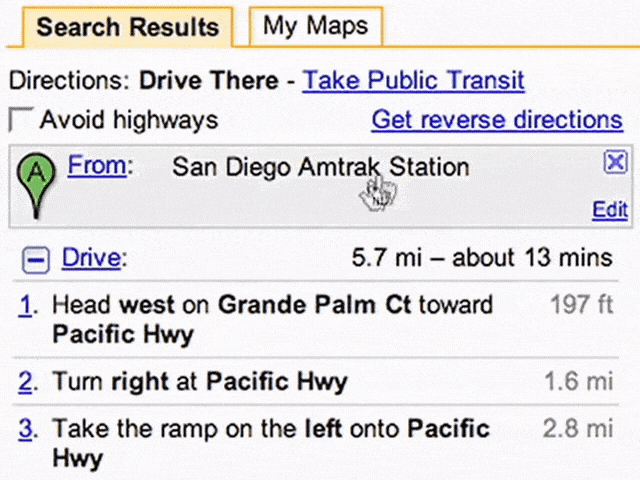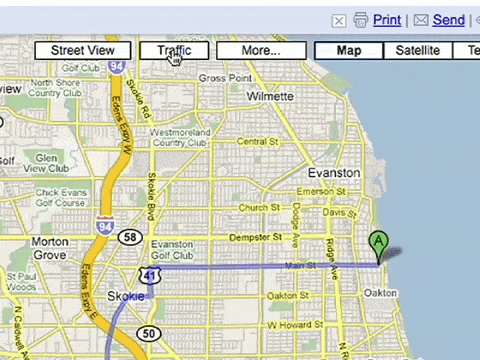 6. Take it to the Street View. May 29, 2007 marked the debut of Street View, which has become a much-beloved part of Google Maps. To collect imagery for Street View, we've strapped cameras to everything from snowmobiles to camels, and in total, captured more than 10 million miles.
7. Maps goes mobile. Yes, there was a time before smartphones could direct you anywhere and everywhere. Building on several years of work, in November 2007 we released version 2.0 of Google Maps for mobile, available for Blackberry, Palm devices and others. In 2008, our first Android app launched, followed by the iOS app in 2012. 
8. Navigation gets the green light. In 2009, a welcome update to Maps brought turn-by-turn navigation to the app. No more getting lost after you missed a turn!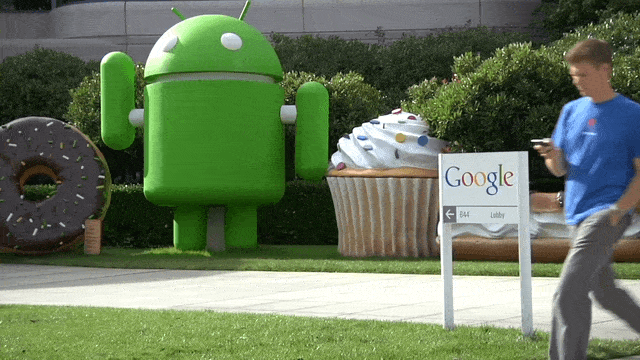 9. Street View Trekker takes us to new heights—literally. You might have thought Street View was already capturing unusual places, but in 2012 we introduced the Street View Trekker, bringing all the high-tech equipment needed to capture imagery into a backpack. We first took the Trekker out to explore the Grand Canyon, and since then it's captured imagery from hard-to-reach places like the Amazon rainforest and the top of the Eiffel tower.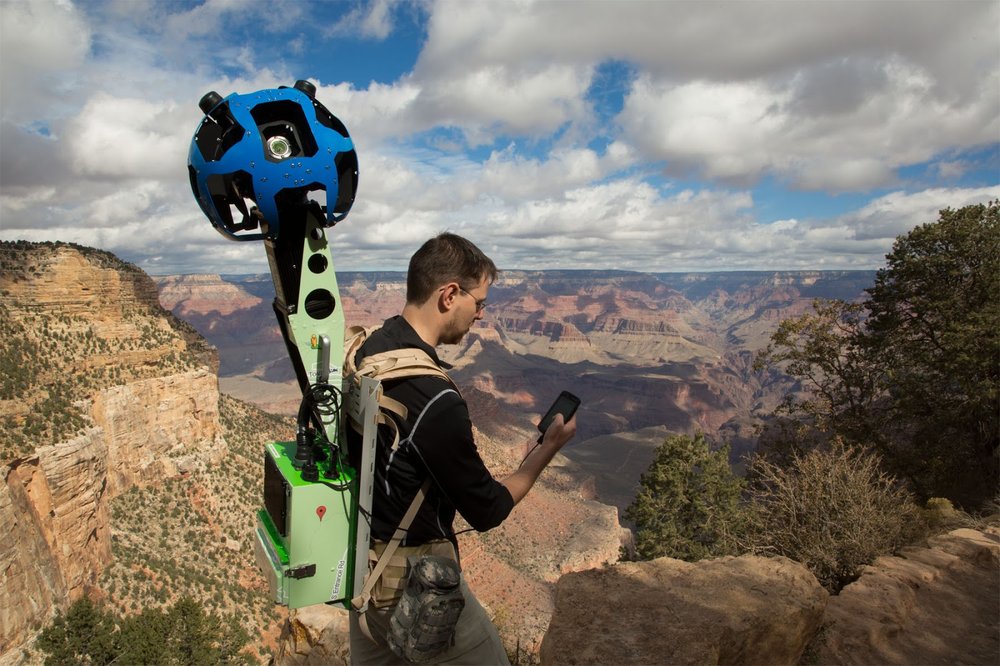 10. Say hello to hidden gems. Google Maps isn't only about exploring the globe; we've also loved helping people find out what's in their own neck of the woods. Building on our longstanding work to provide relevant local information, in 2014, we made it easier to browse information like hours, ratings and prices about restaurants, bars and hotels. Today, you can see these sorts of details for about 200 million businesses and places worldwide—right from your Explore tab.
11. Taking care of businesses. We've always made it a priority to help businesses share relevant information on Google, and in June 2014, we made that even easier with Google My Business. It's a one-stop-shop for business owners to manage their presence on Google Maps and Search by updating their business info, adding photos, responding to reviews and more. 
12. No connection? No problem. In November 2015, we launched offline maps, so that even when you don't have connectivity, you can still get turn-by-turn driving directions, search for specific destinations and find useful information about places.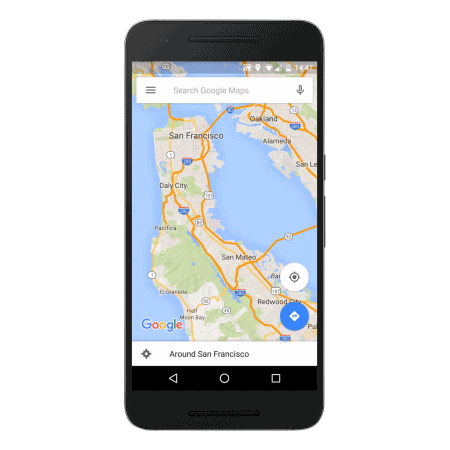 13. Meet your Local Guides. In the same month, we introduced the Local Guides program, a passionate community of users (now 120 million Local Guides strong!) who share reviews, photos and knowledge about places around the world. 
14. Have wheelchair, will travel. In March 2018, we brought wheelchair-accessible routes to Google Maps to make transit and navigation easier for those with mobility needs. Today, Google Maps includes accessibility info like wheelchair-friendly entrances and restrooms for more than 50 million places around the world.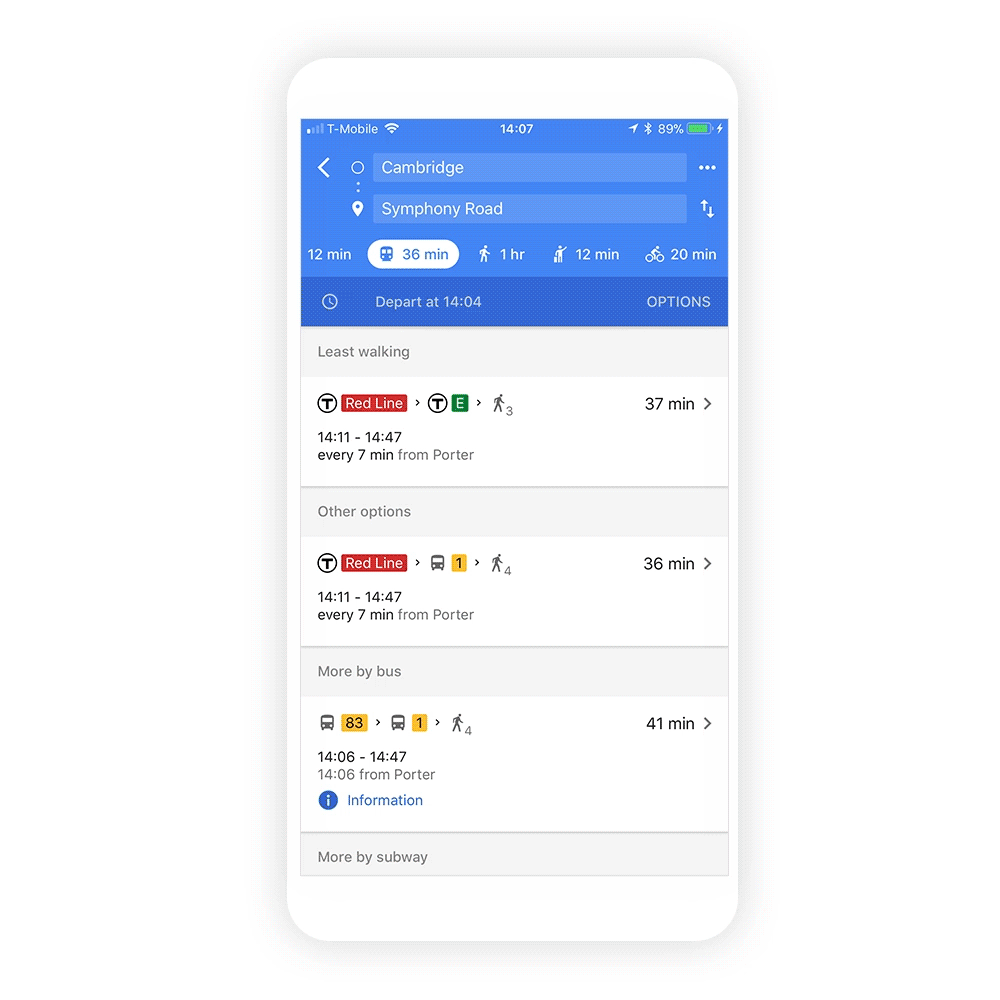 15. And we're live—with Live View.
Last February, we announced Live View
, which uses augmented reality to help you understand which way to walk, with arrows and directions clearly overlaid on your view of the world.
The world is constantly changing, and so is the way we get around in it. And as it does, Google Maps will be there every step of the way, building new tools that help you navigate, explore and get things done, wherever you are.
Comments Off
:
maps
more...