Author Archive
by Ramesh Nagarajan on May.26, 2021, under 3D Models, Argentina, Australia, Brazil, California, Denmark, England, Germany, Google Earth News, Google Earth Tips, Google Sky, Google maps, Hawaii, Indonesia, Ireland, Italy, Japan, Kenya, Mexico, Natural Landmarks, Netherlands, Sightseeing, Street Views, USA
Train stations are often busy, bustling places. Whether you're reaching your final stop or catching a connection, finding your way through a complex or crowded station can be daunting. And for people traveling with wheelchairs, luggage, prams or crutches, there are even more factors to juggle.
In 2018, we brought wheelchair accessible routes to Sydney and other cities around the world. To build on this, we've been working with Transport for NSW to help people map out each stage of the journey inside the station. 
To help people map out their journeys ahead of time, we're launching indoor Street View imagery for 130 train stations and a dozen metro stations in Sydney. Starting today, you'll be able to virtually navigate interactive, panoramic imagery inside Sydney stations, so you'll know your way when you get there. You can also enjoy the rich history and beauty of many stations, from heritage listed St James Station, to the stunning views of Circular Quay and Milsons Point – and the thriving hub of Parramatta. 
Indoor Street View imagery of the platform at St James station in Sydney.

Street View imagery inside St James station, Sydney

Street View imagery of the platform at Milsons Point train station in Sydney, with a spectacular view of the Harbour Bridge.

Street View imagery on the platform at Milsons Point station, Sydney 

Street View imagery of the platform inside Circular Quay train station in Sydney, with a spectacular view of the Harbour Bridge.

Street View imagery inside Circular Quay station, Sydney

Street View imagery showing the entrance of Parramatta train station in Sydney.

Street View imagery at the entrance of Parramatta train station, Sydney.
For the first time in Australia, we're also bringing detailed navigation directions for accessible routes across 70 complex train and metro stations across Sydney to Google Maps. These tools allow people to find the best and most accessible entrances, exits, signage and paths within the station and better anticipate in-transit travel times along these pathways.
Accessible navigation directions on Google Maps on desktop

And as a world first, we're sharing these navigation directions with Transport for NSW so it can be published to the NSW government's Open Data Portal. This will allow the transport industry and app developers to access this valuable information and find more solutions to enable accessible transit travel in the future.
To find these accessible navigation directions for your route on desktop or mobile, type your destination into Google Maps. Tap "Directions", then select the public transport icon and any route options (such as "wheelchair accessible", "fewer transfers" and "less walking").  After you tap your chosen route, the detailed navigation instructions will be displayed if your route takes you through a complex station in Sydney.   
 Accessible in-station directions in mobile view
Whether you are planning or navigating your commute, we hope these tools make Sydney stations feel a little more familiar – and help you commute with more confidence.
Comments Off
:Accessibility, maps
more...
by Ramesh Nagarajan on Jun.08, 2020, under 3D Models, Argentina, Australia, Brazil, California, Denmark, England, Germany, Google Earth News, Google Earth Tips, Google Sky, Google maps, Hawaii, Indonesia, Ireland, Italy, Japan, Kenya, Mexico, Natural Landmarks, Netherlands, Sightseeing, Street Views, USA
Getting from A to B can be more complicated these days. Because of COVID-19, it's increasingly important to know how crowded a train station might be at a particular time or whether the bus is running on a limited schedule. Having this information before and during your trip is critical for both essential workers who need to safely navigate to work and will become more important for everyone as countries around the world begin to reopen. 
In our latest release of Google Maps on Android and iOS, we're introducing features to help you easily find important information if you need to venture out, whether it's by car or public transportation. 
Get alerts about important information 
When you look up public transit directions for a trip that is likely to be affected by COVID-19 restrictions, we'll show relevant alerts from local transit agencies. These alerts can help you prepare accordingly if government mandates impact transit services or require you to wear a mask on public transportation. Transit alerts are rolling out in Argentina, Australia, Belgium, Brazil, Colombia, France, India, Mexico, Netherlands, Spain, Thailand, United Kingdom and the U.S. where we have information from local transit agencies, with more coming soon. 
We're also introducing driving alerts to notify you about COVID-19 checkpoints and restrictions along your route, like when crossing national borders (starting first in Canada, Mexico and the U.S.). You'll see an alert on the directions screen and after starting navigation if your route is impacted by these restrictions. 
When navigating to medical facilities or COVID-19 testing centers, we'll display an alert reminding you to verify eligibility and facility guidelines to avoid being turned away or causing additional strain on the local healthcare system. Starting this week, alerts for medical facilities will be available in Indonesia, Israel, the Philippines, South Korea, and the U.S., and testing center alerts will be available in the U.S.
 New transit alerts show you when your trip is likely to be affected by COVID-19 restrictions

See if there are COVID-19 border restrictions along your route.

Testing Center_Covid19.jpg

Heading to a medical facility or a COVID-19 testing center? Remember to verify eligibility and facility guidelines before you go.
We're showing these alerts where we've received authoritative data from local, state and federal governments or from their websites, and are actively working with other agencies around the world to bring even more of this helpful data to users in Google Maps. Interested agencies can get in touch here for driving restrictions and here for transit alerts. 
Safely avoid crowds on public transit 
Last year, we introduced crowdedness predictions for public transit in Google Maps. Powered by tens of millions of contributions from past riders, these predictions help people see how crowded a particular bus line or train tends to be. We're now making it simpler for people to contribute crowdedness information for their transit lines. Look up Directions, tap through to see the Transit Details, then scroll down to find crowdedness predictions (where available) and easily contribute your own experiences.
Additionally, in February, we announced new insights like temperature, accessibility and security onboard, as well as designated women's sections in regions where transit systems have them. These insights are now rolled out globally, helping you find feedback from past riders when available and submit your own, right alongside public transit routes. To help wheelchair users around the world know before they go, we've added more granular accessibility information for people to find and contribute, including where there are wheelchair accessible doors, seating, stop buttons and more.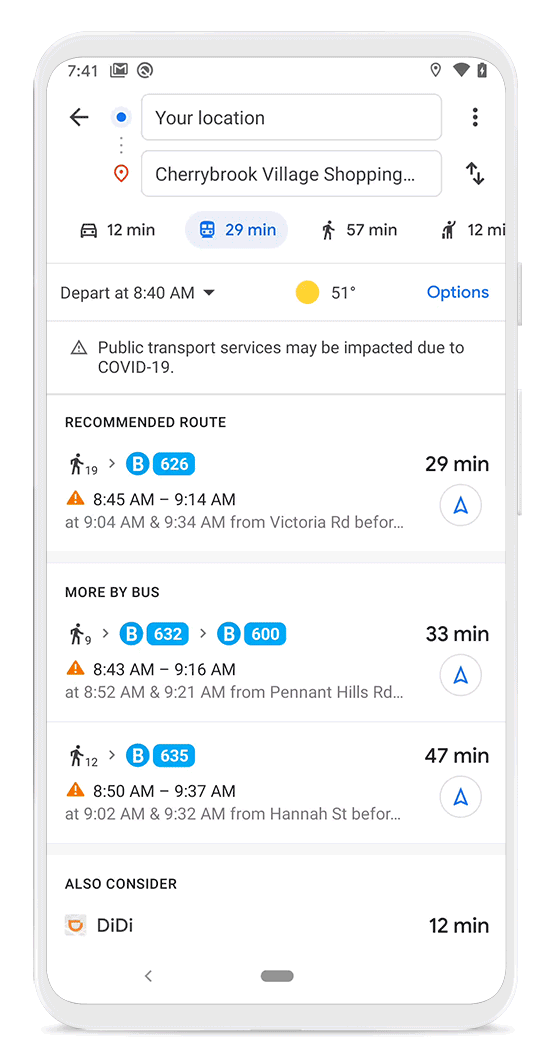 To ensure proper social distancing, commuters are paying attention to how crowded or comfortable their ride and transit station will be. Starting today, you can easily see the times when a transit station is historically more or less busy to plan your trip accordingly or you can look at live data showing how busy it is right now compared to its usual level of activity. Simply search for a station in Google Maps or tap on the station on the map to see the departure board and busyness data, where available. Rolling out over the next several weeks, these capabilities are powered by aggregated and anonymized data from users who have opted in to Google Location History, a Google account-level setting that is off by default. To protect privacy, these insights are only surfaced when we have sufficient data to meet privacy thresholds.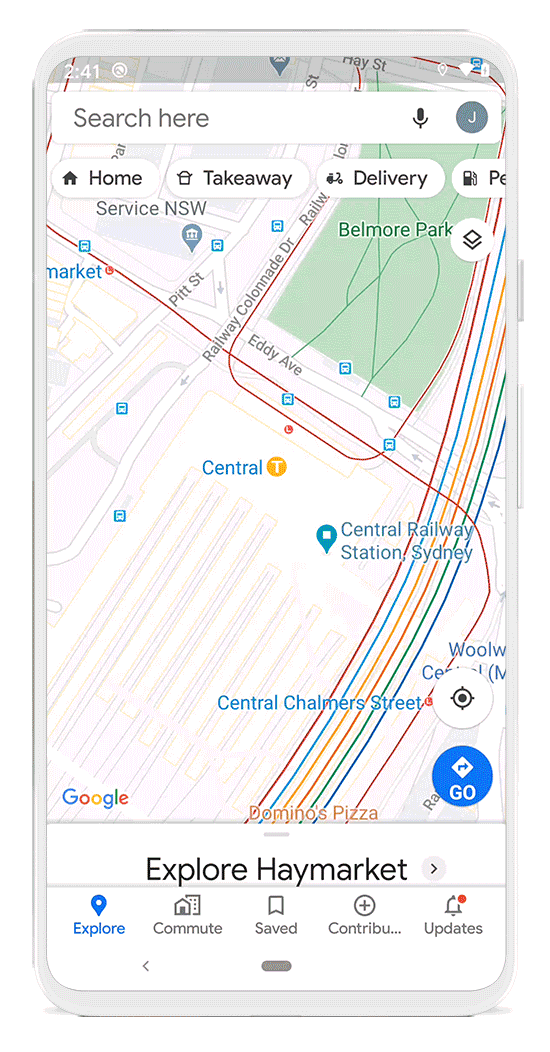 COVID-19 has certainly impacted the way that we move around in the world. As cities and countries across the globe adapt, we're committed to bringing the most pertinent information right to your fingertips. So when you're ready and able to, you can safely venture out.
Comments Off
:covid-19, maps
more...