Author Archive
by Mara Chomsky on May.20, 2021, under 3D Models, Argentina, Australia, Brazil, California, Denmark, England, Germany, Google Earth News, Google Earth Tips, Google Sky, Google maps, Hawaii, Indonesia, Ireland, Italy, Japan, Kenya, Mexico, Natural Landmarks, Netherlands, Sightseeing, Street Views, USA
With Google Maps, we want to make it easier to get around, explore and get things done for everyone  — and that includes people with disabilities. One way that we make sure our Maps have up-to-date information about details, like if a restaurant has tables suitable for people who use wheelchairs, is through our community of Local Guides. In honor of Global Accessibility Awareness Day, we're sharing tips from some of these people about how anyone can contribute to a more accessible world — both on and off of the map.
Make an accessibility checklist for your reviews
When you add a review on Google Maps you can create your own template or accessibility checklist to make sure you have the most helpful details covered.
Tushar Suradkar
, a Local Guide from India, created a system that helps him make sure all of his reviews covers the accessibility details he cares about — like if a place has tactile paths for the visually impaired, ramp access, and wheelchair-accessible entrances, restrooms, parking and elevators. Each time he leaves a review, he fills in a self-created template that makes these details clear and noticeable so people looking for this information can spot it.
Tushar's accessibility checklist used on Google Maps reviews.
Add accessibility attributes to your business or places you've visited
After visiting a place or business, you can help indicate which accessibility features a place has — like whether it has a wheelchair-accessible entrance, wheelchair-accessible restroom, wheelchair-accessible parking — by answering questions about the business on the Google Maps app.  
And if you're a business owner or manager with a verified Business Profile on Google, you can
add attributes
to your Business Profile on Search and Maps. In addition to existing
accessibility attributes
, we recently added the assistive hearing loop attribute that indicates if somewhere, like a movie theater or library, has a sound system that is compatible with hearing aids. If attributes aren't relevant to your business, you have even more ways you can make your business more accessible by using tools such as
Live Transcribe
,
Live Caption
, and
TalkBack
on Android.
Accessibility attributes displayed on Google Maps.
Create lists to curate accessible places on Google Maps
Another way to share local knowledge is by creating public lists on Google Maps. You can make lists of places like accessible museums in your city or the most wheelchair accessible restaurants in your neighborhood.  
Asongfac Lily Rospeen
, a Local Guide from the Southwest region of Cameroon, curates lists like her
Accessibility Buea
list that includes wheelchair accessible banks, hotels, hospitals, bookshops, pharmacies, and supermarkets in her city.
Spread the word about accessibility 
Let others know about all the ways they can contribute to Maps to make it more accessible through attributes, reviews and more. Take inspiration from the Local Guides community. 
Emeka Ulor, a Local Guide from Nigeria, has rallied other people to add accessibility data to Google Maps and help make it more inclusive. He started the One Accessibility project, recruiting more than 20 volunteers and hosting more than 100 meet-ups to encourage people to add accessibility information to Google Maps. His reviews include information about wheelchair accessible parking, entrances, restrooms, lighting, Braille and seating to help inform people about the accessibility of their destination.
You can read more about these Local Guides and how others in the community are making Google Maps more accessible
on Connect
, our blog and forum for Local Guides.
Comments Off
:Accessibility, maps
more...
by Mara Chomsky on Jul.09, 2020, under 3D Models, Argentina, Australia, Brazil, California, Denmark, England, Germany, Google Earth News, Google Earth Tips, Google Sky, Google maps, Hawaii, Indonesia, Ireland, Italy, Japan, Kenya, Mexico, Natural Landmarks, Netherlands, Sightseeing, Street Views, USA
Scroll through Denise Barlock's public Google Maps profile and you'll notice one thing: Denise is always on the road and she leaves a trail of reviews and photos in her wake. As of today, Denise has posted more than 1,000 reviews across 35 states and two countries. Along the way, she has shared over 12,000 photos from places like restaurants, grocery stores, and campsites, which have been viewed roughly 95 million times
Four years ago, Denise retired early and bought an Entegra Class A motorhome that she named "Maggie." She now calls the entire United States her home. Since transforming her retirement into a country-trotting journey, Denise has traveled 54,000 miles across the U.S. and has driven as far north as Alaska. A Google Maps superuser and Level 10 Local Guide, she has collected helpful tips for others: go off-roading in the Southwest during the winter; visit Colorado to see the aspens change color in the fall; stay overnight at an alpaca farm in Santa Fe, New Mexico; and search for the decorative flamingo you're bound to find somewhere on the premises of almost every RV park.
Traveling more than 12,000 miles a year and changing her location about once a month, Denise has come to know Google Maps inside and out. And with many Americans taking to the road this summer, she graciously offered to share essential tips on how to maximize Google Maps to make your next road trip more enjoyable, memorable, budget-friendly and stress-free. 
Whether you're hauling your family on a cross-country RV trip or going for a scenic day trip, Denise's six Google Maps road trip tips are not to miss.
Talkeetna Alaska on the Susitna River with Mount Denali in the background

Denise in Talkeetna, Alaska on the Susitna River with Mount Denali in the background

Albuquerque balloon fiesta campground across from the balloon launch area

Denise's RV at the Albuquerque balloon fiesta campground

Hungry Horse Reservoir Montana close to Glacier National Park

Denise and her two furry companions at Hungry Horse Reservoir in Montana close to Glacier National Park

California Pass between Silverton and Ouray Colorado

Denise's Jeep on the California Pass between Silverton and Ouray, Colorado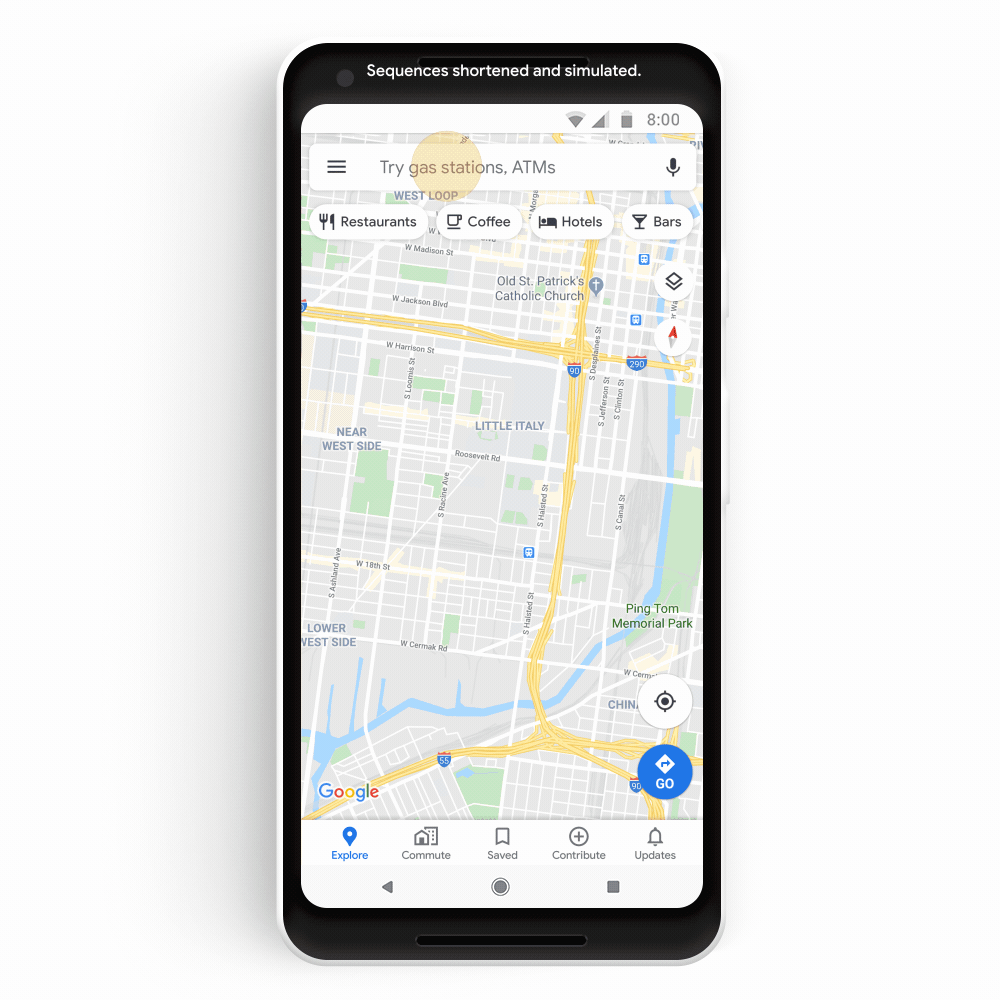 1. Eat like a local: Find restaurants and businesses en route
Part of experiencing a new place is trying the local cuisine. Use Google Maps to search for restaurants within the $ and $$ range, and you'll usually find the more frequently visited local restaurants. Scan the reviews to find out what's frequently talked about, like the can't-miss chicken fried steak in Carthage, Texas, or an amazing hatch chili burger in New Mexico. Google Maps will even tell you what dishes are most popular based on the reviews and photos other diners have left behind.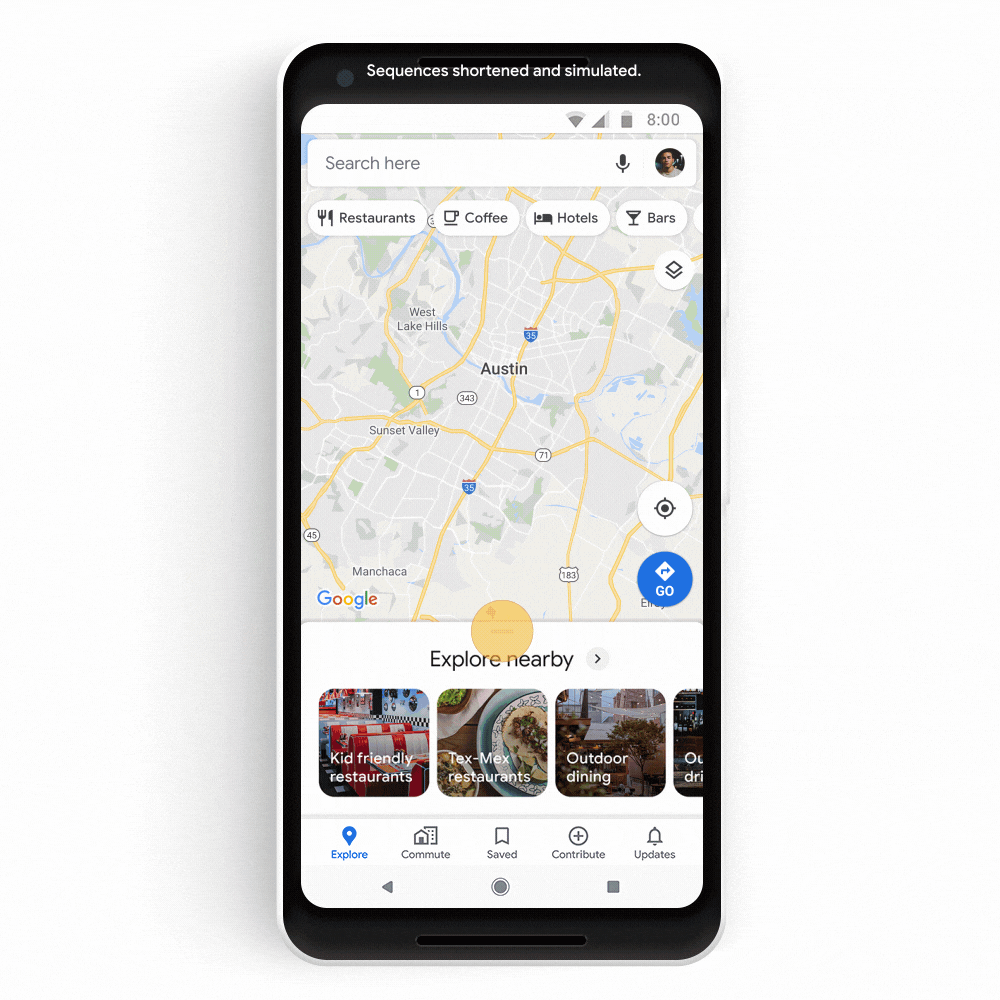 2. Explore more: Maximize the Google Maps search bar and Explore tab
Find interesting places and things to do with Google Maps. Use the search bar in Google Maps to look for specific things like "scenic spots," "waterfall," or "trailhead." Try using more detailed searches to get better results when looking for a business or service. For example, search for "oceanfront RV campground," "early bird specials," or "kayak rental daily rate."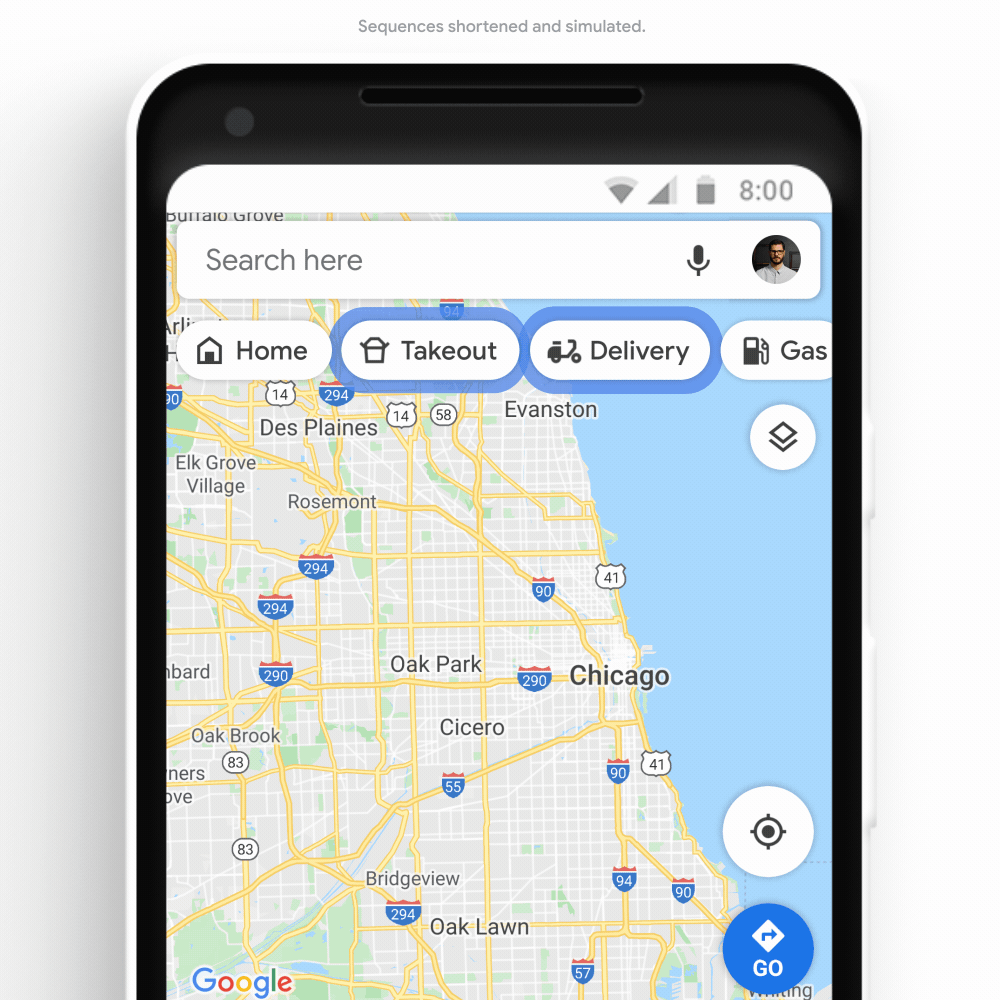 3. Plan ahead: Look for restaurants doing takeout, dine-in or delivery
COVID-19 has forced many restaurants to change their operating models or even temporarily close, which makes planning ahead even more important. With Google Maps you can look for local restaurants around you that are open, offering takeout, curbside pickup, delivery or no-contact delivery.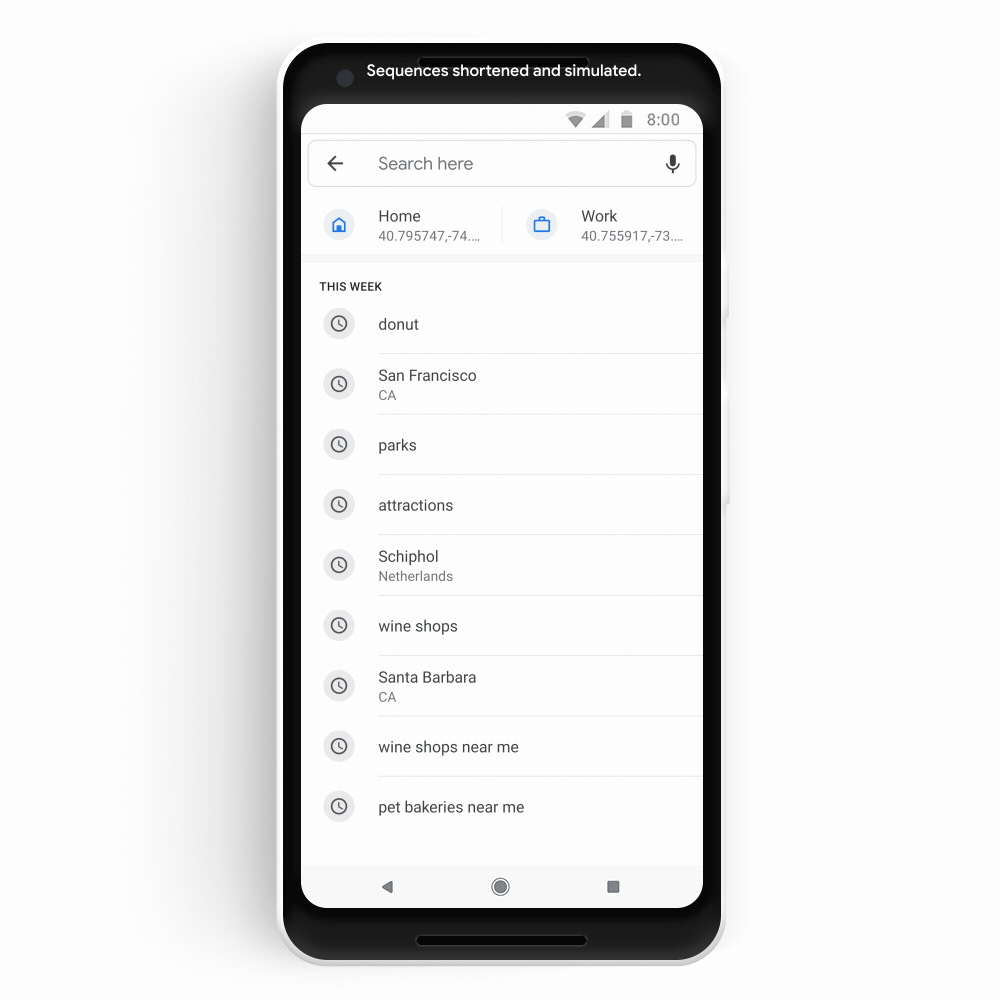 4. Save on the go: Cut back on gas and toll money 
Expenses can add up quickly when you're on the road. If you need to make a pit stop, you can use Google Maps to search for nearby gas stations and their prices to get the best deal. This is especially helpful in places like the Colorado mountains where gas stations are limited and you need to make sure you have a full tank at the best price before driving over mountain passes. 
You can also avoid toll roads and highways when in navigation mode. Given the price of tolls for big rigs in the Northeast and across the country, Denise tries to avoid the toll roads as much as possible. As you're viewing your directions, simply tap on the three dots at the top right corner of the Google Maps to see your route options and select the route types you want to avoid.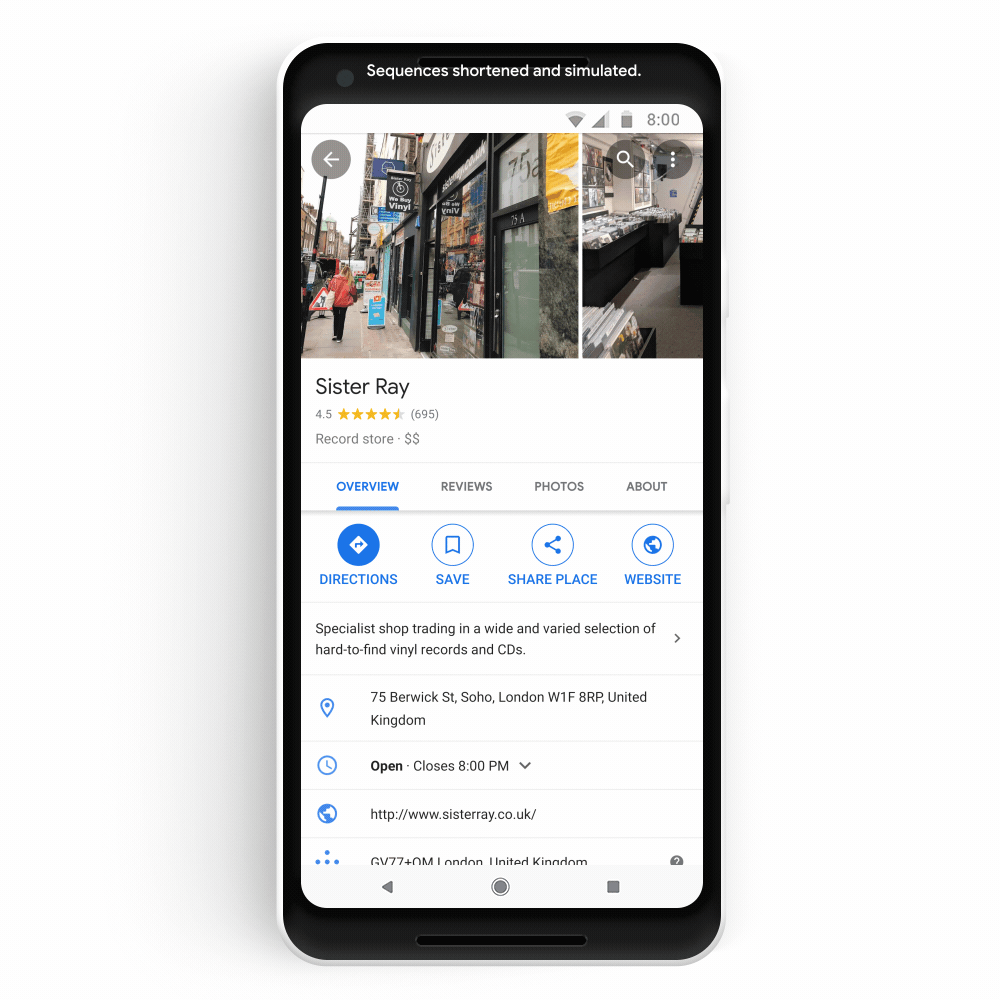 5. Keep track: Save the places you've been and the places you want to go
Use the nifty Saved tab to create custom lists of favorite places you've been and places you want to visit and even share your lists with others. 
Open the Google Maps app and find that must-try BBQ spot that you've planned a day trip around. Tap on the place name and then the "Save" icon to add the place to one of several pre-set lists like "Want to Go" or "Favorites." You can also add places to a new list that you name yourself, like "Finger Lickin' BBQ." Use the Saved tab to find lists you've created and followed. 
Denise has a custom list of places she considers to be "best-of" in the Surfside Beach area of Myrtle Beach, SC. She will oftentimes create private lists that consist of local vets, drug stores, and grocery stores to be able to find these needed services quickly and easily.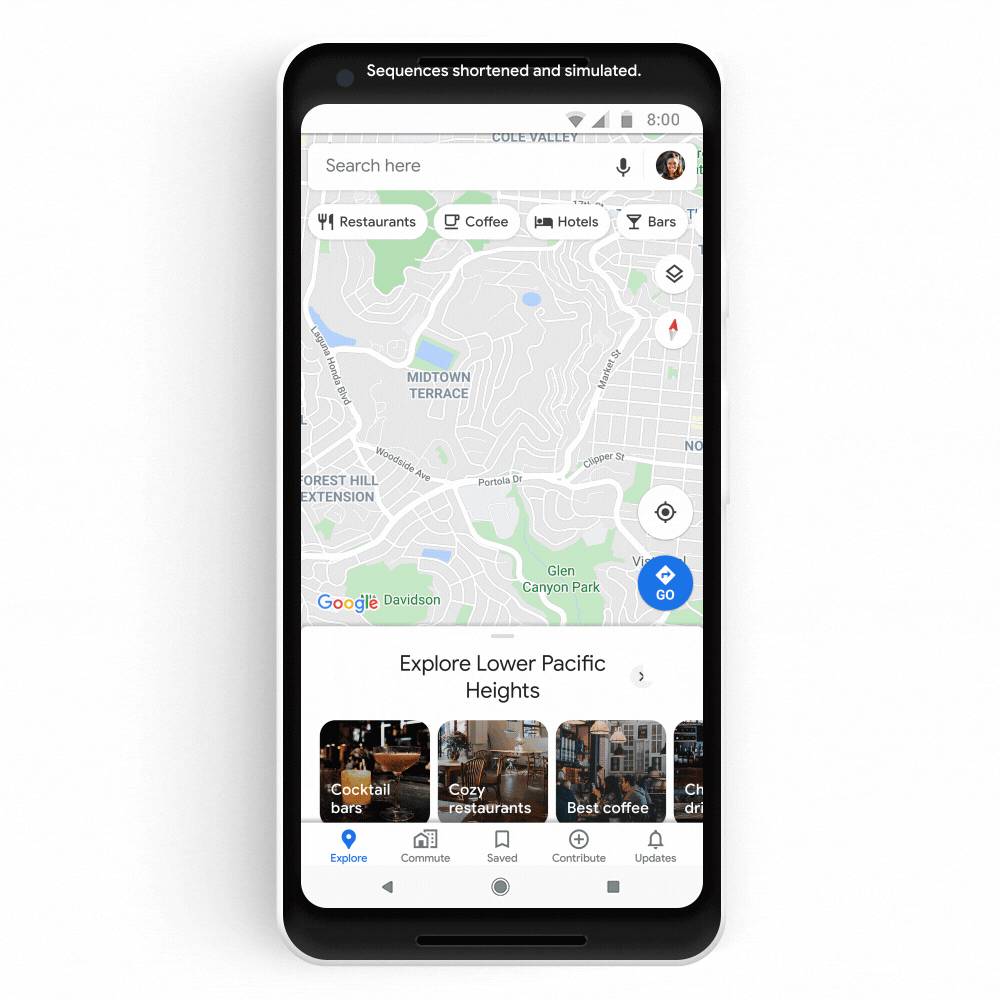 6. Pay it forward: Leave reviews and share photos
Other travelers took the time to leave the Google Maps reviews and photos that helped you make a decision on your road trip. Pay it forward to the next road warrior and leave your own reviews and photos of the places that made your visit memorable. Doing so also gives small businesses exposure to other travelers, and makes them more likely to be around the next time you roll through town.

Comments Off
:
maps
more...