Archive for October 2nd, 2020
by Rowan Barnett on Oct.02, 2020, under 3D Models, Argentina, Australia, Brazil, California, Denmark, England, Germany, Google Earth, Google Earth News, Google Earth Tips, Google Sky, Google maps, Hawaii, Indonesia, Ireland, Italy, Japan, Kenya, Mexico, Natural Landmarks, Netherlands, Sightseeing, Street Views, USA
Climate action can have the biggest impact in cities, which are responsible for 70 percent of the world's CO₂ emissions. That's why we committed to helping more than 500 cities reduce 1 gigaton of carbon emissions annually by 2030 as part of our ambitious plan for climate action. To help reach that goal, ICLEI-Local Governments for Sustainability, with grant support from Google.org, is funding six projects. The projects will use actionable data to test new strategies that can reduce emissions and improve air quality in cities across Europe. 
ICLEI is a global network of more than 1,750 local and regional governments committed to sustainable urban development. Last fall, we granted $4 million in funding to them to establish the ICLEI Action Fund and support nonprofits and academic institutions in Europe and Latin America that are leading data-driven climate action efforts. Here's a look at the projects that have been funded and what we've learned so far. 
Projects selected for funding across Europe
 The Centre for Sustainable Energy plans to establish an open-source, city-wide energy dataset in Birmingham, England. The team will also develop analysis tools that can model decarbonisation options for buildings in the city, overlay and integrate public datasets, and aggregate granular socioeconomic data. 
With these tools, the Centre hopes to develop city-wide interventions and smaller community initiatives that will help the city reach its overall decarbonisation goals. "By combining emissions data for buildings, transport, and energy infrastructure with socioeconomic data, and distributing local community grants, we'll be able to help residents deliver targeted carbon reduction projects, and support the City Council and Route to Zero Task Force to deliver their city-wide climate emergency ambitions," said Rachel Coxcoon, Programme Director at the Centre for Sustainable Energy. 
In Hamburg, the CityScienceLab of the HafenCity University will develop a tool incorporating data from Google's Environmental Insights Explorer (EIE), Hamburg's urban data platform and other sources. With this tool, they plan to help the city identify areas that can be used as "urban testbeds" for prototyping energy innovations in the Altona, Norg and Bergedorf districts. The prototyping process will help visualise and simulate projects to better understand their projected impact on the city. 
Other Action Fund grantees and their projects include: 
Deutsche Umwelthilfe in Berlin: To help the city reach its air quality and carbon-free transport goals, they plan to analyze data about air quality, noise levels and traffic, and use EIE to advocate for data-driven changes to cycling and other transportation infrastructure.
Carbon Co-Op in Greater Manchester: Working with local partners, they'll develop multi-sector energy plans for the regions and pilot three citizen-led projects focused on sustainable mobility and energy-efficient buildings. A newly developed urban energy dashboard will help them track impact. 
Miljopunkt Amager in Copenhagen: Using Google Air View, traffic data and community-collected data, they'll test new urban space designs that may improve air quality. 
Air Pays de la Loire in Nantes: Using real-time air quality datasets that account for traffic conditions, they will provide citizens and local authorities with tools to make decisions about transportation management and traffic regulation systems.
The latest insights from cities taking data-driven climate action 
Through these projects, we've seen how cities are thinking about data-backed sustainability planning and action. So far, we've seen trends that can be applied globally.  
First, starting small can lead to a big impact—especially when it comes to data. City-level data can point decision-makers in the right direction, while neighborhood or district data can create the necessary community buy-in for more specific programs or interventions. Second, actionable data can help citizens make informed day-to-day decisions and take action. After all, informed citizens are a critical piece of the puzzle. Last, we saw a huge interest in cities looking to improve air quality through more efficient and low-carbon transportation options. 
To have a meaningful impact on climate change, data-driven approaches must be scaled across the globe. That's why Google.org provided ICLEI's Global Secretariat with additional funding to develop case studies so they can share best practices that emerge from the Action Fund with cities around the world that are looking to implement similar data-driven climate interventions. 
 One of our goals at Google is to unlock climate ambitions with data, insights, and innovation to overcome today's climate crisis. We're excited to continue supporting leading organizations, such as ICLEI, and cities that share that goal. 
Image Credit: Google Earth image of Paris, France 2019, Aerodata International Surveys, Maxar Technologies, The GeoInformation Group | InterAtlas

Comments Off
:Google in Europe, maps, Sustainability
more...
by Mirko Ranieri on Oct.02, 2020, under 3D Models, Argentina, Australia, Brazil, California, Denmark, England, Germany, Google Earth News, Google Earth Tips, Google Sky, Google maps, Hawaii, Indonesia, Ireland, Italy, Japan, Kenya, Mexico, Natural Landmarks, Netherlands, Sightseeing, Street Views, USA
Live View in Google Maps helps you keep your bearings so you can find your way around. With new ways to use Live View, we're making it even easier to orient yourself in the world whether you're walking around, leaving a public transit station or meeting up with friends. 
We launched Live View last year, and since then it's helped people get around efficiently–especially during the pandemic, when getting from place to place as directly as possible is top of mind. Thanks to augmented reality (AR), you can see arrows, directions, and distance markers placed right on top of your world so you spend less time figuring out which way you should be headed. 
Use landmarks to orient yourself in Live View
When you select or search for a place on Google Maps, you can already tap on the Live View button to visualize your destination in the real world. Soon, you'll also be able to see nearby landmarks so you can quickly and easily orient yourself and understand your surroundings. Live View will show you how far away certain landmarks are from you and what direction you need to go to get there. These landmarks can include iconic places, like the Empire State Building in New York and the Pantheon in Rome, and easily recognizable places, like local parks and tourist attractions.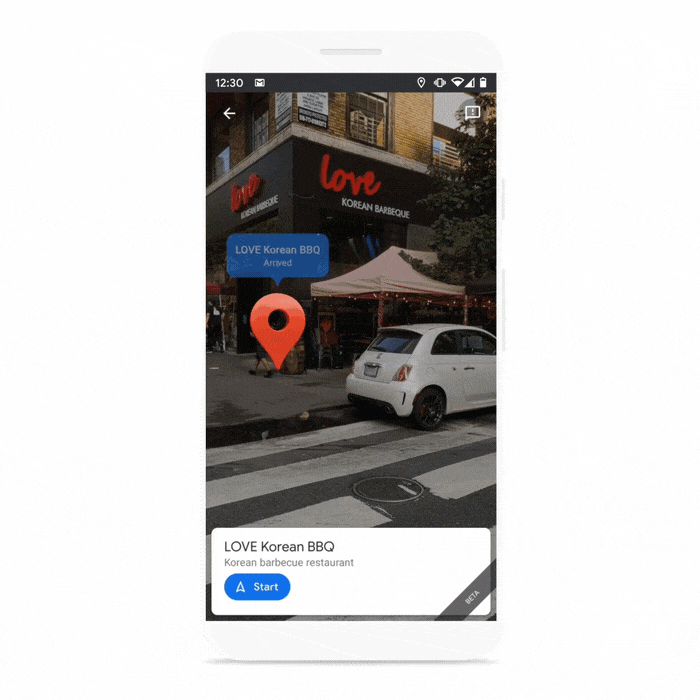 Get Live View in more places 
You can now access Live View right from the transit tab in Google Maps. Back in 2018, we launched
multi-modal navigation
–a way to get directions for a trip that involves a combination of transportation types, including walking, driving, biking and transit. Now, if you're using transit directions and have a walking portion of your journey, you can use Live View to find your way. This is particularly useful when you exit a transit station and don't know which way to go.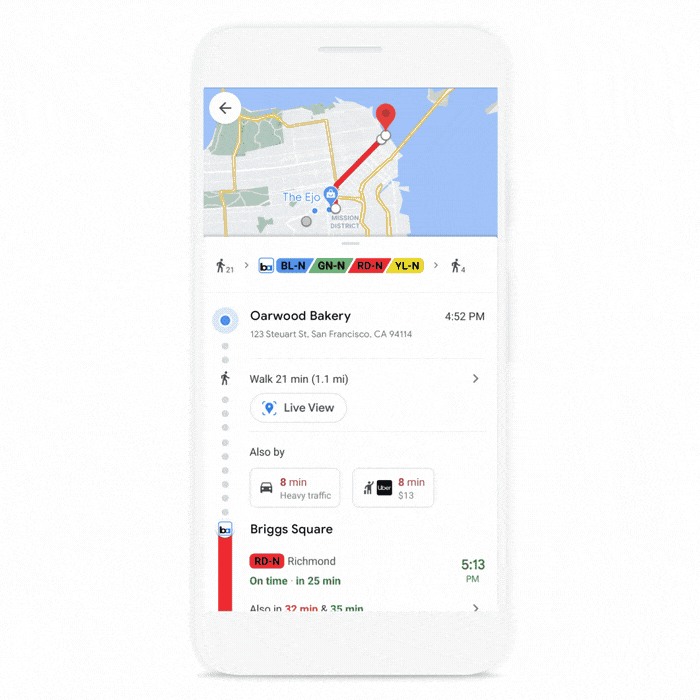 Live View in Location Sharing–
soon available on Android and iOS
If you're meeting up with friends for a socially distant gathering, it can be hard to pinpoint exactly where they are.
Last month
, we launched Live View in Location Sharing for Pixel users, and we'll soon expand this to all Android and iOS users around the globe. When a friend has chosen to share their location with you, you can easily tap on their icon and then on Live View to see where and how far away they are–with overlaid arrows and directions that help you  know where to go.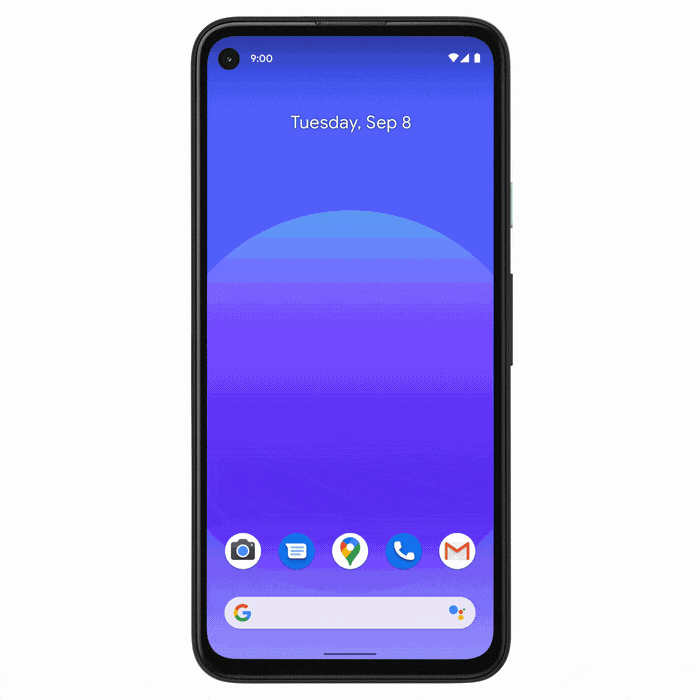 A more accurate pin
To bring all of these features to life, we've made improvements to global localization, the underlying technology that powers all Live View features on Google Maps. With the help of machine learning and our understanding of the world's topography, we're able to take the elevation of a place into account so we can more accurately display the location of the destination pin in Live View. Below, you can see how Lombard Street—a steep, winding street in San Francisco—previously appeared far off into the distance. Now, you can quickly see that Lombard Street is much closer and the pin is aligned with where the street begins at the bottom of the hill.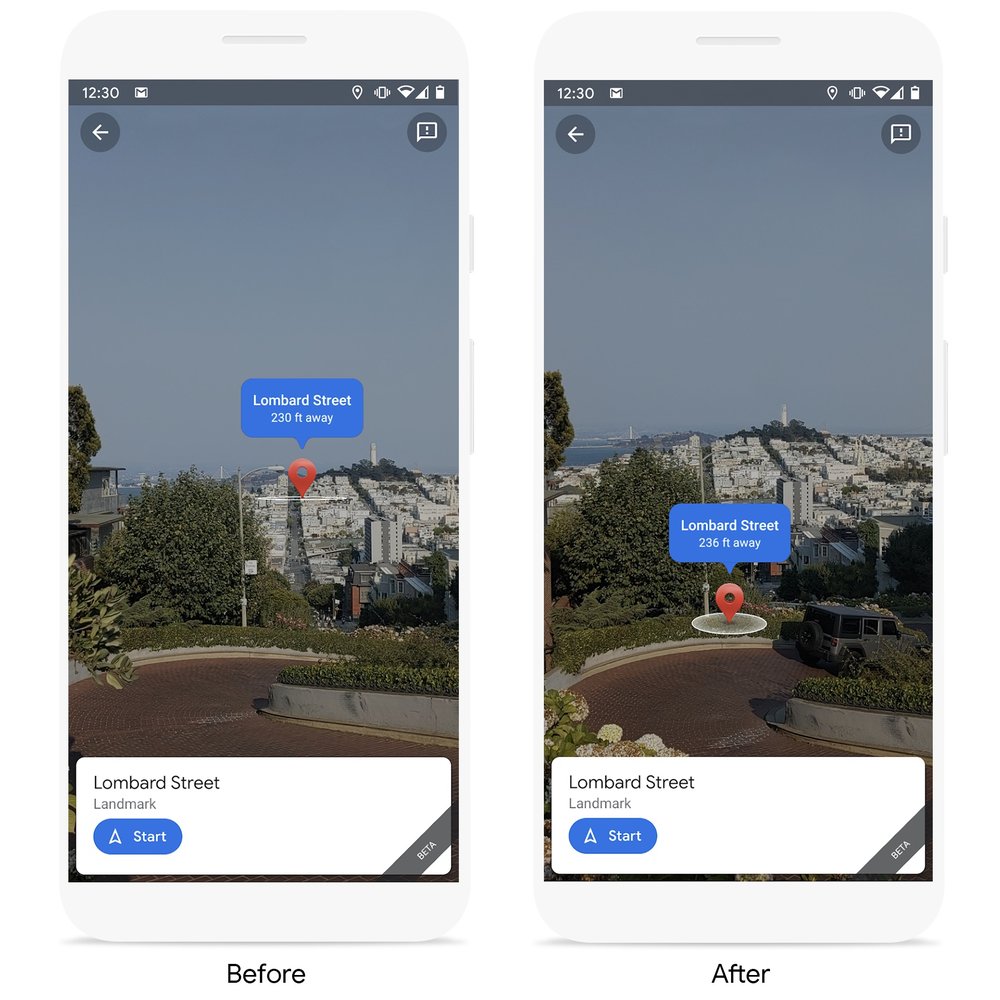 No matter where you're walking, Live View can help you get there as efficiently as possible. You'll start seeing Live View in the transit tab and Location Sharing on Android and iOS in the coming weeks, along with a more accurate pin. Landmarks start rolling out soon on Android and iOS in nearly 25 cities* around the world, with more to come. 
*Amsterdam, Bangkok, Barcelona, Berlin, Budapest, Dubai, Florence, Istanbul, Kuala Lumpur, Kyoto, London, Los Angeles, Madrid, Milan, Munich, New York, Osaka, Paris, Prague, Rome, San Francisco, Sydney, Tokyo, Vienna
Comments Off
:
maps
more...