Archive for November 17th, 2020
by Holly Day on Nov.17, 2020, under 3D Models, Argentina, Australia, Brazil, California, Denmark, England, Germany, Google Earth News, Google Earth Tips, Google Sky, Google maps, Hawaii, Indonesia, Ireland, Italy, Japan, Kenya, Mexico, Natural Landmarks, Netherlands, Sightseeing, Street Views, USA
The holiday season is starting—which means time with friends, family, and lots of food. And though festivities may be a bit different this year, there are still creative, safe ways to celebrate and stay connected. No matter what you have in store for the holidays, these Google Maps tips can help you stay informed, stay connected and save time.
Stay informed even while running holiday errands and traveling
1. Check out how busy a place is:
Popular times and live busyness information can tell you how crowded a place typically is on a given day or time—and even how busy it is right now. This is especially handy during the era of social distancing: Check out busyness on Maps before you head to a restaurant, store, business, or place to avoid holiday crowds and long waits.
2. (New!) Find the latest information about COVID-19:
If you're thinking about heading out of town to another city or state, you can use the COVID layer on Maps to quickly see how cases are trending in the area. You can also access quick links to authoritative local resources so you know at a glance if there are specific guidelines or restrictions in the area you're visiting. 
3. Quickly understand safety precautions from a business:
If you're eating out or getting a head start on your holiday shopping, you can easily learn more about what safety precautions a business is taking. Find out if they're sanitizing between customers, if there's safety dividers at checkout and if they require staff to have regular temperature checks.
If you need to, connect safely
4. Share your ETA:
If you need to see loved ones, let them know when they can expect you to arrive with you just a few taps. 
5. Don't get lost:
 Planning to meet up with friends outdoors and at a distance? When a friend has chosen to share their location with you, you can easily tap on their icon and then on Live View to see where and how far away they are—with overlaid arrows and directions that help you know where to go.
Save time so you can spend more time enjoying the festivities 
6. (New!) Get more done on drives:
If you're road tripping home, using voice with Google Assistant driving mode in Maps helps make the ride more convenient and enjoyable while keeping your focus on the road. Starting to roll out today as a preview, Android users in the U.S. can now get call alerts from Assistant, answer or decline calls by simply using their voice, quickly review incoming messages across apps in one place, and play podcasts and songs from hundreds of media providers—all without leaving the navigation screen. 
7. (New!) Don't let your food get cold: If you're taking a low-key approach to the holidays this year and opting to order in instead of cooking an elaborate meal, Google Maps can help. When searching on your phone for restaurants nearby, you can easily sort by places that offer takeout or delivery and place your order directly from Google Maps. Now you can also see exactly when your order will be delivered or ready to pick up on the app's home screen—because nobody likes cold turkey!
8. Search along your route:  If you're on the road and realize you need to make a stop—say you're running low on gas or need to pick up a last-minute item from the market—use Google Maps to search for gas stations, grocery stores, or other places along your drive so you can tackle your tasks without going too far out of your way. 
Comments Off
:covid-19, maps
more...
by Holly Day on Nov.17, 2020, under 3D Models, Argentina, Australia, Brazil, California, Denmark, England, Germany, Google Earth News, Google Earth Tips, Google Sky, Google maps, Hawaii, Indonesia, Ireland, Italy, Japan, Kenya, Mexico, Natural Landmarks, Netherlands, Sightseeing, Street Views, USA
This holiday, family gatherings will be smaller or take place virtually to make sure everyone stays safe and healthy. Indoor activities will move outdoors. And that international holiday vacation will potentially transform into an epic road trip to nearby attractions as you stop to sightsee at local hidden gems along the way. But even still, people are prepping to make classic holiday dishes, looking for ways to experience winter and finding new, safe ways to be together.
We've analyzed Google Maps data before and during the pandemic (for the purposes of this post, we analyzed data from March to October 2020) to see how people across the U.S. are getting ready for the holidays. Read on for top trends on how people are navigating, how they're spending their time and what type of food they're craving.
by Dane Glasgow on Nov.17, 2020, under 3D Models, Argentina, Australia, Brazil, California, Denmark, England, Germany, Google Earth News, Google Earth Tips, Google Sky, Google maps, Hawaii, Indonesia, Ireland, Italy, Japan, Kenya, Mexico, Natural Landmarks, Netherlands, Sightseeing, Street Views, USA
This year, we've made it easier to find information that helps you stay safe, up-to-date, and connected. Since the start of the pandemic, we've added nearly 250 new features and improvements to Google Maps to help you adapt to this new normal—from live busyness information for millions of places, to the ability to easily see critical health and safety information at a glance. And we're continuing to invest in ways to keep information in Maps fresh, with over 50 million updates made to the map each day. Even as the holidays approach, we don't plan on slowing down. If you need to be out and about this holiday season, here are four ways that Google Maps can help you get around safely and get things done.
Get around
Whether you're heading out of town or staying local, keeping a pulse on the latest COVID trends can help you stay safe. Since we launched the COVID layer, it's helped nearly 10 million people get critical information about COVID-19 right from Google Maps. 
We're rolling out two new improvements in the coming weeks. The updated COVID layer on Android and iOS will soon show more information, including all-time detected cases in an area, along with quick links to COVID resources from local authorities. This is especially handy if you're heading out of town and need to get up to speed about the local guidelines, testing sites and restrictions in another city.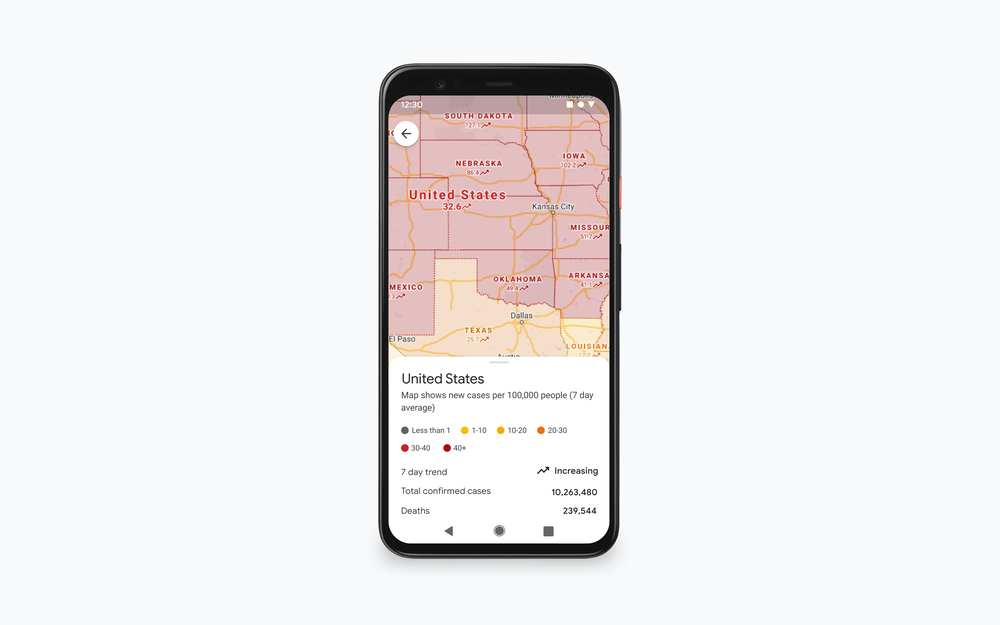 Avoiding holiday crowds might have always been your thing, but this year, we're making it especially easy for everyone. If you need to take transit, Google Maps can help you more easily social distance with live crowdedness information. On Android and iOS globally, you'll start seeing how crowded your bus, train, or subway line is right now based on real-time feedback from Google Maps users around the world (wherever data is available).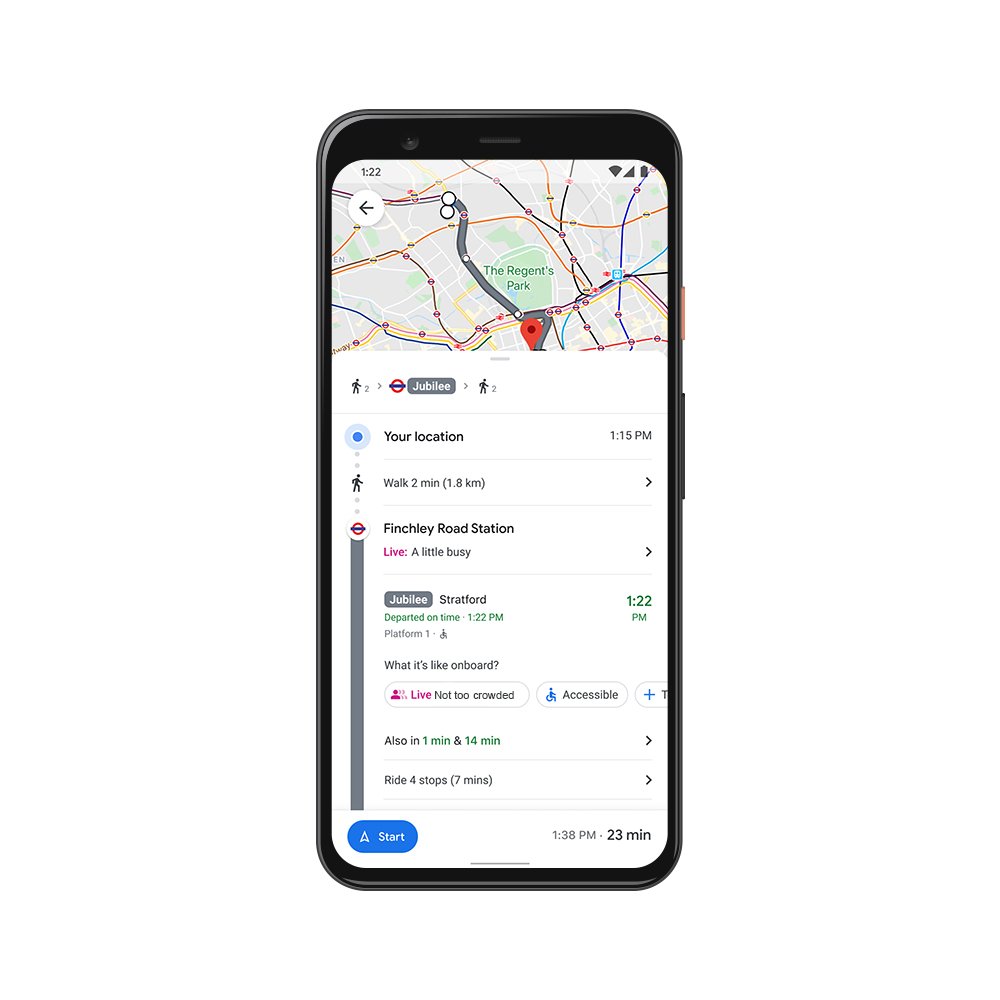 The right information, at just the right time
You may be in the mood to cook an elaborate holiday meal—or you may not. If you fall into the latter category, we're rolling out the ability to see the live status of takeout and delivery orders in the United States, Canada, Germany, Australia, Brazil and India when you book or order from Google Maps on Android and iOS. Now, you can know when to pick up your food, or when you can expect it to arrive at your doorstep. You can also see expected wait times and delivery fees, and easily reorder your favorites right from the Google Maps app. And when it's safe to head to restaurants, you'll soon be able to quickly see the status of your reservation in 70 countries around the world.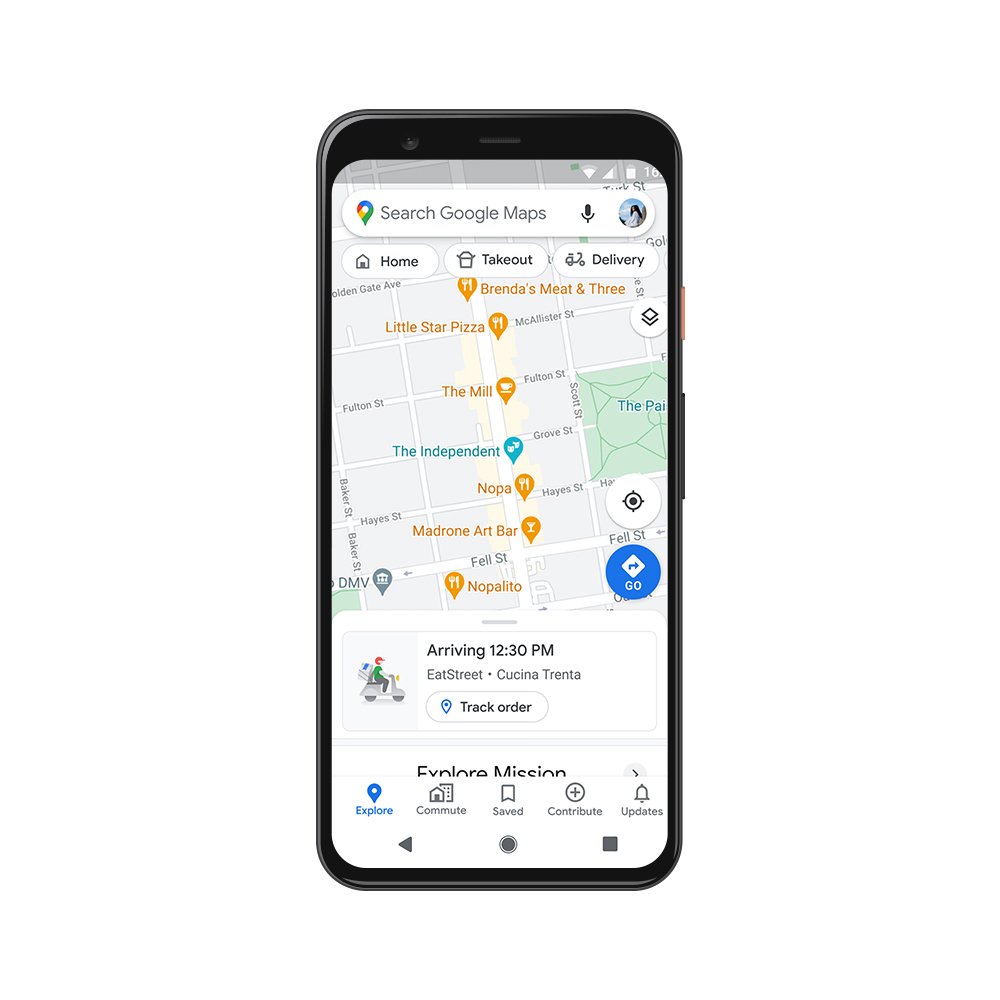 Get more done
Even without a global pandemic, the holidays are busy and you may need to spend some time on the road. Last year, we shared an early look at Google Assistant driving mode in Maps, and today, we're starting to roll out an early preview of the improved experience to Android users in English in the U.S.—with more features coming soon. 
Thanks to the new driving-friendly Assistant interface, you can easily get more done while keeping your focus on the road. Use voice to send and receive calls and texts, quickly review new messages across your messaging apps in one place, and get a read-out of your texts so you don't need to look down at your phone—Assistant will even alert you to an incoming call so you can answer or decline with voice. You can also play media from hundreds of providers around the globe, including YouTube Music, Spotify, Google Podcasts and many more.
Driving mode
makes all of this possible without ever leaving the navigation screen, so you can minimize distractions on the road. To get started with driving mode, begin navigating to a destination with Google Maps and tap on the pop up to get started. Or, head to Assistant settings on your Android phone or say "Hey Google, open Assistant settings." Then select "Getting around," choose "Driving mode" and turn it on.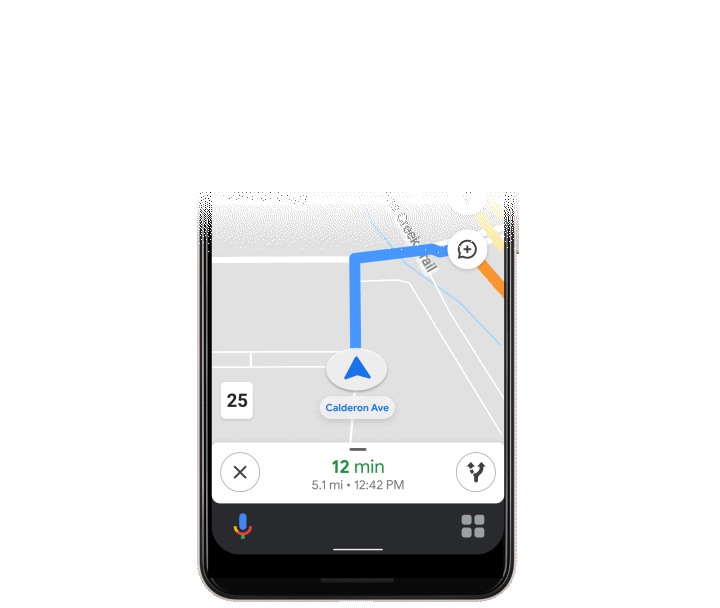 While the ways we make life easier for you have changed, our commitment to do this has been there all along. Over the past 15 years, Google Maps has used technology to bring helpful information about the real world right to your fingertips. To make sure that information is as accurate and up-to-date as possible, we rely on 170 billion high-definition Street View images from 87 countries, contributions from hundreds of millions of businesses and people using Google Maps, and authoritative data from more than 10,000 local governments, transit agencies and organizations. We also invest in technical approaches that power some of our most beloved and essential features—from the 20 million places globally that now show popular times data to AR-powered Live View. 
Even in a pandemic, more than 1 billion people still turn to Google Maps to navigate their new normal—and our work is far from done. We're continually working to build new features and services to help all of us emerge from this challenging time stronger than ever. So whatever your plans are this holiday season and no matter how much they've changed, Google Maps can make them easier and safer for you.
Comments Off
:covid-19, Google Assistant, maps
more...
Looking for something?
Use the form below to search the site:
Still not finding what you're looking for? Drop a comment on a post or contact us so we can take care of it!
Visit our friends!
A few highly recommended friends...
Archives
All entries, chronologically...