Archive for December 2nd, 2020
by Rajas Moonka on Dec.02, 2020, under 3D Models, Argentina, Australia, Brazil, California, Denmark, England, Germany, Google Earth News, Google Earth Tips, Google Sky, Google maps, Hawaii, Indonesia, Ireland, Italy, Japan, Kenya, Mexico, Natural Landmarks, Netherlands, Sightseeing, Street Views, USA
The holidays can be the most hectic—and the most important—time of the year for business owners. And this year shoppers are flocking to online shopping and curbside pickups. To make the most of this season and connect with shoppers wherever they are, we have a recipe for holiday success. Here's a list you'll want to check twice: 
1. Deck the halls of your Business Profile: First things first, claim your free Business Profile to put your best face forward on Google Maps and Search. Make sure your Business Profile is updated with helpful information about your store—like updated hours, a description and photos, shopping options, and all the safety measures you're taking during the pandemic. Pro tip: Double check if your phone number is correct and turn on messaging so you can quickly connect with customers who have questions.
2. Share the gift of updated in-store inventory (online!): Unsurprisingly, 77 percent of holiday shoppers in the U.S. said they will browse for gift ideas online this year instead of in-store. Thanks to Pointy from Google, you can easily show your products online so shoppers can see what you carry before they head to the store to make a purchase. Pointy connects to your point-of-sale system and automatically adds your in-store products to your Business Profile on Google. This helps you to appear in search results when shoppers are looking for items you carry.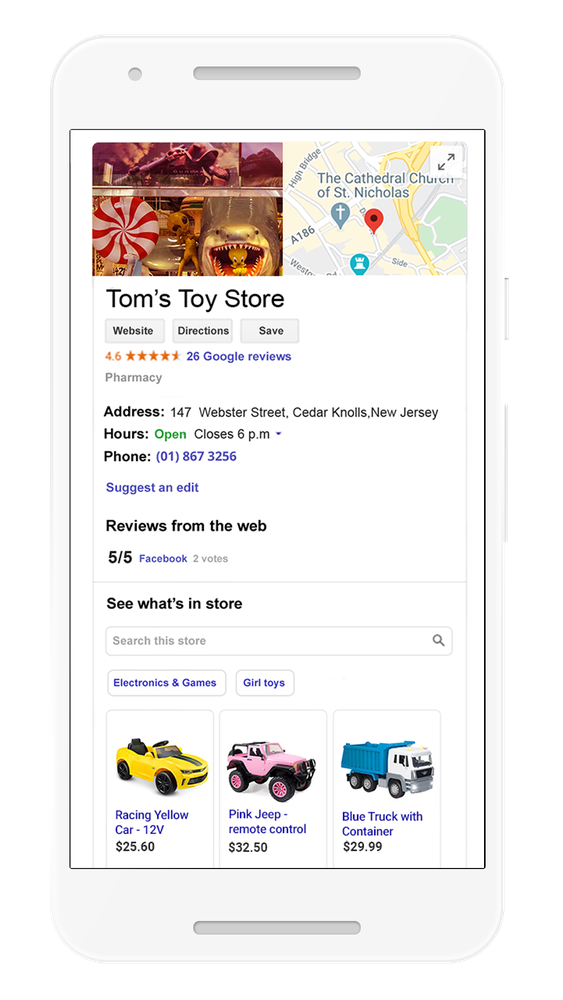 4. Oh, what fun it is to buy online for pickup and delivery:Add ordering link(s) for pickup or delivery to your profile. If you're a verified retail merchant in the U.S., you can now add a link to your online store directly to your Business Profile on Google. This helps shoppers easily place a pickup or delivery order from you with a few simple taps!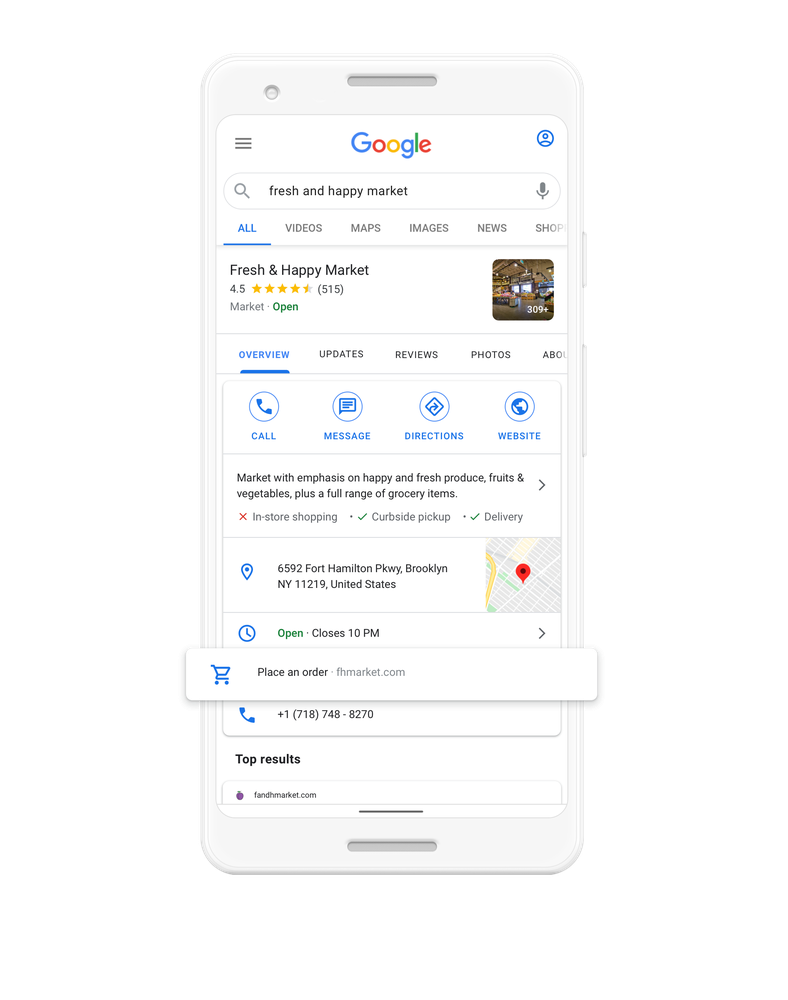 5. 'Tis the season to share more about your business: Shoppers are looking to purchase from  local businesses that they feel good about supporting. Spruce up your Business Profile and connect with your community by showing whether you're LGBTQ-friendly or women-led, or in the U.S. and identify as Black-owned or veteran-led.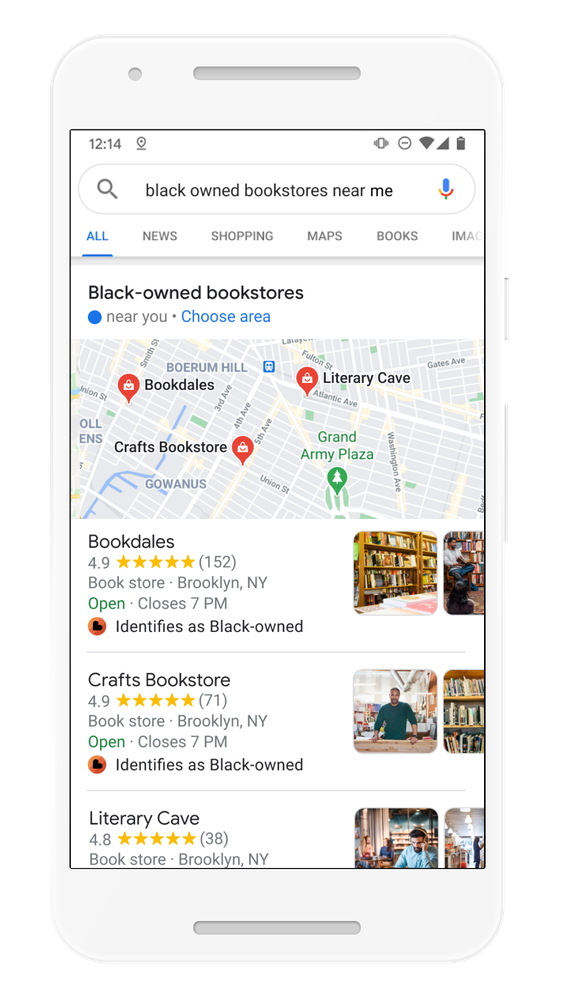 For more ways to deck out your Google presence, check out Grow with Google's Quick Help YouTube videos. The short videos will help answer a variety of small business questions, from how to make the most of digital tools to how to start a live stream. We know the holiday season can be overwhelming, but with this checklist in hand there will be no need to get your tinsel in a tangle. 
Comments Off
:maps, search, Small Business
more...
by Capella Yee on Dec.02, 2020, under 3D Models, Argentina, Australia, Brazil, California, Denmark, England, Germany, Google Earth News, Google Earth Tips, Google Sky, Google maps, Hawaii, Indonesia, Ireland, Italy, Japan, Kenya, Mexico, Natural Landmarks, Netherlands, Sightseeing, Street Views, USA
The world is dynamic, and it can be hard to keep up with changes in your city and neighborhood. Is my favorite restaurant doing outdoor dining? What are people saying about the new bubble tea place? Has that hiking trail reopened?
If there's anyone that can keep you in-the-know, it's the Google Maps community. Every day, people submit more than 20 million contributions—including recommendations for their favorite spots, updates to business services, fresh reviews and ratings, photos, answers to other people's questions, updated addresses and more.
Now, we're making it easier to find updates and recommendations from trusted local sources with a new community feed in the Explore tab of Google Maps. The feed shows you the latest reviews, photos and posts added to Google Maps by local experts and people you follow as well as food and drink merchants, and articles from publishers like The Infatuation.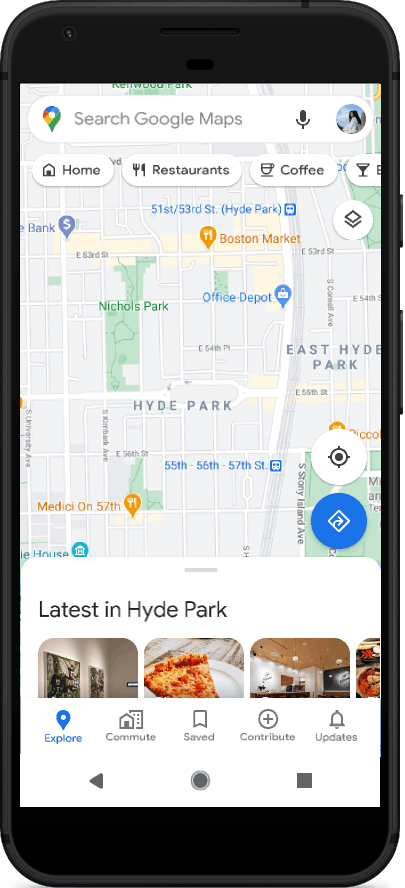 Find the things you want to do
Every day, you can come to your feed to see what's happening in your area. Wondering if your favorite Mexican restaurant has added a new dish to the menu? If you follow them on Maps, you'll get their updates in your feed. Looking for a new nearby hike or a popular day trip near your city? Browse the feed for top recommendations of things to do from Google Maps users in that area. By panning and zooming the map, you can find helpful information for almost any location in the world, thanks to contributions from in-the-know locals. 
The community feed brings together helpful local information and tailors it to your selected interests. For example, if you've marked an interest in healthy food or Greek cuisine in your Google Maps food and drink preferences, you'll see more recommendations, photos and business posts for that type of dining. 
Business post in Google Maps community feed

Find updates and posts from nearby businesses in Google Maps

A user post about a park in Google Maps community feed

See things to do and recommendations from other people who have posted updates on Google Maps

An article from a published in Google Maps community feed

Get information and recommendations from publishers on Google Maps
A helpful voice for local businesses
The community feed also helps connect businesses with customers. Over the past year, we've seen businesses use their Business Profile on Google to let the world know about their current offerings and operations, like takeout and delivery options, new online services and the safety precautions they're taking. In early testing of the community feed we saw that posts from merchants are seen two times more than before the feed existed. So now more people can see if a local business is offering a new service, has a limited time specialty or opened outdoor seating.
What makes Google Maps such a great tool to navigate and explore is the community of people, from our passionate Local Guides to nearby business owners. Those community recommendations are front and center with the community feed, now rolling out globally for everyone on Android and iOS. Get ready to rediscover your neighborhood, city and world with Google Maps.
Comments Off
:
maps
more...