Archive for January 28th, 2021
by Joseph Nakoul on Jan.28, 2021, under 3D Models, Argentina, Australia, Brazil, California, Denmark, England, Germany, Google Earth News, Google Earth Tips, Google Sky, Google maps, Hawaii, Indonesia, Ireland, Italy, Japan, Kenya, Mexico, Natural Landmarks, Netherlands, Sightseeing, Street Views, USA
The beginning of the year is often viewed as a fresh start. But in many ways, January feels like the thirteenth month of 2020! We turned to Google Maps search insights (December 2019-January 2020 vs. December 2020-January 2021) to see how Americans are handling tried-and-true New Year's resolutions. Find out how common resolutions — like traveling, drinking less, eating better and working out more — are holding up in the midst of COVID-19.
Travel, but make it local
Americans seem to be feeling a sense of wanderlust, but it's focused more on local travel than it was in January 2020. Last year, Maps searches for international destinations rose by over 65% compared to the previous month – with people searching for warm-weather places like Australia, Costa Rica and the Philippines. This year, January searches for countries outside of one's hometown stayed flat — increasing by a mere 1%, almost certainly due to COVID-19 travel restrictions.
In January 2020, Maps searches for island destinations increased by over 40% as people planned for some fun in the sun. This January, those searches are only up by a little over 10% compared to late last year. And searches for local bed and breakfasts have increased by 20%, indicating that Americans are searching for destinations closer to home instead of across the world.
Ski resorts are trending in a big way on Maps – likely because skiing is a socially distant activity with a chilly change of scenery. This January, Maps searches for ski resorts are more than twice as high as they were at the same time last year!
"Dry January" is consistently one of the most popular New Year's resolutions. Last January, searches on Maps for wine shops and liquor stores both plummeted by nearly 40% compared to the previous December. This year, those searches only dropped by 11% and 6% respectively, hinting that people may be less committed to abstaining.
People are showing an interest in eating healthy. Searches for "healthy" options spiked by 46% at the start of January compared to the previous December. But at the same time there's another trend on the rise: people are also looking for sweets. Searches for ice cream shops are up by 10% compared to December. And, while searches for fast food restaurants plummeted by a whopping 20% in January 2020, they dropped by just 1.5% in 2021.
Year-over-year searches for gyms have remained steady, increasing by about 25% in both 2020 and in 2021. However, while searches for hiking areas are still up this month compared to December, they're significantly lower than they were in 2020 – a 16% increase compared to last year's 55% increase. This could be due to local restrictions, or because more people are opting for one of the many at-home workout classes available online.
Resolutions or not, Google Maps is here to help. Whether you're looking for healthy food or pints of ice cream, road trips or workouts you can do on your living room floor, here are some tips to help you keep up (or even break) your resolutions:
Check out how local restaurants are operating: Before heading out of the house, use Google Maps to see if restaurants are offering things like dine-in services, takeout, or delivery. You can also see information about the extra safety precautions that restaurants are taking — like whether they have plexiglass at checkout or take guests' temperatures upon arrival. 

Track your order (so your ice cream doesn't melt!): It's tough to get the timing right for takeout and delivery orders – and no one likes cold entrees or soupy ice cream. If you order food on Google Maps, you can now see the status of your order on your Google Maps app homepage so you know exactly when it's ready for pickup or set to arrive at your doorstep.

Borrow a bike: If stationary bikes aren't your thing, check out Google Maps to find your nearest docked bikeshare location. Maps can give you walking directions to the bike, and cycling directions to your final destination – so you can explore the outdoors by foot and on two wheels!

Take an online class: Whether you're looking to workout more, connect with a financial advisor or pick up a new hobby, use Maps to find local businesses that offer online classes and appointments that you can take right from the comfort of your own home.

Plan your next road trip: Travel restrictions are still up in the air, which means you might not be. If you're itching to sightsee beyond your route to the grocery store, follow other Google Maps users to get their updates and recommendations directly in your app! Local Guides — like Denise Barlock who lives in a RV motorhome and travels across the U.S. — share regular contributions to Maps and can be great resources for planning a trip!

Comments Off
:
maps
more...
by Alex Donaldson on Jan.28, 2021, under 3D Models, Argentina, Australia, Brazil, California, Denmark, England, Germany, Google Earth News, Google Earth Tips, Google Sky, Google maps, Hawaii, Indonesia, Ireland, Italy, Japan, Kenya, Mexico, Natural Landmarks, Netherlands, Sightseeing, Street Views, USA
Electric vehicles (EVs) are growing in popularity. Still, planning a road trip with charge stops on route can feel like solving a puzzle. With an EV, you need to find recharging stations within range that also have your specific plug type and can recharge you as quickly as you need. 
To take the guesswork out of trip planning and recharging, we're rolling out three new features for EVs with Google Maps built in.

Taking the stress out of EV route planning

Newly developed routing algorithms that use a type of math called graph theory serve up stress-free routes and charging stop recommendations in the latest release of Google Maps that's built into participating EVs, including the Polestar 2 and Volvo XC40 Recharge. 
Now when you enter a destination that requires two or more recharge stops, algorithms in Maps will search and filter through tens to thousands of public charging stations to find the most efficient route — all in less than 10 seconds. You can see how long each charge will take and your updated total trip time, so your final ETA will never again be a mystery.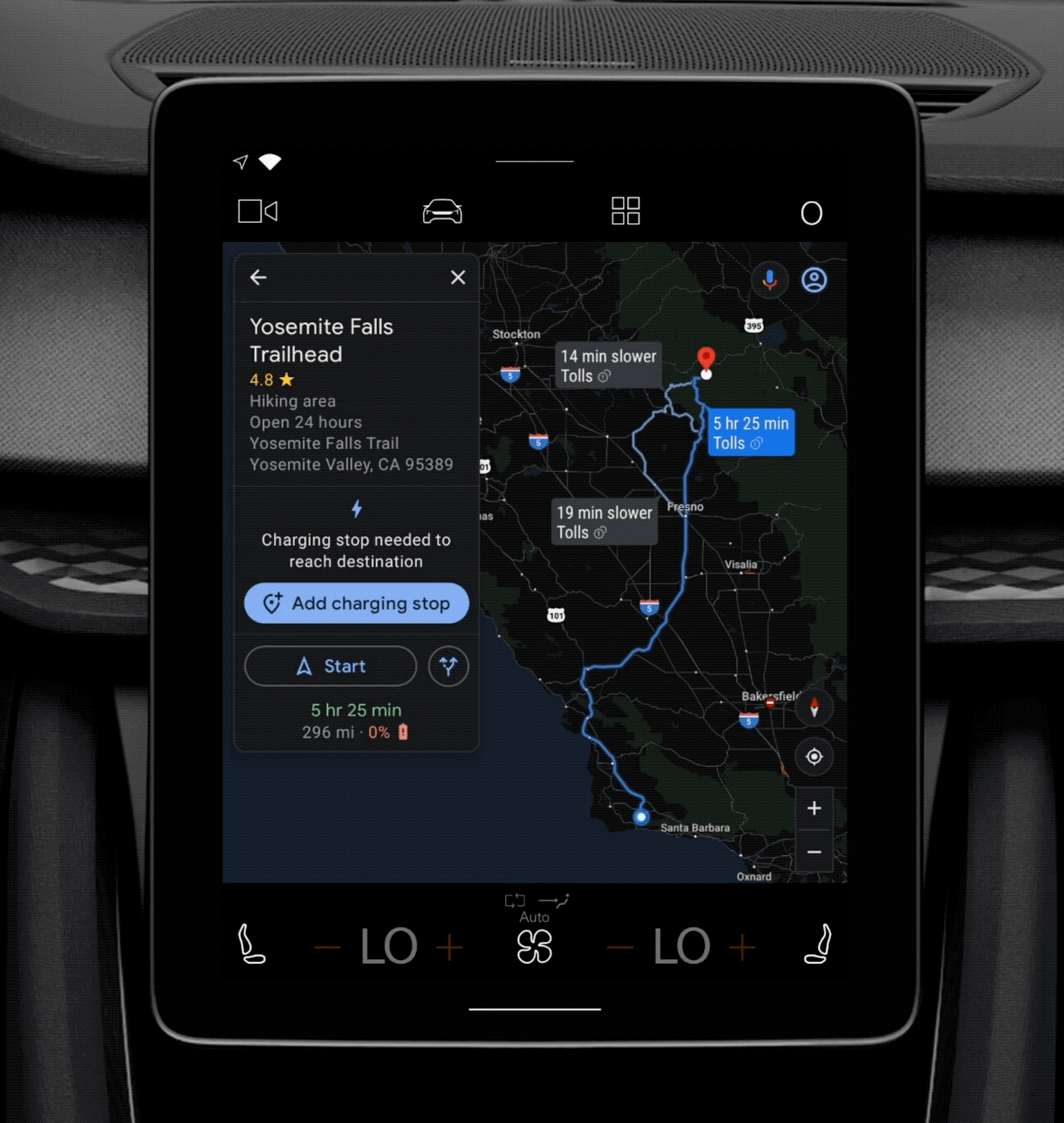 Hit the road with confidence
For shorter trips where only one charge is needed, like a Saturday hike or weekend getaway, you can select a charging station that best fits your needs from a list of recharge points in Google Maps.
You can see which charging stations are the fastest and select specific stations if you have a membership. You can also see if a charging spot is close to a grocery store or coffee shop, so you can knock out errands or recharge yourself with a latte while you wait.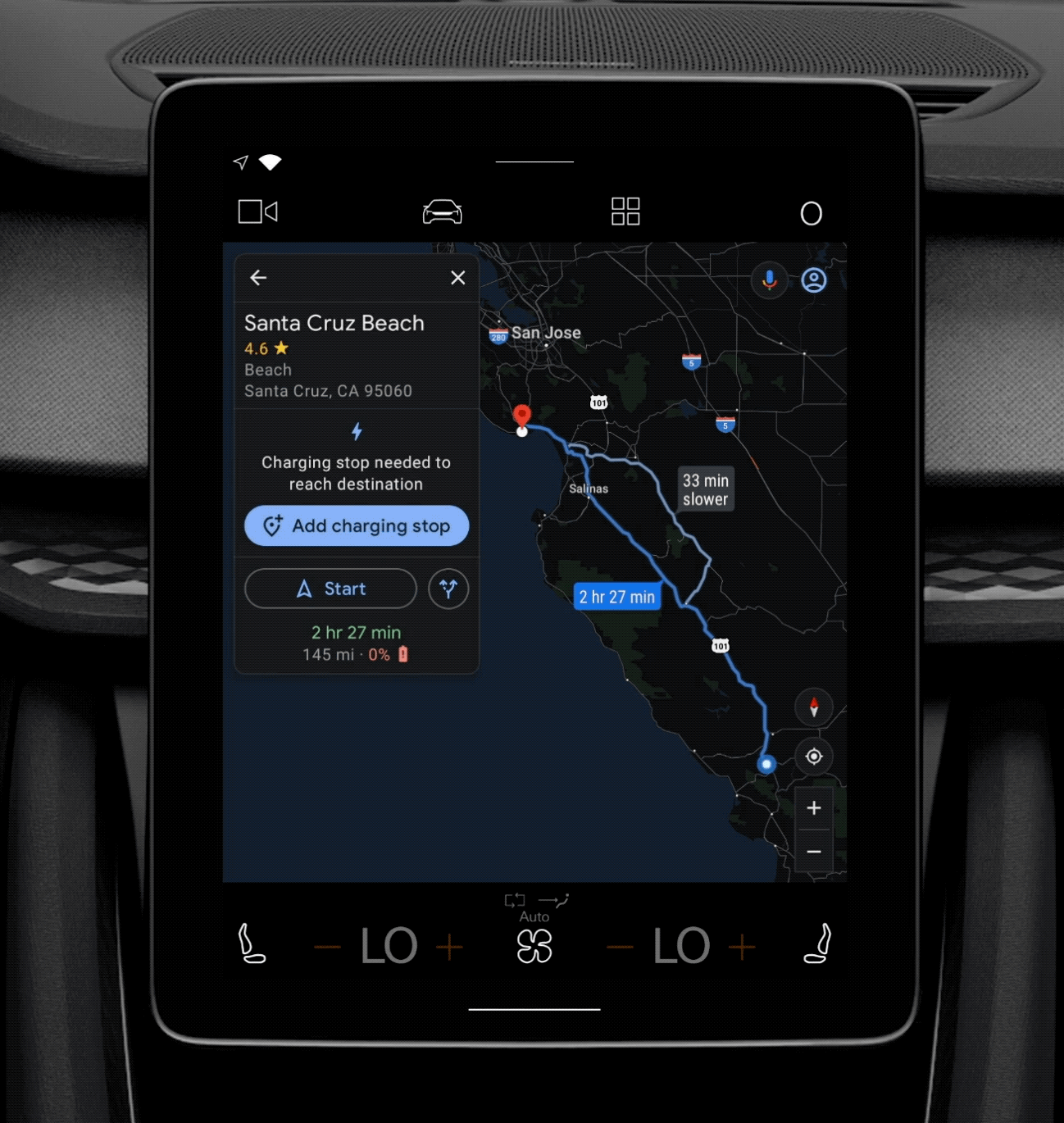 The road ahead
In Europe we know it can be harder to find charging stations that will take your preferred form of payment. So Google Maps will show you what payment methods are accepted at stations in 12 countries throughout Europe, with more on the way.
These new features are now rolling out for cars with Google Maps built in — currently the Polestar 2 and Volvo XC40 Recharge — with more car models to come.

Comments Off
:
maps
more...