Archive for February 24th, 2021
by Katie McBroom on Feb.24, 2021, under 3D Models, Argentina, Australia, Brazil, California, Denmark, England, Germany, Google Earth News, Google Earth Tips, Google Sky, Google maps, Hawaii, Indonesia, Ireland, Italy, Japan, Kenya, Mexico, Natural Landmarks, Netherlands, Sightseeing, Street Views, USA
Lydia Kluge is an active member of the Google Maps Local Guides community, the everyday people passionate about sharing their experiences on Maps. In 2020, she added more than 1,100 contributions on Google Maps in the form of reviews, photos, and places. Coincidentally, Lydia also hiked, ran, and biked 1,100 miles last year. All those adventures earned her the well-deserved Expert Trailblazer and Expert Fact Finder badges on Google Maps.
But Lydia's journey has been full of adventures long before 2020. Originally from England, Lydia landed in Utah in 2005 for what was meant to be a six-month stint as a ski instructor. She's been there ever since after falling in love with (and on) the slopes where she met her now-husband.
Over the past fifteen years, the couple traveled to over 30 countries. Along the way, Lydia used Google Maps to find hidden gems — from the best restaurants in Paris to snorkeling spots in Australia.
Lydia and her daughter stand by a river in a national park

Lydia with her daughter by Virgin River in Zion National Park (near the trailhead of Watchman Trail)

Lydia Kluge with her daughter standing near a lake with mountains and trees

A photo of Lydia and her daughter walking together on The Bonneville Salt Flats in Utah

Lydia and her daughter stroll The Bonneville Salt Flats in Utah
In 2019, Lydia and her husband welcomed their beautiful baby girl into their family and couldn't wait to travel with her. But COVID-19 changed their international jet-setting plans. Like many of us, Lydia's spending more time closer to home. She's explored Utah's mountains, deserts, and national and state parks. And, just like in her international travels, Google Maps has been her companion. She's added and reviewed dozens of nature trails, trailheads, and parks, and created lists of family-friendly activities in Utah. "One thing I've missed about working outside of the home is how I can contribute to others and my community," Lydia said. "Adding these things to Google Maps is a way I can give back."
Here are Lydia's tips on how to use Google Maps to explore natural attractions near you:
Find parks and hiking trails on Google Maps
Search outdoor terms like "hiking trails" or "parks near me" to find nearby treks. For most hiking trails, you'll be able to find ratings, reviews and photos from other hikers. Some may also have useful details like open hours and phone numbers. You can also use the Lists feature on Google Maps to see curated recommendations, like Lydia's
Things to See and Do in St. George
and
Food and Fun in Park City
. Simply search for a town and scroll down to see Featured Lists.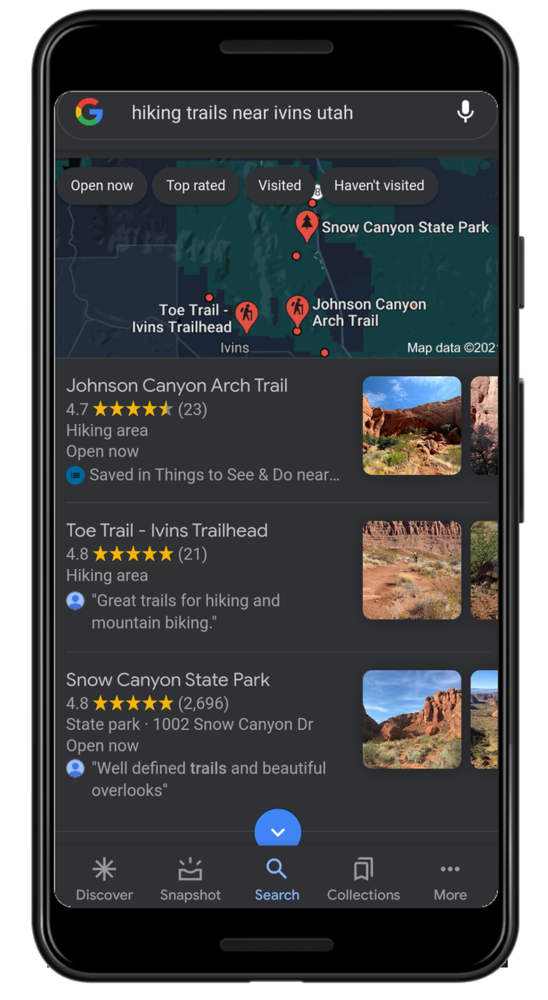 Quickly sort through reviews to find popular topics or search for specific words
Lydia leaves detailed reviews on parks and hikes with searchable terms like "family," "steep," or "kid-friendly." Search for specific words to quickly sort through reviews and get a better sense of the place. If you want an idea of what most people are talking about, you can see a list of popular keywords in reviews — from "banana slug" and "poison ivy" to "parking lot" and "sunset."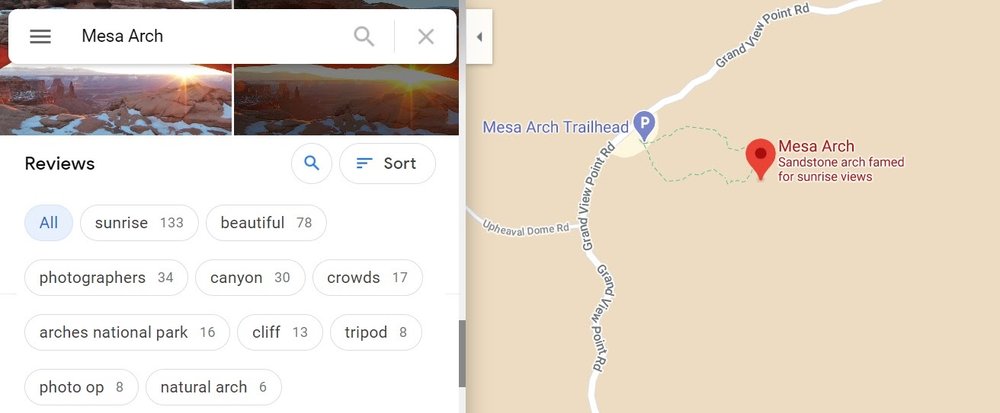 Preview your trek with photos
Lydia has left more than 3,500 photos on Google Maps that have been viewed more than 25 million times. To get a sense of what your outdoor trip will look like, browse photos that people like Lydia have
uploaded
. Sort photos to see the latest, pan through Street View and 360-degree images, and even see videos. Pay it forward to the next trekker and leave photos of what made your hike memorable.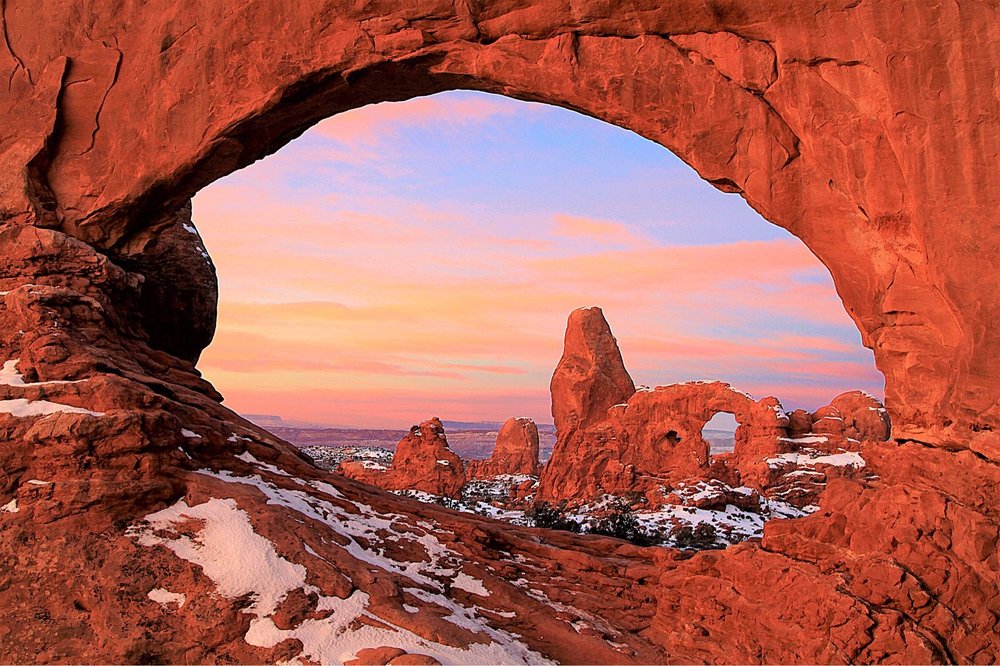 Add and update hiking areas yourself
Some
trails
may not have  traditional signage and could be hard to find. If you know where an unmarked (or poorly marked) trailhead is, you can confirm that the pin locations are in the appropriate spot. To do so, open your Google Maps app and navigate to the place. Tap "suggest an edit" to update information about the hiking area.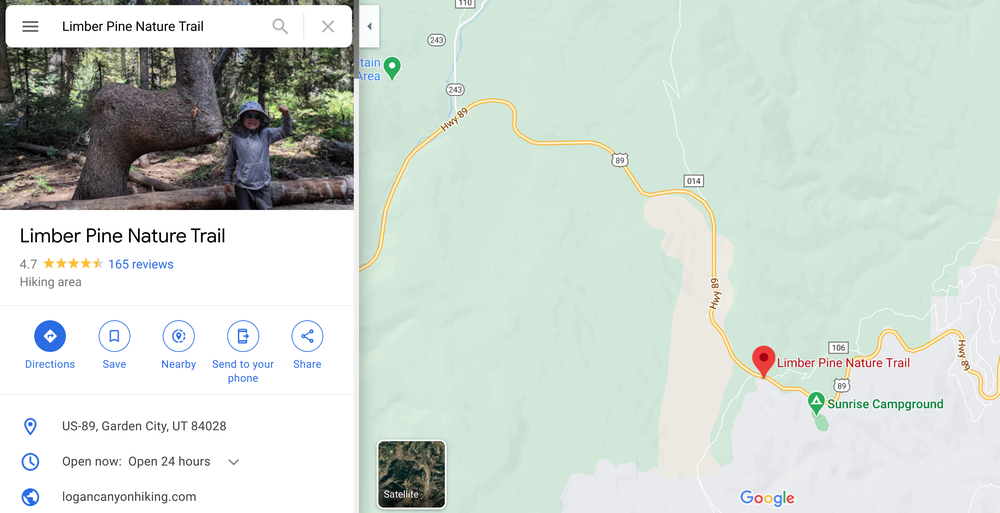 To follow Lydia's adventures, check out and follow her Google Maps profile.
Comments Off
:
maps
more...
by Hideaki Oshima on Feb.24, 2021, under 3D Models, Argentina, Australia, Brazil, California, Denmark, England, Germany, Google Earth News, Google Earth Tips, Google Sky, Google maps, Hawaii, Indonesia, Ireland, Italy, Japan, Kenya, Mexico, Natural Landmarks, Netherlands, Sightseeing, Street Views, USA
It wasn't all that long ago that we introduced Android users to features like Emoji Kitchen and auto-narrated audiobooks. But we like to stay busy, so today we're highlighting six of the latest Google updates that will make Android phones more secure and convenient — for everyone.

1. Keep your accounts safe with Password Checkup on Android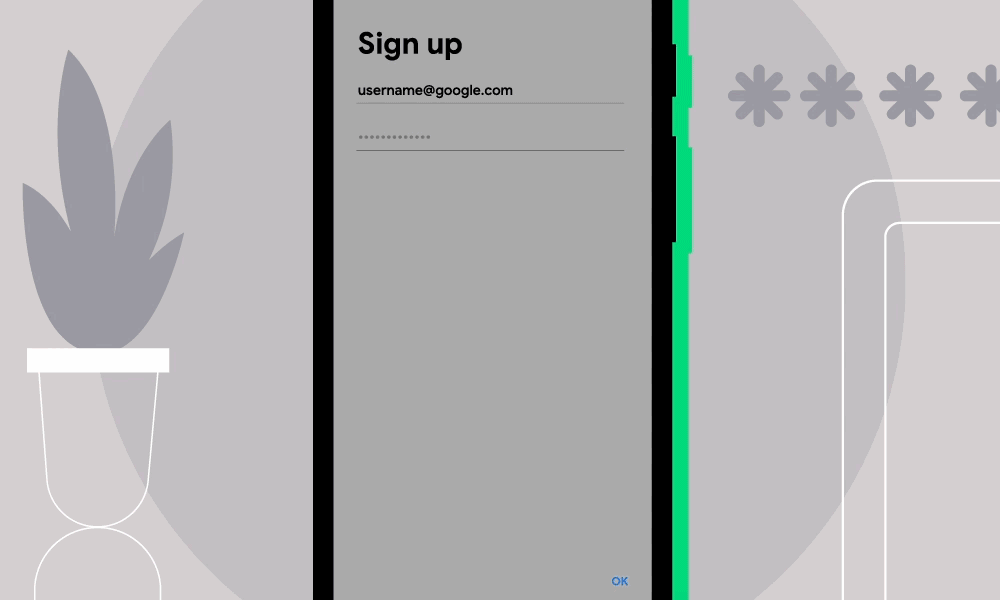 On Android, you can save passwords to your Google account, making it quicker and easier to sign into your apps and services using Autofill. Your login credentials are one of your first lines of defense against intruders, so we've integrated Password Checkup into devices running Android 9 and above. This feature lets you know if the password you used has been previously exposed and what to do about it.
Now when you enter a password into an app on your phone using Autofill with Google, we'll check those credentials against a list of known compromised passwords — that is, passwords that have potentially already been stolen and posted on the web. If your credentials show up on one of these lists, we'll alert you and guide you to check your password and change it. 
Learn more on our support page about changing unsafe passwords. And you can find additional information about how this product works in this blog post.
We're passionate about building defense into every detail on Android, from downloading apps to browsing the web to choosing where and when you share your data.
Learn more about how Android keeps you safe
.
2. Use schedule send in Messages to write a text now and send it later
Over half a billion people across the world use Messages to seamlessly and safely connect with family, friends and others every month. To continue  improving the way you communicate and help you stay in touch, we're starting to roll out schedule send in Messages for phones running Android 7 and newer. 

Having loved ones in another time zone or on a different schedule can sometimes make it difficult to send a text at an appropriate time. With schedule send, you can compose a message ahead of time when it's convenient for you, and schedule it to send at the right moment. Just write your message as you normally would, then hold and press the send button to select a date and time to deliver your message. Download Messages or update to the latest version to schedule your next text.

3. No need to look at your screen, with TalkBack
For those who are blind or have trouble seeing the display, the new version of TalkBack, Android's screen reader, is now available. Using spoken feedback and gestures, TalkBack makes Android even more accessible and opens up a full phone experience without needing to look at your screen. We worked closely with the blind and low vision communities on this revamp of TalkBack to incorporate the most popularly requested features including: more intuitive gestures, a unified menu, a new reading control menu and more. Get TalkBack today by downloading or updating your Android accessibility apps in the Google Play Store.

4. Get more done hands-free with Google Assistant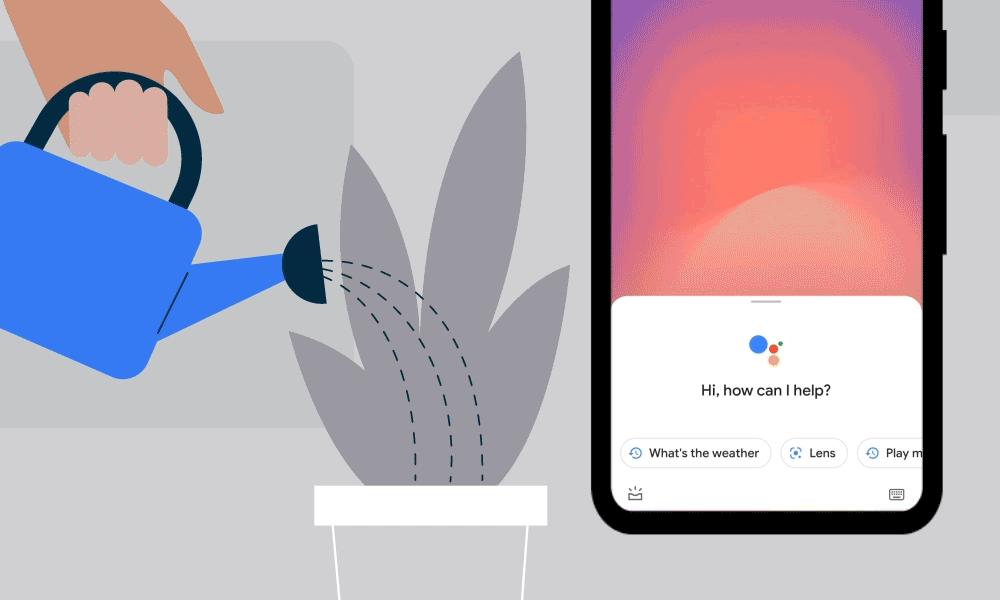 We want to give you more ways to use your phone hands-free — so you can do things like use your voice to make calls, set timers or alarms and play music. Now, the latest updates to Google Assistant make it easier to get things done on your phone without needing to be right next to it.

Assistant now works better even when your phone is locked or across the room with new cards that can be read with just a glance. Just say "Hey Google, set an alarm" or "Hey Google, play pop music on Spotify." To get the most out of Assistant when your phone is locked, simply turn on Lock Screen Personal Results in Assistant setting and say "Hey Google '' to send text messages and make calls.
5. Come to the dark side with dark theme in Google Maps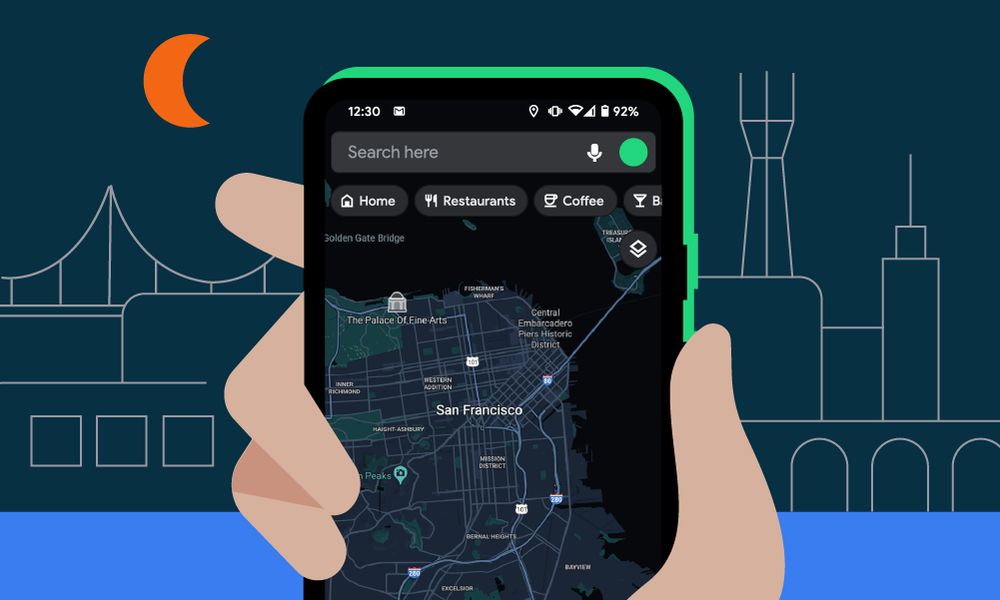 These days, we're all experiencing a bit of screen fatigue. With dark theme in Google Maps soon expanding to all Android users globally, you can give your eyes a much-needed break and save on battery life. Simply head to your Settings, tap on Theme and then on "Always in Dark Theme" to lower the lights when you're navigating, exploring, or getting things done with Maps. Change your mind? Just tap on "Always in Light Theme" to switch it back.

6. A better drive with Android Auto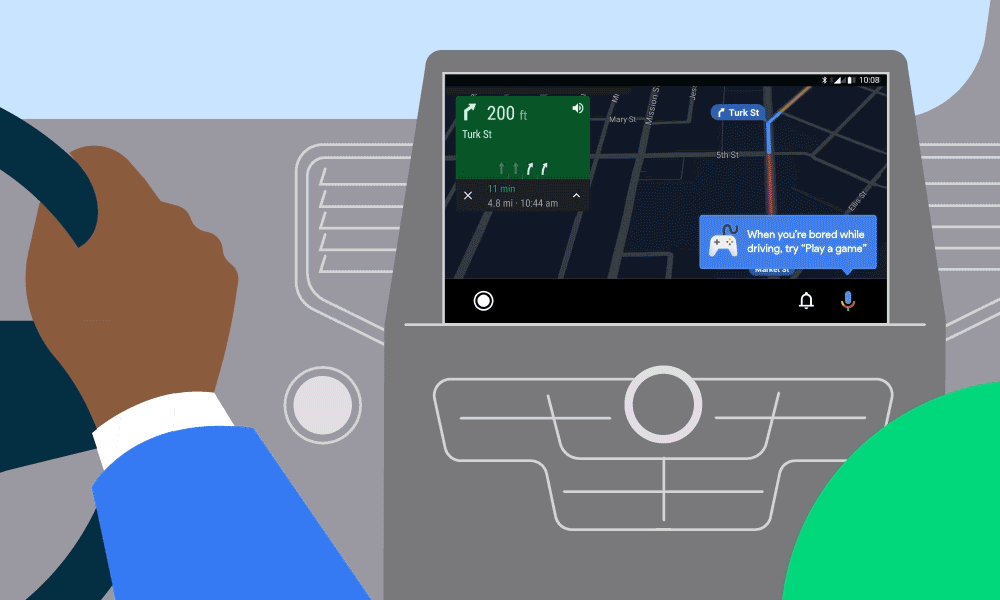 Android Auto's new features help you enjoy the drive more. With custom wallpapers, you can now select from a variety of car-inspired backgrounds to personalize your car display. For longer drives, you and your passengers can stay entertained with voice-activated games like trivia and "Jeopardy!" Just say, "Hey Google, play a game" to get started. 
We've also launched shortcuts on the launch screen. These provide convenient access to your contacts and even allow you to use Assistant to complete tasks like checking the weather or remotely adjusting the thermostat by simply tapping on the icon on your car display, just as you would on your phone. For cars with wider screens, you can do more with a split-screen that features a real-time view of Google Maps and media controls. And if you have family and friends coming along for the ride, you can now set a privacy screen to control when Android Auto appears on your car display. 

These Android Auto features will be available in the coming days on phones running Android 6.0 or above, and when connected to your compatible car.

Comments Off
:Accessibility, android, Google Assistant, maps, Messages, Safety & Security
more...