by Holly Day on Nov.17, 2020, under 3D Models, Argentina, Australia, Brazil, California, Denmark, England, Germany, Google Earth News, Google Earth Tips, Google Sky, Google maps, Hawaii, Indonesia, Ireland, Italy, Japan, Kenya, Mexico, Natural Landmarks, Netherlands, Sightseeing, Street Views, USA
The holiday season is starting—which means time with friends, family, and lots of food. And though festivities may be a bit different this year, there are still creative, safe ways to celebrate and stay connected. No matter what you have in store for the holidays, these Google Maps tips can help you stay informed, stay connected and save time.
Stay informed even while running holiday errands and traveling
1. Check out how busy a place is:
Popular times and live busyness information can tell you how crowded a place typically is on a given day or time—and even how busy it is right now. This is especially handy during the era of social distancing: Check out busyness on Maps before you head to a restaurant, store, business, or place to avoid holiday crowds and long waits.
2. (New!) Find the latest information about COVID-19:
If you're thinking about heading out of town to another city or state, you can use the COVID layer on Maps to quickly see how cases are trending in the area. You can also access quick links to authoritative local resources so you know at a glance if there are specific guidelines or restrictions in the area you're visiting. 
3. Quickly understand safety precautions from a business:
If you're eating out or getting a head start on your holiday shopping, you can easily learn more about what safety precautions a business is taking. Find out if they're sanitizing between customers, if there's safety dividers at checkout and if they require staff to have regular temperature checks.
If you need to, connect safely
4. Share your ETA:
If you need to see loved ones, let them know when they can expect you to arrive with you just a few taps. 
5. Don't get lost:
 Planning to meet up with friends outdoors and at a distance? When a friend has chosen to share their location with you, you can easily tap on their icon and then on Live View to see where and how far away they are—with overlaid arrows and directions that help you know where to go.
Save time so you can spend more time enjoying the festivities 
6. (New!) Get more done on drives:
If you're road tripping home, using voice with Google Assistant driving mode in Maps helps make the ride more convenient and enjoyable while keeping your focus on the road. Starting to roll out today as a preview, Android users in the U.S. can now get call alerts from Assistant, answer or decline calls by simply using their voice, quickly review incoming messages across apps in one place, and play podcasts and songs from hundreds of media providers—all without leaving the navigation screen. 
7. (New!) Don't let your food get cold: If you're taking a low-key approach to the holidays this year and opting to order in instead of cooking an elaborate meal, Google Maps can help. When searching on your phone for restaurants nearby, you can easily sort by places that offer takeout or delivery and place your order directly from Google Maps. Now you can also see exactly when your order will be delivered or ready to pick up on the app's home screen—because nobody likes cold turkey!
8. Search along your route:  If you're on the road and realize you need to make a stop—say you're running low on gas or need to pick up a last-minute item from the market—use Google Maps to search for gas stations, grocery stores, or other places along your drive so you can tackle your tasks without going too far out of your way. 
Comments Off
:covid-19, maps
more...
by Holly Day on Nov.17, 2020, under 3D Models, Argentina, Australia, Brazil, California, Denmark, England, Germany, Google Earth News, Google Earth Tips, Google Sky, Google maps, Hawaii, Indonesia, Ireland, Italy, Japan, Kenya, Mexico, Natural Landmarks, Netherlands, Sightseeing, Street Views, USA
This holiday, family gatherings will be smaller or take place virtually to make sure everyone stays safe and healthy. Indoor activities will move outdoors. And that international holiday vacation will potentially transform into an epic road trip to nearby attractions as you stop to sightsee at local hidden gems along the way. But even still, people are prepping to make classic holiday dishes, looking for ways to experience winter and finding new, safe ways to be together.
We've analyzed Google Maps data before and during the pandemic (for the purposes of this post, we analyzed data from March to October 2020) to see how people across the U.S. are getting ready for the holidays. Read on for top trends on how people are navigating, how they're spending their time and what type of food they're craving.
by Dane Glasgow on Nov.17, 2020, under 3D Models, Argentina, Australia, Brazil, California, Denmark, England, Germany, Google Earth News, Google Earth Tips, Google Sky, Google maps, Hawaii, Indonesia, Ireland, Italy, Japan, Kenya, Mexico, Natural Landmarks, Netherlands, Sightseeing, Street Views, USA
This year, we've made it easier to find information that helps you stay safe, up-to-date, and connected. Since the start of the pandemic, we've added nearly 250 new features and improvements to Google Maps to help you adapt to this new normal—from live busyness information for millions of places, to the ability to easily see critical health and safety information at a glance. And we're continuing to invest in ways to keep information in Maps fresh, with over 50 million updates made to the map each day. Even as the holidays approach, we don't plan on slowing down. If you need to be out and about this holiday season, here are four ways that Google Maps can help you get around safely and get things done.
Get around
Whether you're heading out of town or staying local, keeping a pulse on the latest COVID trends can help you stay safe. Since we launched the COVID layer, it's helped nearly 10 million people get critical information about COVID-19 right from Google Maps. 
We're rolling out two new improvements in the coming weeks. The updated COVID layer on Android and iOS will soon show more information, including all-time detected cases in an area, along with quick links to COVID resources from local authorities. This is especially handy if you're heading out of town and need to get up to speed about the local guidelines, testing sites and restrictions in another city.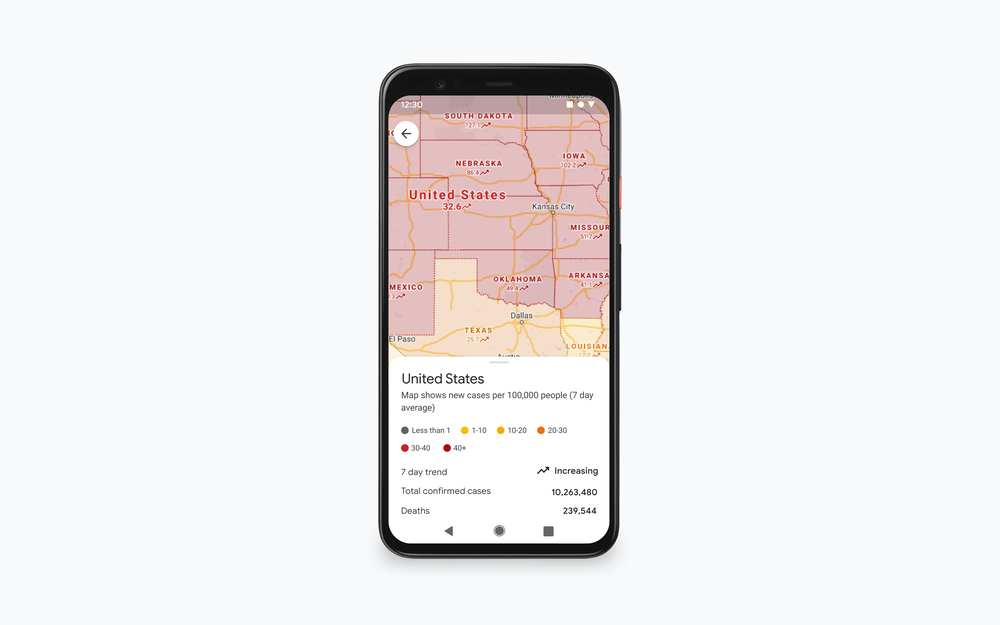 Avoiding holiday crowds might have always been your thing, but this year, we're making it especially easy for everyone. If you need to take transit, Google Maps can help you more easily social distance with live crowdedness information. On Android and iOS globally, you'll start seeing how crowded your bus, train, or subway line is right now based on real-time feedback from Google Maps users around the world (wherever data is available).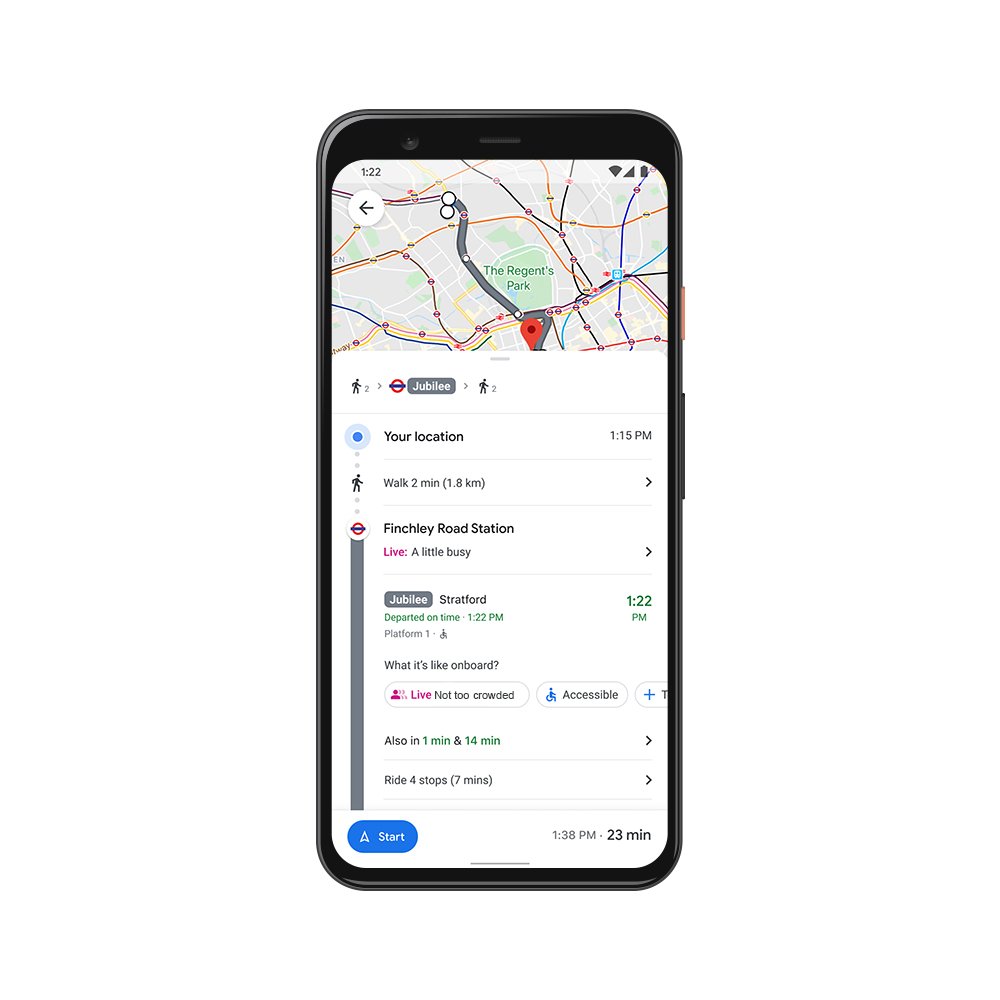 The right information, at just the right time
You may be in the mood to cook an elaborate holiday meal—or you may not. If you fall into the latter category, we're rolling out the ability to see the live status of takeout and delivery orders in the United States, Canada, Germany, Australia, Brazil and India when you book or order from Google Maps on Android and iOS. Now, you can know when to pick up your food, or when you can expect it to arrive at your doorstep. You can also see expected wait times and delivery fees, and easily reorder your favorites right from the Google Maps app. And when it's safe to head to restaurants, you'll soon be able to quickly see the status of your reservation in 70 countries around the world.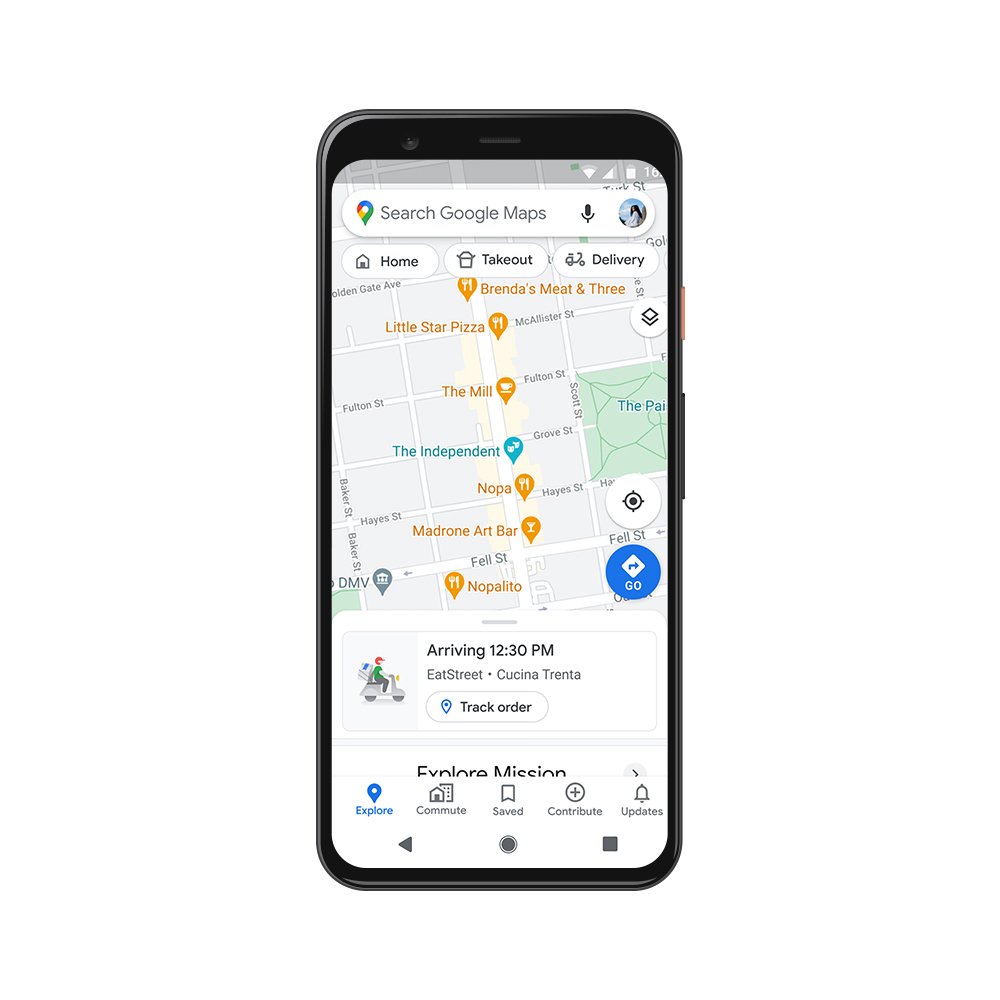 Get more done
Even without a global pandemic, the holidays are busy and you may need to spend some time on the road. Last year, we shared an early look at Google Assistant driving mode in Maps, and today, we're starting to roll out an early preview of the improved experience to Android users in English in the U.S.—with more features coming soon. 
Thanks to the new driving-friendly Assistant interface, you can easily get more done while keeping your focus on the road. Use voice to send and receive calls and texts, quickly review new messages across your messaging apps in one place, and get a read-out of your texts so you don't need to look down at your phone—Assistant will even alert you to an incoming call so you can answer or decline with voice. You can also play media from hundreds of providers around the globe, including YouTube Music, Spotify, Google Podcasts and many more.
Driving mode
makes all of this possible without ever leaving the navigation screen, so you can minimize distractions on the road. To get started with driving mode, begin navigating to a destination with Google Maps and tap on the pop up to get started. Or, head to Assistant settings on your Android phone or say "Hey Google, open Assistant settings." Then select "Getting around," choose "Driving mode" and turn it on.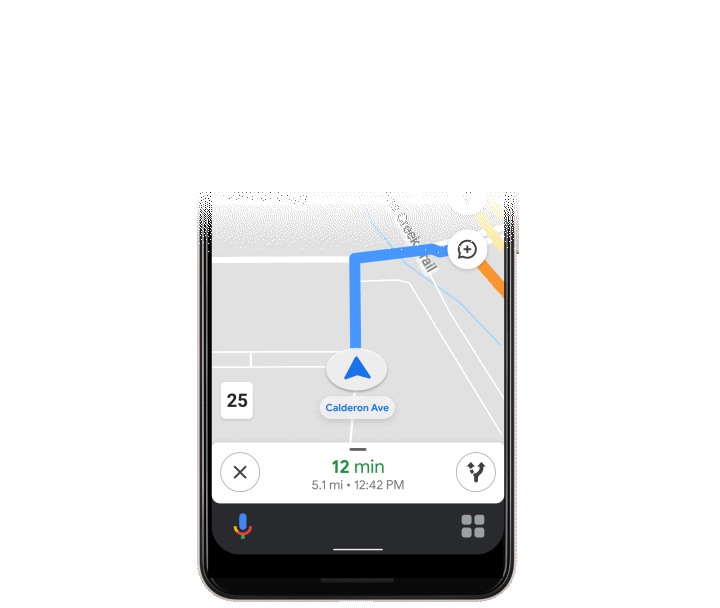 While the ways we make life easier for you have changed, our commitment to do this has been there all along. Over the past 15 years, Google Maps has used technology to bring helpful information about the real world right to your fingertips. To make sure that information is as accurate and up-to-date as possible, we rely on 170 billion high-definition Street View images from 87 countries, contributions from hundreds of millions of businesses and people using Google Maps, and authoritative data from more than 10,000 local governments, transit agencies and organizations. We also invest in technical approaches that power some of our most beloved and essential features—from the 20 million places globally that now show popular times data to AR-powered Live View. 
Even in a pandemic, more than 1 billion people still turn to Google Maps to navigate their new normal—and our work is far from done. We're continually working to build new features and services to help all of us emerge from this challenging time stronger than ever. So whatever your plans are this holiday season and no matter how much they've changed, Google Maps can make them easier and safer for you.
Comments Off
:covid-19, Google Assistant, maps
more...
by Richard Holden on Nov.10, 2020, under 3D Models, Argentina, Australia, Brazil, California, Denmark, England, Germany, Google Earth News, Google Earth Tips, Google Sky, Google maps, Hawaii, Indonesia, Ireland, Italy, Japan, Kenya, Mexico, Natural Landmarks, Netherlands, Sightseeing, Street Views, USA
While many people will celebrate the holidays at home this year, 40 percent of Americans are still planning to travel. Here are a few ways Google can help you make informed travel decisions or revisit trips from holidays past.
Stay up to date on the latest travel information

When you search on Google for information about hotels, flights or things to do, check to see if there's a COVID-19 travel advisory or restriction for your destination. If there are no restrictions, you can see indicators for travel reopening, like the percentage of flights operating or hotels with availability, directly in your Search results. On google.com/travel you can also see trends for flight and hotel availability over the past six months, as well as links to local resources, like the number of COVID-19 cases in the area.

Book accommodation confidently

Earlier this year we added a hotel "Free cancellation" filter on Search and google.com/travel to help you easily find properties with a refundable rate. In addition to refundable rates, many hotels and vacation rentals are taking additional measures to ensure the safety of guests in response to COVID-19. Now when you search for a place to stay on google.com/travel and view a specific property, you may see a tip when additional health and safety precautions, like enhanced cleaning, are being taken. Tap on the "About" tab to see the full list.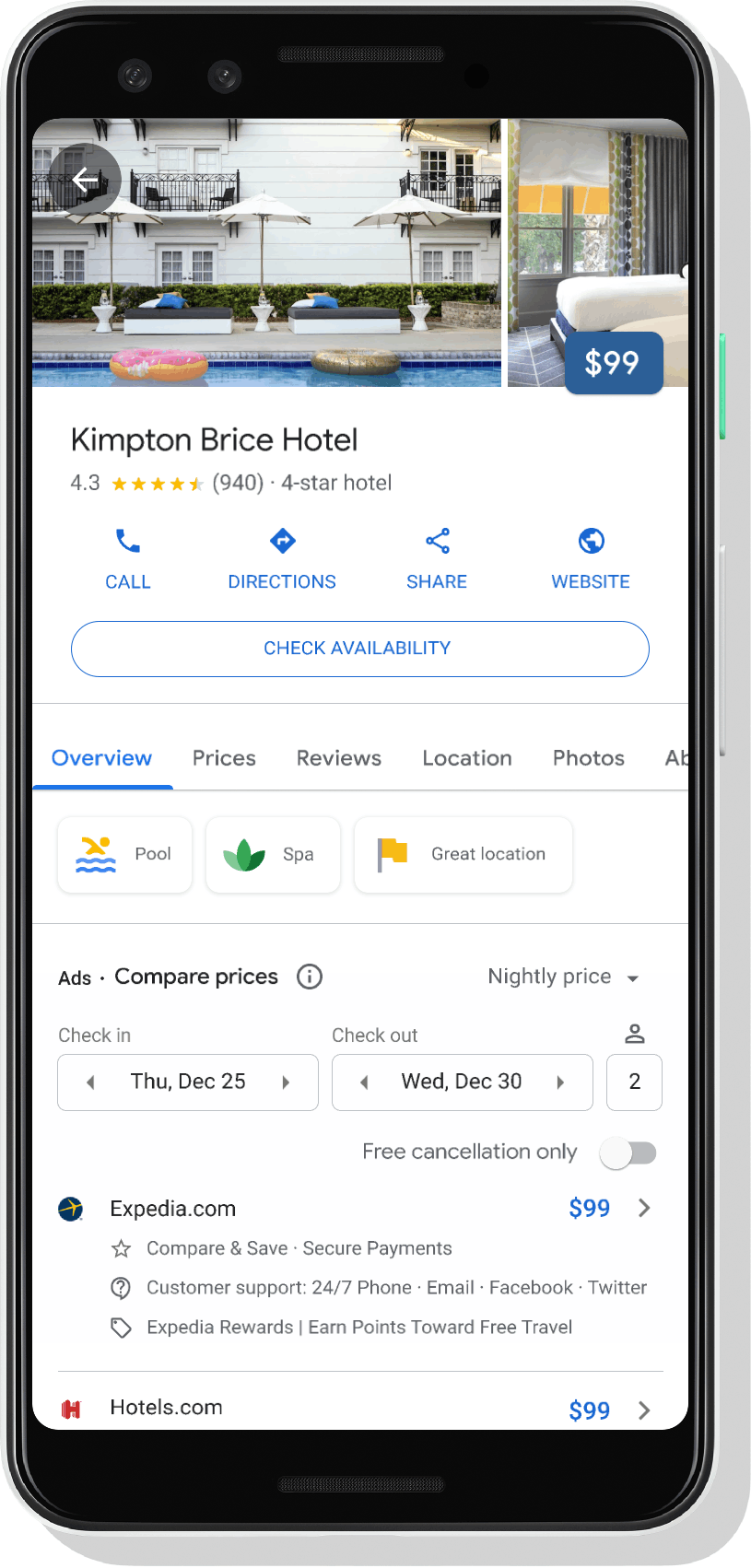 We're working with hotels and vacation rental providers, as well as industry associations, to add more health and safety information to the results you see. If you're a hotel owner, verify your business using Google My Business, and let guests know what measures you're taking to keep them safe by adding health and safety attributes to your Business Profile. 
See local COVID-19 information 
If you're planning to visit a new city, you can use the COVID layer in Google Maps to quickly get information about COVID-19 cases in the area—so you can make more informed decisions about where to go and what to do. 
Stay informed on the road
Once you're headed out on your trip, you can use Google Maps to see helpful safety alerts along the way. If you're driving, we'll notify you about COVID-19 checkpoints and restrictions along your route, like when crossing national borders. If you plan to take public transportation, we'll show you alerts from local transit agencies, so you can quickly know if government mandates impact transit services or require you to wear a mask while riding the bus, subway, or train.
Get nostalgic & relive past trips
For those not traveling this holiday season, you can use new features in Google Maps or Google Photos to take a walk down memory lane. If you're using Maps on Android, you can soon access the new "Trips" tab in Timeline to see a summary of your past vacations, along with information about the places you visited, the total kilometers traveled, and the modes of transportation you used. If you choose to turn on your Location History setting, you can use Trips in Timeline as a handy tool if you're feeling nostalgic or want to share vacation recommendations with friends or family.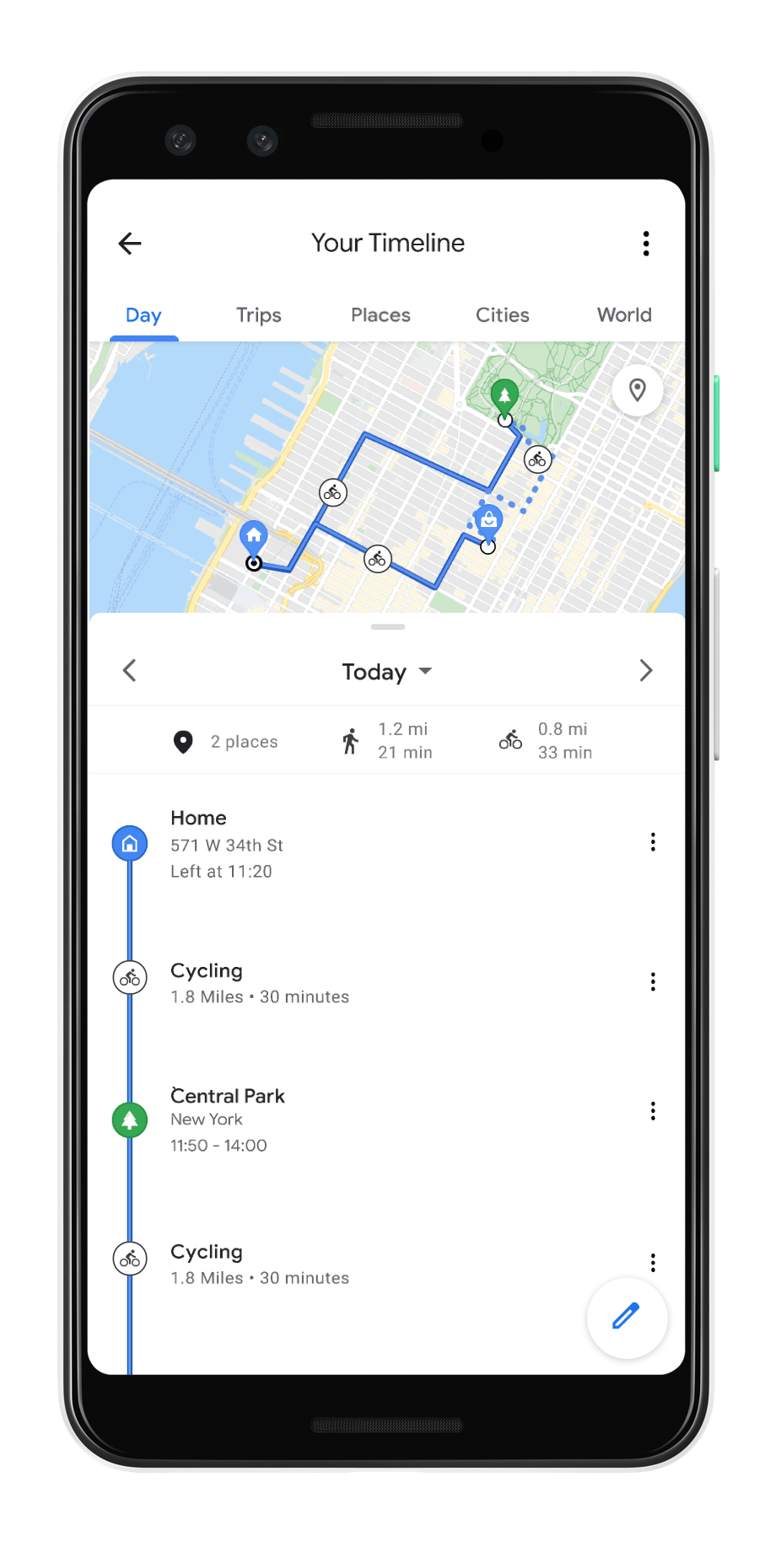 You can also see and share your past trip itineraries including hotels, restaurants and other places you've received reservation confirmations for in your Gmail by going togoogle.com/travel and tapping on the "Trips" tab. 
In Google Photos, you can already see photos grouped by location with theinteractive map view. In the coming weeks, we're bringing Timeline to the Photos map view, so you can easily see the paths you took on a certain day alongside your photos—whether you captured that epic shot while hiking through Yellowstone, or while driving down the scenic Pacific Coast Highway. You can choose to show or hide your Timeline from your map view's settings in Photos at any time.
If you will be traveling over the holidays, here's a handy checklist to help you make informed decisions as you plan.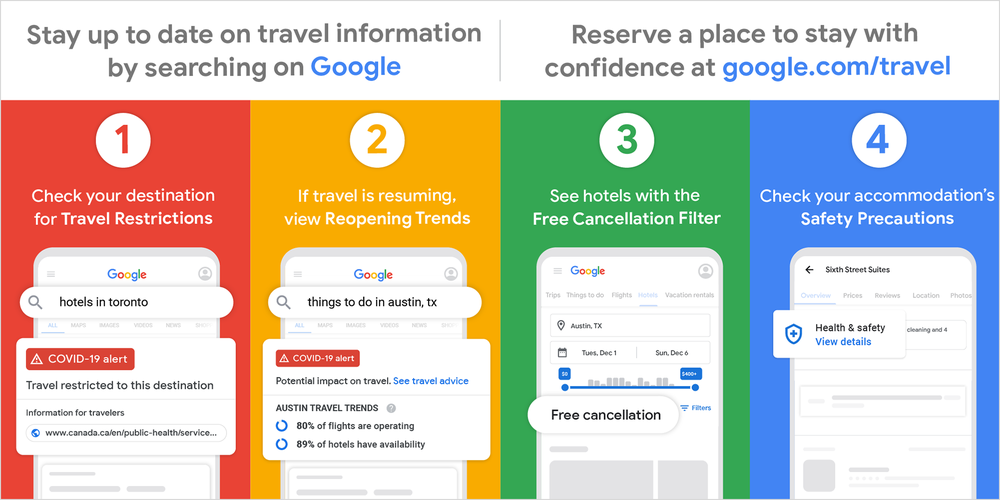 Comments Off
:covid-19, maps, Photos, travel
more...
by Ruth Porat on Oct.27, 2020, under 3D Models, Argentina, Australia, Brazil, California, Denmark, England, Germany, Google Earth News, Google Earth Tips, Google Sky, Google maps, Hawaii, Indonesia, Ireland, Italy, Japan, Kenya, Mexico, Natural Landmarks, Netherlands, Sightseeing, Street Views, USA
The COVID-19 pandemic has brought unprecedented challenges and emphasized how important it is for each of us to do our part to help find solutions. I'm sharing an update here on how Google is contributing to keep people safe and helping to get American businesses back up and running.
Contributing to economic recovery efforts
As I've written earlier, to help small businesses gain easier access to badly-needed capital, we founded the $170 million Grow with Google Small Business Fund alongside $10 million in Google.org grants, with an aim to help the most underserved small businesses, particularly those owned by women and minorities. In collaboration with Opportunity Finance Network, more than $53 million dollars of loans and Google.org grants have been allocated to community partners who are focused on serving rural, women, Black, Latino and Native borrowers, which helps American communities start to get back on their feet. Tires by Papi and Bailiwick Clothing Company are two such examples.
Of course, our greatest contribution continues to be developing products to help people stay informed, adapt and get through this pandemic. 
According to the Connected Commerce Council, nearly one in three small business owners report that without digital tools they would close all or parts of their business. To help small businesses, we rolled out many new, free product features earlier this year, so that they can inform their customers about things like takeout, delivery, no-contact delivery, or curbside pickup. Today, people can now find this information on Search and Maps for more than 2 million restaurants and retailers in the U.S.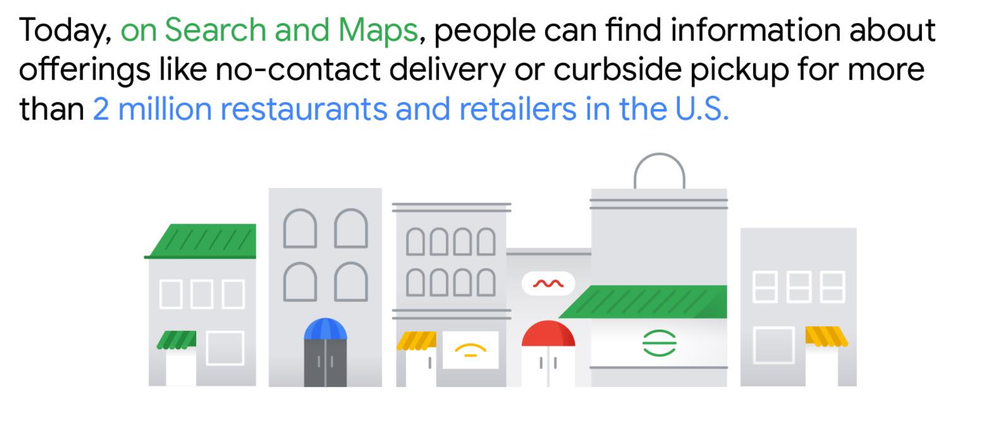 We've used Google's Duplex technology to make calls to businesses and confirm things like temporary closures. This has enabled us to make 3 million updates to business information globally, which have been seen by people over 20 billion times in Search and Maps. 
To help people searching for jobs, we have stepped up to help in many ways. We added new relevant features in the U.S. like showing jobs that can be done remotely. Google Cloud has partnered with different states to help jobseekers: we assisted Rhode Island's Virtual Career Center, a new platform that  connects thousands of jobseekers with jobs and employment services; worked with the State of Illinois to develop a 24/7 Virtual Intelligent Agent on the IDES website; developed a chatbot, in partnership with the New Jersey Office of Innovation to provide real-time answers to the 20 most popular unemployment questions. These are just some of the examples. 
We also transformed our free Grow with Google training to virtual formats and have already trained more than 1 million Americans on digital skills this year. The Google IT Support Professional Certificate—which takes beginner learners to entry-level jobs ready in under six months—has become the most popular certificate on Coursera during COVID-19.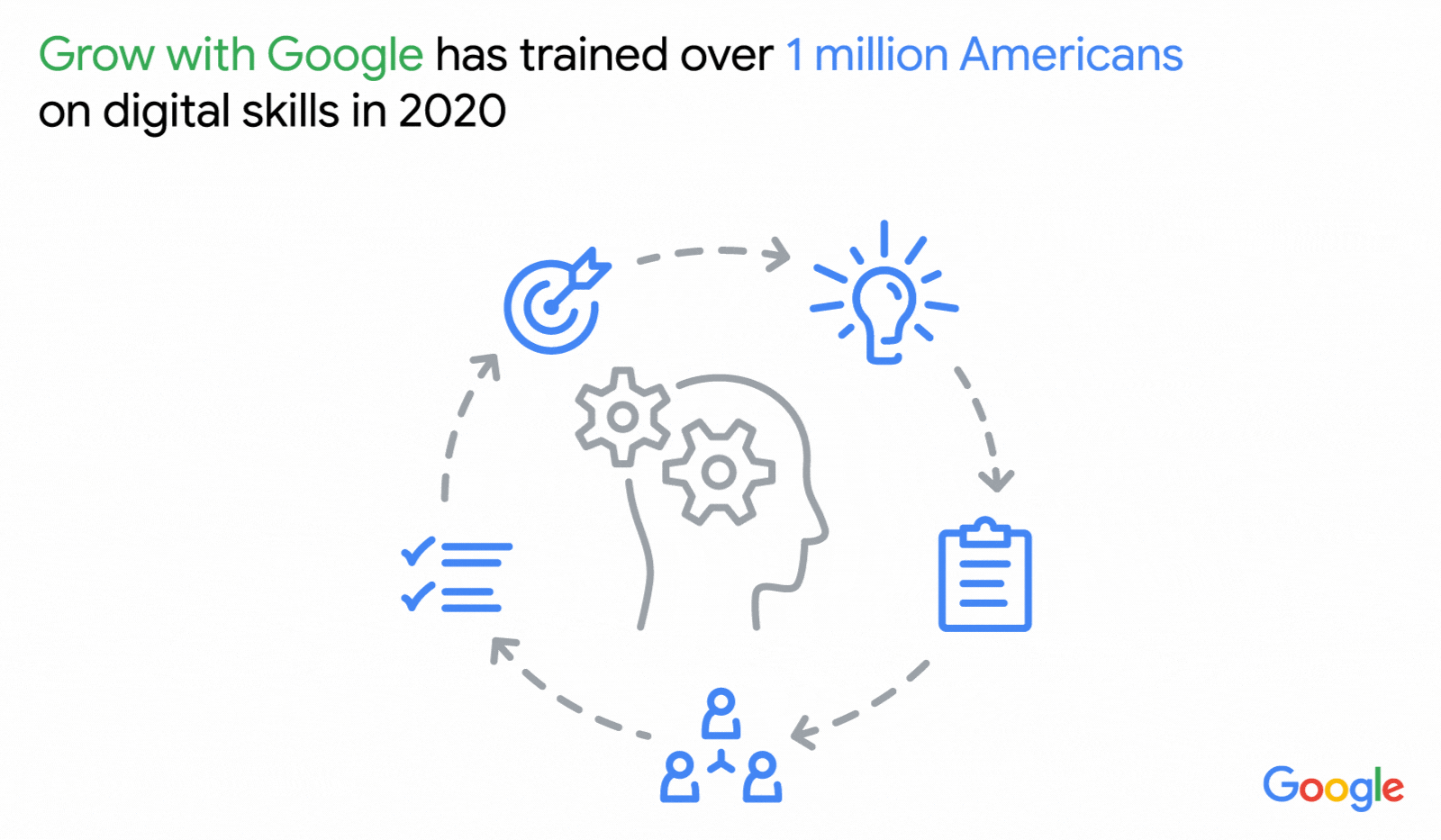 Providing trusted information
Questions related to the pandemic are more searched than sports or music (and even elections) in every state. 
Top coronavirus related searches in the U.S. this month:
Coronavirus symptoms

Coronavirus update

Coronavirus vaccine
Across the U.S. people are searching on Google to stay informed and adapt. In 47 states, the top coronavirus-related question during the last six months has been "How many cases of coronavirus in [my state]." Search interest for "online courses" reached an all-time high in April this year, as did searches for "unemployment,"compared to search trends over the last 15 years. 
During this time, we've also seen people seek out information to help them navigate their daily lives. For example, since the pandemic began, searches for "curbside pickup" have increased 13-fold compared to this time last year, while searches for "contact tracing" spiked 1,000 percent  in April and then reached an all-time high in May. 
In March, we launched Search Knowledge Panels so when people search for information related to COVID-19, they immediately see local guidance, information about symptoms, prevention and treatments. We've committed $250 million in Ad Grants to help government agencies provide critical information related to COVID-19. As of today we've served more than 100 million PSAs from local public health agencies, which have been seen by tens of millions of people across the U.S.
We also launched the Journalism Emergency Relief Fund to provide emergency funding for small and medium sized news organizations covering the pandemic. To date, we've distributed $9 million to U.S. newsrooms across all 50 states. 
Helping people make safe choices 
To help people make informed decisions about where to go, the COVID layer in Google Maps shows critical information about new cases in an area and how they're trending. As of this month, our COVID-19 Community Mobility Reports, which are used by public health agencies and researchers around the globe, have been downloaded more than 16 million times. 
In May, we partnered with Apple to launch the Exposure Notifications System (ENS) and made it available to public health authorities around the world in their fight against COVID-19. Designed specifically and carefully to protect users' privacy while helping public health authorities and governments manage countries' re-opening, today 13 states and U.S. territories have built apps based on this ENS technology.
In a short time, COVID-19 has changed how people live their lives. We'll continue to update our products and roll out initiatives to help people and American businesses find trusted information, adapt and manage economic uncertainty.  
Comments Off
:covid-19, Google.org, Grow with Google, maps, search, Small Business
more...
by Dane Glasgow on Oct.16, 2020, under 3D Models, Argentina, Australia, Brazil, California, Denmark, England, Germany, Google Earth News, Google Earth Tips, Google Sky, Google maps, Hawaii, Indonesia, Ireland, Italy, Japan, Kenya, Mexico, Natural Landmarks, Netherlands, Sightseeing, Street Views, USA
People turn to Google Maps for accurate, fresh information about what's going on in the world—especially so during the pandemic. Activities like picking up something from the store, going for a walk, or grabbing a bite to eat now require a significant amount of planning and preparation. At any given time, you may be thinking: "Does the place I'm headed to have enough room for social distancing?" or "What safety precautions are being taken at my destination?"
Today, as part of our Search On event, we're announcing new improvements to arm you with the information you need to navigate your world safely and get things done.
Make informed decisions with new live busyness updates
The ability to see busyness information on Google Maps has been one of our most popular features since it launched back in 2016. During the pandemic, this information has transformed into an essential tool, helping people quickly understand how busy a place is expected to be so they can make better decisions about where to go and when. In fact, as people around the world adjusted to life during the pandemic, they used popular times and live busyness information more. We saw engagement with these features rise 50 percent between March and May as more people tapped, scrolled and compared data to find the best days and times to go places.   
We've been expanding live busyness information to millions of places around the world, and are on track to increase global coverage by five times compared to June 2020. This expansion includes more outdoor areas, like beaches and parks, and essential places, like grocery stores, gas stations, laundromats and pharmacies. Busyness information will surface in directions and right on the map—so you don't even need to search for a specific place in order to see how busy it is. This will soon be available to Android, iOS and desktop users worldwide.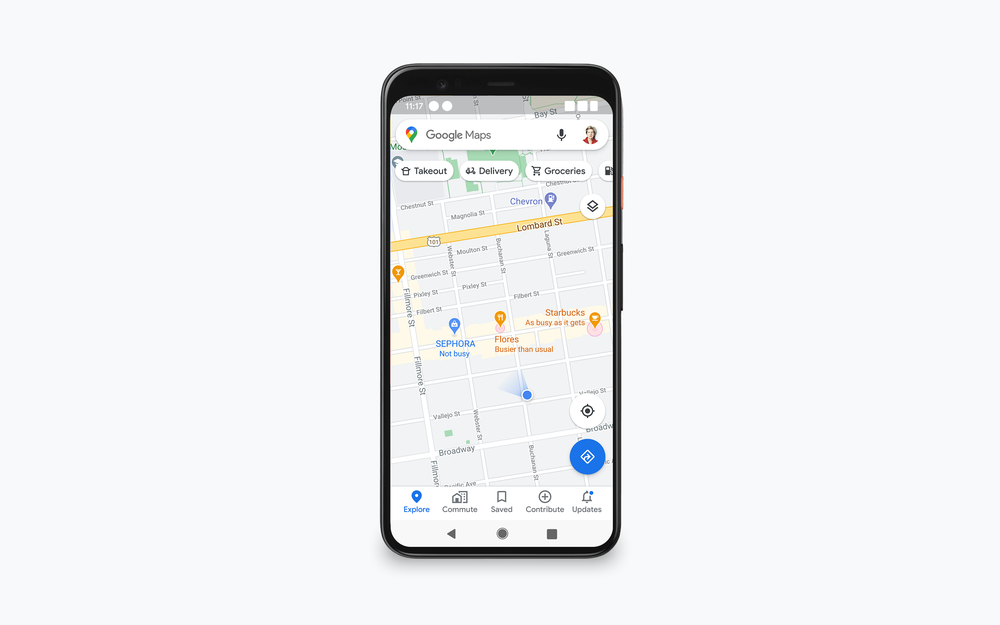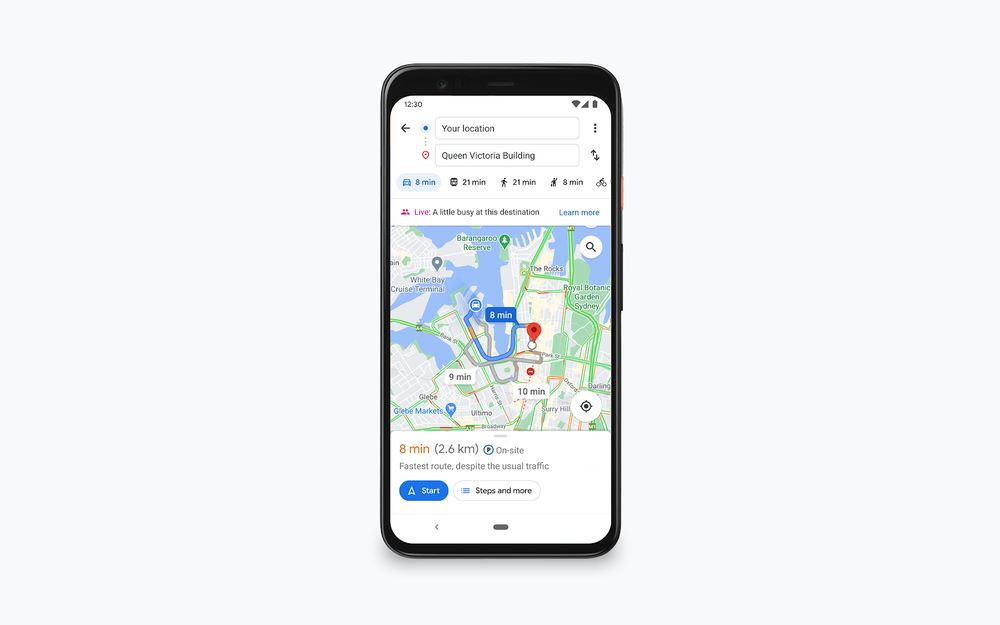 A new way to source up-to-date business information
It's hard to know how a business' offerings have changed during the pandemic. To help people find the freshest business information possible, we've been using Duplex conversational technology to call businesses and verify their information on Maps and Search. Since April 2020, this information has helped make more than 3 million updates, including updated hours of operation, delivery and pickup options, and store inventory information for in-demand products such as face masks, hand sanitizer and disinfectant. To date, these updates have been viewed more than 20 billion times.
Important health and safety information about businesses is now front and center on Maps and Search. You can quickly know what safety precautions a business is taking, such as if they require customers to wear masks and make reservations, if there's plexiglass onsite, or if their staff takes regular temperature checks. This information comes directly from businesses, and soon Google Maps users will also be able to contribute this useful information.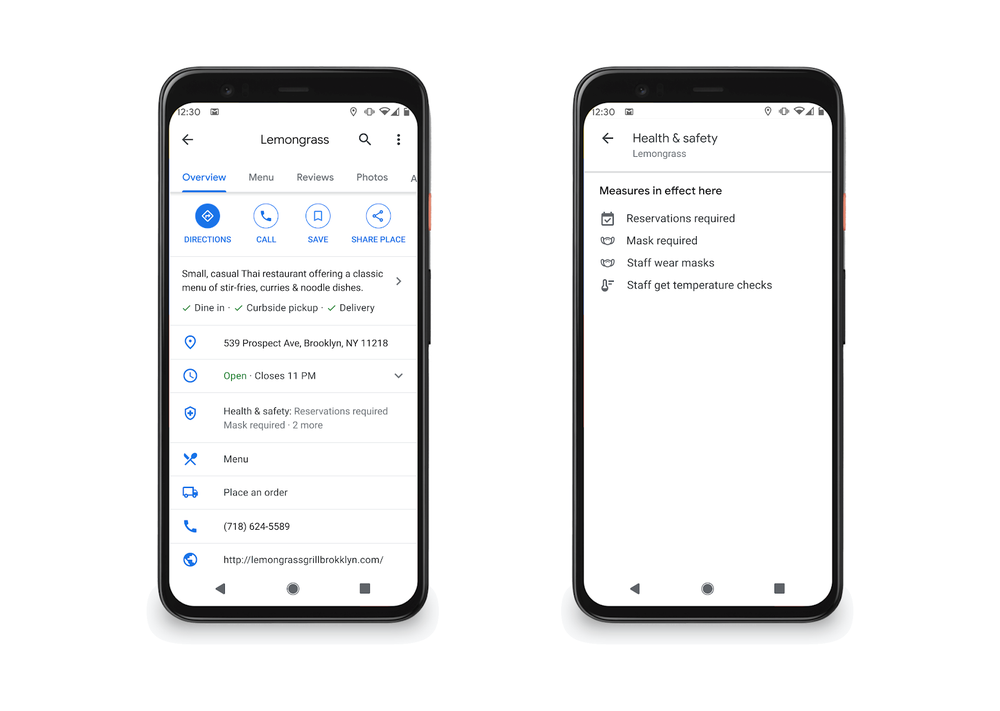 See helpful information right from Live View
Getting around your city looks different these days. The stakes are higher due to safety concerns, and it's important to have all the information you need before deciding to visit a place. In the coming months, people using Android and iOS devices globally will be able to use Live View, a feature that uses AR to help you find your way, to learn more about a restaurant, store or business.
Say you're walking around a new neighborhood, and one boutique in particular captures your attention. You'll be able to use Live View to quickly learn if it's open, how busy it is, its star rating, and health and safety information if available,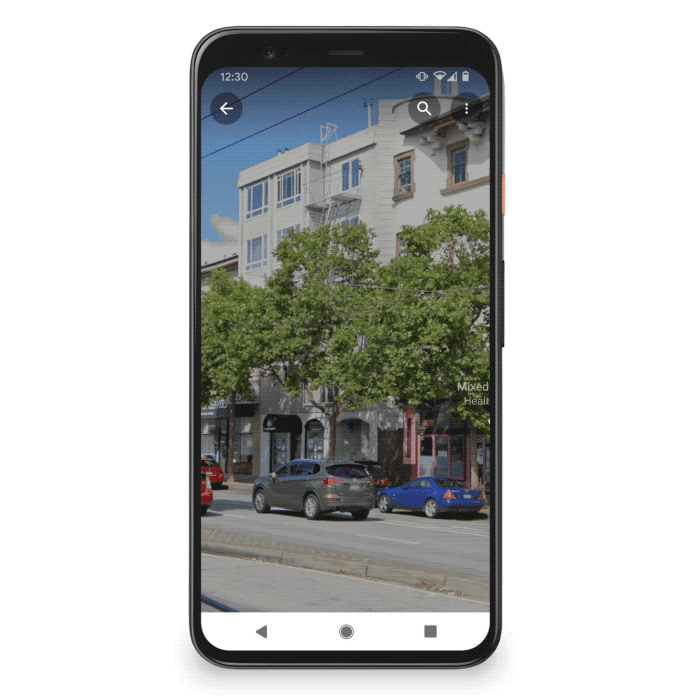 The pandemic has changed how we interact with the world. Getting around, shopping for essentials and finding things to do all require more thought and consideration, and Google Maps is here to help.
Comments Off
:covid-19, maps
more...
by Matt D'Zmura on Oct.16, 2020, under 3D Models, Argentina, Australia, Brazil, California, Denmark, England, Germany, Google Earth News, Google Earth Tips, Google Sky, Google maps, Hawaii, Indonesia, Ireland, Italy, Japan, Kenya, Mexico, Natural Landmarks, Netherlands, Sightseeing, Street Views, USA
Looking for something?
Use the form below to search the site:
Still not finding what you're looking for? Drop a comment on a post or contact us so we can take care of it!
Visit our friends!
A few highly recommended friends...
Archives
All entries, chronologically...