by Vishal Dutta on Feb.17, 2021, under 3D Models, Argentina, Australia, Brazil, California, Denmark, England, Germany, Google Earth News, Google Earth Tips, Google Sky, Google maps, Hawaii, Indonesia, Ireland, Italy, Japan, Kenya, Mexico, Natural Landmarks, Netherlands, Sightseeing, Street Views, USA
People all over the world turn to Google Maps to get things done — especially during the pandemic. From booking an online yoga class to ordering takeout from your favorite restaurant —Google Maps is a powerful sidekick that lets you accomplish tasks all throughout your day. Today, we have new tools in collaboration with Google Pay to help you get more done when you're on the go: the ability to pay for street parking and transit fares right from Google Maps, without ever taking out your wallet. 
Keep it clean and easy 
Comments Off
:Google Pay, maps
more...
by Traci Cappiello on Feb.10, 2021, under 3D Models, Argentina, Australia, Brazil, California, Denmark, England, Germany, Google Earth News, Google Earth Tips, Google Sky, Google maps, Hawaii, Indonesia, Ireland, Italy, Japan, Kenya, Mexico, Natural Landmarks, Netherlands, Sightseeing, Street Views, USA
Today on Safer Internet Day, I'm sharing some handy tips on how you can be more in control of your Google Maps experience and help other people find great places around them.
I've been a Google Maps program manager since 2012, and have explained a lot of the features in Maps to our global community of Local Guides, the everyday people who are passionate about sharing their experiences on Google Maps. And I'm a huge Google Maps devotee and superuser myself. Over the last 11(!) years, I've posted more than 2,000 reviews and gathered more than 275 million views on my Maps photos. So if there's a feature in Google Maps, chances are I've used it.
From built-in protections in Google Maps to easy-to-use setting and privacy tools, here are 8 tips for features I use that will help you maximize your Maps experience:
1. Manage your Google Maps profile
To keep you in control of your data, Google Maps has built-in settings so you can easily manage and personalize your Google Maps profile. You can update your settingsto not show your reviews, photos, and posts on your public Maps profile. 
2. Easily change your display name
While I'm not a famous restaurant critic or celebrity, I like that I can control when and where I use my last name, so that I'm just "Traci" on Google Maps. You, too, can easily change your display name across Google products and services. Go ahead, pick your nom de plume. 
3. Respect the privacy of others in photos 
Photos are my absolute favorite way to contribute to Google Maps. One thing I'm always careful to do is to not post photos that show the faces of people nearby. Plus, I'd rather see a place's decor or accessibility information over a bunch of strangers ;)  
4. Report questionable content
From reviews and ratings to photos and listings, the vast majority of the information other people add to Maps is helpful and accurate. But if you ever come across a review or a business listing that looks odd or inappropriate, you can quickly report the content or the person who posted it.
5. Share your location with your inner circle
Even though I'm not traveling as often as I used to, when I do, I like to share my real-time locationwith my closest friends and family so someone always knows where I am. I also love that they can follow along with my travels when I visit a new country.
6. Manage your Timeline
Timeline is a handy feature in Maps that helps you see places you've been if you've opted to turn your Location Historysetting on (it's off by default). With it, I'm able to easily reminisce about past trips (remember traveling?!) and share recommendations with friends and family. With tools like bulk delete and in-line edits, you can easily add, edit or deletethe information in your Timeline with just a few taps. 
7. Easily access key Google Account settings and auto-delete controls
I love that I don't have to leave Google Maps to control my Google account settings. With Your data in Maps, you can quickly access your Location History, Web & App Activity, and other Google privacy controls, right from Maps. You can also use auto-delete controls to save only 3 or 18 months worth of data - all data older than that is automatically deleted on a rolling basis. 
8. Go Incognito
It can be helpful having personalized experiences across Google products, but if you prefer to fly under the radar, try Incognito mode in Maps. With it, your Maps activity on that device, like the places you search for, won't be saved to your Google Account or used to personalize your Maps experience. You can easily turn on Incognito mode by selecting it from the menu that appears when you tap your profile photo. And you can turn it off at any time to return to a personalized experience with restaurant recommendations, information about your commute, and other features tailored to you.
Comments Off
:
maps
more...
by Joseph Nakoul on Jan.28, 2021, under 3D Models, Argentina, Australia, Brazil, California, Denmark, England, Germany, Google Earth News, Google Earth Tips, Google Sky, Google maps, Hawaii, Indonesia, Ireland, Italy, Japan, Kenya, Mexico, Natural Landmarks, Netherlands, Sightseeing, Street Views, USA
The beginning of the year is often viewed as a fresh start. But in many ways, January feels like the thirteenth month of 2020! We turned to Google Maps search insights (December 2019-January 2020 vs. December 2020-January 2021) to see how Americans are handling tried-and-true New Year's resolutions. Find out how common resolutions — like traveling, drinking less, eating better and working out more — are holding up in the midst of COVID-19.
Travel, but make it local
Americans seem to be feeling a sense of wanderlust, but it's focused more on local travel than it was in January 2020. Last year, Maps searches for international destinations rose by over 65% compared to the previous month – with people searching for warm-weather places like Australia, Costa Rica and the Philippines. This year, January searches for countries outside of one's hometown stayed flat — increasing by a mere 1%, almost certainly due to COVID-19 travel restrictions.
In January 2020, Maps searches for island destinations increased by over 40% as people planned for some fun in the sun. This January, those searches are only up by a little over 10% compared to late last year. And searches for local bed and breakfasts have increased by 20%, indicating that Americans are searching for destinations closer to home instead of across the world.
Ski resorts are trending in a big way on Maps – likely because skiing is a socially distant activity with a chilly change of scenery. This January, Maps searches for ski resorts are more than twice as high as they were at the same time last year!
"Dry January" is consistently one of the most popular New Year's resolutions. Last January, searches on Maps for wine shops and liquor stores both plummeted by nearly 40% compared to the previous December. This year, those searches only dropped by 11% and 6% respectively, hinting that people may be less committed to abstaining.
People are showing an interest in eating healthy. Searches for "healthy" options spiked by 46% at the start of January compared to the previous December. But at the same time there's another trend on the rise: people are also looking for sweets. Searches for ice cream shops are up by 10% compared to December. And, while searches for fast food restaurants plummeted by a whopping 20% in January 2020, they dropped by just 1.5% in 2021.
Year-over-year searches for gyms have remained steady, increasing by about 25% in both 2020 and in 2021. However, while searches for hiking areas are still up this month compared to December, they're significantly lower than they were in 2020 – a 16% increase compared to last year's 55% increase. This could be due to local restrictions, or because more people are opting for one of the many at-home workout classes available online.
Resolutions or not, Google Maps is here to help. Whether you're looking for healthy food or pints of ice cream, road trips or workouts you can do on your living room floor, here are some tips to help you keep up (or even break) your resolutions:
Check out how local restaurants are operating: Before heading out of the house, use Google Maps to see if restaurants are offering things like dine-in services, takeout, or delivery. You can also see information about the extra safety precautions that restaurants are taking — like whether they have plexiglass at checkout or take guests' temperatures upon arrival. 

Track your order (so your ice cream doesn't melt!): It's tough to get the timing right for takeout and delivery orders – and no one likes cold entrees or soupy ice cream. If you order food on Google Maps, you can now see the status of your order on your Google Maps app homepage so you know exactly when it's ready for pickup or set to arrive at your doorstep.

Borrow a bike: If stationary bikes aren't your thing, check out Google Maps to find your nearest docked bikeshare location. Maps can give you walking directions to the bike, and cycling directions to your final destination – so you can explore the outdoors by foot and on two wheels!

Take an online class: Whether you're looking to workout more, connect with a financial advisor or pick up a new hobby, use Maps to find local businesses that offer online classes and appointments that you can take right from the comfort of your own home.

Plan your next road trip: Travel restrictions are still up in the air, which means you might not be. If you're itching to sightsee beyond your route to the grocery store, follow other Google Maps users to get their updates and recommendations directly in your app! Local Guides — like Denise Barlock who lives in a RV motorhome and travels across the U.S. — share regular contributions to Maps and can be great resources for planning a trip!

Comments Off
:
maps
more...
by Alex Donaldson on Jan.28, 2021, under 3D Models, Argentina, Australia, Brazil, California, Denmark, England, Germany, Google Earth News, Google Earth Tips, Google Sky, Google maps, Hawaii, Indonesia, Ireland, Italy, Japan, Kenya, Mexico, Natural Landmarks, Netherlands, Sightseeing, Street Views, USA
Electric vehicles (EVs) are growing in popularity. Still, planning a road trip with charge stops on route can feel like solving a puzzle. With an EV, you need to find recharging stations within range that also have your specific plug type and can recharge you as quickly as you need. 
To take the guesswork out of trip planning and recharging, we're rolling out three new features for EVs with Google Maps built in.

Taking the stress out of EV route planning

Newly developed routing algorithms that use a type of math called graph theory serve up stress-free routes and charging stop recommendations in the latest release of Google Maps that's built into participating EVs, including the Polestar 2 and Volvo XC40 Recharge. 
Now when you enter a destination that requires two or more recharge stops, algorithms in Maps will search and filter through tens to thousands of public charging stations to find the most efficient route — all in less than 10 seconds. You can see how long each charge will take and your updated total trip time, so your final ETA will never again be a mystery.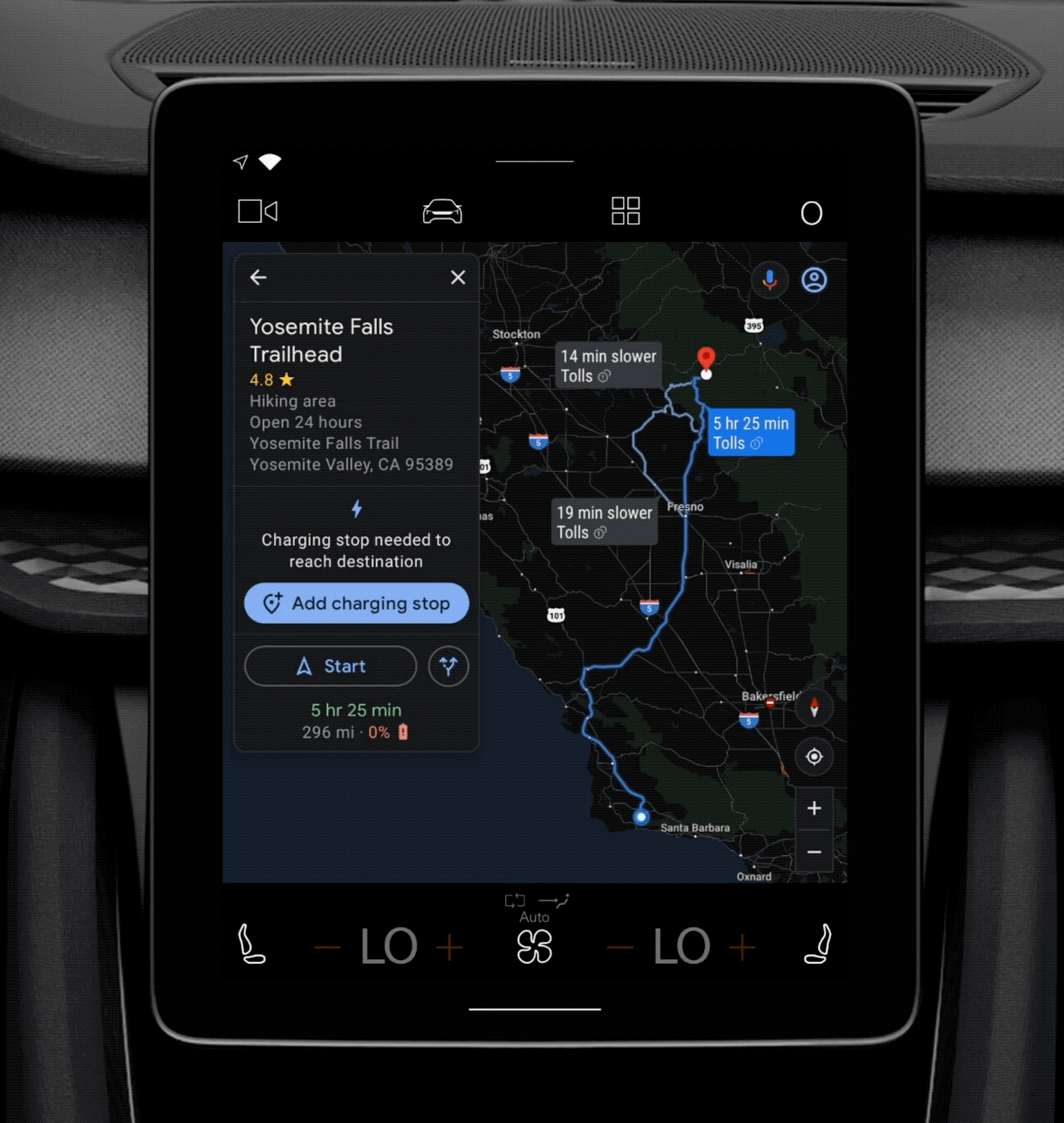 Hit the road with confidence
For shorter trips where only one charge is needed, like a Saturday hike or weekend getaway, you can select a charging station that best fits your needs from a list of recharge points in Google Maps.
You can see which charging stations are the fastest and select specific stations if you have a membership. You can also see if a charging spot is close to a grocery store or coffee shop, so you can knock out errands or recharge yourself with a latte while you wait.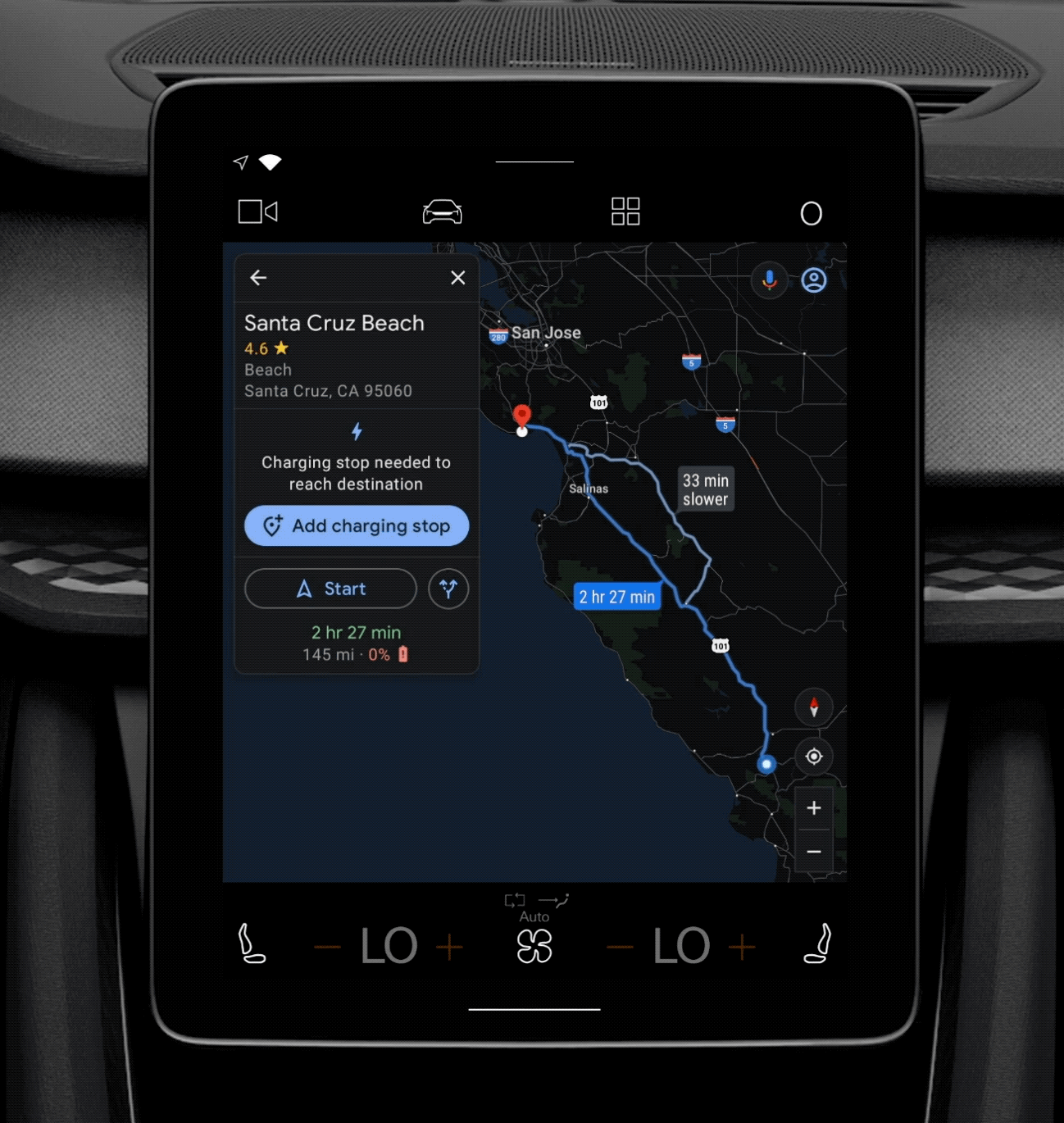 The road ahead
In Europe we know it can be harder to find charging stations that will take your preferred form of payment. So Google Maps will show you what payment methods are accepted at stations in 12 countries throughout Europe, with more on the way.
These new features are now rolling out for cars with Google Maps built in — currently the Polestar 2 and Volvo XC40 Recharge — with more car models to come.

Comments Off
:
maps
more...
by Anne Teeka on Dec.18, 2020, under 3D Models, Argentina, Australia, Brazil, California, Denmark, England, Germany, Google Earth News, Google Earth Tips, Google Sky, Google maps, Hawaii, Indonesia, Ireland, Italy, Japan, Kenya, Mexico, Natural Landmarks, Netherlands, Sightseeing, Street Views, USA
Every year when it gets colder outside, 
I find myself waiting at the window wide-eyed. 
I see wind and some rain, and I sometimes see ice, 
But there's one particular weather pattern that's so seasonally nice. 
It can be fluffy or sticky, and it's often bright white,
And it's usually the cause of a most festive fight. 
When the temperature drops and the clouds look just so, 
I pull out my ski jacket and get ready for—yes!—snow!
Now if you look outside and see no snowflakes in sight, 
I have a travel solution that requires no flights: 
You can journey to snowy lands all over the globe, 
Use Google Maps Street View—you can even wear your bathrobe. 
Visit this street in Norway, and imagine you hear, 
The pitter-patter of strolling reindeer.
Then some miles south in Nuuksio, Finland, 
You'll see perfect snow that the Northern Lights skim.
When you're ready, we'll head west to France, 
And watch skiers fly down the snow in their dance.
Things are much warmer for these monkeys in Japan, 
They've got themselves a hot tub, all they need is a tan.
Thanks for joining me here, and listening to my poem,
Or perhaps, given the subject, you could call it a snow-em.
Comments Off
:
maps
more...
by Danny Sullivan on Dec.17, 2020, under 3D Models, Argentina, Australia, Brazil, California, Denmark, England, Germany, Google Earth News, Google Earth Tips, Google Sky, Google maps, Hawaii, Indonesia, Ireland, Italy, Japan, Kenya, Mexico, Natural Landmarks, Netherlands, Sightseeing, Street Views, USA
There are many factors that play a role in providing helpful results when you search for something on Google. These factors help us rank or order results and can include the words of your query, the relevance or usability of web pages in our index, and the expertise of sources.
Location is another important factor to provide relevant Search results. It helps you find the nearest coffee shop when you need a pick-me-up, traffic predictions along your route, and even important emergency information for your area. In this post, we'll share details about the vital role that location plays in generating great search results.
Finding businesses and services in your community
It's a Friday night. You're hungry and want some pizza delivered. If Google couldn't consider location in search ranking, our results might display random pizza restaurants that are nowhere near you. With location information, we can better ensure you're getting webpages and business listings about pizza places that are local and relevant to you.
The same is true for many types of businesses and services with physical locations, such as banks, post offices, restaurants or stores. Consider two people who search for zoos—one in Omaha, Nebraska and the other in Mobile, Alabama. Location information helps both get the right local information that they need: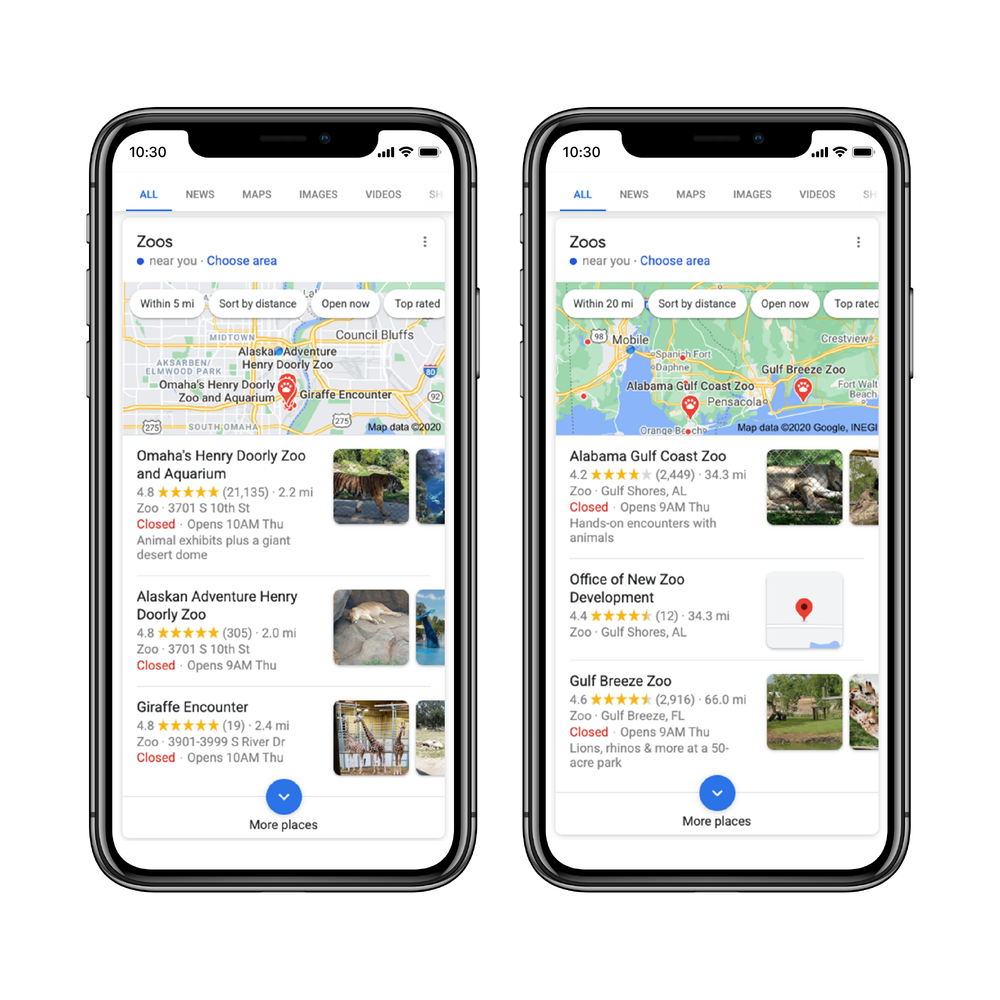 Same query, different local contexts
Location can matter even when you're searching for something that doesn't necessarily have a physical location. For example, a search for "air quality" in San Diego, California versus Tulsa, Oklahoma might lead you to pages with local information relevant to each area.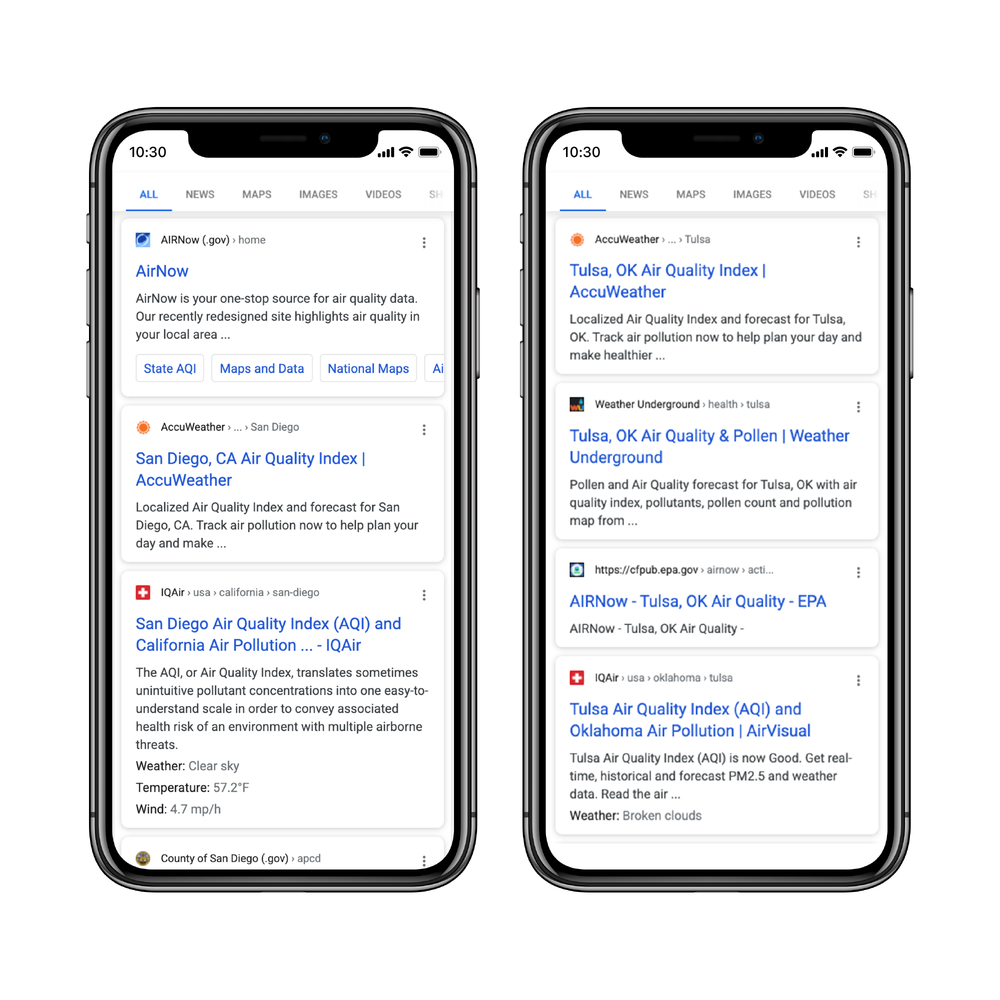 Similarly, certain information in Search can be more useful if it's specific to your city or neighborhood. If you were to search Google for "parking information," you might see information about municipal codes and parking enforcement for your local area that would differ from what someone else might see in another city. 
Local information in search results can also be helpful in an emergency. If you search for "hurricane," our Crisis Response features can show you local shelter information if there's a hurricane close by, rather than just generic information about what a hurricane is.
Of course, just because some searches have local results, it's not the case that everyone gets completely different results just because they are in different cities (or even different countries). If a search topic has no local aspect to it, there won't be local results shown. If there is, we'll show a mix of local results that are relevant to particular places along with non-local results that are generally useful.
How location works at Google
You might be wondering how location works at Google. Google determines location from a few different sources, and then uses this information to deliver more relevant experiences when it will be more helpful for people. Learn more about the different ways we may understand location in the video below as well as how to manage your data in a way that works best for you on our help center page about location and Search. 
Location is a critical part of how Google is able to deliver the most relevant and helpful search results possible—whether you need emergency information in a snap, or just some late-night pizza delivered. For more under-the-hood information, check out our How Search Works series. 
Comments Off
:How Search Works, maps, search
more...