Tag: maps
by Mickey Kataria on Jan.06, 2022, under 3D Models, Argentina, Australia, Brazil, California, Denmark, England, Germany, Google Earth News, Google Earth Tips, Google Sky, Google maps, Hawaii, Indonesia, Ireland, Italy, Japan, Kenya, Mexico, Natural Landmarks, Netherlands, Sightseeing, Street Views, USA
Editor's note: Google planned to attend CES 2022 but pulled out of having an in-person presence due to concerns over COVID-19.
Google's vision of helpfulness on the road is to provide a safe and seamless connected experience. Today, we're introducing several updates for cars compatible with Android Auto and cars with Google built-in.
Your Android phone as your car key
With digital car key, you can now use select Samsung Galaxy or Google Pixel phones to lock, unlock and start supported BMW vehicles from your phone. Starting later this year, phones with Ultra Wideband (UWB) technology will allow you to unlock your compatible car without taking your phone out at all, and key sharing will allow you to securely and remotely share your digital car key to trusted friends and family. We're working to bring these features to even more Android phones and vehicles later this year.
Unlock your car with your mobile phone and a simple tap.
A more helpful drive with Android Auto
Now available on nearly 150 million cars around the world, Android Auto brings the best of Google onto your car display via your Android phone. Most of the world's top car brands are bringing wireless Android Auto to their newest models, meaning you never need a cord to connect. And with just one tap, Fast Pair makes it easier than ever to connect your phone and wireless Android Auto. It's available today on select BMW and Ford cars, with more to come. Also, with new accessories like the Motorola MA1 wireless adapter, you can now enjoy the wireless Android Auto experience even if your car doesn't have wireless support built-in. Connected via USB, the adapter stays in your car and wirelessly projects Android Auto from your phone to your car display as soon as you step inside.
You can already enjoy thousands of media, messaging, navigation, parking and charging apps that support Android Auto. And this summer, we're bringing you more. We're partnering with Lyft and Kakao Mobility to integrate their driver apps into Android Auto, so drivers will be able to view and accept rides right from their car display. And with access to points of interest apps like MochiMochi, Fuelio and Prezzi Benzina, you can explore more of the world, find and pay for all types of car services, and track your mileage and costs.
Lyft Driver app for rideshare drivers will be projected onto their car display (UI for illustration purposes only and may not reflect final product).
New capabilities for cars with Google built-in
Car manufacturers like Polestar, Volvo Cars, and General Motors - with more to come - are already shipping select cars with Google technology built right into their infotainment systems, allowing you to get more use out of helpful features.
With Google Play built-in, you can soon download navigation apps like Sygic and Flitsmeister, charging apps like ChargePoint and PlugShare, parking apps like SpotHero and ParkWhiz and points of interest apps. In fact, later this year, you will be able to access video entertainment in the car while parked, starting with Volvo Cars with content from providers like YouTube. Suddenly, waiting for curbside pickup or for your car to charge isn't so boring anymore.
Enjoy watching YouTube while parked on select Volvo Cars with Google built-in.
This deeper integration allows you to get help from Google beyond the car display. Coming this spring to Volvo Cars, you'll be able to check on and adjust even more car settings by asking Google. From activating features like lane keeping assist to checking when your next service is due, your voice can replace looking around for the right button or scrolling through settings.
Smart home, meet smart car
With remote actions, you will soon be able to ask Google for help even before leaving the front door. Ask Google to warm up or cool down your car, lock and unlock it and check on the status of things like your battery charge, all from the comfort of your own home with the help of any Google Assistant-enabled device. This is coming first to select Volvo Cars, with more to follow.
Whether you're getting ready for a drive or already on the road, we're working hard to make sure Google helps make every ride a safe, smart and seamless experience.
Comments Off
:android, Google Assistant, maps, YouTube
more...
by Michelle Budzyna on Dec.14, 2021, under 3D Models, Argentina, Australia, Brazil, California, Denmark, England, Germany, Google Earth News, Google Earth Tips, Google Sky, Google maps, Hawaii, Indonesia, Ireland, Italy, Japan, Kenya, Mexico, Natural Landmarks, Netherlands, Sightseeing, Street Views, USA
I'm always looking for ways to be more sustainable. And with the holidays in full swing, when many of us (✋) are particularly overindulgent, it's a fitting time to start eco-friendlier traditions.
Here are a few ways you can embrace more green this holiday season, with help from Google.
Take the road less wasteful
Traveling for the holidays this year? It's easy to find more sustainable ways to get where you're going. Google Flights now shows estimated carbon emissions for every flight. And if you're hitting the road, Google Maps lets you choose the most fuel-efficient driving route if it's not already the fastest one. If you also need a place to crash (other than your parents' house), a quick Google search for hotels will show you information about their sustainability efforts.
Look up estimated carbon emissions on Google Flights.
Save (your) energy
It's tempting to keep the living room holiday lights on all night — not only because they're festive, but so you can avoid the tangled wires to turn them off. If you connect them to your Google Nest or Home speaker or display using a compatible smart plug, you can easily turn them off with your voice, conserving energy for both you and the planet. You can also set up a Routine so they automatically turn on and off at a specific time every day. While you're at it, save even more energy with a Home & Away Routine for your Nest thermostat to automatically adjust the heat at different points of the day, including when you're out of the house.
Recycle the old, in with the new
After the holidays, many of us are faced with mountains of boxes, wrapping paper and, oh yes, a tree. You may also need to make space for new gifts — like the Pixel 6 or Pixel 6 Pro?
Comments Off
:Google Nest, maps, search, Sustainability
more...
by Hema Budaraju on Dec.08, 2021, under 3D Models, Argentina, Australia, Brazil, California, Denmark, England, Germany, Google Earth News, Google Earth Tips, Google Sky, Google maps, Hawaii, Indonesia, Ireland, Italy, Japan, Kenya, Mexico, Natural Landmarks, Netherlands, Sightseeing, Street Views, USA
Every day, millions of people come to Google Search to ask important questions about their wellbeing. The COVID-19 pandemic drove even more concern for our health and the health of our loved ones – and this year, searches for ways to heal reached record highs. We saw questions about vaccinations, therapists, body positivity and mental wellbeing, to name a few. Today, we launched our annual Year in Search, which takes a look back at the top-trending searches of the year. Here's a glimpse into some of the trending searches of 2021, a year we looked for ways to feel better and heal together.
Finding resources near me
Across the world, people searched for information on COVID-19 vaccinations and testing. The top trending "near me" queries in 2021 were "covid vaccine near me" and "covid testing near me." To help people find credible, timely testing and vaccine information, we updated Google Search information panels, and worked with national and international partners to help people get vaccinated and tested.
Learning how to help
Helping ourselves and our communities was a priority for many of us. We asked questions about how to help others with anxiety and depression, and we also looked for help with our own mental wellbeing. Search interest for "therapists near me" hit record highs in 2021, and the phrase "why do I feel anxious for no reason" also hit an all-time high this year, spiking more than 400%. In addition to providing mental health resources and helplines, a quick Google Search also surfaces self-assessments to help you learn more about mental health topics like depression, anxiety, PTSD and postpartum depression.
Evaluating information effectively
Is it allergies or COVID? A sinus infection or COVID? Pfizer or Moderna? As many of us searched for health related information online, we wanted to know what we found was trustworthy. Connecting people with critical, timely and authoritative health information has been a crucial part of our role over the last year, and our team is constantly working to find ways to help people everywhere find credible and actionable information to help manage their health. To help people evaluate information online, we launched a new tool called About This Result, so you can learn more about the pages you see across a range of topics. About This Result helps people evaluate the credibility of sources, and decide which results are useful for them.
Search continues to be one of the first stops people make when making decisions, big and small, about their health — and so much more. To dive deeper into some of the other trending topics that defined 2021, visit yearinsearch.google/trends.
Comments Off
:Health, maps, search
more...
by Molly on Dec.04, 2021, under 3D Models, Argentina, Australia, Brazil, California, Denmark, England, Germany, Google Earth News, Google Earth Tips, Google Sky, Google maps, Hawaii, Indonesia, Ireland, Italy, Japan, Kenya, Mexico, Natural Landmarks, Netherlands, Sightseeing, Street Views, USA
As a native Oregonian, I thought living in California would be an incredible break from the nine months of rain I'd endured growing up. What I didn't realize was that 70-degree winters felt…wrong. Where were the mittens? The down jackets? The occasional snowy days? I've since moved back to the Pacific Northwest, and I've had a renewed appreciation for winter weather.
In fact, I enjoy the chilly months of the year so much, I've put together a few ways to make the most of the cold weather.
I love snowshoeing, and I always want to find new trails. I use Google Maps to look for mountain biking and hiking trails that are covered in snow in the winter. (Just look for the hiking icons, or the light dash lines that indicate trails.) If I come across a good one, I label it on Maps so I know how to get back.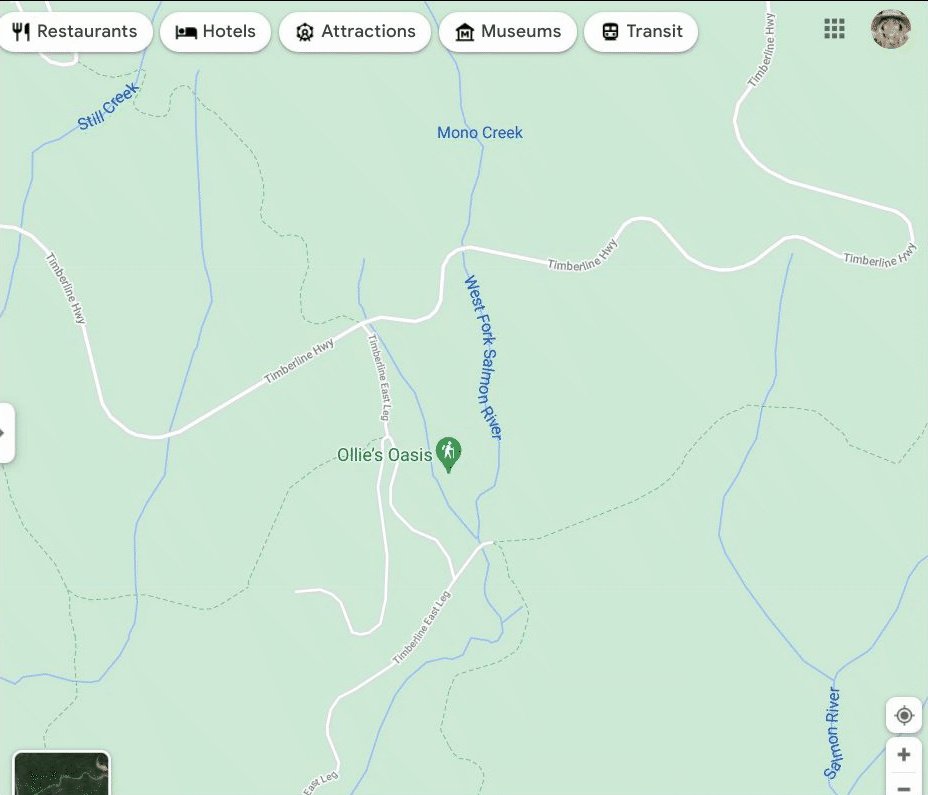 2. I'm a year-round runner, but once the temperature dips below 50 Fahrenheit and the roads get wet or icy, I need new gear — all of which I can find in one place using Google Shopping. You can select the Sports & Outdoors tab to browse — and turn on the deals filter for discounts.

3. And when I'm returning from a chilly run, I can use the Google Home app to turn on my Nest Thermostat before I get home, so I know I'm not wasting energy while I'm out and the house will be toasty when I come in. I also use Home & Away Routines so that Nest knows when I'm out and can adjust my temperature automatically.

4. OK fine, there's one downside of winter weather, and that's how early it gets dark. I use Google Assistant to notify me an hour before sunset so I can get outside for some sunshine before the sun goes down.

5. We've started cutting down our own Christmas tree, which is actually pretty easy to do. A quick Google Search for cutting down a tree on federal land will help you find a map (and how you can purchase a permit). Then you can just use Google Maps to take you to the right area.

6. If I'm feeling really adventurous and ready to hit the slopes, I'll check out the Explore tool on google.com/travel. I can set my home as the point of origin and then select "skiing" under the Interests filter and see what ski towns I can visit.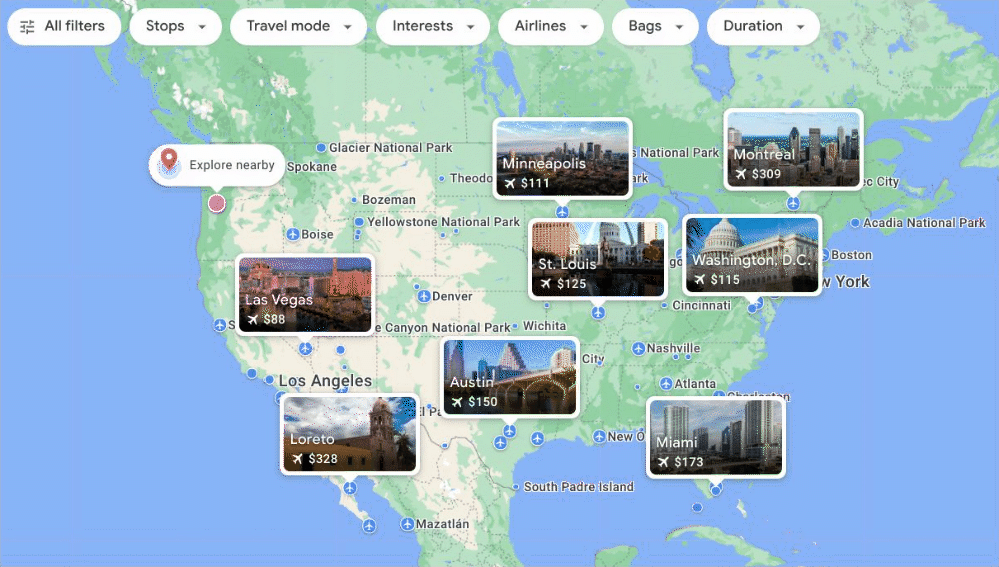 7. I love a good Google Alert to stay up to date on what's going on locally. Once November rolls around, I set one for "Oregon winter festivals."
8. Pixel cameras take incredible photos in dimly lit areas, so using Night Sight for shots of light displays or snowy nights is a no-brainer. And if you've already snagged a Pixel 6 or Pixel 6 Pro, those photos will look even better: The new Pixel camera lets in 2.5 times as much light as the Pixel 5, and you can try out the new Motion Mode setting to capture an artsy falling snow pic.
Comments Off
:Google Assistant, Google Nest, maps, Pixel, search, travel
more...
by Hema Budaraju on Dec.03, 2021, under 3D Models, Argentina, Australia, Brazil, California, Denmark, England, Germany, Google Earth News, Google Earth Tips, Google Sky, Google maps, Hawaii, Indonesia, Ireland, Italy, Japan, Kenya, Mexico, Natural Landmarks, Netherlands, Sightseeing, Street Views, USA
Navigating the U.S. healthcare system can be quite challenging, so it's no wonder three in four people turn to the internet first in their search for health information. By providing timely and authoritative health information, plus relevant resources and tools on Google Search, we're always exploring ways to help people make more informed choices about their health. Here are a few new ways we're helping.
New ways to find insurance information on Google
In the U.S., finding a doctor who accepts your health insurance is often a top priority. When searching for a specific provider, people can check which insurance networks that they might accept. And if they're searching for a new provider overall, on mobile, they're now able to filter providers nearby who accept Medicare — a health plan predominantly for people over the age of 65.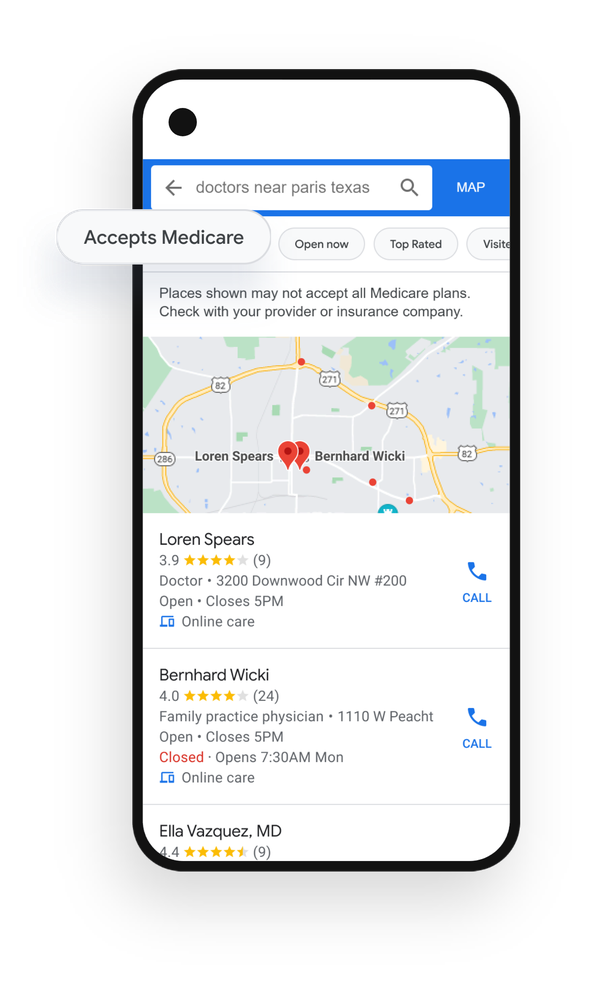 How providers can keep patients up to date
To help people get connected to the care they need, we're conducting checks to ensure details of local doctors are up to date, and giving all healthcare providers the ability to update their information by claiming and updating their Google Business Profile.
We continue to expand the features and tools that doctors can use to communicate about the services they offer. After claiming their profile, health professionals can edit and update information about their hours, services, and more.
Whether helping people find information to self-assess their symptoms for mental health conditions like depression or getting real time information of COVID-19 vaccine availability nearby, we continue to explore ways to connect people around the world to relevant and actionable information to better manage their health.
Comments Off
:Health, maps, search
more...
by Philipp Schindler on Nov.19, 2021, under 3D Models, Argentina, Australia, Brazil, California, Denmark, England, Germany, Google Earth News, Google Earth Tips, Google Sky, Google maps, Hawaii, Indonesia, Ireland, Italy, Japan, Kenya, Mexico, Natural Landmarks, Netherlands, Sightseeing, Street Views, USA
In Google's early days, around this time every year, a group of us would run to Costco and buy supplies to take to Bay Area food banks and pantries. It was a grassroots effort that was scrappy and meaningful — and it introduced a lot of Googlers to how rewarding giving back can be. It made me want to learn what more we could do to have an even bigger impact.
Inspired by our small and mighty food donation operation, I became a passionate supporter of Second Harvest Food Bank in Silicon Valley. And with guidance from food assistance experts, we established a dedicated team at Google in 2020 to work on tackling issues of food waste and food insecurity. Too many families are having to make difficult decisions no one should be forced to make: paying rent, bills, healthcare costs — or keeping food on their table. These challenges have only been compounded by the COVID-19 crisis, which has left more than 54 million working Americans struggling to find a meal. That's nearly 16% of the country.
Google co-founder Larry Page once said "people are starving in the world not because we don't have enough food. It's because we're not yet organized to solve that problem." The United Nations Food and Agriculture Organization (UNFAO) reports that the world produces more than we need to feed every person on this planet. This isn't a problem of supply, it's a problem of distribution. And while solving this issue will require work from government, businesses, nonprofits and individuals working together, one way Google can help is to give people easy access to the information they need, when they need it.
Helping people find food pantries
When you look at Google Search trends, you can see that searches for "food bank" and "food pantry" spike during the month of November.
Food banks have always been critical to making sure people have regular access to nutritious food, but the ongoing pandemic has drastically increased their role as a crucial lifeline in so many communities. With the need for their services doubling or even tripling in some areas, we want to make sure that the people who need them most can find them.
That's why we've launched a new initiative to expand the information about food banks and pantries in Google Search and Maps. We've augmented existing coverage with data from two initial nonprofit partners: WhyHunger and Hunger Free America, and we've added information to make sure people searching for food support can find what they need. These changes are being made directly in Google Maps so food banks, food pantries and soup kitchens can focus on what matters most — getting people food.
Still, some of these locations don't yet have websites or phone numbers available on Google. So over the last two months, we've worked to update this information in Search and Maps, making 85,000 plus calls to verify local food banks and pantries. These efforts will continue through the holidays.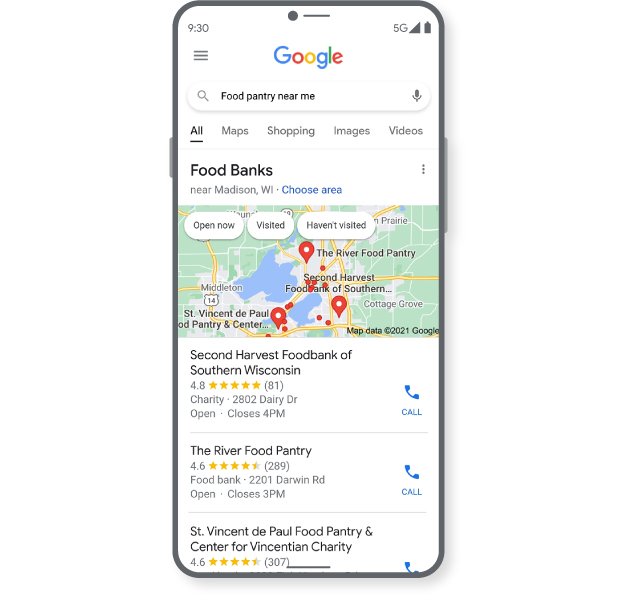 We've also developed new Google Business Profile features specifically for food banks, pantries and soup kitchens. They can now provide details on their profile, like whether an appointment is needed, if there are eligibility requirements to receive food and what languages are spoken. They can also add information about their services, like whether prepared meals are available or if grocery delivery is an option. Additionally, pantries can specify whether they're accepting new volunteers or soliciting food or monetary donations.
Helping people access benefits
Beyond working with food pantries, we're also helping people use Search to find out how to get and use food assistance benefits.
Federal programs like the Supplemental Nutrition and Assistance Program (SNAP) feed more than 40 million Americans each year. We heard from users that information about these programs is often hard to find, especially for people who are using them for the first time. Today, if you search on Google for "SNAP benefits," or the name of your local SNAP program, you'll find direct links to each state's eligibility guidelines and application process, including contact information for local food assistance agencies.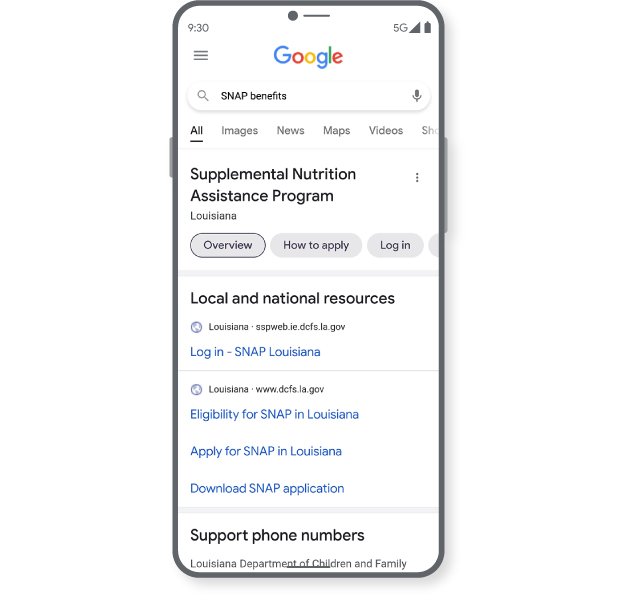 Once approved, many people use Electronic Benefits Transfer cards (also known as EBT) to pay for their groceries. Now, if you search for "grocery stores that accept EBT" you can easily find USDA-approved stores that accept this form of payment — saving time and potential confusion.
Supporting hunger relief organizations – and the communities they serve
I'm also proud to announce that we're contributing financial support as well. Since the COVID-19 crisis began, Googlers have stepped up – giving more than $22 million in personal donations and company-match to hunger relief organizations in the U.S. Today, Google is contributing an additional $2 million in support ($1 million in cash funding and $1 million in donated ads from Google.org) to 20 food banks, pantries and innovative hunger relief organizations across the country.
There is no easy solution to these large-scale challenges that face our communities, but I'm hopeful that increasing access to information about local food support programs and services can help. Our teams are hard at work and committed to building new tools and features that support economic recovery in the U.S. – and around the world – as we weather the COVID-19 crisis. And I personally am really looking forward to getting back to sorting and distributing food with my family at our local food bank.
You can make an impact by volunteering your time, making a donation, using your voice, or a combination of each — there are a number of ways we can all give back. If you need a place to start, you can donate to the largest national network of food banks, Feeding America. Or you can get involved locally: just search for your nearest food pantry on Google and contact them to see what they need. And if you know someone who might need food assistance, you can simply help by sharing resources. Spreading the word not only about what you're doing to help, but why can make a huge difference.
Comments Off
:Google.org, maps, search
more...
by Jack Frost on Nov.16, 2021, under 3D Models, Argentina, Australia, Brazil, California, Denmark, England, Germany, Google Earth News, Google Earth Tips, Google Sky, Google maps, Hawaii, Indonesia, Ireland, Italy, Japan, Kenya, Mexico, Natural Landmarks, Netherlands, Sightseeing, Street Views, USA
With November well under way, we candycane't help but get excited for the holidays! Whether you've been naughty or nice this year, Google Maps has your back. We've compiled nine of our favorite tips — no matter what your holiday persona is — so you can sleigh your plans and to-do list this season.
For the person who already made their list and checked it twice:
1. Figure out the best time to leave: Holiday traffic can be unpredictable. To make sure you're on time, get driving directions on Google Maps and tap the three dots on the right side of your screen. Set the time you'd like to arrive by to see how long it'll take you to get to your destination.
2. Save money on gas: With eco-friendly routing, you can now choose the most fuel-efficient route to your destination. A quick search for "gas prices" shows you prices for nearby stations so you can pick the cheapest one.
3. Save time grocery shopping: Whether you're grabbing a missing ingredient or stocking up before your in-laws arrive, pickup with Google Maps is the new grocery pickup experience that can get you in and out of the parking lot in less than five minutes. Simply place an online order from a participating Kroger Family store, then add it to Maps from your order confirmation page. This is currently available in the US only.
For the spontaneous shopper:
4. Search along your route: Forget a hostess gift? If you're on the road, use Google Maps to search for malls, grocery stores and other places along your drive so you can tackle your tasks without going out of your way.
5. Tap and go with contactless payments: Avoid pulling out your wallet or touching a parking meter by paying for street parking or public transit right from Google Maps. When you're out and about, just type in your meter number, hit pay and refill. If you're taking public transit, you'll see an option to pay as soon as you arrive at the station.
6. Find your way around malls, airports and transit stations fast: With the new Directory tab, you can easily see where all of the places are within a large building — like where the jewelry store is inside your local mall. With just a few taps, get helpful information about the place — such as if it's open now, what floor it's on, and how highly it's rated — so you can get in and out in no time.
For the holiday party hopper:
7. Find people and places with ease: If you're strolling through a new neighborhood, let Live View guide your way with augmented reality arrows and directions overlaid right on top of your world. Meeting up with a friend who shared their location with you? Just tap on their icon and then on Live View to see where and how far away they are — and quickly follow the arrows to find them.
8. Share your ETA: 'Tis the season to run between Friendsgiving meals and holiday parties. You can use Google Maps to let friends and family know exactly when they can expect you to arrive with just a few taps.
9. Find the fun (or hibernate far away from it) with live busyness information: Before you head out, search for a place on Google Maps and scroll down to see how busy it is right now so you can plan your social life accordingly. This holiday season, we're also launching Area Busyness, a new tool stemming from the existing busyness feature, that shows you when parts of town are busier than usual, so you can know how to avoid those packed streets near hot brunch spots or see which neighborhoods are bustling with activity.
Comments Off
:
maps
more...
by Jack Frost on Nov.16, 2021, under 3D Models, Argentina, Australia, Brazil, California, Denmark, England, Germany, Google Earth News, Google Earth Tips, Google Sky, Google maps, Hawaii, Indonesia, Ireland, Italy, Japan, Kenya, Mexico, Natural Landmarks, Netherlands, Sightseeing, Street Views, USA
This holiday season, many of us are feeling more comfortable traveling to see loved ones, shopping in person and scoping out the things to do and places to visit.
As we continue to navigate this new normal, we took a look at Google Maps trends in the U.S. — from the most popular times to visit certain places to what foods Americans are ordering most — to help you make your list, check it twice and get through the holiday season safely, efficiently and joyfully.
No thyme for lines and crowds? No worries
Whether you're shopping for the perfect Thanksgiving turkey or refilling your hand sanitizer supply, no one likes waiting in line. According to Google Maps data, these are the best and worst times to visit the grocery store, based on the live busyness information in Google Maps: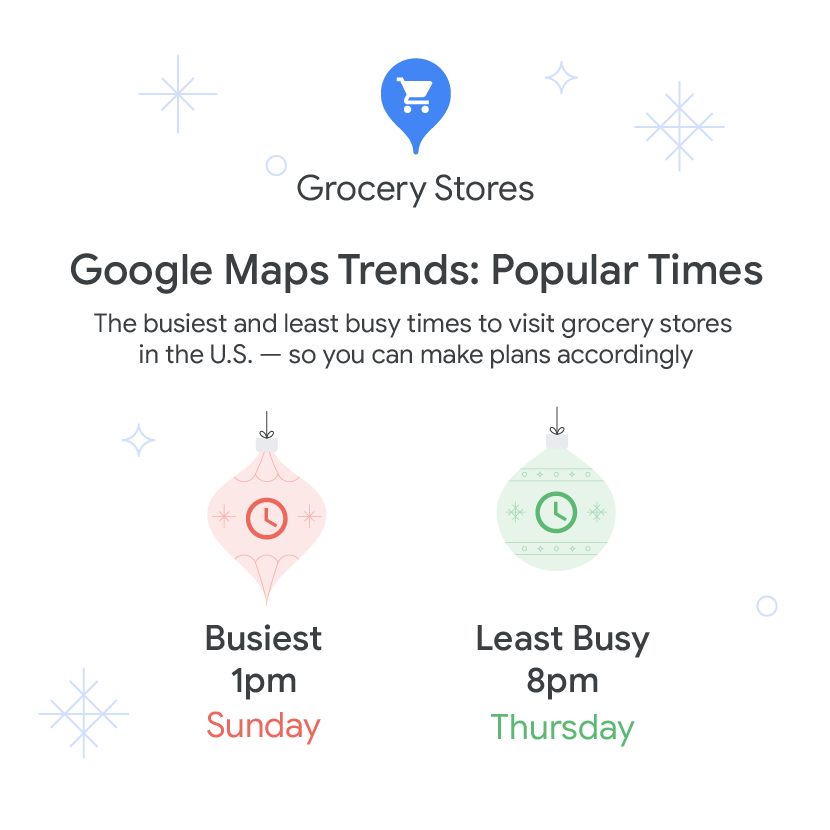 Last year we saw popular gift stores like Kay Jewelers, Bath & Body Works and Barnes & Noble trend in December, with Maps searches for these places increasing 100% from the month before. With expected shipping delays, it's important to get ahead of your holiday shopping. Here are the best and worst times to fill your sleigh at shopping centers and department stores, according to Google Maps data: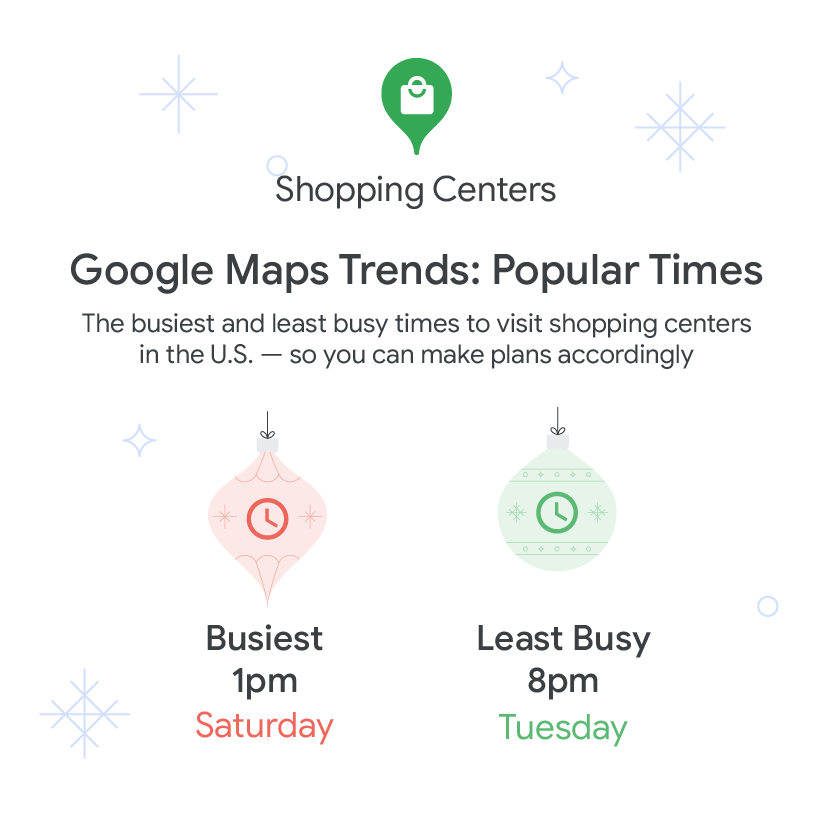 Once you've gathered all your gifts and written your cards, it's time to head to the post office to spread holiday cheer. With fewer people traveling to meet up with loved ones, Maps searches for post offices were up nearly 150% month over month last December. Check out the best and worst times to visit the post office so you can get those holiday cards out without the hassle.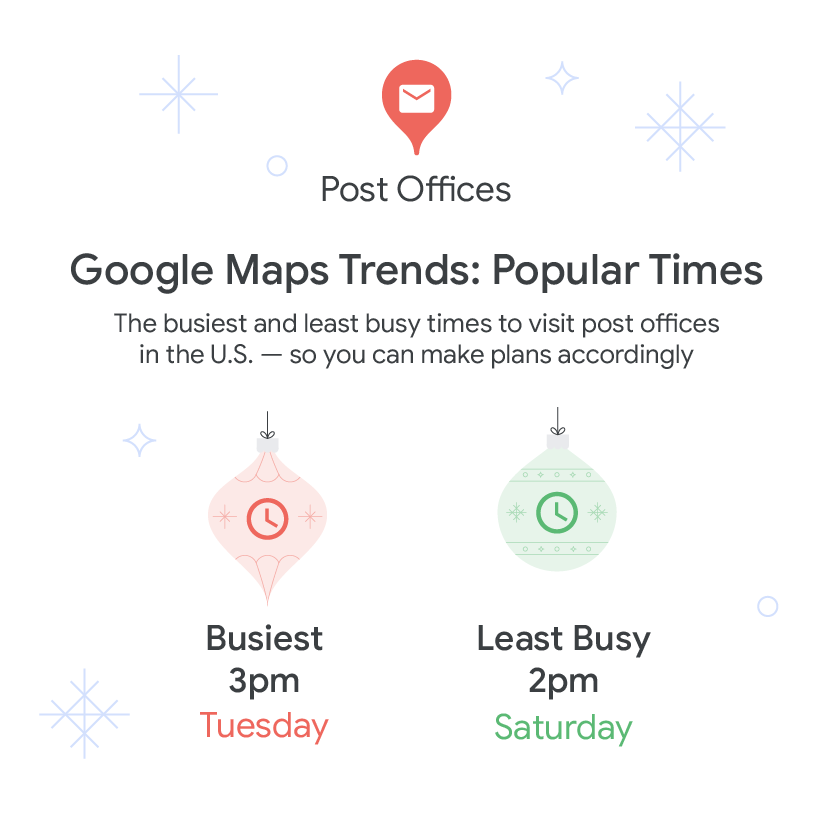 After all that holiday hustle and bustle, it's time to treat yo'elf! According to Google Maps searches, people look for nail salons more than three times as much as they search for gyms in December. If you're looking to get pampered at the salon, consider making your appointment at a less busy time: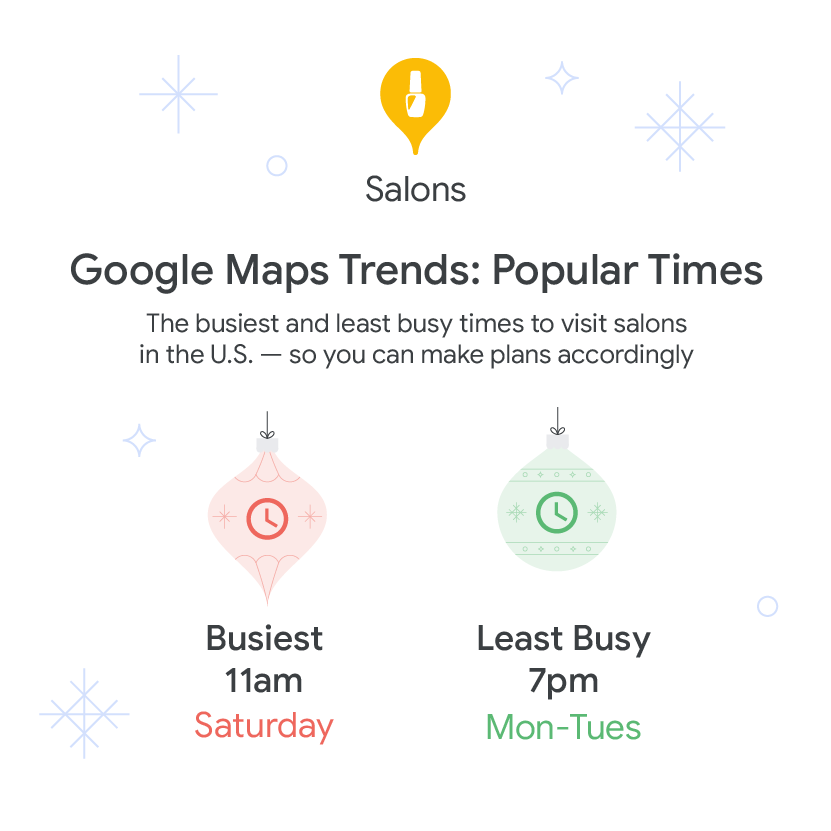 But wait, there's myrrh. Once you know where you're going, the next step is figuring out how you'll get there — whether it's a plane, train or Polar Express.
According to Google Maps, it looks like Americans are getting back to familiar methods of transportation, with national interest in public transit up 40% compared to last year. This jump is higher in metros known for their public transportation: San Francisco leads the way with transit interest up nearly 95% compared to last year, followed by Washington D.C. (up nearly 75% since last year) and Chicago (up nearly 65% over the same period of time).
Should you choose to travel through the skies (red nose not included), book your travel around these least busy times: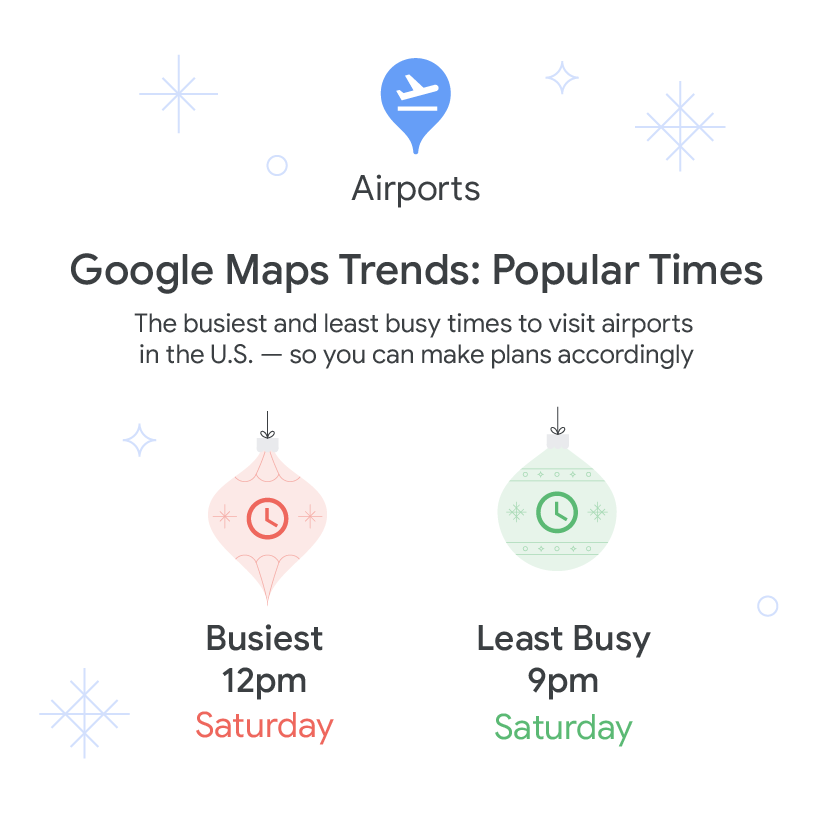 Eat, drink and be merry
While some people spend the holidays cooking up a storm, some of us like our meals like we like our presents: delivered. In fact, on Christmas Day, Americans search for food delivery options on Google Maps more than twice as much as on a typical Saturday.
Here's a look at what food Americans search for and order on Google Maps during the holiday season:
Comments Off
:
maps
more...
by Amanda Leicht Moore on Nov.16, 2021, under 3D Models, Argentina, Australia, Brazil, California, Denmark, England, Germany, Google Earth News, Google Earth Tips, Google Sky, Google maps, Hawaii, Indonesia, Ireland, Italy, Japan, Kenya, Mexico, Natural Landmarks, Netherlands, Sightseeing, Street Views, USA
The holidays are right around the corner, and we're starting to get santa-mental! This year, many places around the world are lifting restrictions — which means people are excited to celebrate with friends and family. To keep the coming weeks stress-free, we're launching new Google Maps tools to help you stay safe, maximize your time with loved ones and find that perfect holiday brunch spot.
Comments Off
:
maps
more...
by Anita Yuen on Nov.04, 2021, under 3D Models, Argentina, Australia, Brazil, California, Denmark, England, Germany, Google Earth News, Google Earth Tips, Google Sky, Google maps, Hawaii, Indonesia, Ireland, Italy, Japan, Kenya, Mexico, Natural Landmarks, Netherlands, Sightseeing, Street Views, USA
Whether it's searching for the perfect gift or looking for a contractor to remodel that bathtub, consumers are increasingly turning to calls and chat to interact with merchants. People want to communicate with businesses to help them make more informed decisions, and this trend is continuously accelerating. That's why we're introducing new features that'll help business owners make the most of their interactions with customers on Google Search and Maps.
Learn more about the calls you receive from Google
People often value the immediacy and personal connection of a phone call, and we know this directly impacts merchants' businesses. For example, Nedra Flansberg, the owner of Posh Brides and Grooms based in Carlsbad CA, told us that 50% of her customers come from Google. To help build connections between customers and millions of merchants like Nedra, we're launching call history for all U.S. and Canadian merchants with verified Business Profiles. With call history, you can easily see which inbound customer calls came from your Business Profile and review helpful analytics on inbound call performance.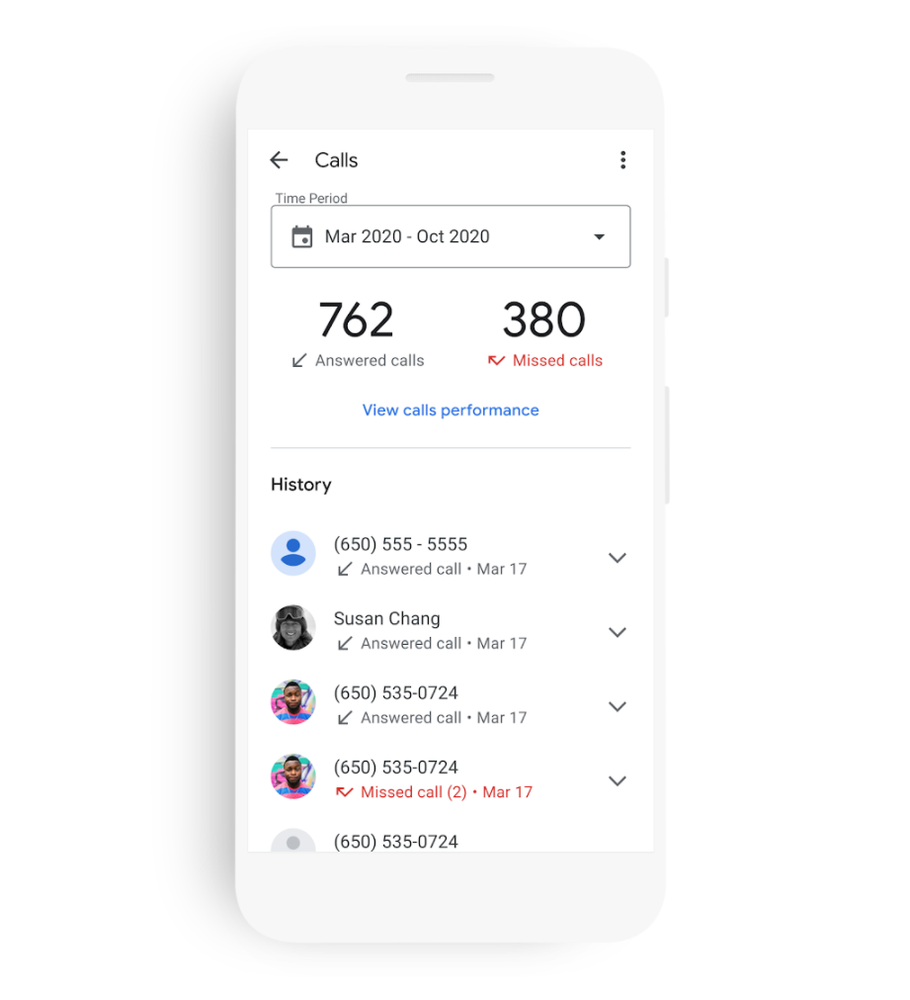 Quickly respond to customers on your Business Profile
Another valuable way consumers engage with merchants is by chatting with them. More and more people are turning to chat conversations with merchants of all sizes, ranging from small businesses to global merchants like Levi's. With business messaging, Levi's was able to resolve 30x more store related questions and saw a 31% increase in product related conversations. Merchants tell us they want to improve their interactions with customers, so we're announcing a few new features to help them do just that.
Last year, we added functionality so you can chat with customers directly on Google Maps. Now, you can also see and respond to messages right from your Business Profile on Google Search.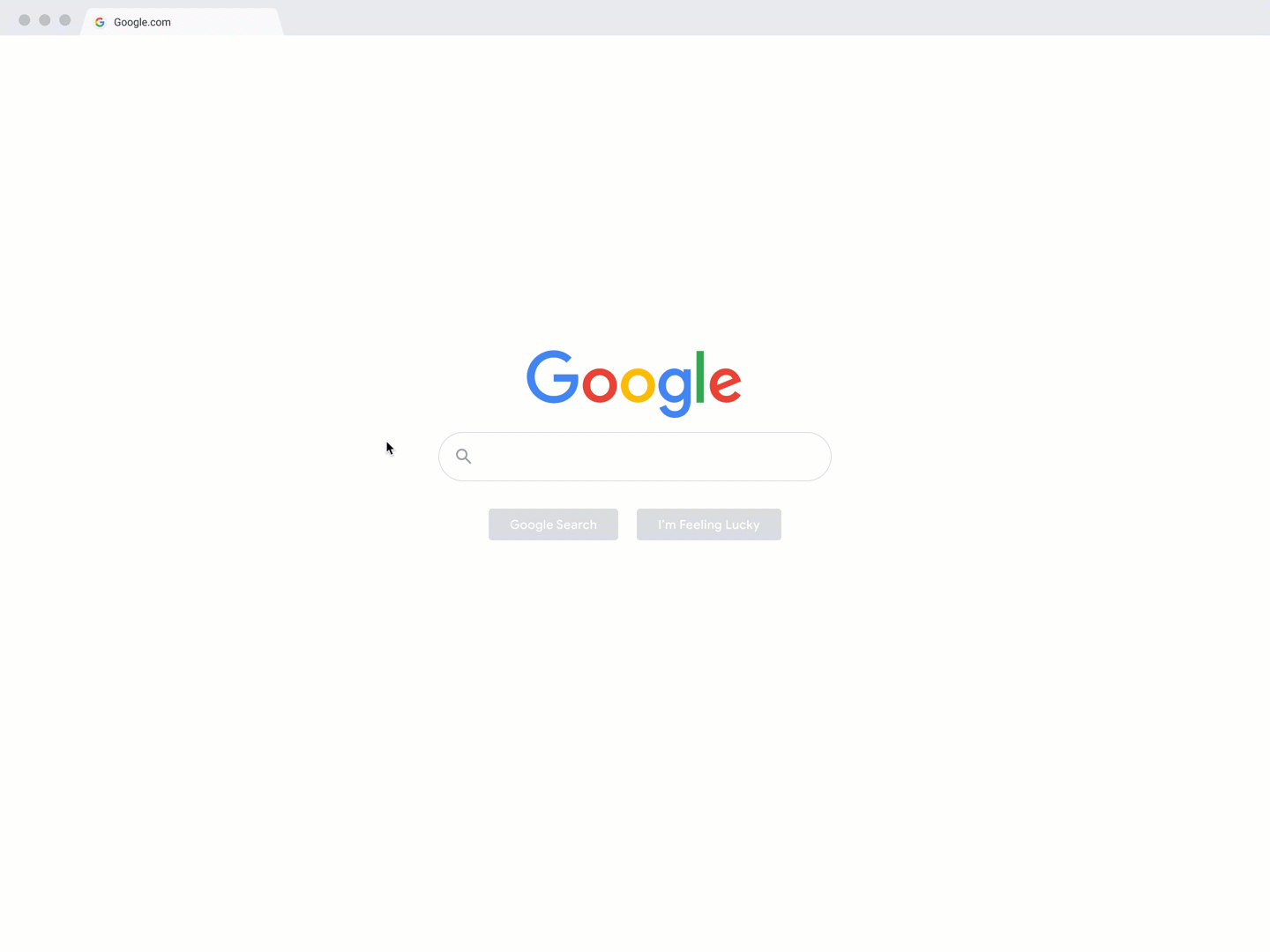 It's also helpful to know the recipient got your message on chat. With read receipts, both parties know whether their messages were seen. This feature is launching for all Business Profile merchants this month, further enriching the chat experience for customers and businesses.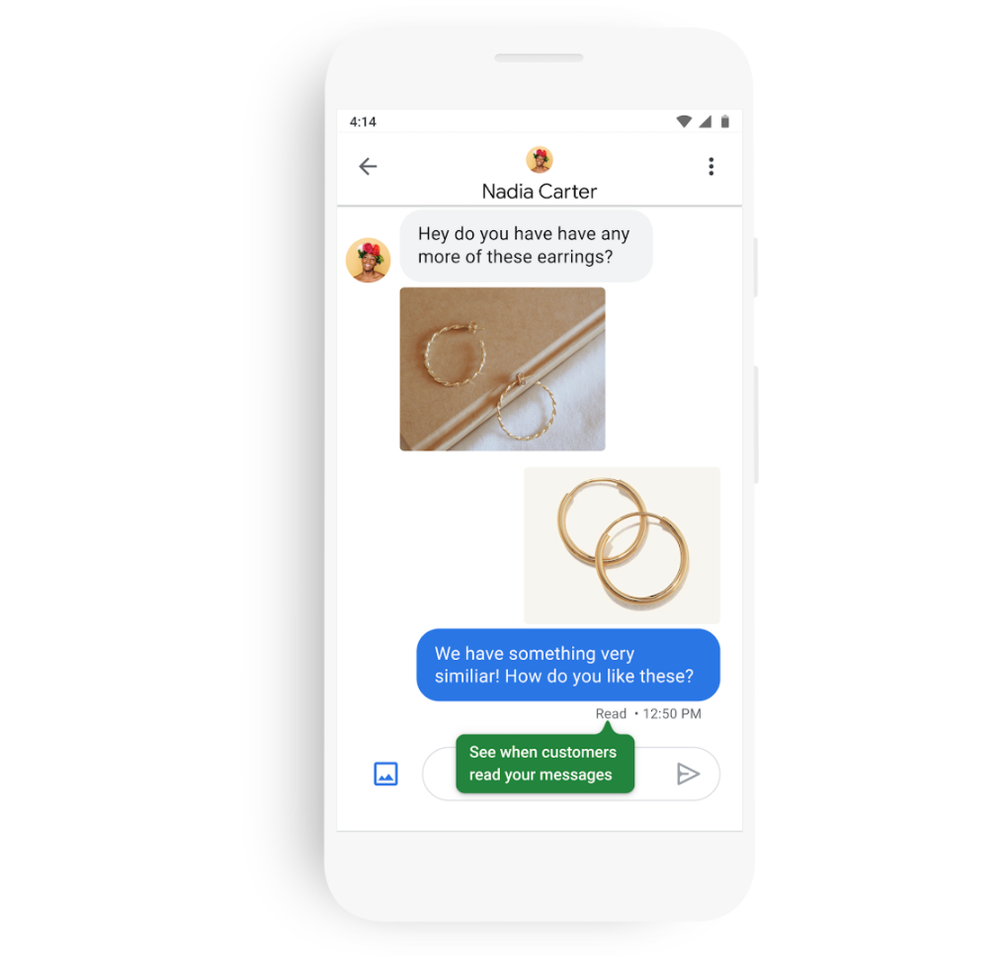 As businesses prepare for another busy holiday season, and customers increasingly turn to calls and chat to interact with businesses, we look forward to helping foster even more meaningful interactions and giving merchants more tools to succeed.
Comments Off
:maps, search, Small Business
more...
Looking for something?
Use the form below to search the site:
Still not finding what you're looking for? Drop a comment on a post or contact us so we can take care of it!
Visit our friends!
A few highly recommended friends...
Archives
All entries, chronologically...