Tag: AI
by Dane Glasgow on Mar.30, 2021, under 3D Models, Argentina, Australia, Brazil, California, Denmark, England, Germany, Google Earth News, Google Earth Tips, Google Sky, Google maps, Hawaii, Indonesia, Ireland, Italy, Japan, Kenya, Mexico, Natural Landmarks, Netherlands, Sightseeing, Street Views, USA
Sixteen years ago, many of us held a printout of directions in one hand and the steering wheel in the other to get around— without information about the traffic along your route or details about when your favorite restaurant was open. Since then, we've been pushing the boundaries of what a map can do, propelled by the latest machine learning. This year, we're on track to bring over 100 AI-powered improvements to Google Maps so you can get the most accurate, up-to-date information about the world, exactly when you need it. Here's a snapshot of how we're using AI to make Maps work better for you with a number of updates coming this year.
Navigate indoors with Live View
We all know that awkward moment when you're walking in the opposite direction of where you want to go — Live View uses AR cues to avoid just that. Live View is powered by a technology called global localization, which uses AI to scan tens of billions of Street View images to understand your orientation. Thanks to new advancements that help us understand the precise altitude and placement of objects inside a building, we're now able to bring Live View to some of the trickiest-to-navigate places indoors: airports, transit stations and malls. 
If you're catching a plane or train, Live View can help you find the nearest elevator and escalators, your gate, platform, baggage claim, check-in counters, ticket office, restrooms, ATMs and more. Arrows and accompanying directions will point you the right way. And if you need to pick something up from the mall, use Live View to see what floor a store is on and how to get there so you can get in and out in a snap. Indoor Live View is live now on Android and iOS in a number of malls in Chicago, Long Island, Los Angeles, Newark, San Francisco, San Jose, and Seattle. It starts rolling out in the coming months in select airports, malls, and transit stations in Tokyo and Zurich, with more cities on the way.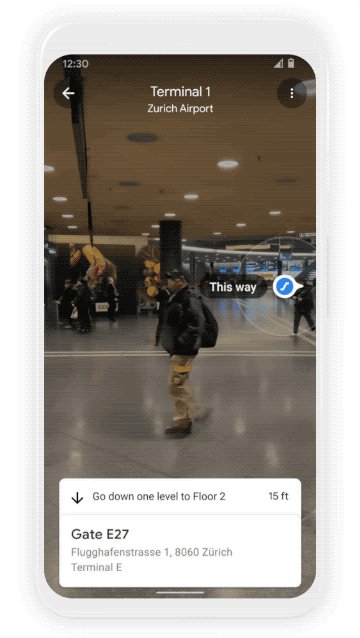 Plan ahead with more information about weather and air quality 
With the new weather layer, you can quickly see current and forecasted temperature and weather conditions in an area — so you'll never get caught in the rain without an umbrella. And the new air quality layer shows you how healthy (or unhealthy) the air is —  information that's especially helpful if you have allergies or are in a smoggy or fire-prone area. Data from partners like The Weather Company, AirNow.gov and the Central Pollution Control Board power these layers that start rolling out on Android and iOS in the coming months. The weather layer will be available globally and the air quality layer will launch in Australia, India, and the U.S., with more countries to come.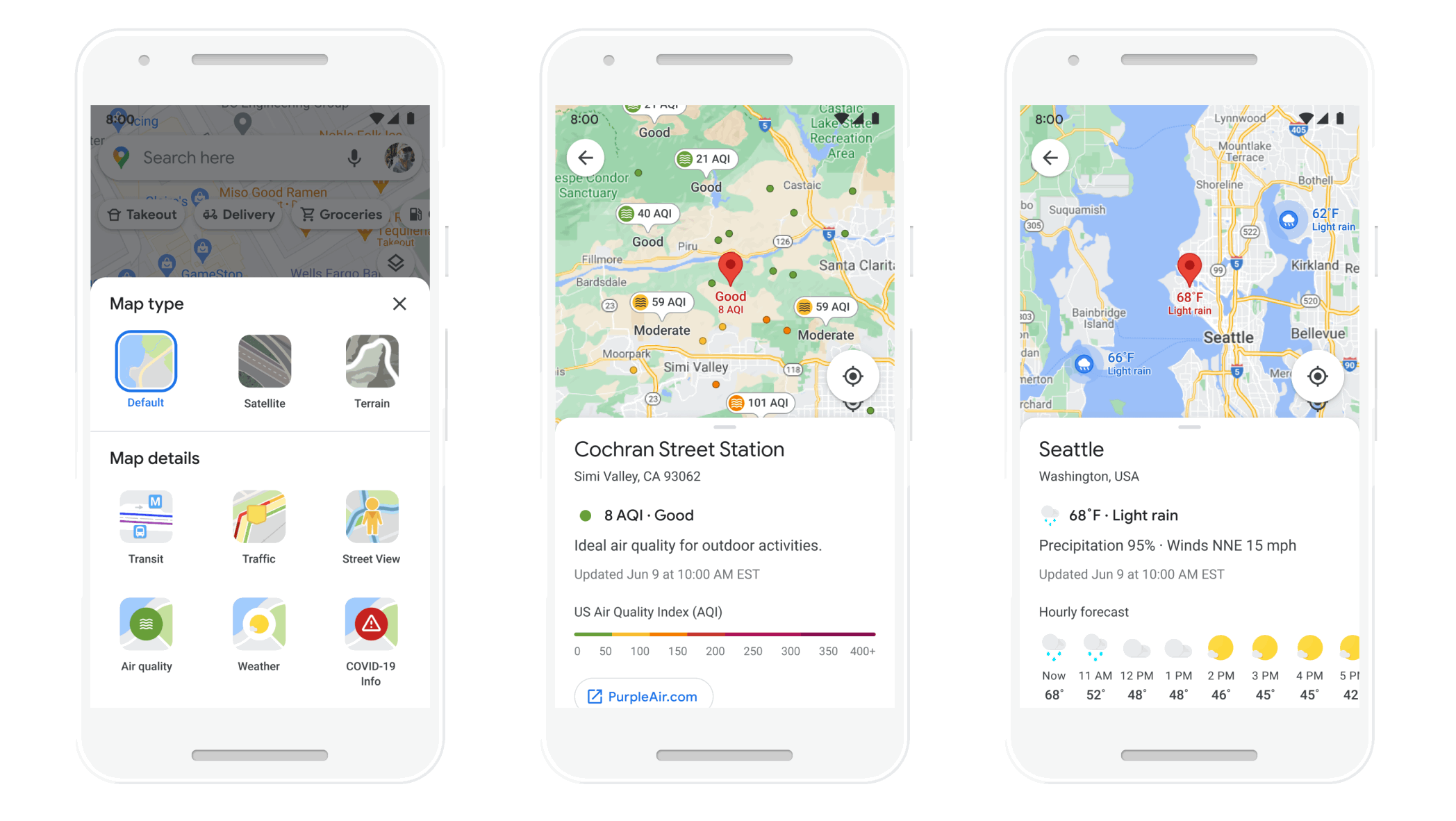 Find more eco-friendly options to get around
With insights from the U.S. Department of Energy's National Renewable Energy Lab, we're building a new routing model that optimizes for lower fuel consumption based on factors like road incline and traffic congestion. This is all part of the commitment we made last September to help one billion people who use our products take action to reduce their environmental footprint. Soon, Google Maps will default to the route with the lowest carbon footprint when it has approximately the same ETA as the fastest route. In cases where the eco-friendly route could significantly increase your ETA, we'll let you compare the relative CO2 impact between routes so you can choose. Always want the fastest route? That's OK too — simply adjust your preferences in Settings. Eco-friendly routes launch in the U.S. on Android and iOS later this year, with a global expansion on the way.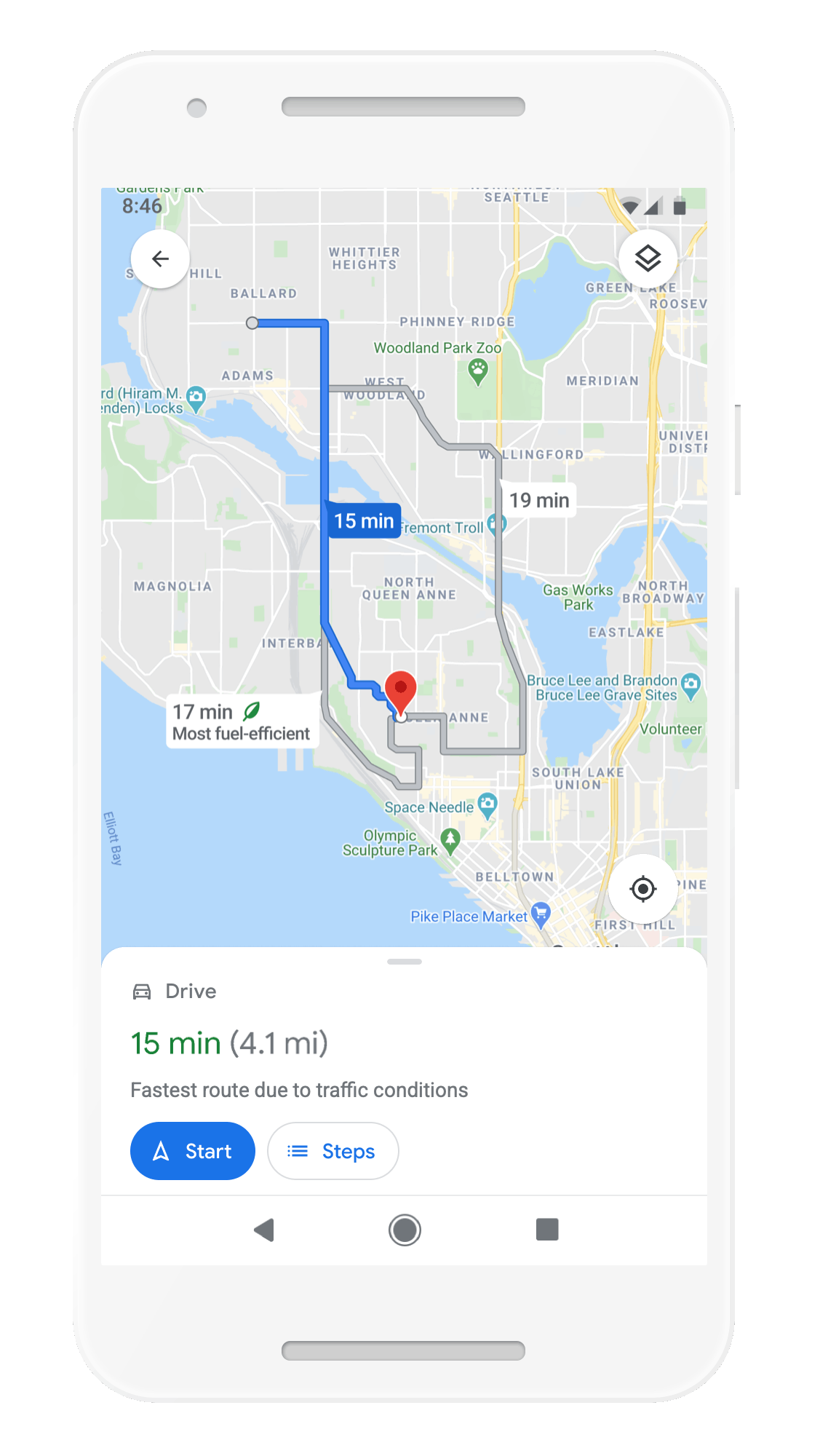 From Amsterdam to Jakarta, cities around the world have established low emission zones — areas that restrict polluting vehicles like certain diesel cars or cars with specific emissions stickers —  to help keep the air clean. To support these efforts, we're working on alerts to help drivers better understand when they'll be navigating through one of these zones. You can quickly know if your vehicle is allowed in the area, choose an alternative mode of transportation, or take another route. Low emission zone alerts launch this June in Germany, the Netherlands, France, Spain, and the UK on Android and iOS, with more countries coming soon.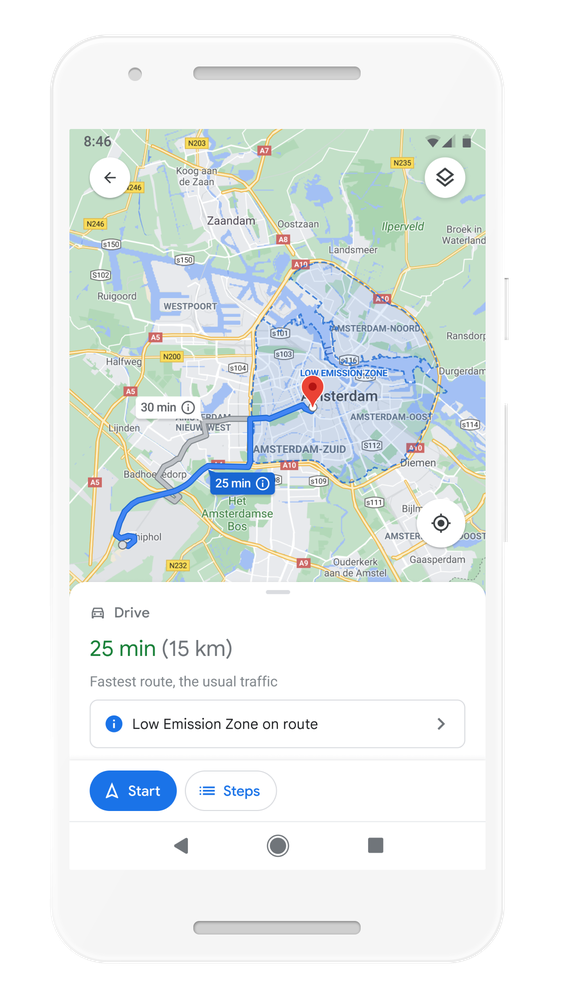 But we know that getting around sustainably goes beyond driving. So we're making it easier to choose more sustainable options when you're on the go. Soon you'll get a comprehensive view of all routes and transportation modes available to your destination — you can compare how long it'll take to get there by car, transit or bike without toggling between tabs. Using advanced machine learning models, Maps will automatically prioritize your preferred modes  — and even boost modes that are popular in your city. For example, if you bike a lot, we'll automatically show you more biking routes. And if you live in a city like New York, London, Tokyo, or Buenos Aires where taking the subway is popular, we'll rank that mode higher. This rolls out globally in the coming months on Android and iOS.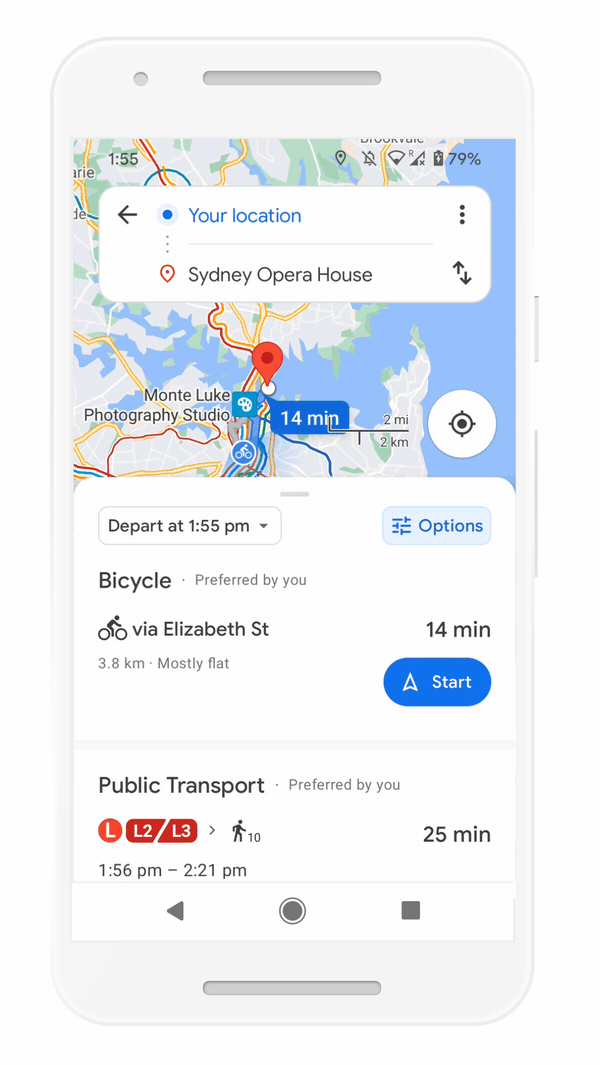 Save time with curbside grocery pickup on Maps
Delivery and curbside pickup have grown in popularity during the pandemic — they're convenient and minimize contact. To make this process easier, we're bringing helpful shopping information to stores' Business Profiles on Maps and Search, like delivery providers, pickup and delivery windows, fees, and order minimums. We're rolling this out on mobile Search starting with Instacart and Albertsons Cos. stores in the U.S., with plans to expand to Maps and other partners.

This summer, we're also teaming up with U.S. supermarket Fred Meyer, a division of The Kroger Co., on a pilot in select stores in Portland, Oregon to make grocery pickup easier. After you place an order for pickup on the store's app, you can add it to Maps. We'll send you a notification when it's time to leave, and let you share your arrival time with the store. Your ETA is continuously updated, based on location and traffic. This helps the store prioritize your order so it's ready as soon as you get there. Check in on the Google Maps app, and they'll bring your order right out for a seamless, fast, no-contact pickup.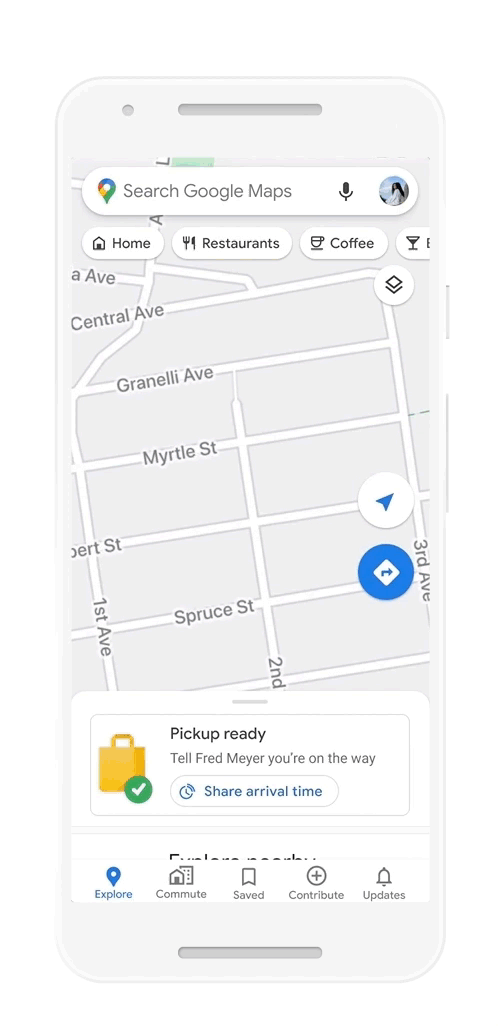 All of these updates are possible thanks to AI advancements that have transformed Google Maps into a map that can reflect the millions of changes made around the world every day —  in the biggest cities and the smallest towns. Whether you're getting around, exploring an area, or knocking out errands, let Google Maps help you find your way.
Comments Off
:AI, maps
more...
by Alicia Cormie on Nov.19, 2020, under 3D Models, Argentina, Australia, Brazil, California, Denmark, England, Germany, Google Earth, Google Earth News, Google Earth Tips, Google Sky, Google maps, Hawaii, Indonesia, Ireland, Italy, Japan, Kenya, Mexico, Natural Landmarks, Netherlands, Sightseeing, Street Views, USA
Everyone has a tree story, Rachel Malarich says—and one of hers takes place on the limbs of a eucalyptus tree. Rachel and her cousins spent summers in central California climbing the 100-foot tall trees and hanging out between the waxy blue leaves—an experience she remembers as awe-inspiring. 
Now, as Los Angeles first-ever City Forest Officer, Rachel's work is shaping the tree stories that Angelenos will tell. "I want our communities to go to public spaces and feel that sense of awe," she says. "That feeling that something was there before them, and it will be there after them...we have to bring that to our cities."
Part of Rachel's job is to help the City of Los Angeles reach an ambitious goal: to plant and maintain 90,000 trees by the end of 2021 and to keep planting trees at a rate of 20,000 per year after that. This goal is about more than planting trees, though: It's about planting the seeds for social, economic and environmental equity. These trees, Rachel says, will help advance citywide sustainability and climate goals, beautify neighborhoods, improve air quality and create shade to combat rising street-level temperatures. 
To make sure every tree has the most impact, Rachel and the City of Los Angeles use Tree Canopy Lab, a tool they helped build with Google that uses AI and aerial imagery to understand current tree cover density, also known as "tree canopy," right down to street-level data. Tree inventory data, which is typically collected through on-site assessments, helps city officials know where to invest resources for maintaining, preserving and planting trees. It also helps pinpoint where new trees should be planted. In the case of LA, there was a strong correlation between a lack of tree coverage and the city's underserved communities. 
With Tree Canopy Lab, Rachel and her team overlay data, such as population density and land use data, to understand what's happening within the 500 square miles of the city and understand where new trees will have the biggest impact on a community. It helps them answer questions like: Where are highly populated residential areas with low tree coverage? Which thoroughfares that people commute along every day have no shade? 
And it also helps Rachel do what she has focused her career on: creating community-led programs. After more than a decade of working at nonprofits, she's learned that resilient communities are connected communities. 
"This data helps us go beyond assumptions and see where the actual need is," Rachel says. "And it frees me up to focus on what I know best: listening to the people of LA, local policy and urban forestry." 
After working with Google on Tree Canopy Lab, she's found that data gives her a chance to connect with the public. She now has a tool that quickly pools together data and creates a visual to show community leaders what's happening in specific neighborhoods, what the city is doing and why it's important. She can also demonstrate ways communities can better manage resources they already have to achieve local goals. And that's something she thinks every city can benefit from. 
"My entrance into urban forestry was through the lens of social justice and economic inequity. For me, it's about improving the quality of life for Angelenos," Rachel says. "I'm excited to work with others to create that impact on a bigger level, and build toward the potential for a better environment in the future."
And in this case, building a better future starts with one well planned tree at a time.
Comments Off
:AI, maps, Sustainability
more...