Author Archive
by Vishal Dutta on Jul.20, 2020, under 3D Models, Argentina, Australia, Brazil, California, Denmark, England, Germany, Google Earth News, Google Earth Tips, Google Sky, Google maps, Hawaii, Indonesia, Ireland, Italy, Japan, Kenya, Mexico, Natural Landmarks, Netherlands, Sightseeing, Street Views, USA
People across the world are opting to hop on their bikes—especially with summer arriving in many parts of the world and more people looking for safer ways to get around. Since February, requests for cycling directions in Google Maps have jumped by 69 percent—hitting an all-time high last month. Whether people are hitting the road to get their heart pumping or commute safely during COVID-19, we're making it easier for cyclists everywhere to get on their own bike or a shared one. 
 Ten years ago, we introduced biking directions in Google Maps. Now it's available in nearly 30 countries around the world and millions of people use it every day. As biking habits change, especially as things evolve with COVID-19, we're constantly updating this information to help you uncover the most reliable bike route.
Raise the (handle)bar on biking routes  
To give you the most up-to-date bike route, we use a combination of machine learning, complex algorithms and our understanding of real-world conditions based on imagery and data from government authorities and community contributions. We also consider various forms of bike lanes and nearby streets that might be less friendly for your two wheels (like tunnels, stairs and poor surface conditions) so you can have the best and smoothest biking route. You can also see how flat or steep your route will be, so you'll know if you're in for an easy breezy ride or one that will really get the heart pumping. 
However, the best route can always change and we are hard at work to reflect new information. For instance, due to COVID-19, many cities are adding and widening bike lanes to encourage cycling and accommodate more riders. We're already working to integrate hundreds of thousands of new bike lanes in the coming months. Local government agencies can provide this data through our Geo Data Upload tool to have their latest bike lane information reflected in Google Maps. 
Gear up for new docked bikeshare directions in 10 cities
As more people choose to cycle, they're buying new bikes, fixing up old ones and turning to bike sharing options. In fact, worldwide search interest for "bike repair near me" hit an all-time high this month—more than double what it was last year. 
For riders opting to use bike sharing, we're rolling out more detailed information. Over the last several years, we've launched a dockless bike and scooter integration with Lime in more than 100 cities and introduced real-time docked bikeshare information to help travellers in select cities locate bike sharing stations and real-time availability. With bikeshare providers seeing sharp increases in usage during COVID-19, it's even more important to quickly and easily check how many bikes are available at the station you're headed toward and if there are docks available to drop off your bike near your destination. 
Starting today, when you look up biking directions, you'll see end-to-end directions that include docked bikeshare information. Steps will include detailed walking directions to bikeshare stations near your starting point along with live bike availability, turn-by-turn cycling directions to the bikeshare station closest to your destination with live dock availability, and, finally, walking directions from there to your final destination. And, for some cities, Maps will show you links to open the relevant bikeshare app to book and unlock the bike.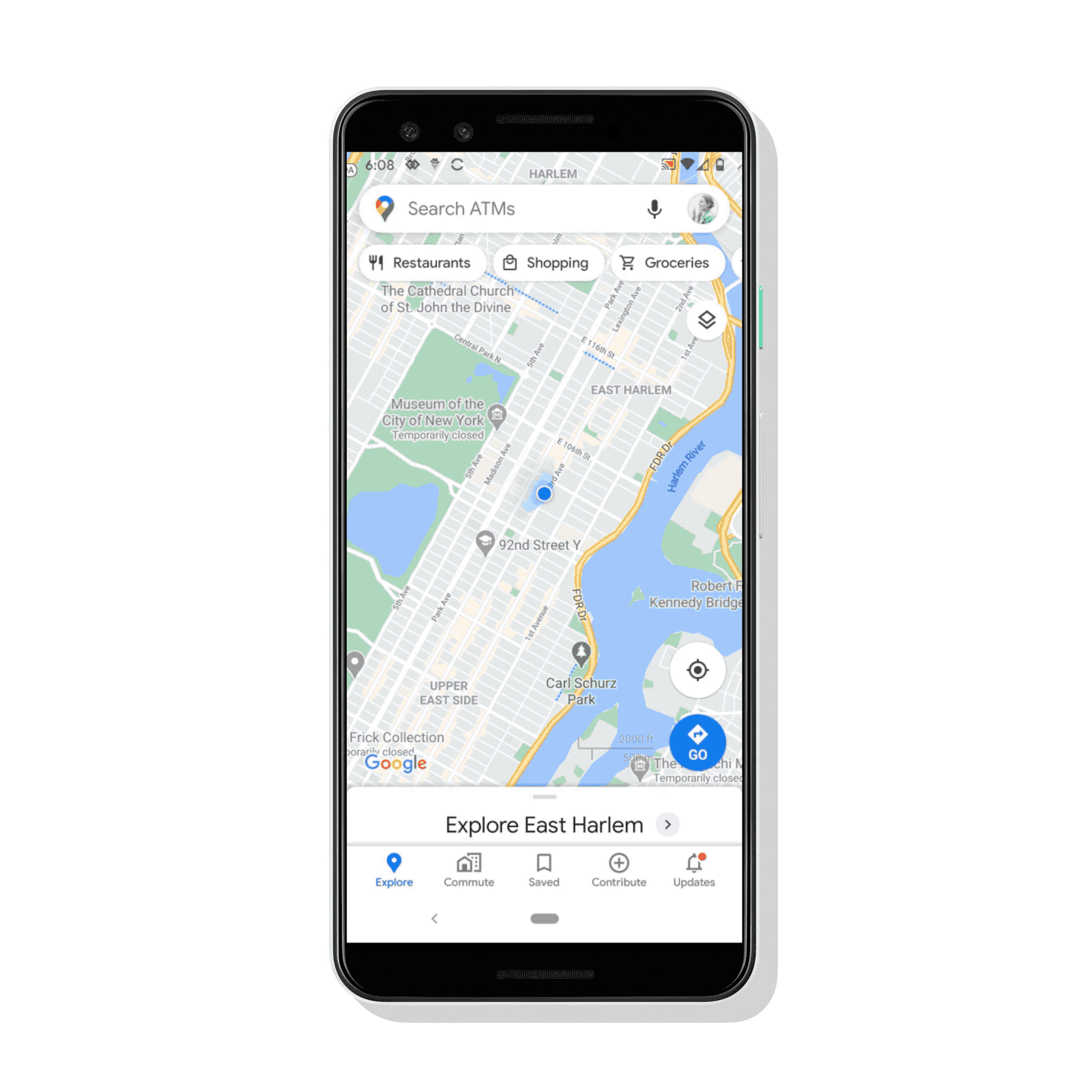 Rolling out over the coming weeks, you'll find docked bikeshare directions in these 10 cities, thanks to our partnership with Ito Worldand bikeshare partners around the world. We're actively working with additional partners to bring this functionality to more cities in the coming months. 
Chicago, U.S. (Divvy/Lyft)
New York City, U.S. (Citi Bike/Lyft)
San Francisco Bay Area, U.S. (Bay Wheels/Lyft)
Washington, DC, U.S. (Capital Bikeshare/Lyft)
London, England (Santander Cycles/TfL)
Mexico City, Mexico (Ecobici)
Montreal, Canada (BIXI/Lyft)
Rio De Janeiro, Brazil (Bike Itaú)
São Paulo, Brazil (Bike Itaú)
Taipei and New Taipei City, Taiwan (YouBike)
As with any mode of transportation right now, cleanliness and safety are top of mind. All of our bikeshare partners have taken steps to increase their cleaning protocols during COVID-19. Please check with your local partner to learn about their latest safety measures. And as always, we encourage you to follow local health and safety guidelines—no matter how you're getting around. 
Comments Off
:covid-19, maps
more...
by Vishal Dutta on Aug.28, 2019, under 3D Models, Argentina, Australia, Brazil, California, Denmark, England, Germany, Google Earth News, Google Earth Tips, Google Sky, Google maps, Hawaii, Indonesia, Ireland, Italy, Japan, Kenya, Mexico, Natural Landmarks, Netherlands, Sightseeing, Street Views, USA
Google Maps has always helped you get from place to place, whether you're driving, walking, biking or taking public transit. And we know that transit journeys can be complex–often involving multiple modes of transportation to help you get around town. Today, we're making it easy to pair transit directions with biking and ridesharing options so you can travel that first or last mile with ease. 
Say you're taking the subway home from a friend's house, but your apartment is a bit too far from the station to get to on foot. Catching a ridesharing vehicle can help you travel that short distance quickly. Or, you're headed to work at the peak of the busy back-to-school season so you need to ride your bike to the nearest bus stop to make that important 9 a.m. meeting on time. 
Here's how it works:
Enter your destination in the search box, tap on "Directions" and then on the transit tab. From there, you'll automatically see routes that feature ridesharing and cycling options paired with transit directions. If you're taking a ridesharing vehicle, you'll see helpful information about each leg of your trip: how much your ride will cost, how long the wait is, if there's traffic on your ride, and when your bus or train departs. You can also choose your favorite rideshare provider and other available ride options like pool or economy.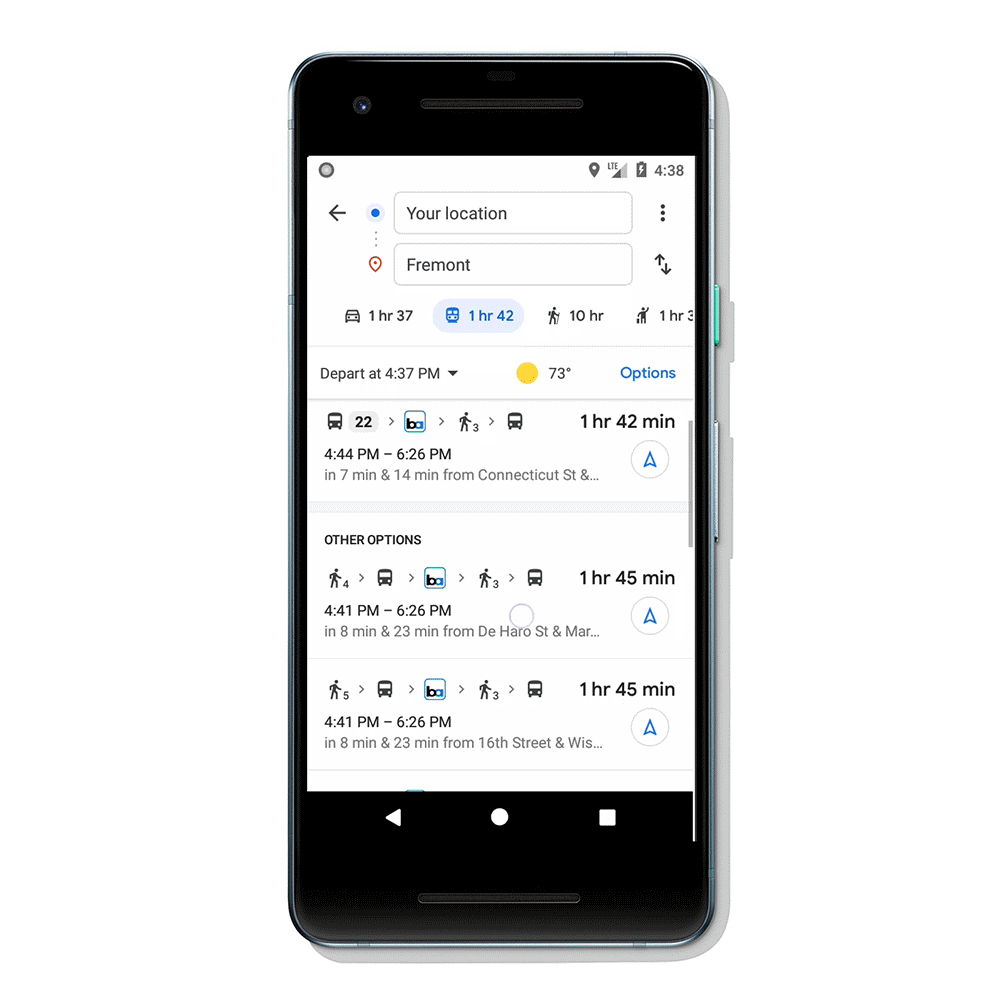 If you're biking, then you'll see routes tailored for cyclists along with everything you need to know about the transit portion of your journey. All of this information is automatically factored into your total travel time and ETA so you can know exactly when you'll get to your destination.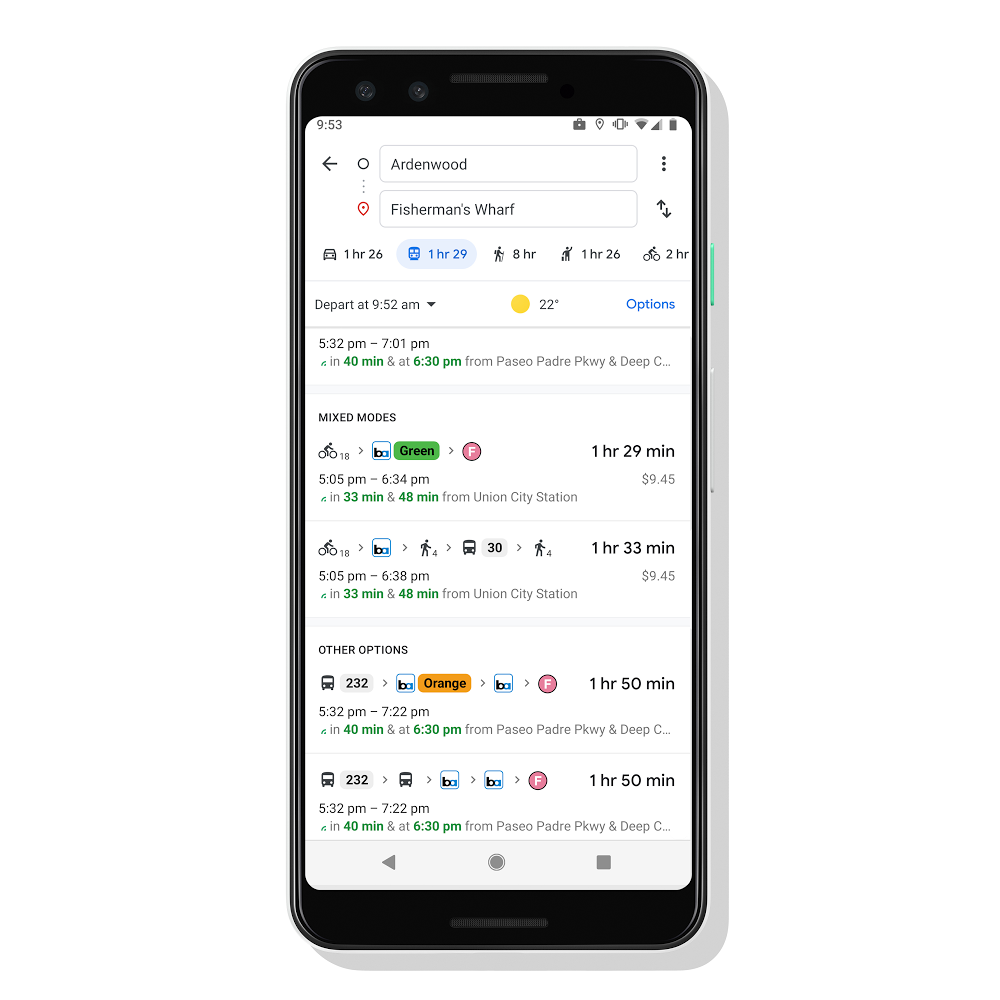 Transit directions paired with biking and ridesharing will start rolling out in the coming weeks on Android and iOS in 30 countries around the globe, with more coming soon.
Comments Off
:
maps
more...