Tag: Photos
by Richard Holden on Nov.10, 2020, under 3D Models, Argentina, Australia, Brazil, California, Denmark, England, Germany, Google Earth News, Google Earth Tips, Google Sky, Google maps, Hawaii, Indonesia, Ireland, Italy, Japan, Kenya, Mexico, Natural Landmarks, Netherlands, Sightseeing, Street Views, USA
While many people will celebrate the holidays at home this year, 40 percent of Americans are still planning to travel. Here are a few ways Google can help you make informed travel decisions or revisit trips from holidays past.
Stay up to date on the latest travel information

When you search on Google for information about hotels, flights or things to do, check to see if there's a COVID-19 travel advisory or restriction for your destination. If there are no restrictions, you can see indicators for travel reopening, like the percentage of flights operating or hotels with availability, directly in your Search results. On google.com/travel you can also see trends for flight and hotel availability over the past six months, as well as links to local resources, like the number of COVID-19 cases in the area.

Book accommodation confidently

Earlier this year we added a hotel "Free cancellation" filter on Search and google.com/travel to help you easily find properties with a refundable rate. In addition to refundable rates, many hotels and vacation rentals are taking additional measures to ensure the safety of guests in response to COVID-19. Now when you search for a place to stay on google.com/travel and view a specific property, you may see a tip when additional health and safety precautions, like enhanced cleaning, are being taken. Tap on the "About" tab to see the full list.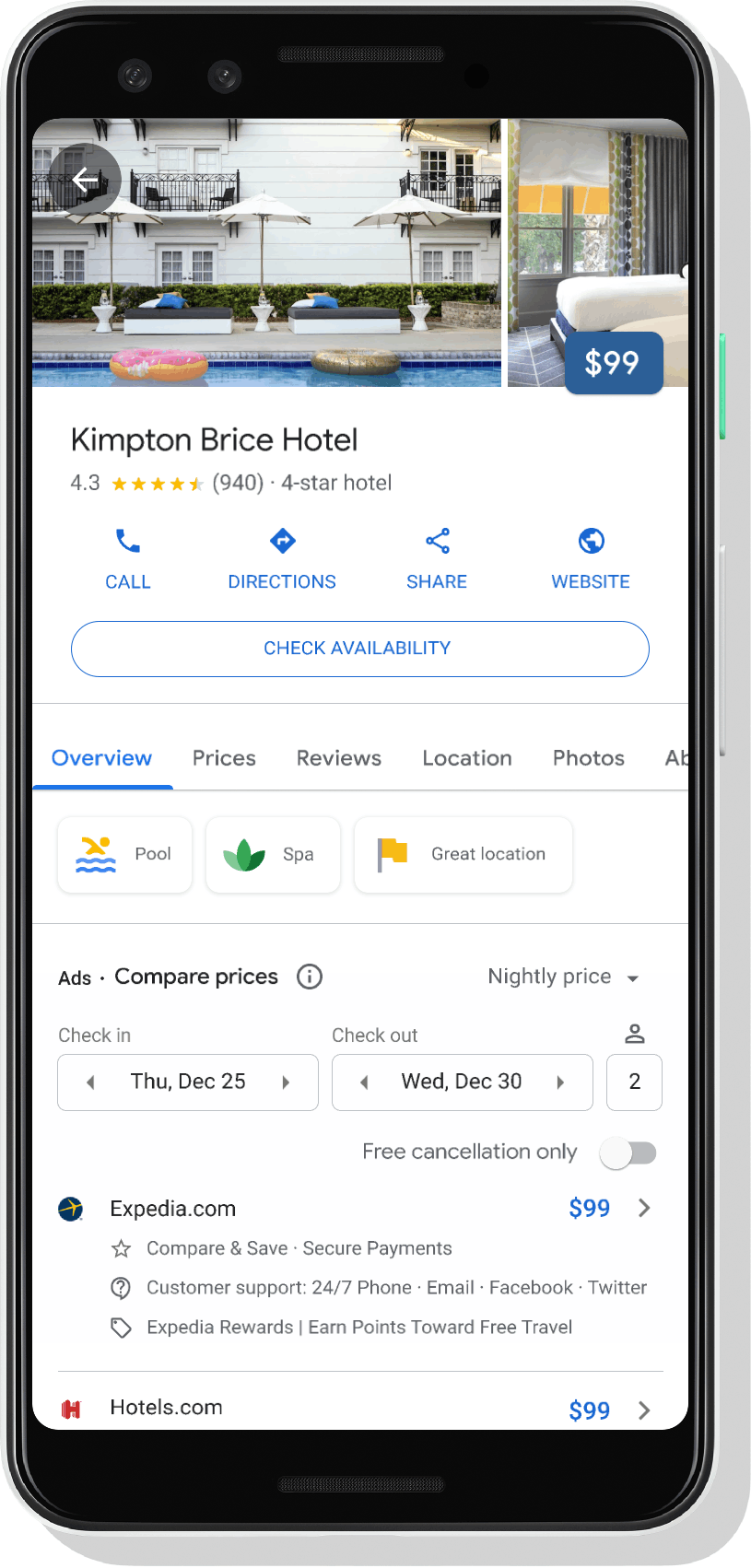 We're working with hotels and vacation rental providers, as well as industry associations, to add more health and safety information to the results you see. If you're a hotel owner, verify your business using Google My Business, and let guests know what measures you're taking to keep them safe by adding health and safety attributes to your Business Profile. 
See local COVID-19 information 
If you're planning to visit a new city, you can use the COVID layer in Google Maps to quickly get information about COVID-19 cases in the area—so you can make more informed decisions about where to go and what to do. 
Stay informed on the road
Once you're headed out on your trip, you can use Google Maps to see helpful safety alerts along the way. If you're driving, we'll notify you about COVID-19 checkpoints and restrictions along your route, like when crossing national borders. If you plan to take public transportation, we'll show you alerts from local transit agencies, so you can quickly know if government mandates impact transit services or require you to wear a mask while riding the bus, subway, or train.
Get nostalgic & relive past trips
For those not traveling this holiday season, you can use new features in Google Maps or Google Photos to take a walk down memory lane. If you're using Maps on Android, you can soon access the new "Trips" tab in Timeline to see a summary of your past vacations, along with information about the places you visited, the total kilometers traveled, and the modes of transportation you used. If you choose to turn on your Location History setting, you can use Trips in Timeline as a handy tool if you're feeling nostalgic or want to share vacation recommendations with friends or family.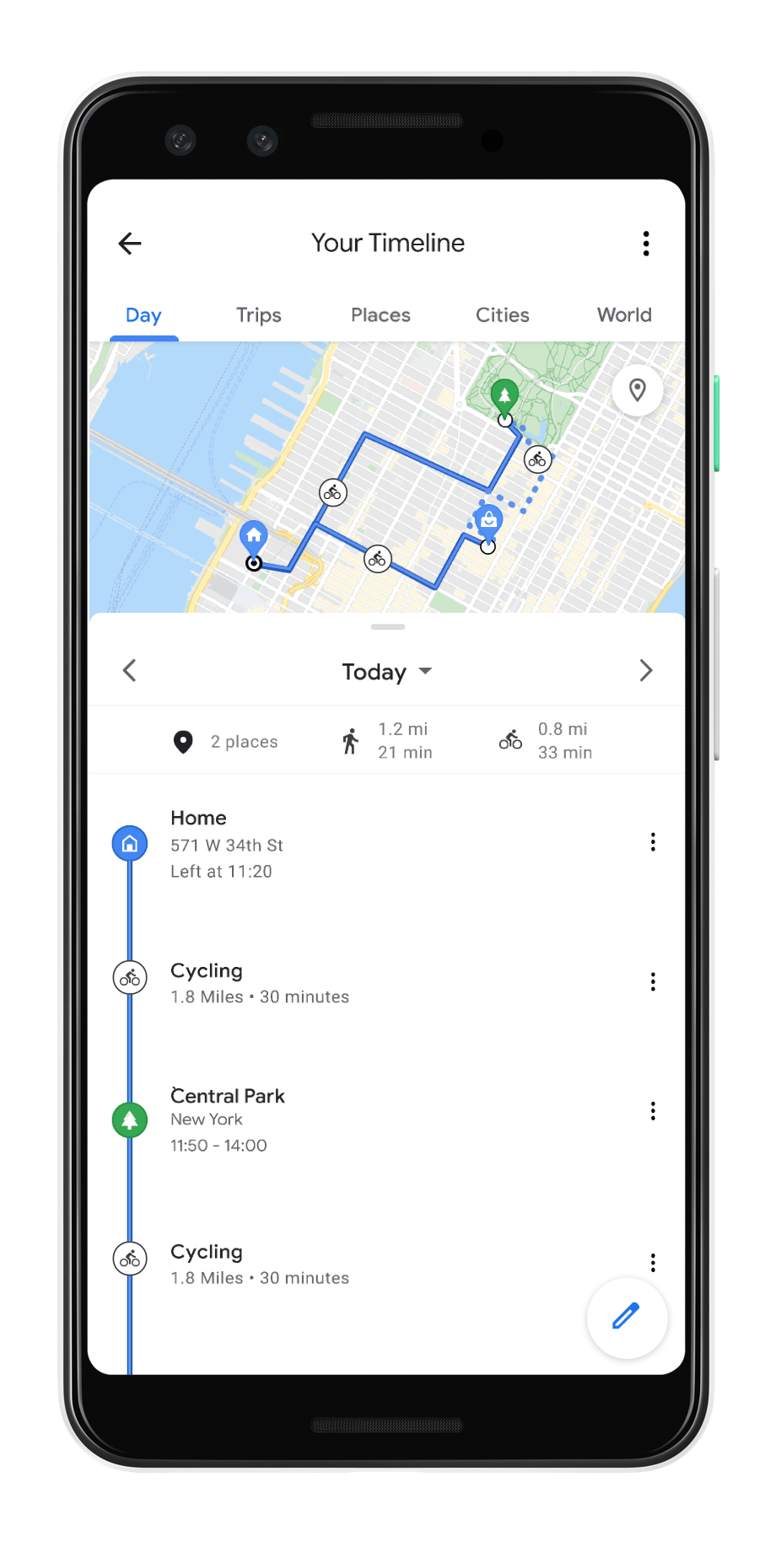 You can also see and share your past trip itineraries including hotels, restaurants and other places you've received reservation confirmations for in your Gmail by going togoogle.com/travel and tapping on the "Trips" tab. 
In Google Photos, you can already see photos grouped by location with theinteractive map view. In the coming weeks, we're bringing Timeline to the Photos map view, so you can easily see the paths you took on a certain day alongside your photos—whether you captured that epic shot while hiking through Yellowstone, or while driving down the scenic Pacific Coast Highway. You can choose to show or hide your Timeline from your map view's settings in Photos at any time.
If you will be traveling over the holidays, here's a handy checklist to help you make informed decisions as you plan.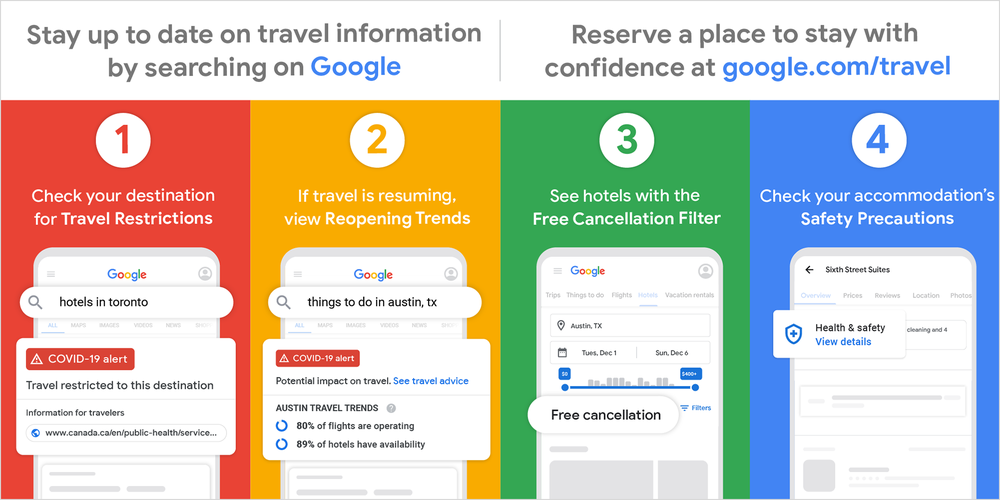 Comments Off
:covid-19, maps, Photos, travel
more...
by Shenaz Zack on Dec.09, 2019, under 3D Models, Argentina, Australia, Brazil, California, Denmark, England, Germany, Google Earth News, Google Earth Tips, Google Sky, Google maps, Hawaii, Indonesia, Ireland, Italy, Japan, Kenya, Mexico, Natural Landmarks, Netherlands, Sightseeing, Street Views, USA
Your phone should get better over time. Your Pixel automatically updates regularly with fixes and improvements. Now, your Pixel will also get bigger updates in new Pixel feature drops.  Our first one, coming this month, includes a new way to capture portraits, easier Duo calls and automatic call screening. 
More photo controls
Now, you can turn a photo into a portrait on Pixel by blurring the background post-snap. So whether you took the photo years ago, or you forgot to turn on portrait mode, you can easily give each picture an artistic look with Portrait Blur in Google Photos.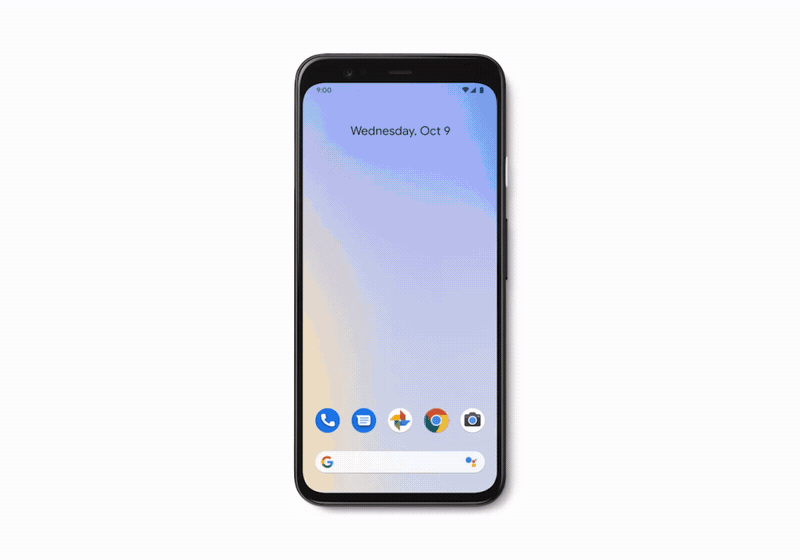 Put an end to robocalls
With our latest update to Call Screen on Pixel 4 in the US, the Google Assistant now helps you automatically screen unknown callers and filter out detected robocalls before your phone ever rings, so you're not interrupted by them. And when it's not a robocall, your phone rings a few moments later with helpful context about who is calling and why. Call Screen works on your device and does not use Wi-Fi or data, which makes the screening fast and the content private to you.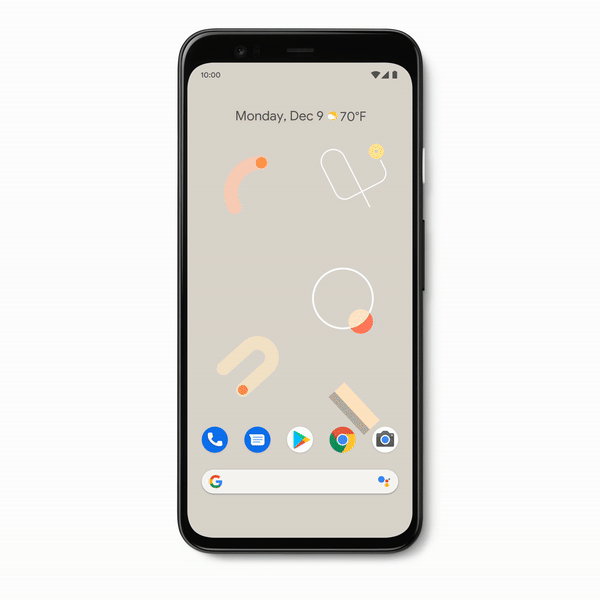 Improved video calls on Duo 
Video calls are better on Pixel 4 with new Duo features that let you focus on conversations instead of logistics. Auto-framing keeps your face centered during your Duo video calls, even as you move around, thanks to Pixel 4's wide-angle lens. And if another person joins you in the shot, the camera automatically adjusts to keep both of you in the frame.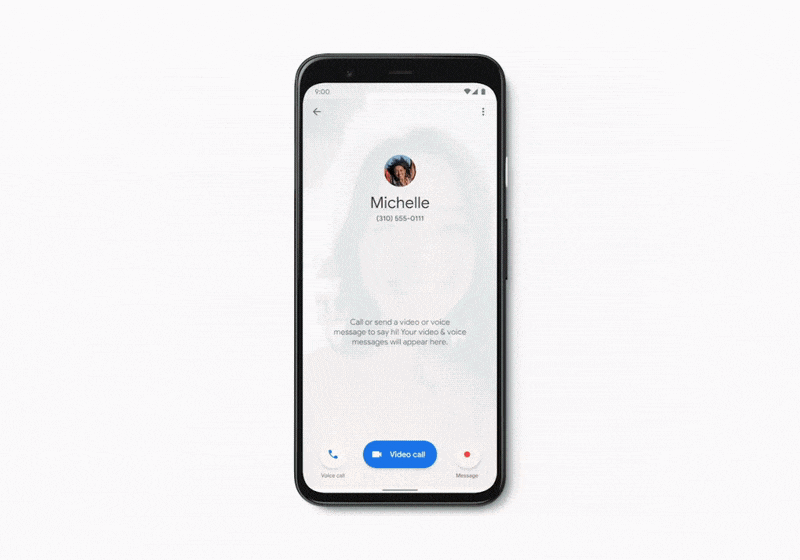 Now, the playback on your Duo calls is even smoother, too. When a bad connection leads to spotty audio, a machine learning model on your Pixel 4 predicts the likely next sound and helps you to keep the conversation going with minimum disruptions. Pixel 4's Smooth Display also reduces choppiness on your video feed, refreshing up to 90 times a second.

When you make Duo video calls on Pixel 2, 3 and 4, you can now apply a portrait filter as well. You'll look sharper against the gentle blur of your background, while the busy office or messy bedroom behind you goes out of focus.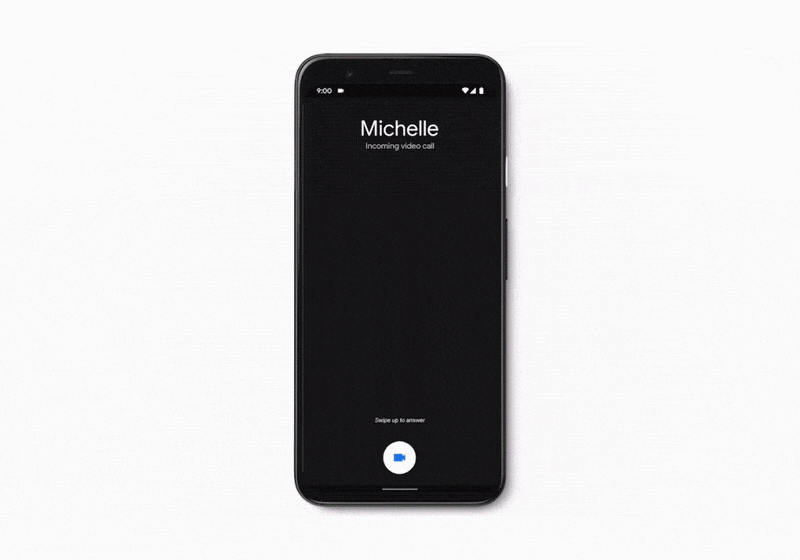 More helpful features for more Pixels
In addition to new features for Pixel 4, we're also bringing new apps and features to Pixel 2, 3 and 3a:
The Recorder app is now available on older generations of Pixel.
Pixel 3 and 3a users will get Live Caption. 
Digital Wellbeing is getting updates too. Focus mode is rolling out to help you stay productive and minimize distractions by pausing apps you've selected in a single tap. You can now set an automatic schedule, take a short break or end Focus mode early without disrupting your schedule.
Flip to Shhh will also join the Digital Wellbeing features on Pixel 2 and 2XL.
If you use a Pixel 4 in the UK, Canada, Ireland, Singapore and Australia, you'll soon get the new Google Assistant (English only), which is even faster and more helpful.
With the latest update to Pixel 4, you'll also get amazingly fast accuracy in Google Maps with improved on-device computing for much better location quality. 

A more efficient phone
In addition to these new experiences, all Pixel devices will also receive an update to its memory management in the feature drop. With this new enhancement, your phone proactively compresses cached applications so that users can run multiple applications at the same time -- like games, streaming content and more.
Pixel phones have always received monthly updates to improve performance and make your device safe. Now, feature drops will bring more helpful and fun features to users on a regular basis to continue to make your Pixel better than ever. 
These features are already rolling out, and will hit Pixel devices in the coming weeks. To get the new features, update to the latest version of Android and go to the Play Store to start downloading your updated apps.
Comments Off
:maps, Photos, Pixel
more...