Author Archive
by Sundar Pichai on Jan.25, 2021, under 3D Models, Argentina, Australia, Brazil, California, Denmark, England, Germany, Google Earth News, Google Earth Tips, Google Sky, Google maps, Hawaii, Indonesia, Ireland, Italy, Japan, Kenya, Mexico, Natural Landmarks, Netherlands, Sightseeing, Street Views, USA
The pandemic has taken a devastating toll on communities worldwide. While there is much uncertainty still ahead, the development of multiple safe vaccines in such a short time gives us reason for hope. Now the work begins to ensure that everyone can benefit from this triumph of scientific achievement, and quickly.
During the pandemic, Google has helped people get the information they need to keep their families safe and healthy. We've supported small businesses and partnered with Apple to build exposure notification technology to fight the spread of COVID-19 around the world. Now, as public health authorities ramp up vaccination efforts, we're finding more ways to help. 
We recognize that getting vaccines to people is a complex problem to solve, and we're committed to doing our part. Today we're announcing that we're providing more than $150 million to promote vaccine education and equitable distribution and making it easier to find locally relevant information, including when and where to get the vaccine. We'll also be opening up Google spaces to serve as vaccination sites as needed. 
$150 million to promote vaccine education and equitable access 
Since the beginning of the pandemic, we've helped more than 100 government agencies and global non-governmental organizations run critical public service health announcements through our Ad Grants Crisis Relief program. Today, we're announcing an additional $100 million in ad grants for the CDC Foundation, the World Health Organization, and nonprofits around the globe. We'll invest another $50 million in partnership with public health agencies to reach underserved communities with vaccine-related content and information.
Our efforts will focus heavily on equitable access to vaccines. Early data in the U.S. shows that disproportionately affected populations, especially people of color and those in rural communities, aren't getting access to the vaccine at the same rates as other groups. To help, Google.org has committed $5 million in grants to organizations addressing racial and geographic disparities in COVID-19 vaccinations, including Morehouse School of Medicine's
Satcher Health Leadership Institute
and
the CDC Foundation
.
Highlighting authoritative information and local vaccination sites on Search & Maps
To help find accurate and timely information on vaccines, we've expanded our information panels on Search to more than 40 countries and dozens of languages, with more rolling out in the coming week. We'll begin showing state and regional distribution information on Search so people can easily find when they are eligible to receive a vaccine. Soon we'll launch a "Get The Facts'' initiative across Google and YouTube to get authoritative information out to the public about vaccines. 
Searches for "vaccines near me" have increased 5x since the beginning of the year and we want to make sure we're providing locally relevant answers. In the coming weeks, COVID-19 vaccination locations will be available in Google Search and Maps, starting with Arizona, Louisiana, Mississippi and Texas, with more states and countries to come. We'll include details like whether an appointment or referral is required, if access is limited to specific groups, or if it has a drive-through. We're working with partners like VaccineFinder.org, an initiative of Boston Children's Hospital, and other authoritative sources, such as government agencies and retail pharmacies, to gather vaccination location information and make it available.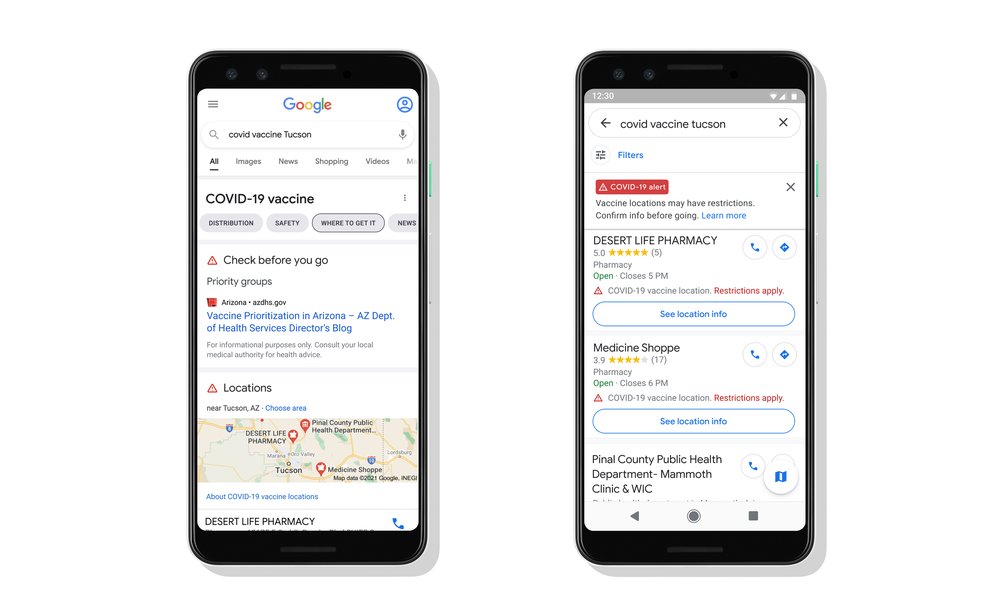 Opening our spaces for vaccination clinics 
To help with vaccination efforts, starting in the United States, we'll make select Google facilities—such as buildings, parking lots and open spaces—available as needed. These sites will be open to anyone eligible for the vaccine based on state and local guidelines. We'll start by partnering with health care provider One Medicaland public health authorities to open sites in Los Angeles and the San Francisco Bay Area in California; Kirkland, Washington; and New York City, with plans to expand nationally. We're working with local officials to determine when sites can open based on local vaccine availability. 
Using our technology to improve vaccine distribution 
Google Cloud is helping healthcare organizations, retail pharmacies, logistics companies, and public sector institutions make use of innovative technologies to speed up delivery of vaccines. For example, logistics companies are using our AI to optimize trucking operations by adapting to traffic or inclement weather, and detect temperature fluctuations during transport. Once vaccines reach their destination, our tools help facilitate pre-screening, scheduling, and follow up. And our Intelligent Vaccine Impact Platform is helping states like New York and North Carolina manage distribution and forecast where vaccines, personal protective equipment, and hospital staffing will be most needed.
The COVID-19 pandemic has deeply affected every community all over the world. It's also inspired coordination between public and private sectors, and across international borders, on a remarkable scale. We can't slow down now. Getting vaccines to billions of people won't be easy, but it's one of the most important problems we'll solve in our lifetimes. Google will continue to support in whatever way we can.
Comments Off
:A message from our CEO, covid-19, Health, maps, search
more...
by Sundar Pichai on Feb.06, 2020, under 3D Models, Argentina, Australia, Brazil, California, Denmark, England, Germany, Google Earth News, Google Earth Tips, Google Sky, Google maps, Hawaii, Indonesia, Ireland, Italy, Japan, Kenya, Mexico, Natural Landmarks, Netherlands, Sightseeing, Street Views, USA
For me, the best way to get to know a new place is to explore its neighborhoods, visit some small businesses, and try some of the local fare. Of course sometimes I just want some comfort food. I'm always happy when I can combine both of these interests by hunting down a good, local veggie burrito. Burritos are one of the things that help me feel normal when jet lagged between time zones. Finding one is easy when I'm in places like Dallas. It's not always as simple when I'm in a city like Helsinki, or when I'm travelling with people who have food allergies. 
In these moments, I turn to Google Maps for help. Over the years, I've discovered some great burrito places. In honor of Google Maps' 15th birthday, I've made a list of some of my favorites on Google Maps (of course!).
 Finding the best burrito might sound trivial in the context of all the amazing things Google Maps can do—from helping to shave hours off a commute over the course of the year to providing SOS alerts during emergencies. But for someone who finds as much joy in a good burrito as I do, it can be a magical moment. We want to continue getting these "burrito" moments right for all our users, whatever that means for you.
The same technology that helps me find a delicious burrito started as an ambitious goal 15 years ago to map the entire world. I know first-hand how powerful mapping the world can be. In places like where I grew up in India, there wasn't always a clear structure to the address system. I relied on local knowledge to get to where I was going. In practice, that meant giving an auto rickshaw driver a landmark, like a hotel, and then as I got close, popping my head out to ask for directions to the actual destination. Not always fast or easy. 
Contrast that experience with the first time I used Google Maps in India. I had arrived in Mumbai in the early morning hours and jumped into a cab to get to a friend's house which was difficult to locate. Using Google Maps, I was able to give the driver turn-by-turn directions without asking anyone. I was excited by how easy it was, but my driver was really blown away.
Not only do maps make it easier to get around; they also can give you a sense of identity when you see your street on the map for the first time. That was one of the revelations of MapMaker. Launched by two Google engineers in 2008, it was a way for people to add streets and local landmarks to improve the experience of Google Maps, starting in India. It quickly evolved to help map floods in the Philippines and Pakistan, and later to allow people in the U.S. add a new road to their neighborhood. Its legacy continues today with Local Guides, our active community of more than 120 million users who help keep the map factual and up to date by contributing reviews, photos and local expertise. 
One of the next frontiers for Maps will be to help the billions of people who live without a physical address get a digital one. These open-source digital addresses, called Plus Codes, are based on latitude and longitude coordinates, rather than a street address, and can be used freely by anyone. With a digital address, more people will be able to access things like banking and emergency services, receive personal mail and deliveries, and help people find and patronize their businesses. It's still in early days, but we're excited about the potential.
All of this is built on amazing amounts of computing power and technical innovation. For example, when we started Street View, our effort to map the images of every street in the world, we realized we need more than just people to help organize all of the photos generated by the Street View cars. That helped to inspire deep investments in machine learning—and these investments continue to accelerate our progress to make maps (and all of our products) useful to people around the world. 
I'm so proud of how Google Maps has grown from a small team with a big mission, to helping a billion people discover the world around them. Wishing Google Maps a very happy 15th birthday—I may have a burrito to celebrate!
Comments Off
:
maps
more...