Tag: Grow with Google
by Ruth Porat on Oct.27, 2020, under 3D Models, Argentina, Australia, Brazil, California, Denmark, England, Germany, Google Earth News, Google Earth Tips, Google Sky, Google maps, Hawaii, Indonesia, Ireland, Italy, Japan, Kenya, Mexico, Natural Landmarks, Netherlands, Sightseeing, Street Views, USA
The COVID-19 pandemic has brought unprecedented challenges and emphasized how important it is for each of us to do our part to help find solutions. I'm sharing an update here on how Google is contributing to keep people safe and helping to get American businesses back up and running.
Contributing to economic recovery efforts
As I've written earlier, to help small businesses gain easier access to badly-needed capital, we founded the $170 million Grow with Google Small Business Fund alongside $10 million in Google.org grants, with an aim to help the most underserved small businesses, particularly those owned by women and minorities. In collaboration with Opportunity Finance Network, more than $53 million dollars of loans and Google.org grants have been allocated to community partners who are focused on serving rural, women, Black, Latino and Native borrowers, which helps American communities start to get back on their feet. Tires by Papi and Bailiwick Clothing Company are two such examples.
Of course, our greatest contribution continues to be developing products to help people stay informed, adapt and get through this pandemic. 
According to the Connected Commerce Council, nearly one in three small business owners report that without digital tools they would close all or parts of their business. To help small businesses, we rolled out many new, free product features earlier this year, so that they can inform their customers about things like takeout, delivery, no-contact delivery, or curbside pickup. Today, people can now find this information on Search and Maps for more than 2 million restaurants and retailers in the U.S.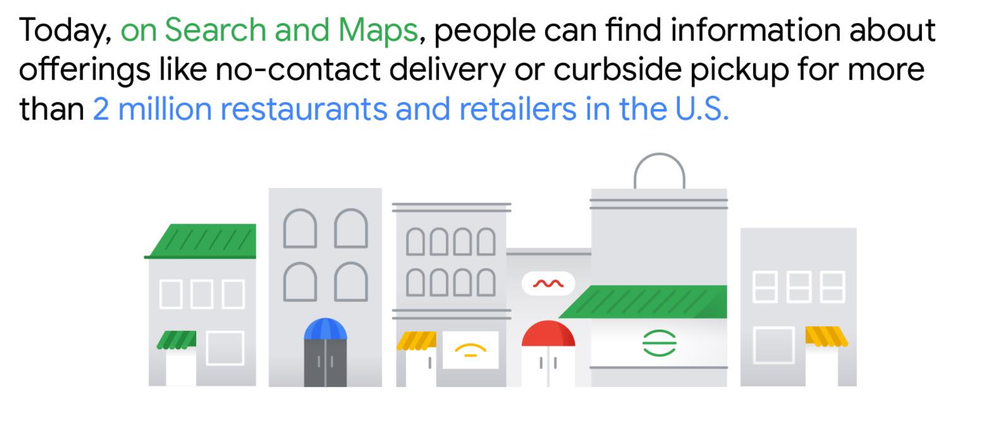 We've used Google's Duplex technology to make calls to businesses and confirm things like temporary closures. This has enabled us to make 3 million updates to business information globally, which have been seen by people over 20 billion times in Search and Maps. 
To help people searching for jobs, we have stepped up to help in many ways. We added new relevant features in the U.S. like showing jobs that can be done remotely. Google Cloud has partnered with different states to help jobseekers: we assisted Rhode Island's Virtual Career Center, a new platform that  connects thousands of jobseekers with jobs and employment services; worked with the State of Illinois to develop a 24/7 Virtual Intelligent Agent on the IDES website; developed a chatbot, in partnership with the New Jersey Office of Innovation to provide real-time answers to the 20 most popular unemployment questions. These are just some of the examples. 
We also transformed our free Grow with Google training to virtual formats and have already trained more than 1 million Americans on digital skills this year. The Google IT Support Professional Certificate—which takes beginner learners to entry-level jobs ready in under six months—has become the most popular certificate on Coursera during COVID-19.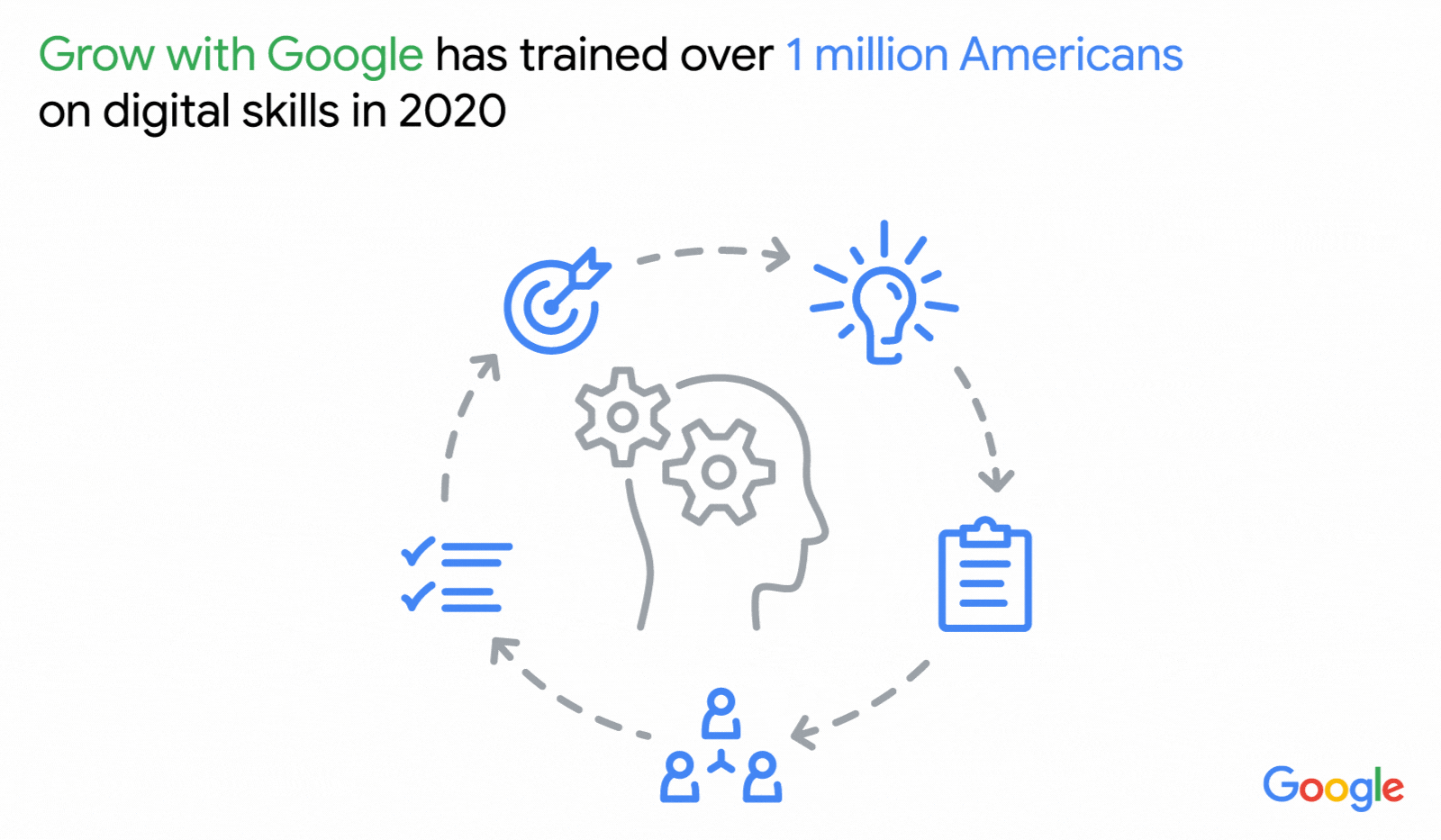 Providing trusted information
Questions related to the pandemic are more searched than sports or music (and even elections) in every state. 
Top coronavirus related searches in the U.S. this month:
Coronavirus symptoms

Coronavirus update

Coronavirus vaccine
Across the U.S. people are searching on Google to stay informed and adapt. In 47 states, the top coronavirus-related question during the last six months has been "How many cases of coronavirus in [my state]." Search interest for "online courses" reached an all-time high in April this year, as did searches for "unemployment,"compared to search trends over the last 15 years. 
During this time, we've also seen people seek out information to help them navigate their daily lives. For example, since the pandemic began, searches for "curbside pickup" have increased 13-fold compared to this time last year, while searches for "contact tracing" spiked 1,000 percent  in April and then reached an all-time high in May. 
In March, we launched Search Knowledge Panels so when people search for information related to COVID-19, they immediately see local guidance, information about symptoms, prevention and treatments. We've committed $250 million in Ad Grants to help government agencies provide critical information related to COVID-19. As of today we've served more than 100 million PSAs from local public health agencies, which have been seen by tens of millions of people across the U.S.
We also launched the Journalism Emergency Relief Fund to provide emergency funding for small and medium sized news organizations covering the pandemic. To date, we've distributed $9 million to U.S. newsrooms across all 50 states. 
Helping people make safe choices 
To help people make informed decisions about where to go, the COVID layer in Google Maps shows critical information about new cases in an area and how they're trending. As of this month, our COVID-19 Community Mobility Reports, which are used by public health agencies and researchers around the globe, have been downloaded more than 16 million times. 
In May, we partnered with Apple to launch the Exposure Notifications System (ENS) and made it available to public health authorities around the world in their fight against COVID-19. Designed specifically and carefully to protect users' privacy while helping public health authorities and governments manage countries' re-opening, today 13 states and U.S. territories have built apps based on this ENS technology.
In a short time, COVID-19 has changed how people live their lives. We'll continue to update our products and roll out initiatives to help people and American businesses find trusted information, adapt and manage economic uncertainty.  
Comments Off
:covid-19, Google.org, Grow with Google, maps, search, Small Business
more...
by Jewel Burks on Jul.30, 2020, under 3D Models, Argentina, Australia, Brazil, California, Denmark, England, Germany, Google Earth News, Google Earth Tips, Google Sky, Google maps, Hawaii, Indonesia, Ireland, Italy, Japan, Kenya, Mexico, Natural Landmarks, Netherlands, Sightseeing, Street Views, USA
While working as an Entrepreneur-in-residence at Google from 2014 to 2016, I traveled across the country to help enhance the online presence of hundreds of Black-owned businesses. As a Black woman, entrepreneur and Googler, supporting Black-owned businesses and Black founders is my passion.
Over the past few months, we've seen a surge in online searches for Black-owned businesses. It's been inspiring to witness so many people look for ways to invest in the Black community. Now, we're announcing three new ways to help support Black business owners. 
Starting today, merchants in the U.S. with a verified Business Profile on Google can add a Black-owned business attribute to their profile, making it easier for customers to find and support them. As part of our $300 million commitment to support underrepresented entrepreneurs, we're also integrating the attribute into the digital skills training programs we offer Black business owners through Grow with Google Digital Coaches. And through Google for Startups Accelerator for Black Founders, we're starting our work with the first cohort of 12 startups. 
Making Search and Maps more inclusive

With this attribute, our goal is to make Search and Maps more inclusive and help support Black-owned businesses when they need it most. 
"Everyone who comes into this store is welcome," says Janet Jones, founder and co-owner of the Detroit-based Source Booksellers. "For us, being Black-owned means serving the community we're in." 
By adding the attribute, people using Google Search and Maps can see Source Booksellers is Black-owned, and easily extend their support by purchasing one of their products, leaving a great review and sharing their Business Profile with others looking for their next book.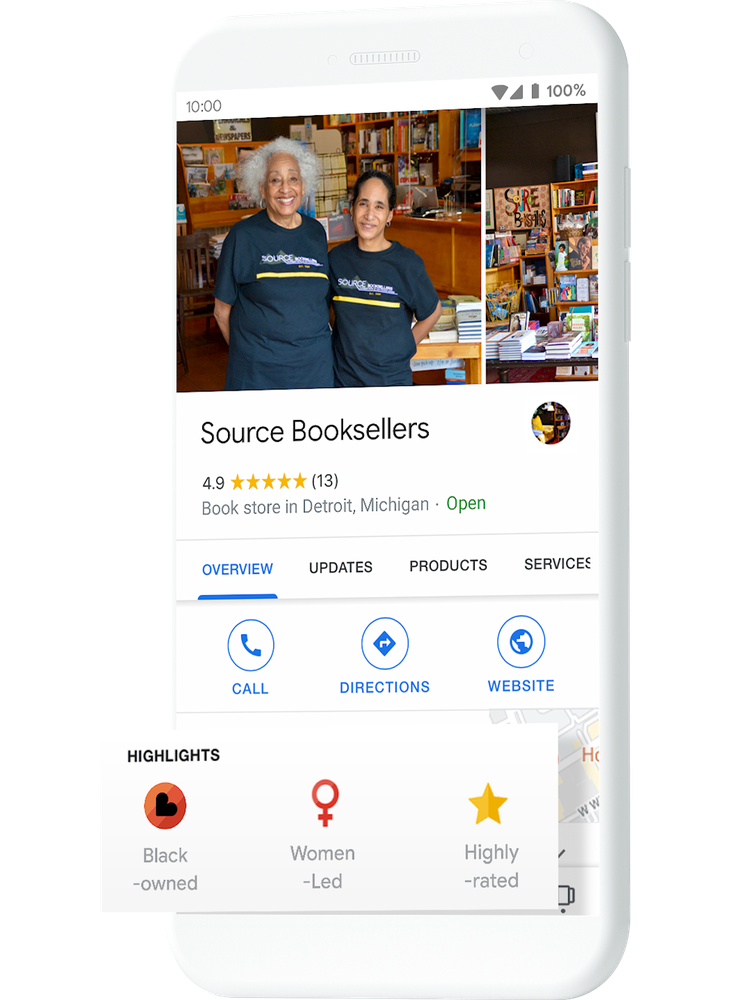 To help get the word out about the new Black-owned attribute, we've partnered with the U.S. Black Chambers, Inc. (USBC). With 145 Black Chambers of Commerce and 326,000 members across the country, USBC provides leadership and advocacy to empower Black business owners through resources and initiatives. Together, Google and USBC will provide training for Black-owned businesses to enhance their presence on Google through the use of digital tools like Google My Business and Google Analytics. Our hope is that by partnering with USBC, we can help more businesses connect with their community and customers.
Reaching more businesses with digital skills training
We're also adding the Black-owned business attribute to the training curriculum offered through the Grow with Google Digital Coaches program. Since 2017, Digital Coaches have offered free mentorship, networking, and workshop opportunities to Black and Latinx businesses in 11 cities across the U.S., including Atlanta, Chicago and Detroit. And the program is growing: Last month, we announced an expansion to Birmingham, Alabama, Memphis, Tennessee and Cleveland, Ohio, as well as a commitment to train more than 50,000 Black owned small businesses. 

Introducing the first class of Google for Startups Accelerator for Black Founders
Through Google for Startups, we're also expanding ways to support Black entrepreneurs who are using technology to address so many of today's biggest challenges. Today, we're announcing the inaugural class of the Google for Startups Accelerator for Black Founders with 12 high potential Seed to Series A tech startups based in the U.S.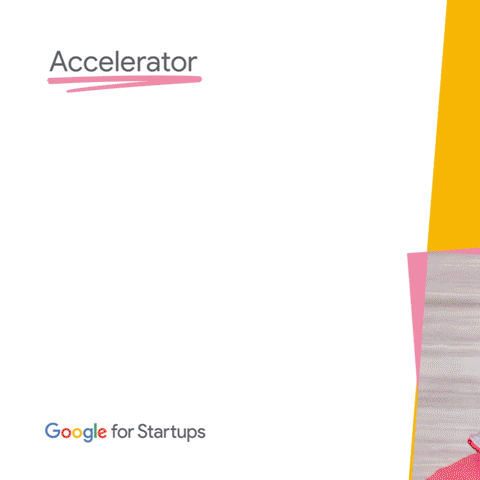 The class includes entrepreneurs like Guy Assad, founder of Clerkie, a business designed to help Americans get out of debt. It also includes Melvin Hine, founder of Upswing, which is dedicated to improving the online education system, and Ashley Edwards, founder of MindRight Health which provides digital mental health services for young people. Starting next month, these 12 founders will receive training and support from Google and industry experts on technical challenges, business growth, and outside investment opportunities to help them reach the next level.
In my current role as the Head of Google for Startups in the U.S., I have the privilege of continuing to work with Black entrepreneurs. Today's updates are a part of our company-wide effort to support Black-owned businesses through products and meaningful partnerships. It's my hope that this attribute and Google's tools and training can serve as additional resources for Black-owned businesses and the people who support them. 
Comments Off
:Diversity and Inclusion, Grow with Google, maps, Small Business
more...