Tag: search
by Olive Yu on Feb.12, 2022, under 3D Models, Argentina, Australia, Brazil, California, Denmark, England, Germany, Google Earth News, Google Earth Tips, Google Sky, Google maps, Hawaii, Indonesia, Ireland, Italy, Japan, Kenya, Mexico, Natural Landmarks, Netherlands, Sightseeing, Street Views, USA
Every February, I tell myself I'm going to make homemade Valentine's Day cards for my family and friends…and every February 13, I realize I'm nearly out of time. Add the fact that these days it's ultimately easier to deliver digital gifts, and I'm ready to give up on the whole thing.
This year I've come up with a few new ideas, courtesy of apps and tools from Google. They might be made for the office or school, but there are some truly impressive ways you can use these apps for your creative endeavors. Here are five ways you can make Valentines with Google products.
Use Google Sheets to make some lovely pixel art (emphasis on love). You might think of invoices and project tracking when you think of Google Sheets, but it can also be a pixel art palette. These can be as simple or as complex as you want — do it yourself by selecting and coloring in Sheets cells to make an image, or search the Google Workspace Marketplace by hitting the right-hand sidebar and selecting "add ons." (If words are more your thing, you could even try making a cute crossword puzzle.)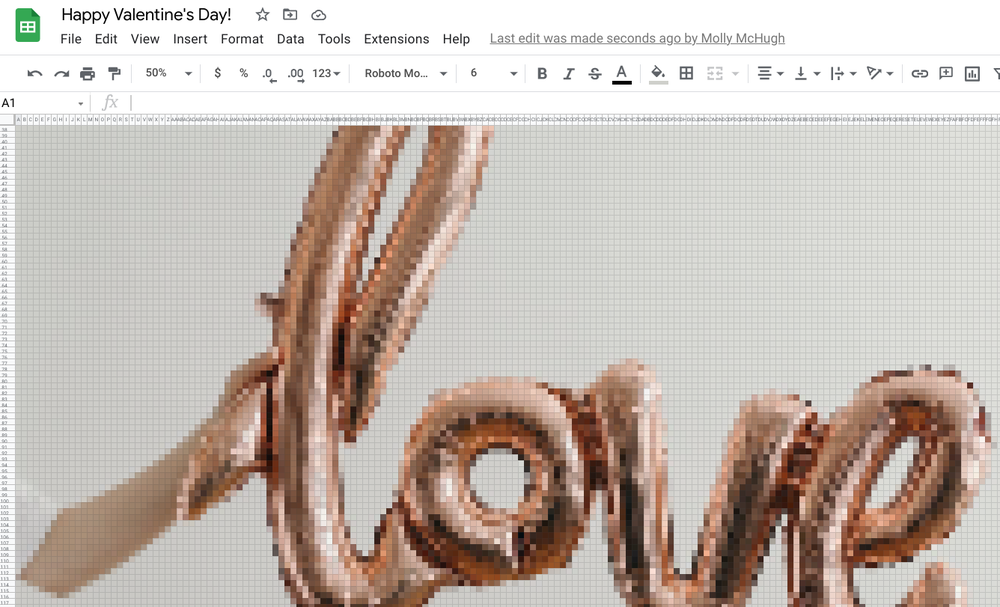 2. Create a digital card with Google Slides. This is an especially useful option if you aren't able to see someone on Valentine's Day. Make a digital slideshow full of photos, videos and notes; then you can either send the file or publish it to the web.
3. Set up a shared library with Google Photos. Use partner sharing in Google Photos to create a shared library of photos and videos for you and your better half. You can choose if you want to share all your photos or just shots of specific loved ones or pets, as well as the date you want to start sharing and Google Photos will automatically take care of the rest.
4. Send a fun Google Form to your partner. More than a couple of Google Forms used for dating purposes have gone viral, and you can put your own spin on one for the big day. Be sure to check out the Template gallery to find a look you like, or add your own images and choose a different font to make your form stand out.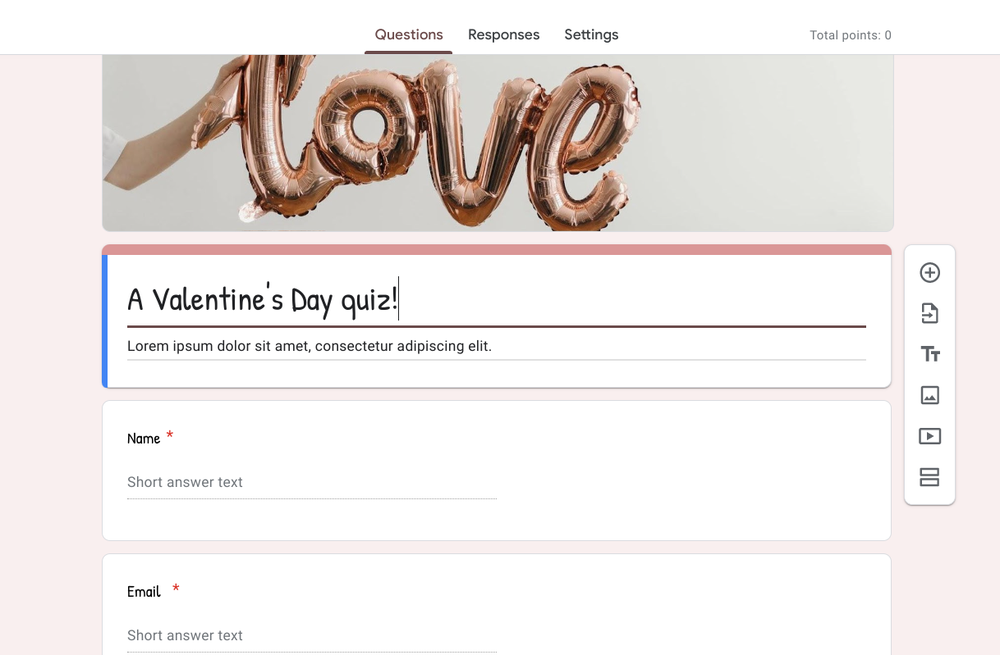 5. Reminisce on romantic trips with Google Maps. Feeling nostalgic? Take a walk down memory lane with the Trips tab in Timeline to see all of the places — from beaches to cute cafes - that you visited on your last vacay.
6. Get some material from Google Assistant. Ask Google Assistant how to say "I love you" in another language, or ask for a Valentine's Day joke or a "fact about love" to impress someone.
Or maybe you're more interested in watching a few rom-coms on February 14. According to Google Trends, the most-searched types of romantic movies in the U.S. since 2004 are:
Teen romance movies
Black romance movies
Romance comedy movies
Sad romance movies
Christmas romance movies
You could take some inspiration from a few of Google Search's trending Valentine's Day terms from the past week — like "chick fil a valentines day tray" (+1,650%), "valentine lovebirds lego" (+600%) or "valentines crocs" (+400%). A few more breakout terms from the past month include: "valentines converse," "starbucks valentines 2022," "valentines coloring pages" and "nike valentines day shoes 2022."
And if you're still not quite sure how to celebrate, there's one fail-safe option: chocolate. According to Google Trends, Godiva just barely took the lead over Ghiradelli in search interest in the U.S. this past week.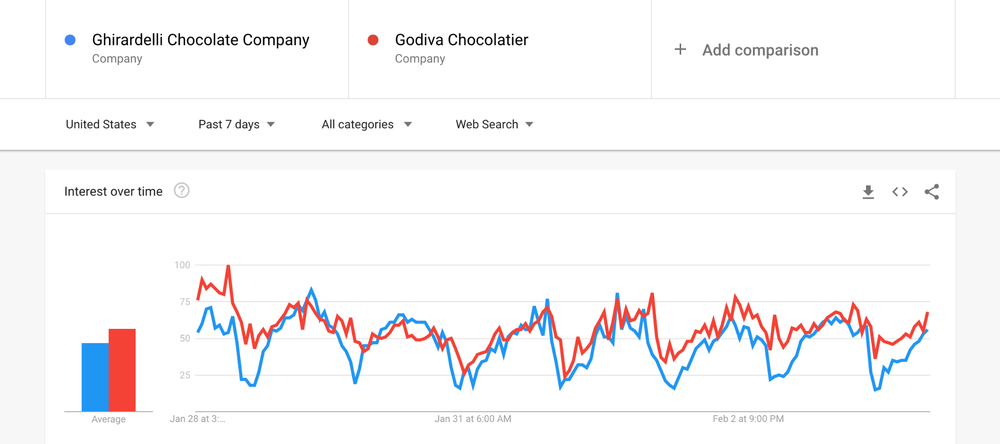 Also in the U.S., Google Maps searches for flower shops spike nearly 120% leading up to February 14. And if you're thinking about celebrating with a date night…maybe start planning early: In the U.S., February 13 marks the day people most use Google Maps to search for "romantic restaurants."
Comments Off
:Google Workspace, maps, search
more...
by Michelle Budzyna on Dec.14, 2021, under 3D Models, Argentina, Australia, Brazil, California, Denmark, England, Germany, Google Earth News, Google Earth Tips, Google Sky, Google maps, Hawaii, Indonesia, Ireland, Italy, Japan, Kenya, Mexico, Natural Landmarks, Netherlands, Sightseeing, Street Views, USA
I'm always looking for ways to be more sustainable. And with the holidays in full swing, when many of us (✋) are particularly overindulgent, it's a fitting time to start eco-friendlier traditions.
Here are a few ways you can embrace more green this holiday season, with help from Google.
Take the road less wasteful
Traveling for the holidays this year? It's easy to find more sustainable ways to get where you're going. Google Flights now shows estimated carbon emissions for every flight. And if you're hitting the road, Google Maps lets you choose the most fuel-efficient driving route if it's not already the fastest one. If you also need a place to crash (other than your parents' house), a quick Google search for hotels will show you information about their sustainability efforts.
Look up estimated carbon emissions on Google Flights.
Save (your) energy
It's tempting to keep the living room holiday lights on all night — not only because they're festive, but so you can avoid the tangled wires to turn them off. If you connect them to your Google Nest or Home speaker or display using a compatible smart plug, you can easily turn them off with your voice, conserving energy for both you and the planet. You can also set up a Routine so they automatically turn on and off at a specific time every day. While you're at it, save even more energy with a Home & Away Routine for your Nest thermostat to automatically adjust the heat at different points of the day, including when you're out of the house.
Recycle the old, in with the new
After the holidays, many of us are faced with mountains of boxes, wrapping paper and, oh yes, a tree. You may also need to make space for new gifts — like the Pixel 6 or Pixel 6 Pro?
Comments Off
:Google Nest, maps, search, Sustainability
more...
by Hema Budaraju on Dec.08, 2021, under 3D Models, Argentina, Australia, Brazil, California, Denmark, England, Germany, Google Earth News, Google Earth Tips, Google Sky, Google maps, Hawaii, Indonesia, Ireland, Italy, Japan, Kenya, Mexico, Natural Landmarks, Netherlands, Sightseeing, Street Views, USA
Every day, millions of people come to Google Search to ask important questions about their wellbeing. The COVID-19 pandemic drove even more concern for our health and the health of our loved ones – and this year, searches for ways to heal reached record highs. We saw questions about vaccinations, therapists, body positivity and mental wellbeing, to name a few. Today, we launched our annual Year in Search, which takes a look back at the top-trending searches of the year. Here's a glimpse into some of the trending searches of 2021, a year we looked for ways to feel better and heal together.
Finding resources near me
Across the world, people searched for information on COVID-19 vaccinations and testing. The top trending "near me" queries in 2021 were "covid vaccine near me" and "covid testing near me." To help people find credible, timely testing and vaccine information, we updated Google Search information panels, and worked with national and international partners to help people get vaccinated and tested.
Learning how to help
Helping ourselves and our communities was a priority for many of us. We asked questions about how to help others with anxiety and depression, and we also looked for help with our own mental wellbeing. Search interest for "therapists near me" hit record highs in 2021, and the phrase "why do I feel anxious for no reason" also hit an all-time high this year, spiking more than 400%. In addition to providing mental health resources and helplines, a quick Google Search also surfaces self-assessments to help you learn more about mental health topics like depression, anxiety, PTSD and postpartum depression.
Evaluating information effectively
Is it allergies or COVID? A sinus infection or COVID? Pfizer or Moderna? As many of us searched for health related information online, we wanted to know what we found was trustworthy. Connecting people with critical, timely and authoritative health information has been a crucial part of our role over the last year, and our team is constantly working to find ways to help people everywhere find credible and actionable information to help manage their health. To help people evaluate information online, we launched a new tool called About This Result, so you can learn more about the pages you see across a range of topics. About This Result helps people evaluate the credibility of sources, and decide which results are useful for them.
Search continues to be one of the first stops people make when making decisions, big and small, about their health — and so much more. To dive deeper into some of the other trending topics that defined 2021, visit yearinsearch.google/trends.
Comments Off
:Health, maps, search
more...
by Molly on Dec.04, 2021, under 3D Models, Argentina, Australia, Brazil, California, Denmark, England, Germany, Google Earth News, Google Earth Tips, Google Sky, Google maps, Hawaii, Indonesia, Ireland, Italy, Japan, Kenya, Mexico, Natural Landmarks, Netherlands, Sightseeing, Street Views, USA
As a native Oregonian, I thought living in California would be an incredible break from the nine months of rain I'd endured growing up. What I didn't realize was that 70-degree winters felt…wrong. Where were the mittens? The down jackets? The occasional snowy days? I've since moved back to the Pacific Northwest, and I've had a renewed appreciation for winter weather.
In fact, I enjoy the chilly months of the year so much, I've put together a few ways to make the most of the cold weather.
I love snowshoeing, and I always want to find new trails. I use Google Maps to look for mountain biking and hiking trails that are covered in snow in the winter. (Just look for the hiking icons, or the light dash lines that indicate trails.) If I come across a good one, I label it on Maps so I know how to get back.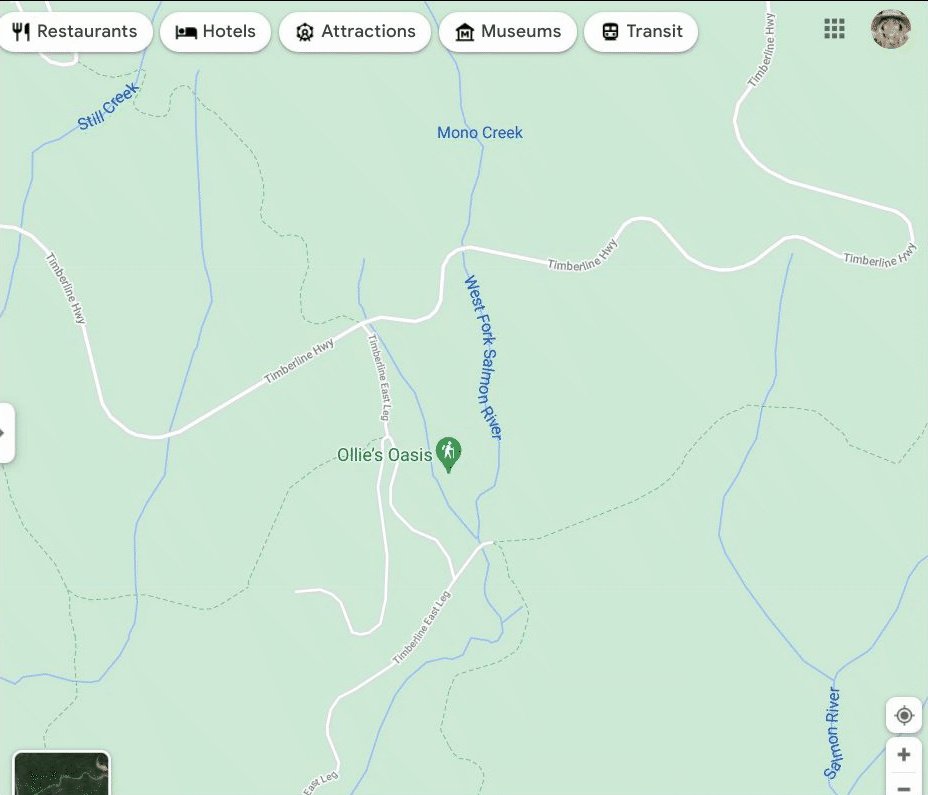 2. I'm a year-round runner, but once the temperature dips below 50 Fahrenheit and the roads get wet or icy, I need new gear — all of which I can find in one place using Google Shopping. You can select the Sports & Outdoors tab to browse — and turn on the deals filter for discounts.

3. And when I'm returning from a chilly run, I can use the Google Home app to turn on my Nest Thermostat before I get home, so I know I'm not wasting energy while I'm out and the house will be toasty when I come in. I also use Home & Away Routines so that Nest knows when I'm out and can adjust my temperature automatically.

4. OK fine, there's one downside of winter weather, and that's how early it gets dark. I use Google Assistant to notify me an hour before sunset so I can get outside for some sunshine before the sun goes down.

5. We've started cutting down our own Christmas tree, which is actually pretty easy to do. A quick Google Search for cutting down a tree on federal land will help you find a map (and how you can purchase a permit). Then you can just use Google Maps to take you to the right area.

6. If I'm feeling really adventurous and ready to hit the slopes, I'll check out the Explore tool on google.com/travel. I can set my home as the point of origin and then select "skiing" under the Interests filter and see what ski towns I can visit.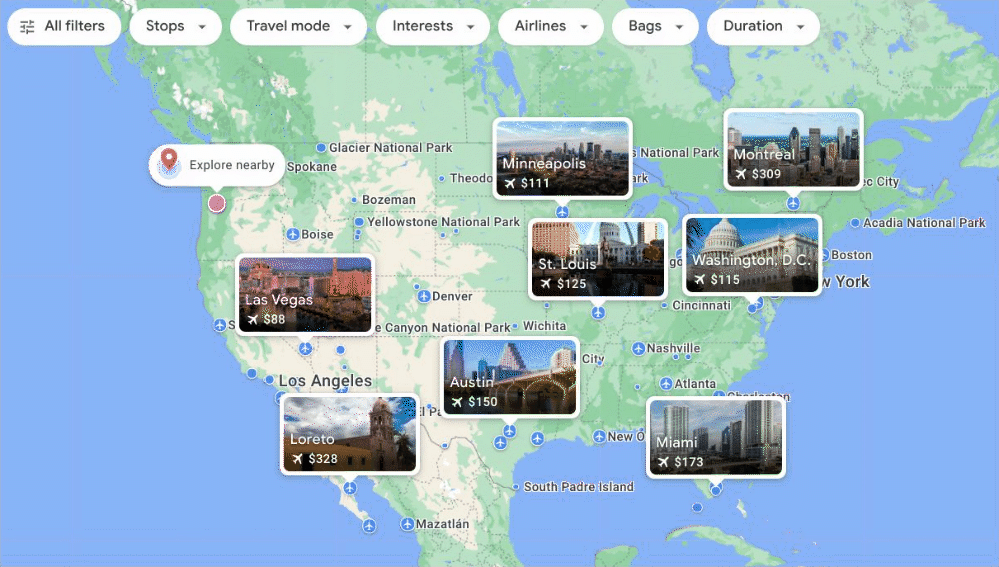 7. I love a good Google Alert to stay up to date on what's going on locally. Once November rolls around, I set one for "Oregon winter festivals."
8. Pixel cameras take incredible photos in dimly lit areas, so using Night Sight for shots of light displays or snowy nights is a no-brainer. And if you've already snagged a Pixel 6 or Pixel 6 Pro, those photos will look even better: The new Pixel camera lets in 2.5 times as much light as the Pixel 5, and you can try out the new Motion Mode setting to capture an artsy falling snow pic.
Comments Off
:Google Assistant, Google Nest, maps, Pixel, search, travel
more...
by Hema Budaraju on Dec.03, 2021, under 3D Models, Argentina, Australia, Brazil, California, Denmark, England, Germany, Google Earth News, Google Earth Tips, Google Sky, Google maps, Hawaii, Indonesia, Ireland, Italy, Japan, Kenya, Mexico, Natural Landmarks, Netherlands, Sightseeing, Street Views, USA
Navigating the U.S. healthcare system can be quite challenging, so it's no wonder three in four people turn to the internet first in their search for health information. By providing timely and authoritative health information, plus relevant resources and tools on Google Search, we're always exploring ways to help people make more informed choices about their health. Here are a few new ways we're helping.
New ways to find insurance information on Google
In the U.S., finding a doctor who accepts your health insurance is often a top priority. When searching for a specific provider, people can check which insurance networks that they might accept. And if they're searching for a new provider overall, on mobile, they're now able to filter providers nearby who accept Medicare — a health plan predominantly for people over the age of 65.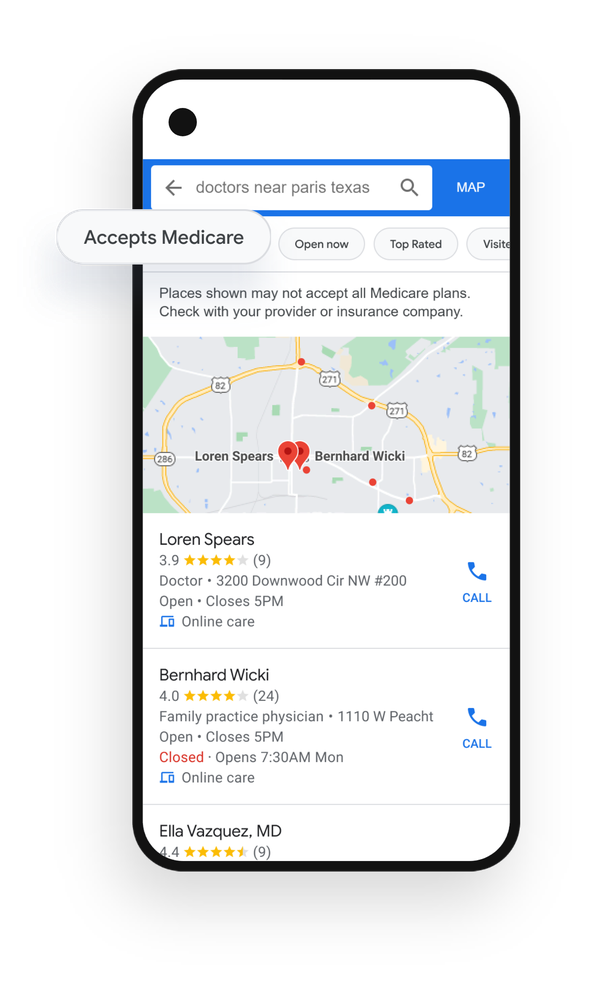 How providers can keep patients up to date
To help people get connected to the care they need, we're conducting checks to ensure details of local doctors are up to date, and giving all healthcare providers the ability to update their information by claiming and updating their Google Business Profile.
We continue to expand the features and tools that doctors can use to communicate about the services they offer. After claiming their profile, health professionals can edit and update information about their hours, services, and more.
Whether helping people find information to self-assess their symptoms for mental health conditions like depression or getting real time information of COVID-19 vaccine availability nearby, we continue to explore ways to connect people around the world to relevant and actionable information to better manage their health.
Comments Off
:Health, maps, search
more...
by Philipp Schindler on Nov.19, 2021, under 3D Models, Argentina, Australia, Brazil, California, Denmark, England, Germany, Google Earth News, Google Earth Tips, Google Sky, Google maps, Hawaii, Indonesia, Ireland, Italy, Japan, Kenya, Mexico, Natural Landmarks, Netherlands, Sightseeing, Street Views, USA
In Google's early days, around this time every year, a group of us would run to Costco and buy supplies to take to Bay Area food banks and pantries. It was a grassroots effort that was scrappy and meaningful — and it introduced a lot of Googlers to how rewarding giving back can be. It made me want to learn what more we could do to have an even bigger impact.
Inspired by our small and mighty food donation operation, I became a passionate supporter of Second Harvest Food Bank in Silicon Valley. And with guidance from food assistance experts, we established a dedicated team at Google in 2020 to work on tackling issues of food waste and food insecurity. Too many families are having to make difficult decisions no one should be forced to make: paying rent, bills, healthcare costs — or keeping food on their table. These challenges have only been compounded by the COVID-19 crisis, which has left more than 54 million working Americans struggling to find a meal. That's nearly 16% of the country.
Google co-founder Larry Page once said "people are starving in the world not because we don't have enough food. It's because we're not yet organized to solve that problem." The United Nations Food and Agriculture Organization (UNFAO) reports that the world produces more than we need to feed every person on this planet. This isn't a problem of supply, it's a problem of distribution. And while solving this issue will require work from government, businesses, nonprofits and individuals working together, one way Google can help is to give people easy access to the information they need, when they need it.
Helping people find food pantries
When you look at Google Search trends, you can see that searches for "food bank" and "food pantry" spike during the month of November.
Food banks have always been critical to making sure people have regular access to nutritious food, but the ongoing pandemic has drastically increased their role as a crucial lifeline in so many communities. With the need for their services doubling or even tripling in some areas, we want to make sure that the people who need them most can find them.
That's why we've launched a new initiative to expand the information about food banks and pantries in Google Search and Maps. We've augmented existing coverage with data from two initial nonprofit partners: WhyHunger and Hunger Free America, and we've added information to make sure people searching for food support can find what they need. These changes are being made directly in Google Maps so food banks, food pantries and soup kitchens can focus on what matters most — getting people food.
Still, some of these locations don't yet have websites or phone numbers available on Google. So over the last two months, we've worked to update this information in Search and Maps, making 85,000 plus calls to verify local food banks and pantries. These efforts will continue through the holidays.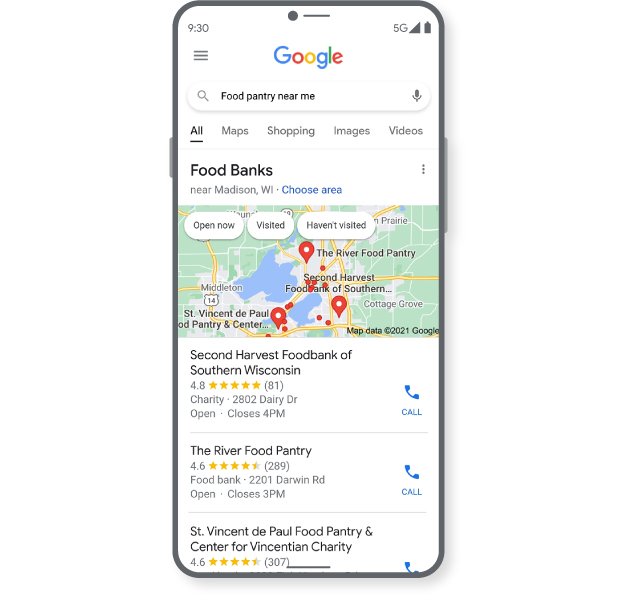 We've also developed new Google Business Profile features specifically for food banks, pantries and soup kitchens. They can now provide details on their profile, like whether an appointment is needed, if there are eligibility requirements to receive food and what languages are spoken. They can also add information about their services, like whether prepared meals are available or if grocery delivery is an option. Additionally, pantries can specify whether they're accepting new volunteers or soliciting food or monetary donations.
Helping people access benefits
Beyond working with food pantries, we're also helping people use Search to find out how to get and use food assistance benefits.
Federal programs like the Supplemental Nutrition and Assistance Program (SNAP) feed more than 40 million Americans each year. We heard from users that information about these programs is often hard to find, especially for people who are using them for the first time. Today, if you search on Google for "SNAP benefits," or the name of your local SNAP program, you'll find direct links to each state's eligibility guidelines and application process, including contact information for local food assistance agencies.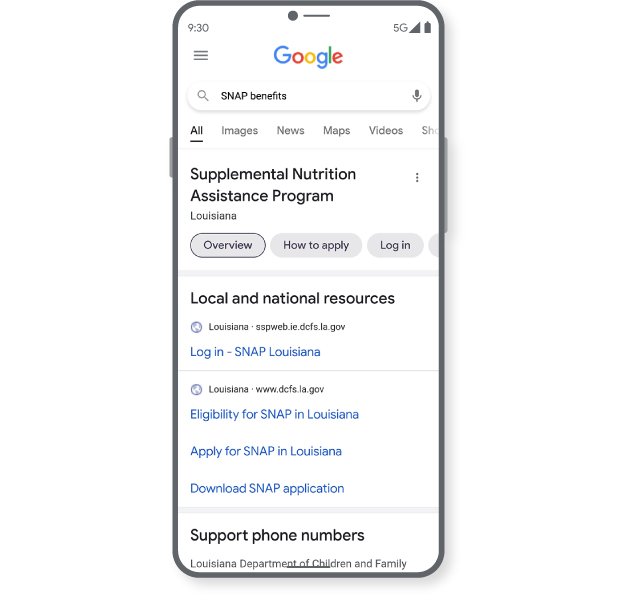 Once approved, many people use Electronic Benefits Transfer cards (also known as EBT) to pay for their groceries. Now, if you search for "grocery stores that accept EBT" you can easily find USDA-approved stores that accept this form of payment — saving time and potential confusion.
Supporting hunger relief organizations – and the communities they serve
I'm also proud to announce that we're contributing financial support as well. Since the COVID-19 crisis began, Googlers have stepped up – giving more than $22 million in personal donations and company-match to hunger relief organizations in the U.S. Today, Google is contributing an additional $2 million in support ($1 million in cash funding and $1 million in donated ads from Google.org) to 20 food banks, pantries and innovative hunger relief organizations across the country.
There is no easy solution to these large-scale challenges that face our communities, but I'm hopeful that increasing access to information about local food support programs and services can help. Our teams are hard at work and committed to building new tools and features that support economic recovery in the U.S. – and around the world – as we weather the COVID-19 crisis. And I personally am really looking forward to getting back to sorting and distributing food with my family at our local food bank.
You can make an impact by volunteering your time, making a donation, using your voice, or a combination of each — there are a number of ways we can all give back. If you need a place to start, you can donate to the largest national network of food banks, Feeding America. Or you can get involved locally: just search for your nearest food pantry on Google and contact them to see what they need. And if you know someone who might need food assistance, you can simply help by sharing resources. Spreading the word not only about what you're doing to help, but why can make a huge difference.
Comments Off
:Google.org, maps, search
more...
by Anita Yuen on Nov.04, 2021, under 3D Models, Argentina, Australia, Brazil, California, Denmark, England, Germany, Google Earth News, Google Earth Tips, Google Sky, Google maps, Hawaii, Indonesia, Ireland, Italy, Japan, Kenya, Mexico, Natural Landmarks, Netherlands, Sightseeing, Street Views, USA
Whether it's searching for the perfect gift or looking for a contractor to remodel that bathtub, consumers are increasingly turning to calls and chat to interact with merchants. People want to communicate with businesses to help them make more informed decisions, and this trend is continuously accelerating. That's why we're introducing new features that'll help business owners make the most of their interactions with customers on Google Search and Maps.
Learn more about the calls you receive from Google
People often value the immediacy and personal connection of a phone call, and we know this directly impacts merchants' businesses. For example, Nedra Flansberg, the owner of Posh Brides and Grooms based in Carlsbad CA, told us that 50% of her customers come from Google. To help build connections between customers and millions of merchants like Nedra, we're launching call history for all U.S. and Canadian merchants with verified Business Profiles. With call history, you can easily see which inbound customer calls came from your Business Profile and review helpful analytics on inbound call performance.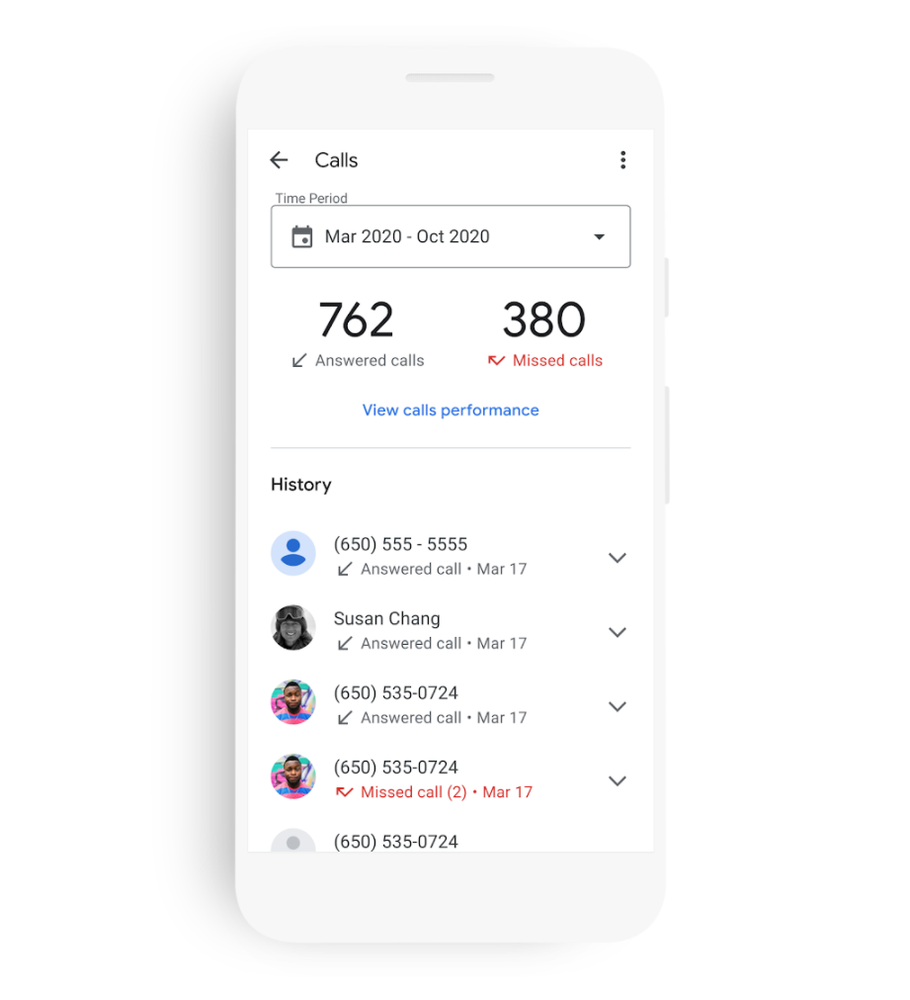 Quickly respond to customers on your Business Profile
Another valuable way consumers engage with merchants is by chatting with them. More and more people are turning to chat conversations with merchants of all sizes, ranging from small businesses to global merchants like Levi's. With business messaging, Levi's was able to resolve 30x more store related questions and saw a 31% increase in product related conversations. Merchants tell us they want to improve their interactions with customers, so we're announcing a few new features to help them do just that.
Last year, we added functionality so you can chat with customers directly on Google Maps. Now, you can also see and respond to messages right from your Business Profile on Google Search.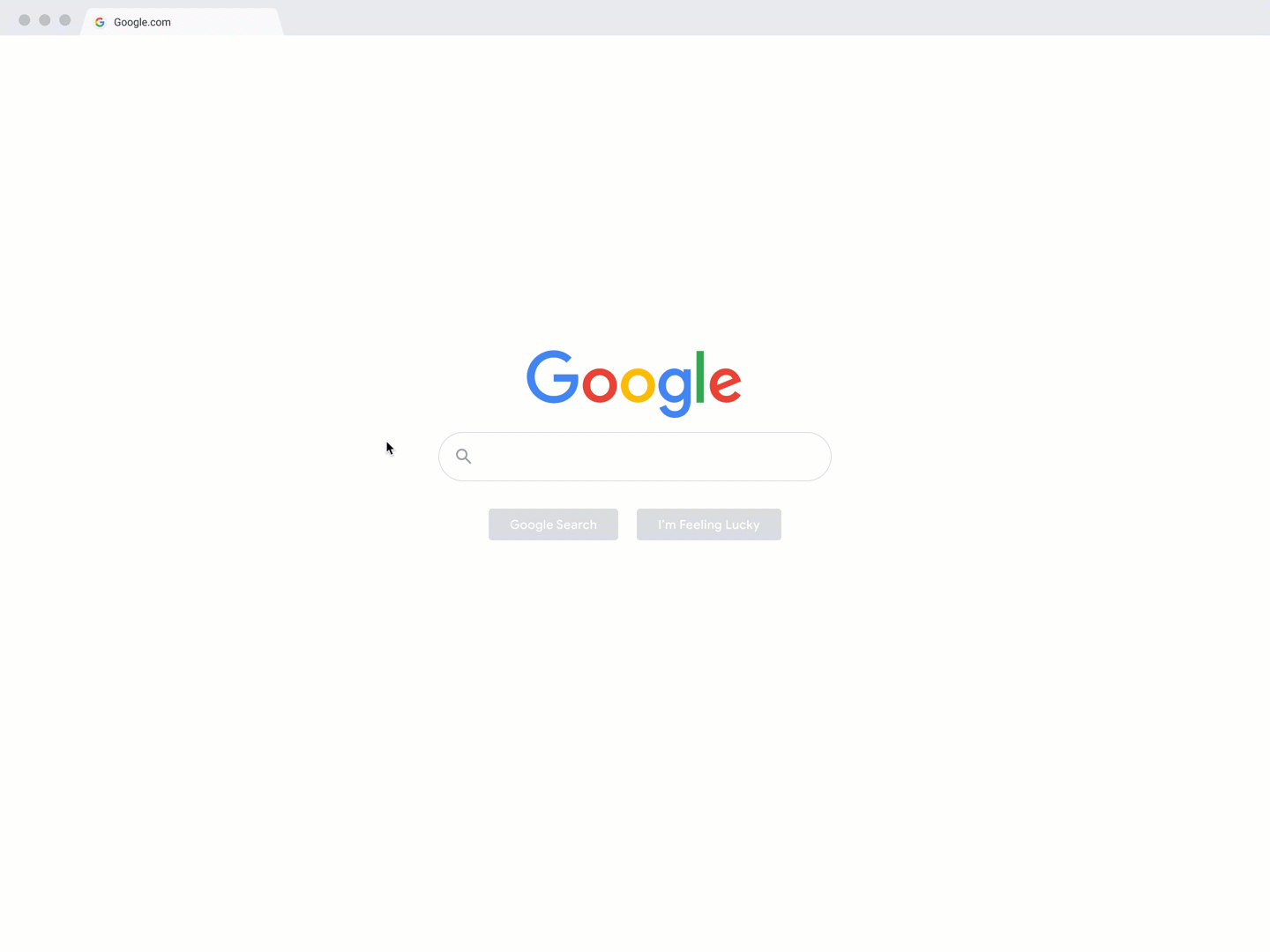 It's also helpful to know the recipient got your message on chat. With read receipts, both parties know whether their messages were seen. This feature is launching for all Business Profile merchants this month, further enriching the chat experience for customers and businesses.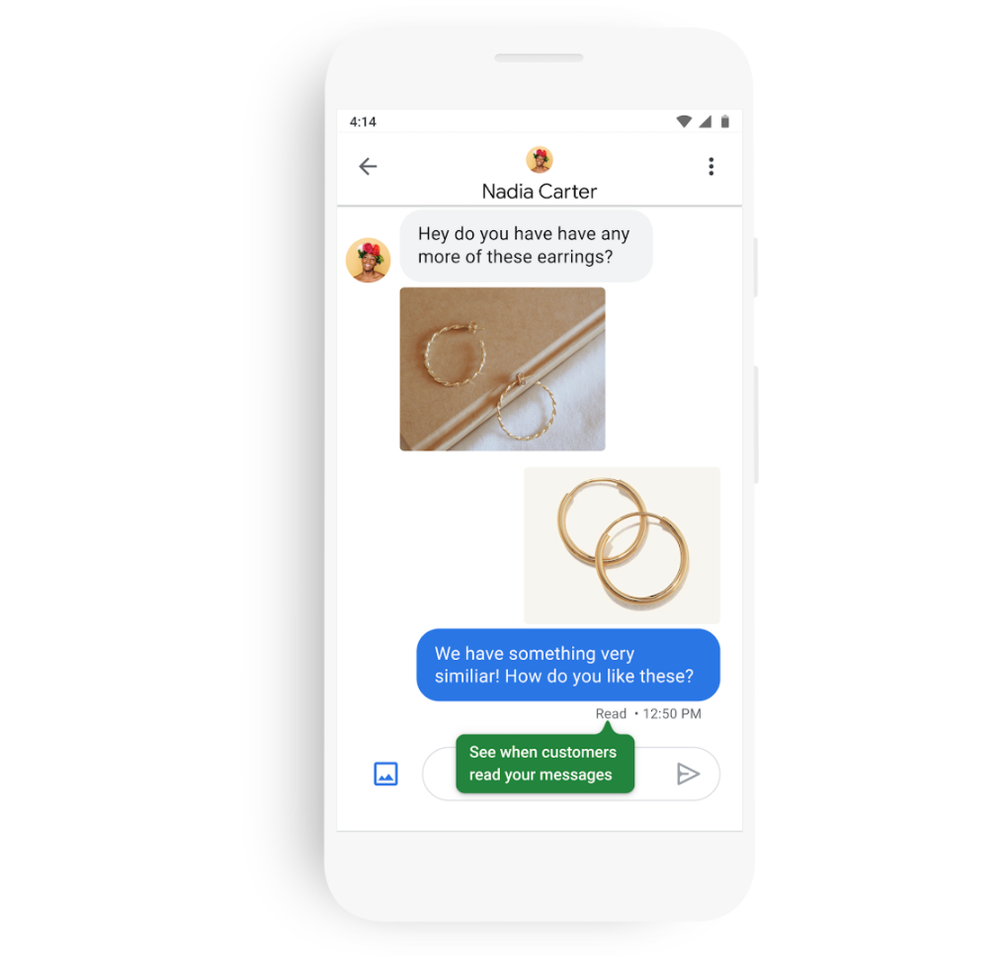 As businesses prepare for another busy holiday season, and customers increasingly turn to calls and chat to interact with businesses, we look forward to helping foster even more meaningful interactions and giving merchants more tools to succeed.
Comments Off
:maps, search, Small Business
more...
by Jack O'Lantern on Oct.07, 2021, under 3D Models, Argentina, Australia, Brazil, California, Denmark, England, Germany, Google Earth News, Google Earth Tips, Google Sky, Google maps, Hawaii, Indonesia, Ireland, Italy, Japan, Kenya, Mexico, Natural Landmarks, Netherlands, Sightseeing, Street Views, USA
The smell of pumpkin spice is in the air, which means it's about time to bust out the costumes, stock up on some candy and carve a pumpkin or two. If you need a little inspiration, look no further than these spooky Search and Maps trends we collected.
Pumpkin to Search about
Whether you plan on spending the day watching Halloween classics or trick-or-treating in a clever costume, we've got Search trends to give you some ideas. (Be sure to also check out our annual Frightgeist for the most-searched Halloween costumes across the U.S.)
Most-searched Halloween movies over the past week in the U.S.
Halloween (1978)
Friday the 13th
Hocus Pocus
A Nightmare on Elm Street
Halloweentown
Already seen these? Grab the popcorn (or the candy corn) and virtually explore the filming locations of your favorite cult classics on Google Earth.
Moving on to costumes! Picking the right outfit — whether it's just for you, a group or your furry friend — is important. Here are the costume searches that have been trending this week in the U.S.
Trending Halloween costumes:
Squid Game
Gorilla
Britney Spears
Carnage
Venom
Trending couples costumes:
Trixie and Timmy Turner
Bonnie and Clyde
Skid and Pump
Mr. and Mrs. Smith
Cosmo and Wanda
Trending dog costumes:
Squid Game
Race car
Vampire
Donkey
Lobster
If you still aren't sure what to wear, you can ask Google Assistant for some last-minute costume ideas, too. Just say "Hey Google, what should I be for Halloween?"
Maybe you'd prefer to boo-rowse aisles IRL without a crowd. We checked the most popular times on Google Maps to visit costume shops across the U.S. and found they're at their busiest on Saturday and Sunday around 2 p.m., and least busy before 2 p.m. on Monday and Tuesday.
But, beware! Last-minute shoppers might be in for a scare. Google Maps searches for costume stores in the U.S. peaked on Halloween day last year — nearly doubling from the week before, and nearly tripling from October 10th. So get your costume and accessory shopping done early for the best chance of finding what you're looking for.
For those interested in refreshments or snacks to follow all that trick-or-treating, you can see which Halloween drinks are being searched for by state. And of course, everyone has to know what their state prefers: candy corn or M&Ms?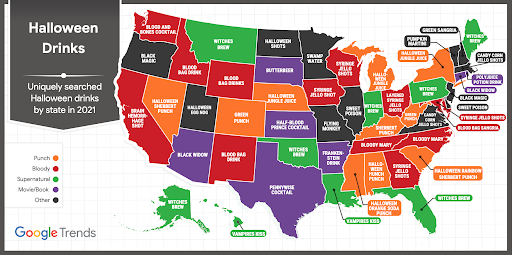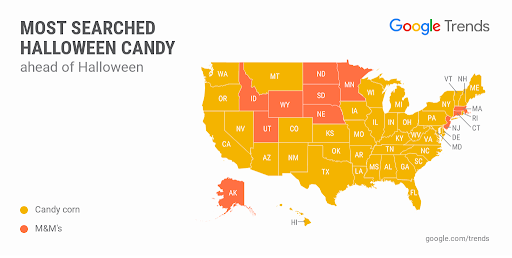 What unlocks a haunted house? A spoo-key
Of course, Halloween isn't only about get-togethers and candy — some of us enjoy a little scare. Head over to the Google Maps guide to Halloween and check out Local Guide Kimbra Kasch's favorite spooky spots. And Kimbra should know: She grew up in a haunted house in Portland, Oregon!
Google Maps' guide also has plenty of other places to discover for the fall festivities, so be sure to take a look.
Comments Off
:Google Assistant, Google Nest, maps, search
more...
by Prabhakar Raghavan on Sep.30, 2021, under 3D Models, Argentina, Australia, Brazil, California, Denmark, England, Germany, Google Earth News, Google Earth Tips, Google Sky, Google maps, Hawaii, Indonesia, Ireland, Italy, Japan, Kenya, Mexico, Natural Landmarks, Netherlands, Sightseeing, Street Views, USA
Today, there's more information accessible at people's fingertips than at any point in human history. And advances in artificial intelligence will radically transform the way we use that information, with the ability to uncover new insights that can help us both in our daily lives and in the ways we are able to tackle complex global challenges.
At our Search On livestream event today, we shared how we're bringing the latest in AI to Google's products, giving people new ways to search and explore information in more natural and intuitive ways.
Making multimodal search possible with MUM
Earlier this year at Google I/O, we announced we've reached a critical milestone for understanding information with Multitask Unified Model, or MUM for short.
We've been experimenting with using MUM's capabilities to make our products more helpful and enable entirely new ways to search. Today, we're sharing an early look at what will be possible with MUM. 
In the coming months, we'll introduce a new way to search visually, with the ability to ask questions about what you see. Here are a couple of examples of what will be possible with MUM.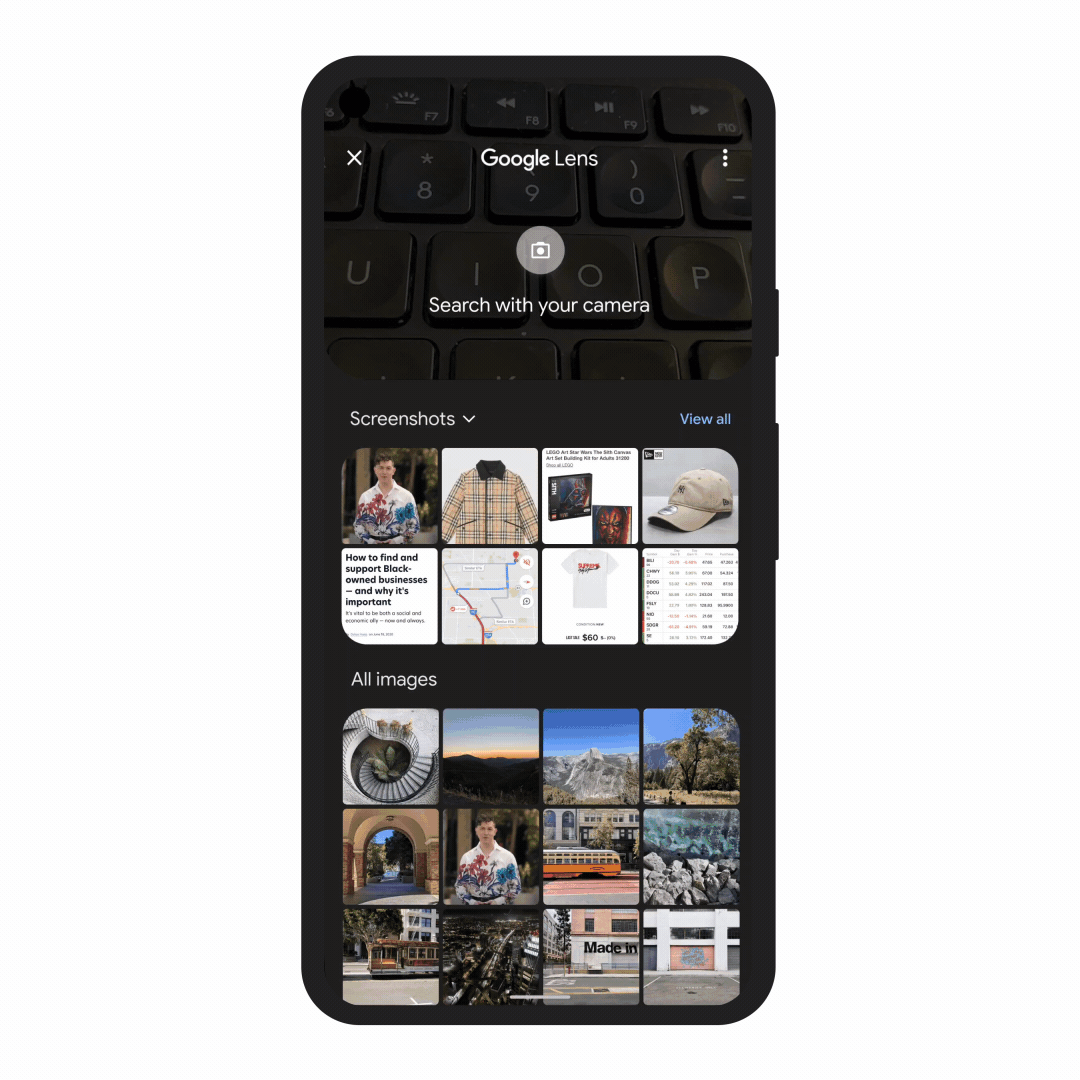 With this new capability, you can tap on the Lens icon when you're looking at a picture of a shirt, and ask Google to find you the same pattern — but on another article of clothing, like socks. This helps when you're looking for something that might be difficult to describe accurately with words alone. You could type "white floral Victorian socks," but you might not find the exact pattern you're looking for. By combining images and text into a single query, we're making it easier to search visually and express your questions in more natural ways.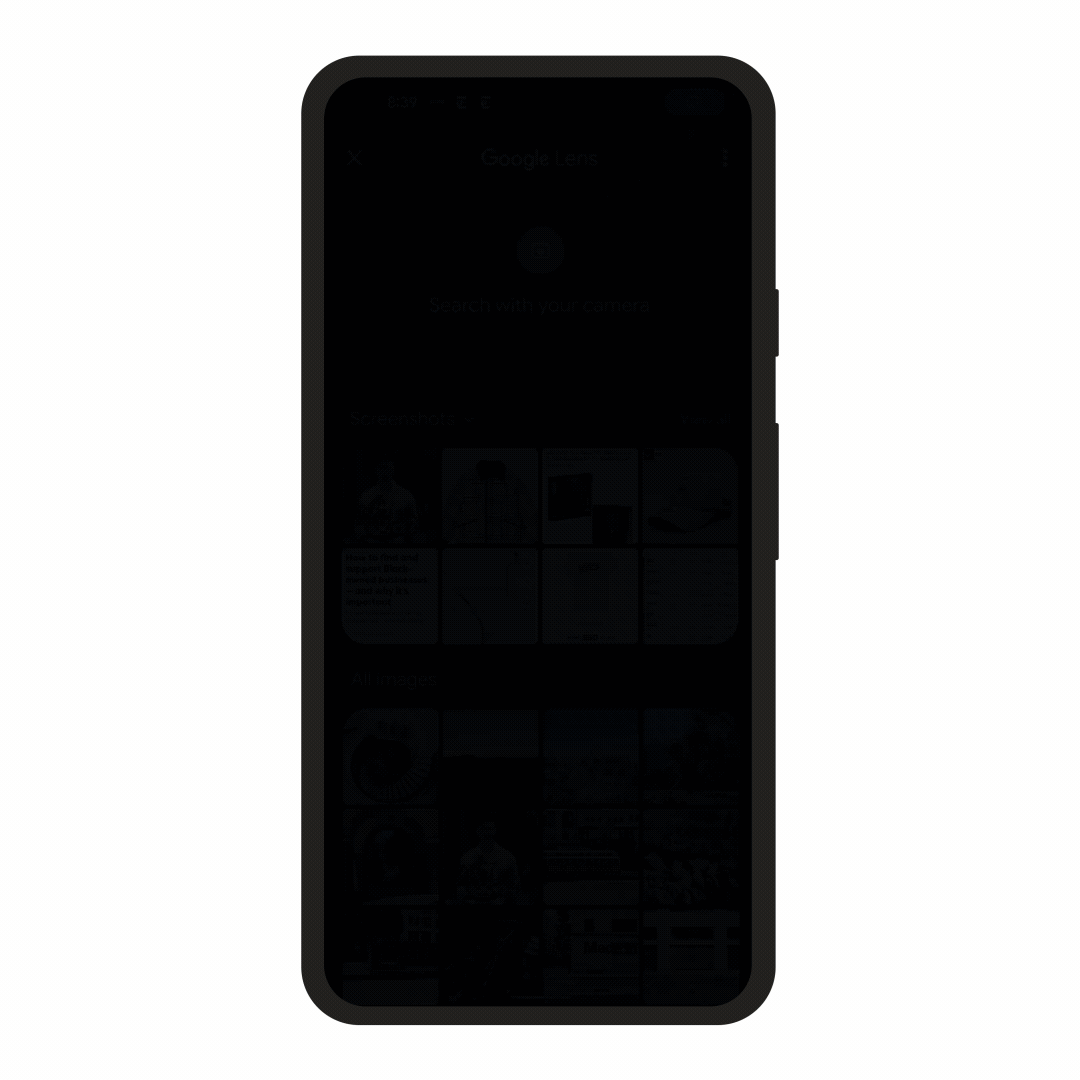 Some questions are even trickier: Your bike has a broken thingamajig, and you need some guidance on how to fix it. Instead of poring over catalogs of parts and then looking for a tutorial, the point-and-ask mode of searching will make it easier to find the exact moment in a video that can help.
Helping you explore with a redesigned Search page

We're also announcing how we're applying AI advances like MUM to redesign Google Search. These new features are the latest steps we're taking to make searching more natural and intuitive.
First, we're making it easier to explore and understand new topics with "Things to know." Let's say you want to decorate your apartment, and you're interested in learning more about creating acrylic paintings.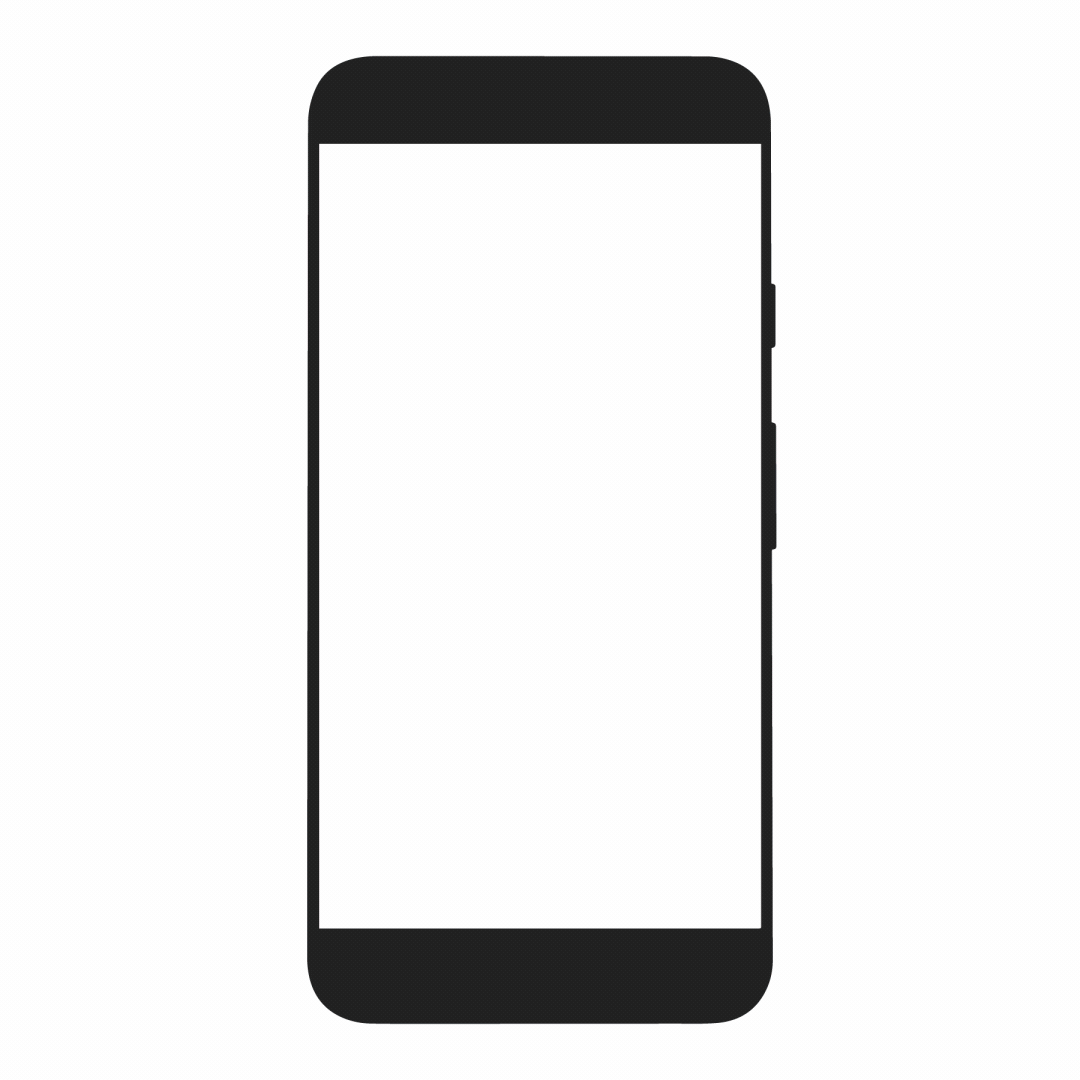 If you search for "acrylic painting," Google understands how people typically explore this topic, and shows the aspects people are likely to look at first. For example, we can identify more than 350 topics related to acrylic painting, and help you find the right path to take.
We'll be launching this feature in the coming months. In the future, MUM will unlock deeper insights you might not have known to search for — like "how to make acrylic paintings with household items" — and connect you with content on the web that you wouldn't have otherwise found.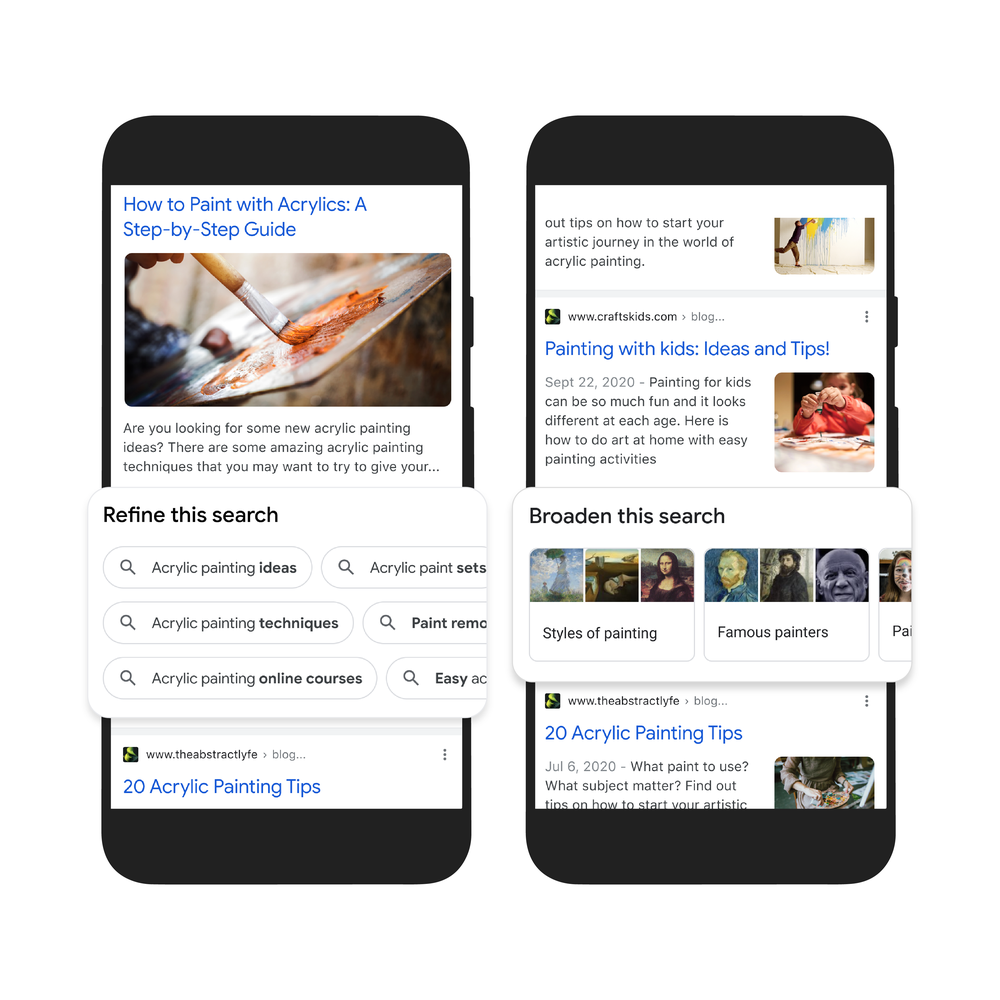 Second, to help you further explore ideas, we're making it easy to zoom in and out of a topic with new features to refine and broaden searches. 
In this case, you can learn more about specific techniques, like puddle pouring, or art classes you can take. You can also broaden your search to see other related topics, like other painting methods and famous painters. These features will launch in the coming months.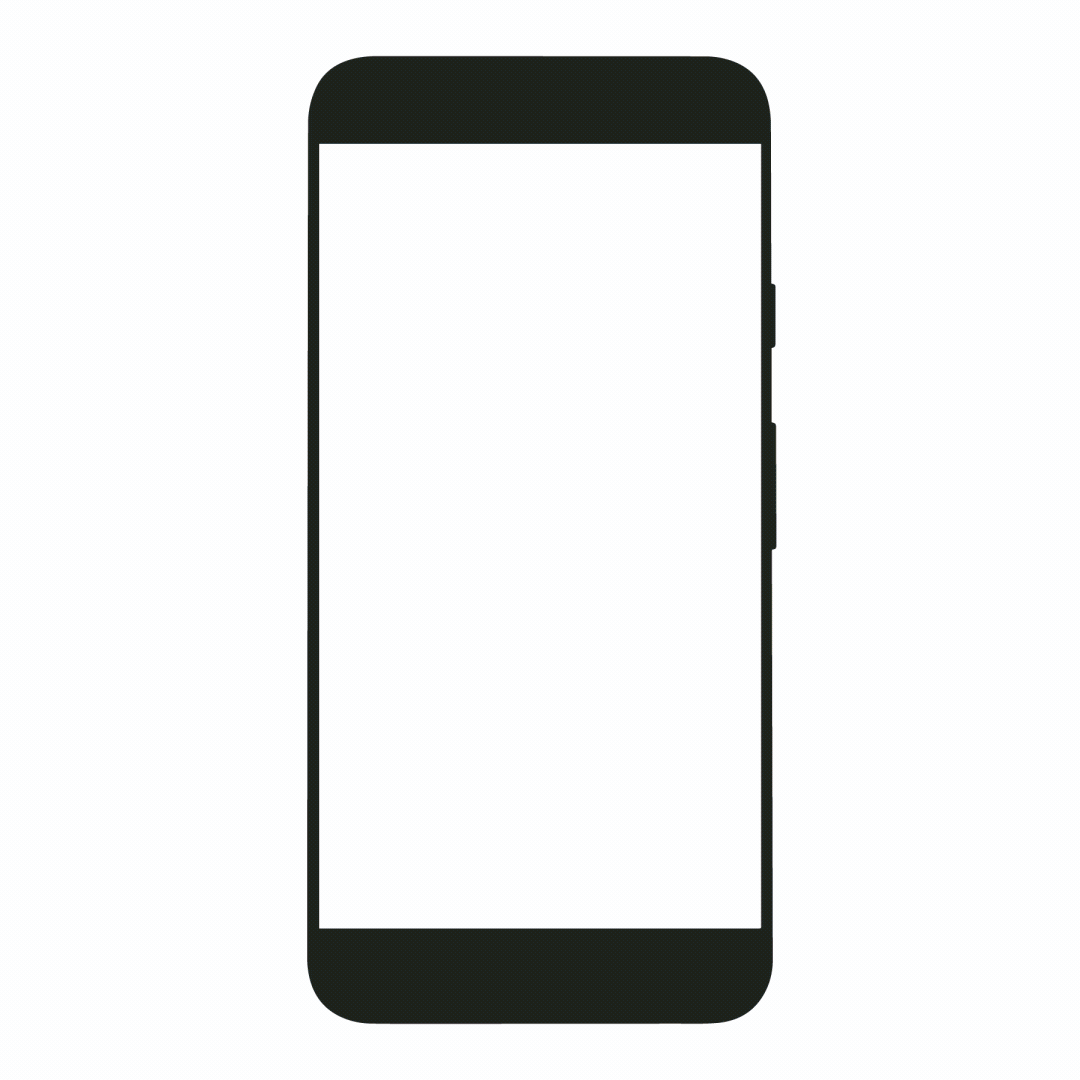 Third, we're making it easier to find visual inspiration with a newly designed, browsable results page. If puddle pouring caught your eye, just search for "pour painting ideas" to see a visually rich page full of ideas from across the web, with articles, images, videos and more that you can easily scroll through. 
This new visual results page is designed for searches that are looking for inspiration, like "Halloween decorating ideas" or "indoor vertical garden ideas," and you can try it today.


Get more from videos

We already use advanced AI systems to identify key moments in videos, like the winning shot in a basketball game, or steps in a recipe. Today, we're taking this a step further, introducing a new experience that identifies related topics in a video, with links to easily dig deeper and learn more. 
Using MUM, we can even show related topics that aren't explicitly mentioned in the video, based on our advanced understanding of information in the video. In this example, while the video doesn't say the words "macaroni penguin's life story," our systems understand that topics contained in the video relate to this topic, like how macaroni penguins find their family members and navigate predators. The first version of this feature will roll out in the coming weeks, and we'll add more visual enhancements in the coming months.
Across all these MUM experiences, we look forward to helping people discover more web pages, videos, images and ideas that they may not have come across or otherwise searched for. 


A more helpful Google
The updates we're announcing today don't end with MUM, though. We're also making it easier to shop from the widest range of merchants, big and small, no matter what you're looking for. And we're helping people better evaluate the credibility of information they find online. Plus, for the moments that matter most, we're finding new ways to help people get access to information and insights. 
All this work not only helps people around the world, but creators, publishers and businesses as well.  Every day, we send visitors to well over 100 million different websites, and every month, Google connects people with more than 120 million businesses that don't have websites, by enabling phone calls, driving directions and local foot traffic.
As we continue to build more useful products and push the boundaries of what it means to search, we look forward to helping people find the answers they're looking for, and inspiring more questions along the way.
Comments Off
:AI, maps, search, Shopping
more...
by Ramiro Cavazos on Sep.28, 2021, under 3D Models, Argentina, Australia, Brazil, California, Denmark, England, Germany, Google Earth News, Google Earth Tips, Google Sky, Google maps, Hawaii, Indonesia, Ireland, Italy, Japan, Kenya, Mexico, Natural Landmarks, Netherlands, Sightseeing, Street Views, USA
Ver abajo versión en español

At the United States Hispanic Chamber of Commerce, which I have the honor to lead as president and CEO, helping Latino-owned businesses succeed is at the center of our mission. Our responsibility to the more than 4.7 million Latino-owned businesses and our growing network of 260 local chambers and business associations nationwide is to pursue and advocate for inclusive economic growth and development that build shared prosperity.
We represent the fastest-growing group of entrepreneurs in the U.S., and we don't take that responsibility lightly. The number of Latino business owners has grown by 34% over the last 10 years compared to just 1% for all other businesses, according to a recent study by the Stanford Latino Entrepreneurship Initiative, and much of this growth has been driven by Latinas. These new businesses are invigorating, highlight our potential and are what motivates me everyday.
In 2020, with the arrival of the COVID-19 pandemic, our chambers became emergency rooms for small businesses. We quickly mobilized and awarded hundreds of thousands of dollars in grants directly to Latino owners and our local chambers to provide assistance. These funds were a lifeline for Latino businesses to keep the lights on, make payroll, rent and meet other critical needs.
We also provided technical assistance, established online resource hubs in English and in Spanish and graduated more than 200 Latino-owned small businesses through our accelerator program.
Last year was also our most active year in Washington, D.C. We raised $850 billion to provide assistance for our Latino small business members. We advocated for access to the Paycheck Protection Program (PPP) for both Latino-owned businesses and 501(c) (6) Chambers of Commerce.
As we take a moment to reflect on our progress to date, we have our eyes on the future. There is no denying that the world has dramatically changed, and we need to adapt and thrive, not just to survive. And technology is driving change forward faster than ever before.
We got a glimpse of the transformational power of technology through our partnership with Google last year. We collaborated to provide extra funding and Grow with Google curriculum support to 40 of our chambers across the country. Together, we trained 10,000 Latino small businesses and the initial results and impact we've seen is truly remarkable.
Google and the United States Hispanic Chamber of Commerce share a deep commitment to economic opportunity, development and advocacy for Latinos. This is why today, we are sharing that Google will be making a $5 million investment in Latino-owned businesses and community organizations.  Together we are also unveiling a new Latino-owned attribute that will be available across Google Search, Maps and Shopping. All this is part of Google's $15 million investment in economic equity for Latinos.
Building more resilient Latino businesses
Today, we are deepening our partnership with Google with an additional investment that will allow us to create Grow with Google digital resource centers and train an additional 10,000 Latino business owners on how to use digital tools to grow their business. This work is critical to setting up Latino business owners for success for the long haul. These new skills, training and resources will help them be competitive in today's digital economy and allow us to help aspiring entrepreneurs to think digital-first. 
Google.org is also providing funding to support the Latino Community Foundation's Entrepreneurship Fund, an initiative that strengthens Latino-led small businesses and micro-entrepreneurs across California. It will directly invest in 150+ micro-entrepreneurs to support the tireless work of street vendors, cleaning services, landscapers, childcare providers and other micro-entrepreneurs. For Latino-owned businesses, running a business is often a family affair, and the Entrepreneurship Fund will increase and improve the online presence for Latino-owned small restaurants through the creation of websites and social media accounts designed and managed by youth participating in tech skills building programs.
This is in addition to Google's ongoing support of nonprofits through $3 million in donated ads to Latino organizations. This includes the Hispanic Access Foundation, which uses Google.org's support to advertise internships for Latino college students, fundraise for DACA fee scholarships, and more — all in service of enabling more Latinos in the U.S. to achieve economic success.
Identify and buy from Latino-owned businesses
Today, we are partnering with Google to unveil a Latino-owned attribute that will be available on Search, Maps and Shopping, in the coming weeks, so businesses can easily identify as Latino-owned on Google. This update builds on the Black-owned, Veteran-owned and Women-owned business attributes, and is another way people can support diverse businesses across Google's products and platforms.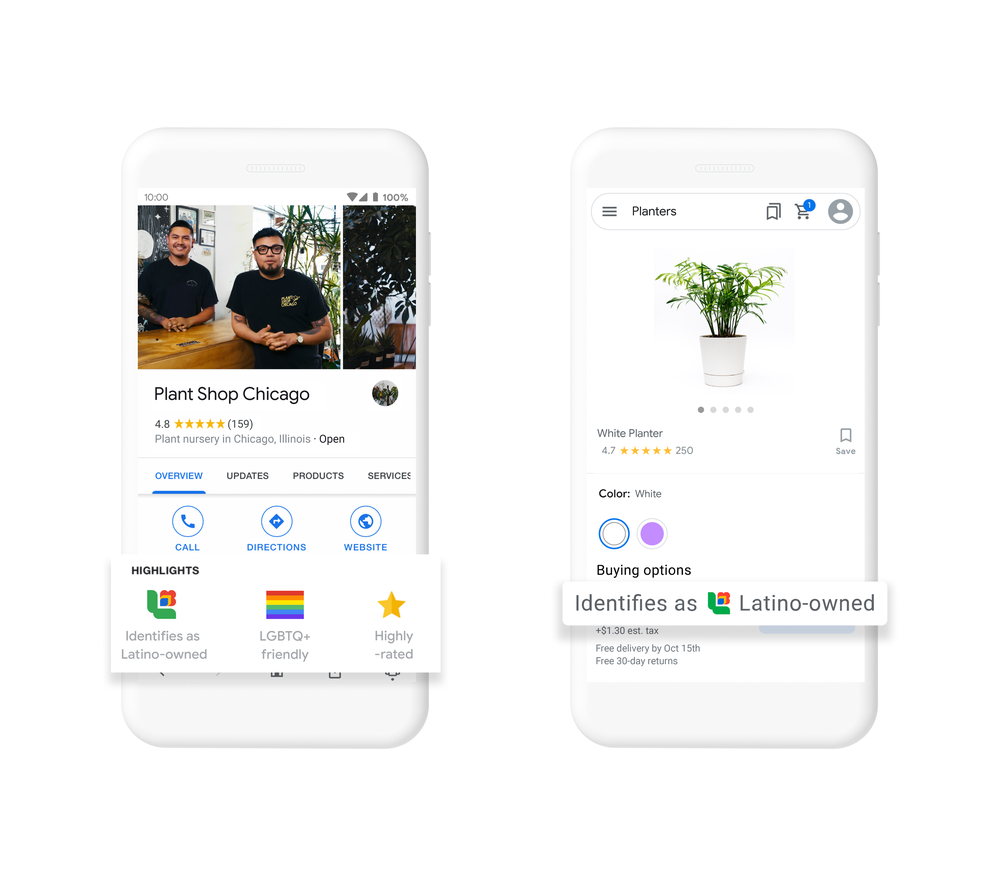 For more than 20 years, Google has been at the forefront of democratizing access for all —  it's one of its core values. Underrepresented groups have been beneficiaries of that mission, which is still alive today. This is why we deeply believe Google's open platforms, digital training, tools and resources are critical to advancing economic equity for the Latino community.  
Today's investments and product updates will provide our members, chambers and our communities a much needed boost. We are glad to help spotlight Latino-owned businesses in a new light, showcase our resilient spirit and invoke action. We are energized by our momentum and are eager to get back to business. I believe our future is bright - and today thanks to Google, it's a little brighter.
Abriendo caminos: Nuevos caminos para las empresas de propietarios latinos

Google y la Cámara de Comercio Hispana de los Estados Unidos (United States Hispanic Chamber of Commerce) se asocian para ofrecer un atributo de propietarios latinos en Búsqueda (Search), Maps, y Shopping, además de nuevo apoyo financiero y capacitación en habilidades para propietarios de empresas latinas y organizaciones sin fines de lucro. 
En la Cámara de Comercio Hispana de los Estados Unidos, donde tengo el honor de dirigir como presidente y director ejecutivo, ayudar a las empresas latinas a tener éxito está al centro de nuestra misión. Nuestra responsabilidad con las más de 4.7 millones de empresas de propietarios latinos y nuestra creciente red de 260 cámaras locales y asociaciones comerciales en todo el país es buscar y abogar por el crecimiento y el desarrollo económico que construya la prosperidad compartida.
Representamos al grupo de emprendedores de más rápido crecimiento en los Estados Unidos y no nos tomamos esa responsabilidad a la ligera. El número de propietarios de negocios latinos ha crecido en un 34% en los últimos 10 años en comparación con solo el 1% de todos los demás negocios, según un estudio reciente de Stanford Latino Entrepreneurship Initiative, y gran parte de este crecimiento ha sido impulsado por latinas. Estos nuevos negocios son estimulantes, resaltan nuestro potencial y son lo que me motiva todos los días.
En 2020, con la llegada de la pandemia COVID-19, nuestras cámaras se convirtieron en salas de emergencia para pequeñas empresas. Rápidamente nos movilizamos y otorgamos cientos de miles de dólares en subvenciones directamente a pequeñas empresas de propietarios latinos y nuestras cámaras locales para brindar asistencia. Estos fondos fueron un salvavidas para las empresas latinas para mantener las luces encendidas, pagar nóminas, renta y satisfacer otras necesidades críticas.
También brindamos asistencia técnica, establecimos centros de recursos en línea en inglés y en español y graduamos a más de 200 pequeñas empresas latinas a través de nuestro programa acelerador de pequeñas empresas. 
El año pasado también fue nuestro año más activo en Washington, D.C. Recaudamos $850 mil millones de dólares para brindar asistencia a nuestros miembros latinos de pequeñas empresas. Abogamos por el acceso al Programa de Protección de Cheques de Pago (PPP) tanto para las empresas propiedad de latinos como para las Cámaras de Comercio 501 (c) (6).
Mientras nos tomamos un momento para reflexionar sobre nuestro progreso hasta la fecha, tenemos la mirada puesta en el futuro. No se puede negar que el mundo ha cambiado drásticamente y que necesitamos adaptarnos y prosperar, no solo para sobrevivir. Y la tecnología está impulsando el cambio más rápido que nunca.
Pudimos vislumbrar el poder transformador de la tecnología a través de nuestra asociación con Google el año pasado. Colaboramos para proporcionar financiación adicional y curriculum de Grow with Google a 40 de nuestras cámaras en todo el país. Juntos, capacitamos a 10,000 pequeñas empresas latinas y los resultados iniciales y el impacto que hemos visto son realmente notables.
Google y la Cámara de Comercio Hispana de los Estados Unidos comparten un profundo compromiso con las oportunidades económicas, desarrollo y abogacía para latinos. Es por eso que hoy compartimos que Google realizará una inversión de $5 millones de dólares en la comunidad empresarial de propietarios latinos y organizaciones comunitarias. Juntos estamos presentando un nuevo atributo de propietarios latinos que estará disponible en la Búsqueda de Google, Maps y Shopping. Todo esto es parte de la inversión de $15 millones de dólares de Google en equidad económica para latinos.
Construyendo negocios latinos más resilientes
Hoy, estamos profundizando nuestra asociación con Google con una inversión adicional que nos permitirá crear centros de recursos digitales Grow with Google y capacitar a 10,000 propietarios de negocios latinos adicionales sobre cómo usar herramientas digitales para hacer crecer su negocio. Este trabajo es fundamental para que los empresarios latinos tengan éxito a largo plazo. Estas nuevas habilidades, capacitación y recursos los ayudarán a ser competitivos en la economía digital actual y nos permitirán ayudar a los aspirantes emprendedores a pensar primero en lo digital. 
Google.org también está proporcionando fondos para apoyar el Fondo de Emprendimiento (Entrepreneurship Fund) del Latino Community Foundation, una iniciativa que fortalece a las pequeñas empresas y microempresarios liderados por latinos en todo California. Invertirá directamente en más de 150 microempresarios para apoyar el trabajo incansable de los vendedores ambulantes, servicios de limpieza, jardineros, proveedores de cuidado infantil y otros microempresarios. Para las empresas de propietarios  latinos, administrar una empresa es a menudo un asunto familiar, y el Fondo de Emprendimiento aumentará y mejorará la presencia en línea de los pequeños restaurantes de propietarios latinos a través de la creación de sitios web y cuentas de redes sociales diseñadas y administradas por jóvenes que participan en programas que forman sus habilidades tecnológicas.
Esto, en adición al apoyo continuo de Google a las organizaciones sin fines de lucro a través de $3 millones de dólares en anuncios donados a organizaciones latinas. Esto incluye la Hispanic Access Foundation
https://hispanicaccess.org/
, que utiliza el apoyo de Google.org para anunciar prácticas para estudiantes universitarios latinos, recaudar fondos para becas que cubren los costos  de DACA y más — todo al servicio de permitir que más latinos en los Estados Unidos logren el éxito económico.
Identificar y comprar en empresas de propiedad de latinos
Hoy, nos asociamos con Google para anunciar un atributo de propietarios latinos que estará disponible en la Búsqueda, Maps y Shopping en las próximas semanas, para que las empresas puedan identificarse fácilmente como propietarios latinos en Google. Esta actualización se basa en los atributos de negocios Black-owned, Veteran-owned y Women-owned; y es otra manera la gente puede apoyar a diversas empresas a través de productos y plataformas de Google.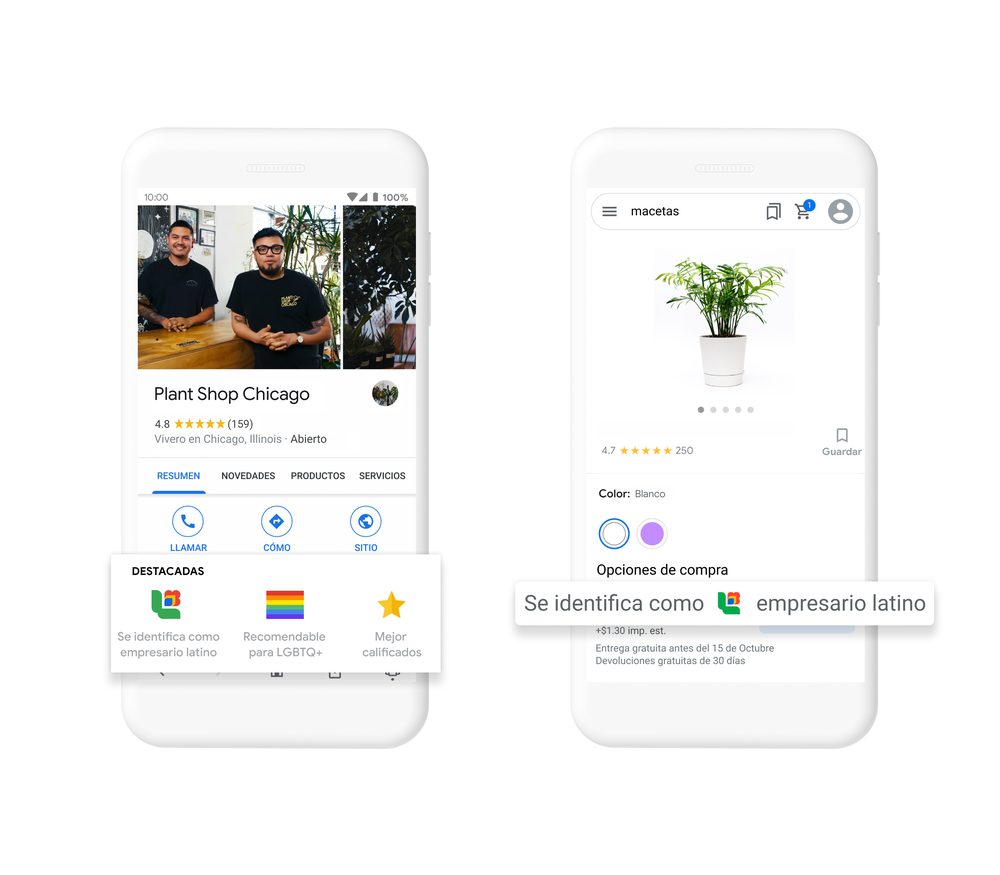 Durante más de 20 años, Google ha estado a la vanguardia de la democratización del acceso para todos —  es uno de sus valores fundamentales. Los grupos subrepresentados se han beneficiado de esa misión, la cual continúa vigente hoy. Es por eso que creemos profundamente que las plataformas abiertas, la capacitación digital, las herramientas y los recursos de Google son fundamentales para promover la equidad económica para la comunidad latina.  
Las inversiones de hoy y las actualizaciones de productos proporcionarán a nuestros miembros, cámaras y comunidades un impulso muy necesario. Nos complace ayudar a destacar las empresas de propietarios latinos bajo una nueva luz, mostrar nuestro espíritu resistente e invocar la acción. Nuestro impulso nos llena de energía y estamos ansiosos por volver al trabajo. Creo que nuestro futuro es brillante, y hoy, gracias a Google, es un poco más brillante.
Comments Off
:Google.org, maps, search, Small Business
more...
Looking for something?
Use the form below to search the site:
Still not finding what you're looking for? Drop a comment on a post or contact us so we can take care of it!
Visit our friends!
A few highly recommended friends...
Archives
All entries, chronologically...